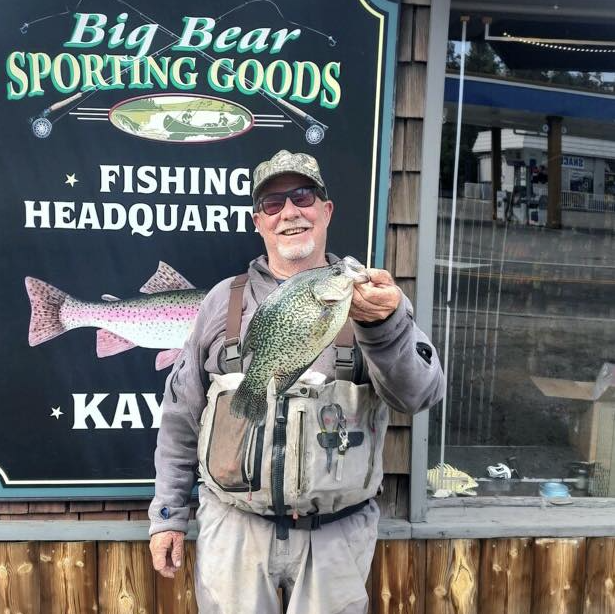 Fishing has improved across the board
BY MIKE STEVENS
BIG BEAR LAKE – Anglers are showing up at Big Bear Lake in greater numbers now thanks in part to nicer (as in, not freezing) weather and decent fishing. While the alpine lake is known more for trout fishing, another species gets top billing this time, and in record fashion. Fly rodder Scott Eberhard stuck a 1.68-pound (13.5 inch) crappie that will stand as the new lake record.
Eberhard owns and operates Cantrell Guide Service at Big Bear Lake (BigBearFishing.net), and he caught that slab on a balanced leech.
"I was fly fishing along the South shore in my float tube, and I thought I hooked a smallie at first," said Eberhard. "I wanted to let it go, but it was bleeding out the gill so I killed it, weighed it and ate it."
Trout fishing has also been productive with a lot of fish between 2 and 3 pounds recently reported at Big Bear Sporting Goods. The biggest on the list was a 4.6 pounder. Many of those were tagged fish worth cash prizes in the 2023 Fishin' for 50k Trout Derby.
Floating baits including PowerBait, Mice Tails and inflated nightcrawlers are working best from shore, and boaters are doing well trolling small spoons. A few rainbows are picking up 'crawlers fished under slip bobber which is a classic Big Bear Lake tactic.
A few catfish are being caught here and there with Juniper Point standing out. The numbers aren't really there, but most biters are quality fish over 5 pounds. Carp are also there for the taking, and bowfishermen are really piling them up.
The lake is in great shape thanks to tall the rain, and conditions should be incredible for the WON Big Bear Troutfest in October. For more info, click HERE or visit WONews.com and find it under the Tournaments tab.