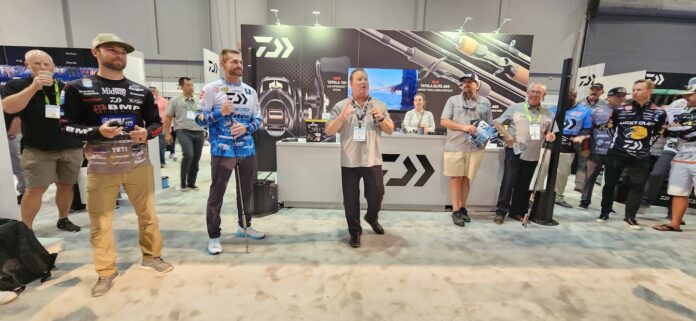 ORLANDO – FL. – Largemouth bass are inarguably the most popular species for fish for on a national level, that being said, bass fishing products occupy a huge chunk of real estate at the International Convention of Allied Sportfishing Trades (ICAST) which went down in Orlando last week. Western Outdoor News had boots on the ground in the biggest and most important non-consumer-facing (You can't go. There are plenty of shows for you) and as always, we try to whittle down the overwhelming amount of stuff unveiled at ICAST to what would be most relevant to WON readers. Here are some products western bass anglers should take a look at in 2023.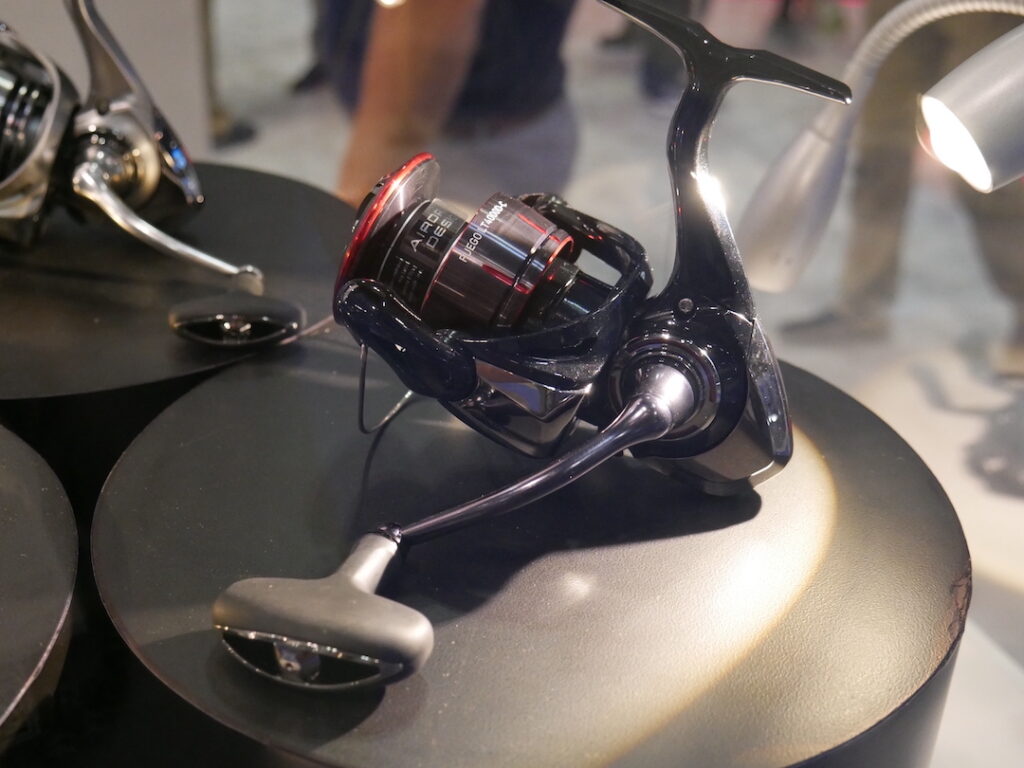 Daiwa really brought the thunder at the 2023 ICAST show including 30 brand new products, and considering the U.S. headquarters is in Southern California, Daiwa can always be counted on to deliver the right goods to western anglers. Senior Marketing Manager, Marc Mills – flanked by Daiwa's topped pro-staffers –  led a press conference and rattled off some things they were really excited about including new Tatula Elite rods as the company celebrated the 10-year anniversary for the very popular line. The new premium-level Tatula Elite AGS bass rods include 16 models that are even more light and sensitive than their predecessors. As always, Daiwa relied on their top pros including Brent Ehrler, Seth Feider, Randy Howell, Cody Meyer, Ish Monroe and Takahiro Omori among others in developing these sticks.
There's also a new Tatula 100 reel sporting Hyperdrive technology that maintains the versatility, ergonomics and feel the Tatula line is known for while remaining at a very competitive price point considering what all the reels in the Tatula family deliver. Daiwa's popular Fuego spinning reels (a personal go-to of mine) have also been upgraded and are now even lighter across the board and now feature a new Airdrive Bail which manages to add durability at less weight.
Daiwa is also fired up about the new Lazy FA Shad which is a floating bait that can dive to three feet while maintaining a slow, subtle wobble for targeting bite-shy fish in both fresh and saltwater.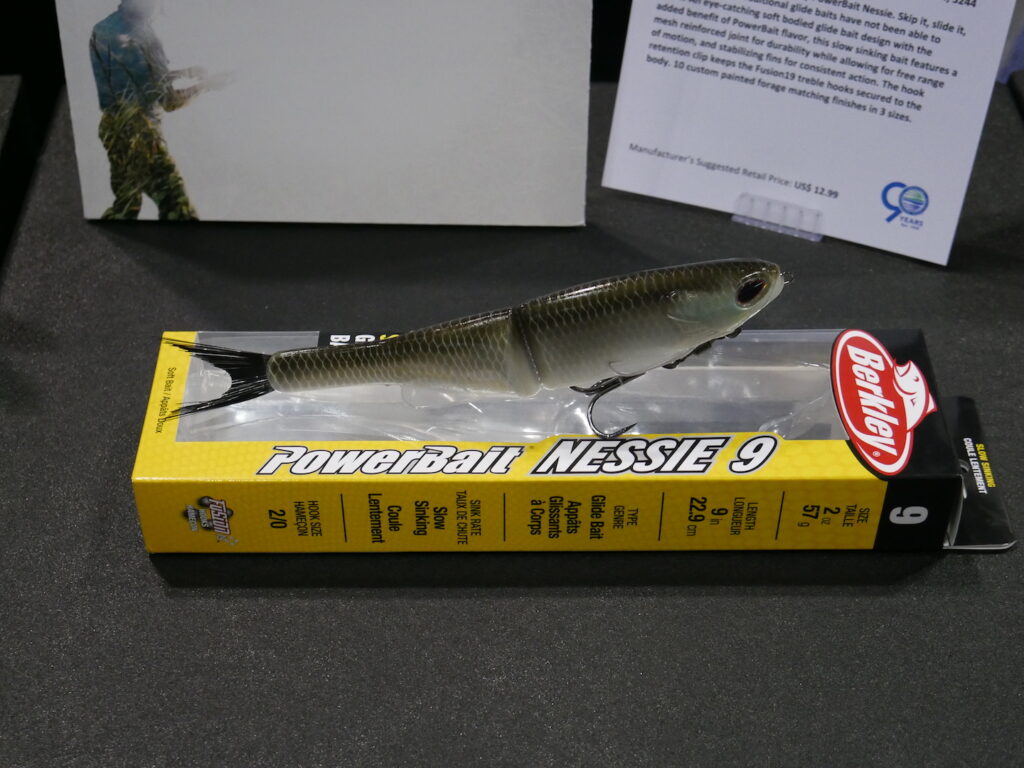 Berkley has been making its presence felt in recent years by stacking up ICAST wins in the New Product Showcase. This year, it was the PowerBait Nessie making those waves with a win in the Freshwater Soft Lure category. This slow-sinking, soft-bodied glidebait features a mesh reinforced joint for durability and stabilizing fins ensuring a natural action. The PowerBait Nessie will be a serious tool for veteran anglers, but it's also great for those entering the big-bait realm who don't want to break the bank for a productive bait.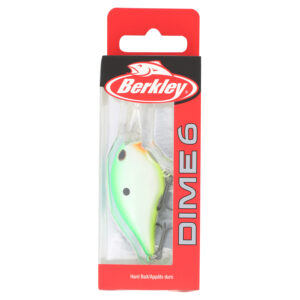 On the hardbait side, the Berkley Dime crankbait adds to the proven family of plastic baits with "balsa-like" action in a well-priced mid-depth runner with great finishes that casts like a rocket. Also, while Berkley didn't get too loud about them at ICAST just yet, anglers who lean on forward facing sonar should check out the new "FFS Optimized" PowerBait Power Switch line of very versatile baits.
Abu Garcia hit the show floor with the new Zenon X Spinning Reel which is a freakishly light and compact top performer that tips the scale at less than 7 ounces. The carbon Matrix drag system ensures smooth and consistent pressure across the drag range, and the 9+1 HPCR bearing system keeps things smooth and effortless. Abu Garcia also unveiled the Zenon LTX CF8 premium BFS reel, a shallow-spool Revo baitcaster, and a Zata combo that won Best Rod and Reel Combo in the New Product Showcase.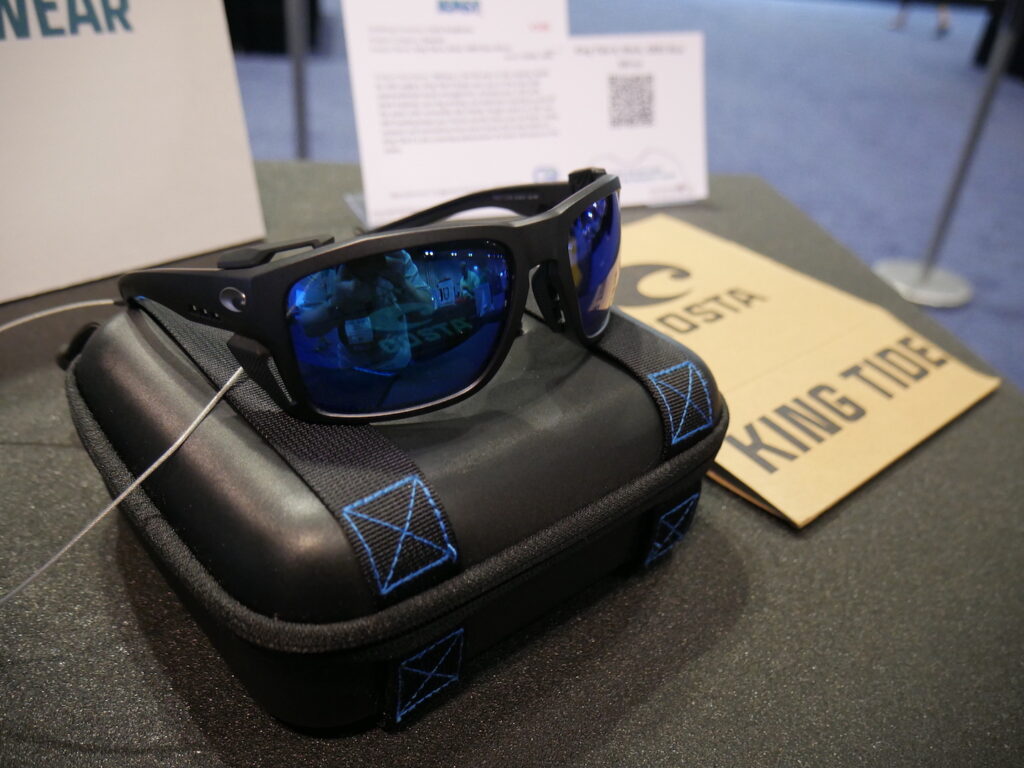 Costa celebrated its 40th anniversary at ICAST by winning Best Eyewear in the New Product Showcase (not even close to their first rodeo) with the King Tide 8 with 580G Blue Mirror lenses. The full wrap-style frames offer maximum coverage, and a venting system keeps lenses fog free. The King Tide 8 also features new non-skid features to keep frames in place when conditions get rough, and the side shields are removable based on the needs and preferences of the angler.
AFTCO crushes it in the New Product Showcase well beyond the apparel category the SoCal-based company pretty much dominates. The AFTCO Tackle Backpack was getting a lot of saltwater attention at ICAST, but it's an ideal option for AAA tournament bassers fishing from the backseat with limits on how much gear they can bring onto their pro's boat.  This storage solution holds five 3600-size tackle trays in the main compartment and a bigger 3700 vertically in a side pocket. The top pocket is deeper than on most soft tackle bags, and there is also a felt-lined pocket for sunglasses, a water-resistant pocket for your wallet and other valuables and a pull-out rain fly that keeps the whole shebang out of the elements. Speaking of tournament fishing, AFTCO won Best Warm-Weather Technical Apparel honors with the AFTCO Channel Hooded Performance Shirt which can make life out west a lot more comfortable when money is on the line.
Evergreen launched the Bow Worm Noodle which stood out among a sea of soft plastics unveiled on the 2023 ICAST floor. The thin, 8-inch worm was designed to draw strikes in pressured water under tough conditions where worms of similar length are just too "loud" to get the job done. They can be fished on a wide range of rigs, and they execute a subtle action even when "dead sticked" if that's what the bite (or lack thereof) calls for. Evergreen Bow Worm Noodles will be available this fall.
Fenwick started raising eyebrows a couple of years ago when they made a clear effort to return to the top of the premium rod conversation, and that continues with the launch of Fenwick World Class bass rods. To do this, they brought in engineers who were restrained at a previous manufacturer and cut them loose by having them wipe the slate clean and completely revamp all (over 260 models) Fenwick rods. Loaded with high-end features, it's the real seat that steals the show on the Fenwick World Class rods. Makers of surgical tools were consulted on their designs for ergonomics, and they allow an incredible amount of contact between the anglers fingertips and the exposed blank.
Power-Pole locked up Best Motorized Boating Accessory with the Power-Pole Move ZR tabbed as the "ultimate brushless trolling motor for elite anglers" and "the last trolling motor you'll ever need." Unmatched in efficiency, power and durability in a near-silent system, the Power-Pole Move ZR is well thought out from top to bottom, component by component, and it's going to make legitimate waves on the tournament trail.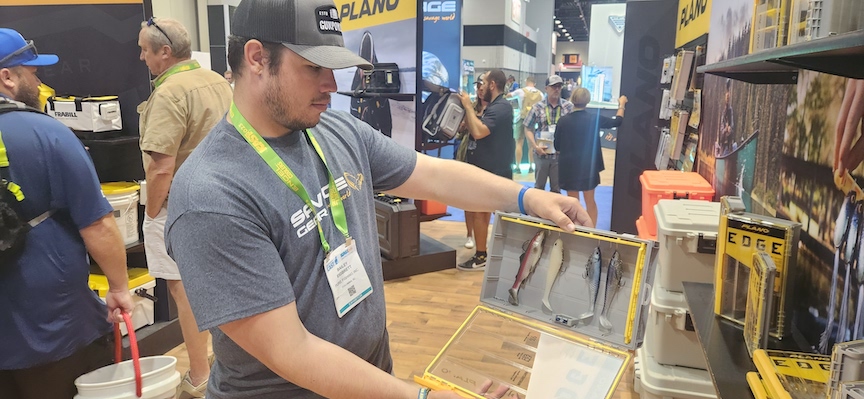 Plano has yet to fall short on innovation when it comes to tackle storage solutions, and this year will be no different. The Plano Edge 3700 Swimbait Box delivers a hanging-bait-type storage solution that western big-bait guys have been waiting on for so long, they started making their own. These boxes can hold baits vertically or horizontally and make sure soft-plastic elements keep their shape so the baits swim as intended. There is also a new Plano Edge Jerkbait Box that stores up to 20 jerkbaits individually (not hooked together) with space below the baits allowing them to drip dry while the Rustrictor technology also built in also does its thing.
Rapala has been upgrading and reimagining some of its classics by offering super-premium versions of its originals for several years now, and Shad Raps got that treatment in 2023 with the new Shad Rap Elite series. They feature balsa bodies, sticky-sharp VMC treble hooks, impressive finishes and wire-through construction. Serious bass anglers should also check out the Jigging Rap Magnum which is a broader-profiled version of the original Jigging Rap which is very popular for deep, vertical jigging for winter bass. The front hook was removed for this version that should crush it during the winter doldrums out west.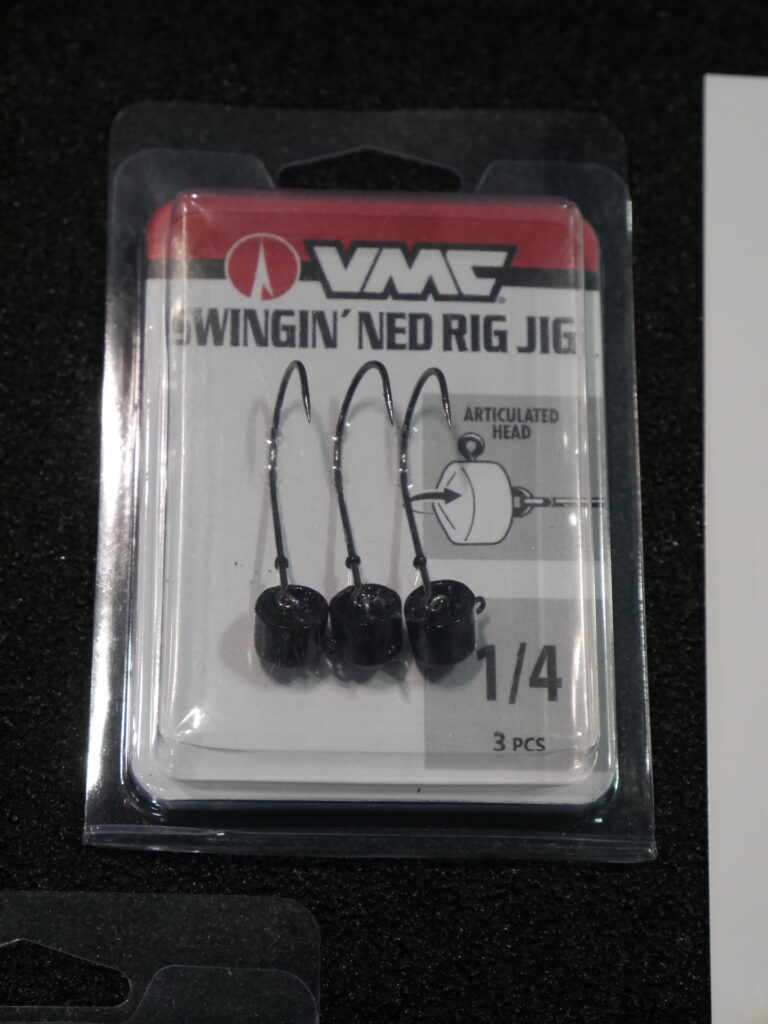 VMC took Best Terminal Tackle honors in the ICAST New Product Showcase with the Swingin' Ned Rig Jig. Innovation is hard to come by in that department, but VMC found it in this hinged jighead that always keeps baits in a vertical orientation. They pair well with the also-new line of Ned BLT baits from Rapala Crush City plastics, but they can accommodate a very wide range of finesse baits.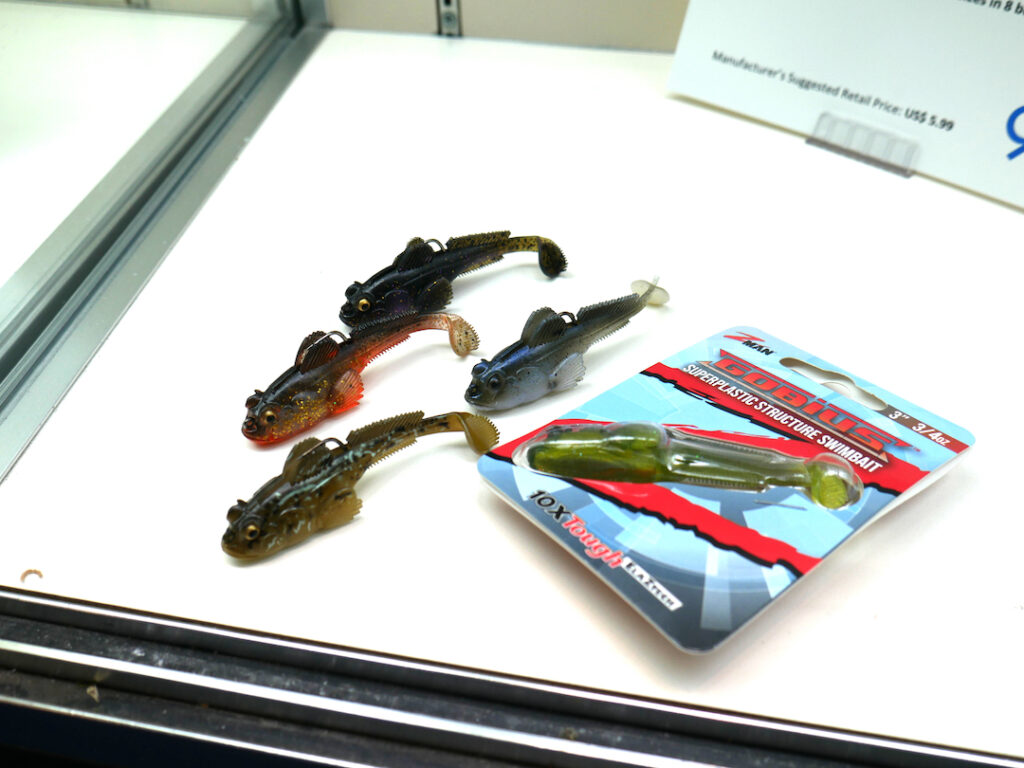 Z-Man showcased their new 3-inch Gobius swimbaits that are really geared toward smallmouth anglers in other parts of the country, but goby imitations should be more of a weapon out west than most bassers may think. Without naming names or bodies of water, I've heard of goby-style swimbaits as a go-to option at certain times of year more than anything else not on the standard western bass menu. One guy only told me when the guy who told him (who swore him to secrecy) passed away. Another was hell bent on having his own poured but couldn't get it quite right. Z-Man's soft-plastic reputation precedes itself, and these are perfectly-sized for goby-positive waters. Slowly hop these down a rock slide in the right place, and you might be surprised.
Seviin reels is a new brand on the radar, but everyone has heard of St. Croix rods, and that's the company behind this line. Few rod companies are in the conversation with St. Croix when it comes to an obsession with quality control and leaving no engineering stone left unturned, and that has absolutely been applied to Seviin reels which come in 750 through 3000 sizes, accessible price points and availability in January 2024.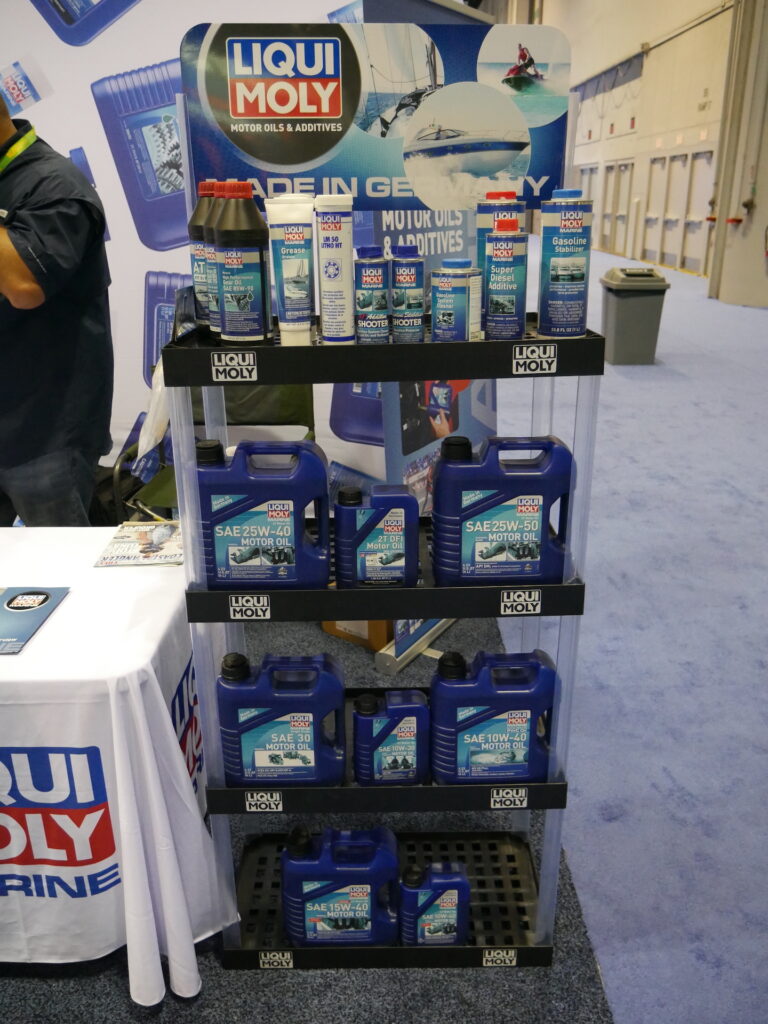 Liqui Moly is a manufacturer of marine motor and gear lubricants, greases and additives that keeps your floating investment running smoothly, safely, free of corrosion and even bacteria with a large, one-stop-shop selection of products. They are picking up speed among western bass anglers – especially those of the tournament variety, and serious anglers owe it to themselves to see all they have to offer