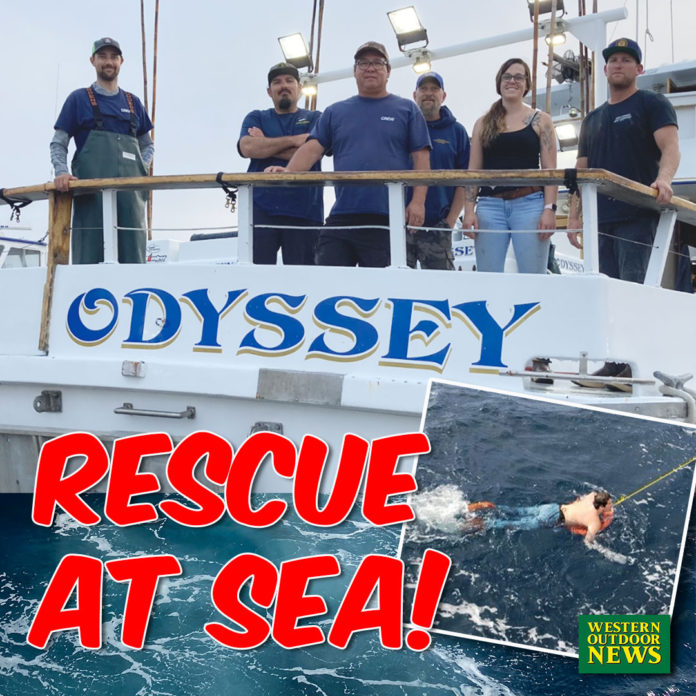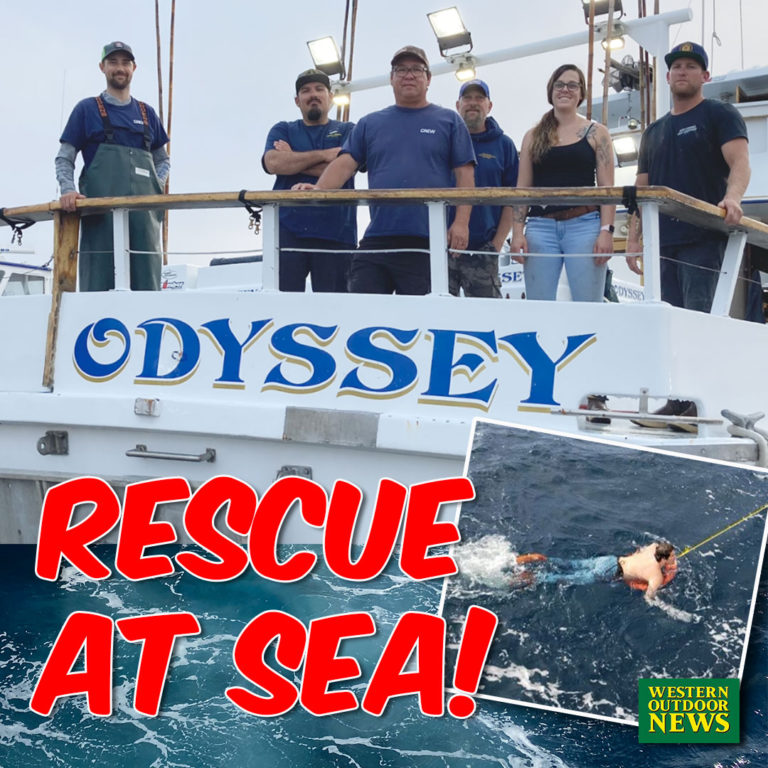 BY DANIEL LABARBERA
LISTEN to Captain Rick Scott recount the rescue on the WON Podcast!!
[buzzsprout episode='8976294′ player='true']
SAN DIEGO – The last thing any mariner wants to hear while out on the water is a man overboard distress call. Often times these stories end in tragedy with the person never being found, but in this case this past Wednesday afternoon, a free diver separated from his private skiff and who drifted approximately three miles away from his initial diving zone off San Diego's coast in Mexican waters was fortunately found by the hard-working crew of the 85-foot sportfisher based out of H&M Landing in San Diego, the Ocean Odyssey.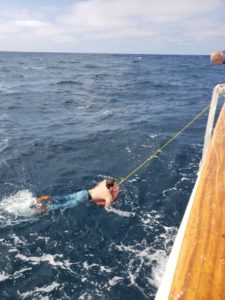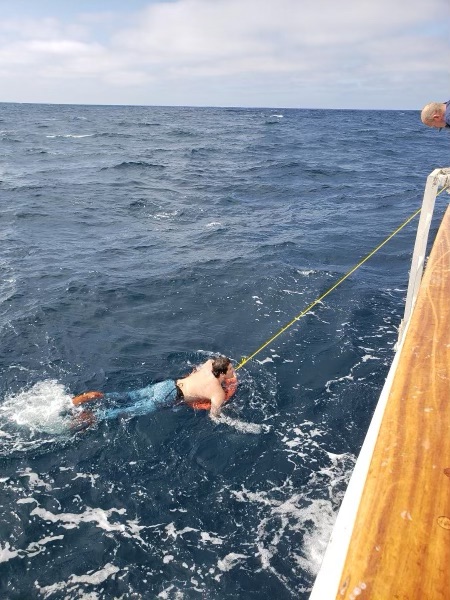 SEPARATED from his father for more than four hours Alexandro Crosthwaite, clings to the live ring deployed by the crew of the Ocean Odyssey.
            Captain Rick Scott of the San Diego-based party boat had heard the Coast Guard over the radio with the father of free diver Alexandro Crosthaite, who reported that his son was missing around noon. He pointed the boat in the direction Alexandro was last reportedly seen, and at approximately 1:30 p.m. the Ocean Odyssey made it into the zone. But with 10 to 12 knots of wind, finding him would seem to be a very difficult proposition. With limited information from the father on the private boat and the Coast Guard's conversation, Captain Rick and his crew, along with the sportfishing vessel T-bird, the Mexican Navy and U.S. Coast Guard helicopters and a cutter searched the area.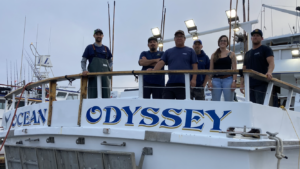 Ocean Odyssey crew from left to right: Jeff, AJ, Captain Rick, Dave, Sydney and Chad pose for a picture after a 2.5-day trip they'll never forget.
Scott had noticed that the current was running east-southeast so he followed that route for approximately two miles. After a couple of hours with no luck, they made one last direction change northeast toward the beach. Chad Foster, one of the deckhands on the roof, spotted Alexandro downwind at about a half-mile away. Captain Scott was skeptical, but pointed the boat that direction. He picked up his binoculars and saw Alexandro waving for himself. Like a well-oiled machine, the Ocean Odyssey and its crew deployed the life ring and got him on board  the sportboat within mere minutes of spotting him.
Alexandro had been in the water for approximately four hours, but was in decent shape when he was found. He had a blue, ocean camouflage wetsuit on, but knowing it wouldn't help anyone locate him, he took the top half off once he got separated from the boat. Captain Rick was very surprised how good of shape Alexandro was in when they picked him up, as he explained, "He came on the boat, seemed to be just fine, and didn't have to sit down or anything. He stood up, waited for his dad, and off he went."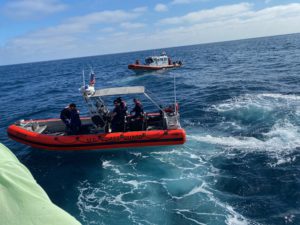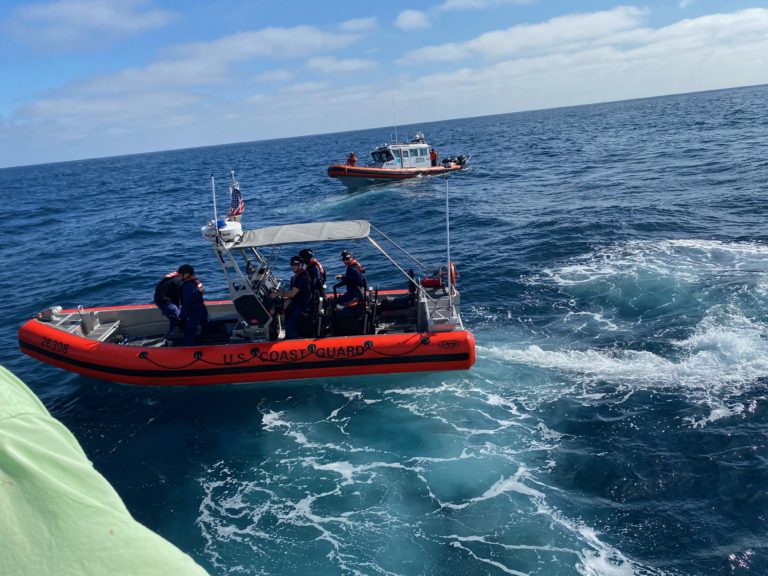 THE TRANSFER – A USCG cutter's tender slides up to the Ocean Odyssey to pick up lost-at-sea free diver Alexandro Crosthwaite (Mexican Navy/rescue in background).
            The Coast Guard cutter expediently arrived to pick up Alexandro and transferred him back to his father's boat, and he was taken home safely.
When this reporter asked how Alexandro and his father had become separated, Rick explained to me what Alexandro told him, that he had jumped off the boat while it was underway and his father didn't see him do so. WON is currently trying to obtain more information on the exact happenings and further details of the incident.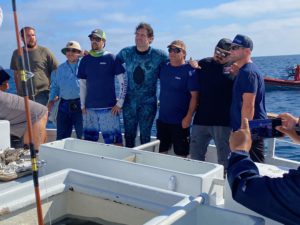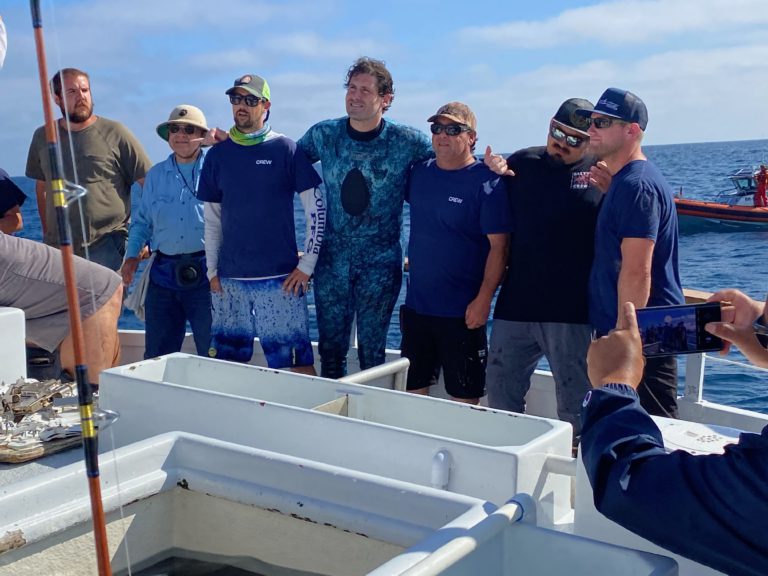 Captain Rick Scott explained to this WON writer that they are always ready and prepared for situations like this on his boat – regularly performing monthly drills to simulate fire, man overboard and abandon-ship situations.
In this particular instance, it all certainly paid off.