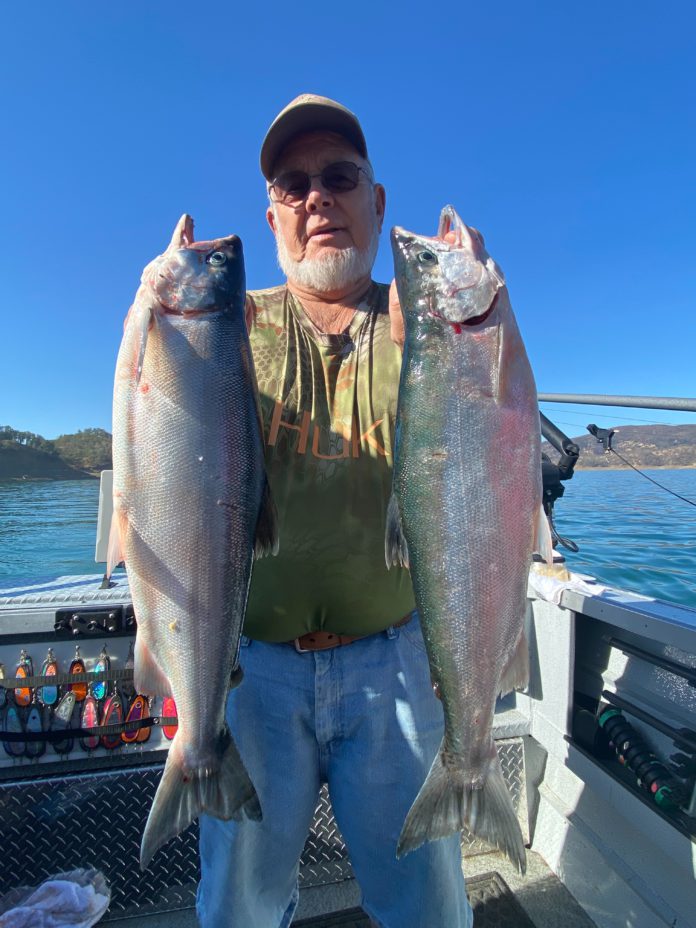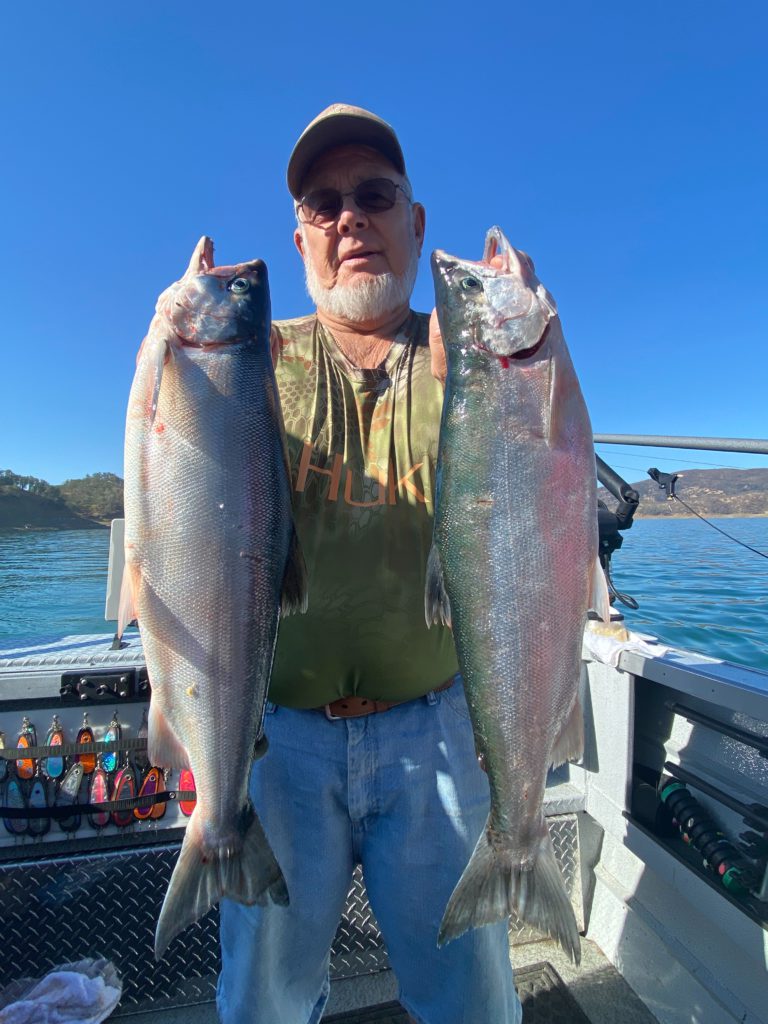 BY DAVE HURLEY
WINTERS – Lake Berryessa continues to be 'The Lake' for the largest reported kokanee in California although New Melones and Shaver Lake are also producing some beauties. With no tournaments scheduled on the lake this year due to COVID-19 restrictions, the lake has not experienced the heavy fishing pressure with dedicated anglers heading to other venues. However, with a pause in the derby season until August 14 will draw more anglers to this lake to search for kokanee to 19 inches plus. But Berryessa isn't for the light of heart as it takes experience on the lake to find success, and even if you are experienced, you can be in for a rough outing.
Alan Fong, manager of the Fisherman's Warehouse in Sacramento, was trolling for kokanee this week, and he said, "I went out with a friend in his new boat to get dialed in, and we struggled, hooking 10 fish, but only landing three. One of the rods had 7 hookups, but only one landed. They are hugging the bottom right now on the long flats, and these are really large fish. My last three trips have been tough, and I think I am a jinx right now. I want to move onto to other waters, but the allure of the big kokanee keep me coming back to Berryessa."
Rob Reimers of Rustic Rob's was also on the lake this week, and after finding success with an early limit last week, he found a tough bite on Thursday. He said, "Troy Barr had a good day before and after I was there, but he wasn't there when I was out, and that made it tougher to stay on the fish. The kokanee with landed were on Rocky Mountain Tackle's pink hoochies at 50 to 55 feet in 90 to 120 feet of water, but the fish are really spread out. We marked some at 80 to 90 feet, but they weren't willing to bite."
Troy Barr of T-Roy's Guide Service has the homecourt advantage as he has worked the lake for many years, and he said, "It was another good week with big results. They're three different stages of fish right now with schools that are in open water, fish holding on flat structure, and fish holding on vertical structure. All three grouping are quality kokanee running from 16 to 19-plus inches long and getting close to three pounds. We've been running Rocky Mountain Tackle's hoochies, J-Pex's, Apex's, Uncle Larry's spinners, and Paulina Peak's Tahoe Krack spinners behind a RMT 5.5-inch dodger at 60 to 90 feet and occasionally over 100 feet deep."
The lake continues to drop slowly on a daily basis, and it is currently at 62 percent. The second launch ramp at Markley Cove is accessible, and it appears that it will remain accessible throughout the summer.
Anglers are requested to complete the kokanee survey at https://bit.ly/kokesandkings upon the completion of every trip to provide accurate information to the Department of Fish and Wildlife.