BY MERIT McCREA
SAN DIEGO — With each passing front the question is always, "Are they still there?"
And the answer: YES!
As soon as the fleet was back out on the water the answer was clear. The kelp paddy yellowtail bite actually boosted for the full-day boats — flat limits, every boat in the past three days. Exceptions were few and slight.
Outer banks bluefin were right back on tap and the fleet was spread between the two banks and surrounding waters.
Sunday morning the Pacific Queen was back from a 3.5-dayer with 24 anglers getting 86 bluefin including 22 beasts from 130 to 240 pounds. The Outrider was back from a 1.5-day with 10 anglers getting 8 bluefin — a pair of 60 pounders and a half-dozen more from 190 to 301 pounds!
Aboard the Polaris Supreme the catch so far included 8 bluefin from 140 to 180 pounds, 2 over 200 and one fish at 310 pounds.
The Aztec posted, "Back on the big ones! We returned yesterday from a 17-passenger, 2.5- day trip with 42 bluefin. Five of them were 140 to 225 pounds. Today we had to stay close for our 9 passengers on our overnight charter. The Aztec reported limits of yellowtail to start out the day."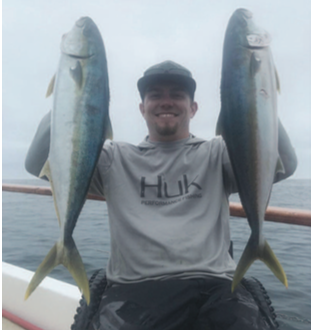 As for those on full- to 2.5-day trips fishing south, the list of boats taking full limits of yellowtail was long and covered pretty much every single report, with exceptions to the rule being just a few fish under that mark.
In other news, Fisherman's Landing's Tackle Day is this Saturday, complete with its surface iron casting contest by Shimano. Come watch the pros pick out bird's nests!
They promise blowout pricing, and a Friends of Rollo Raffle and a live broadcast at 07:00 a.m. by Let's Talk Hookup on 1090AM.
Up in Oceanside, the local rockfishing again surprised all, as anglers returned from 3/4- day trips loaded with limits of nice reds and other bottom dwellers. Capt. Shon Roberts on the Chubasco II said it's taking some looking around to find it but it's been good.
Sunday they added limits of sheephead to rockfish limits!
The Oceanside 95 was just back from fishing offshore. Owner Rick Slavkin said Capt. Bob Ruper ran the trip and found limits of yellowtail for his 33 anglers, 165 for full quotas, plus a trio of skipjack tuna.
The Iron Man event had most of their parking area occupied earlier in the week and few if any other trips fished.