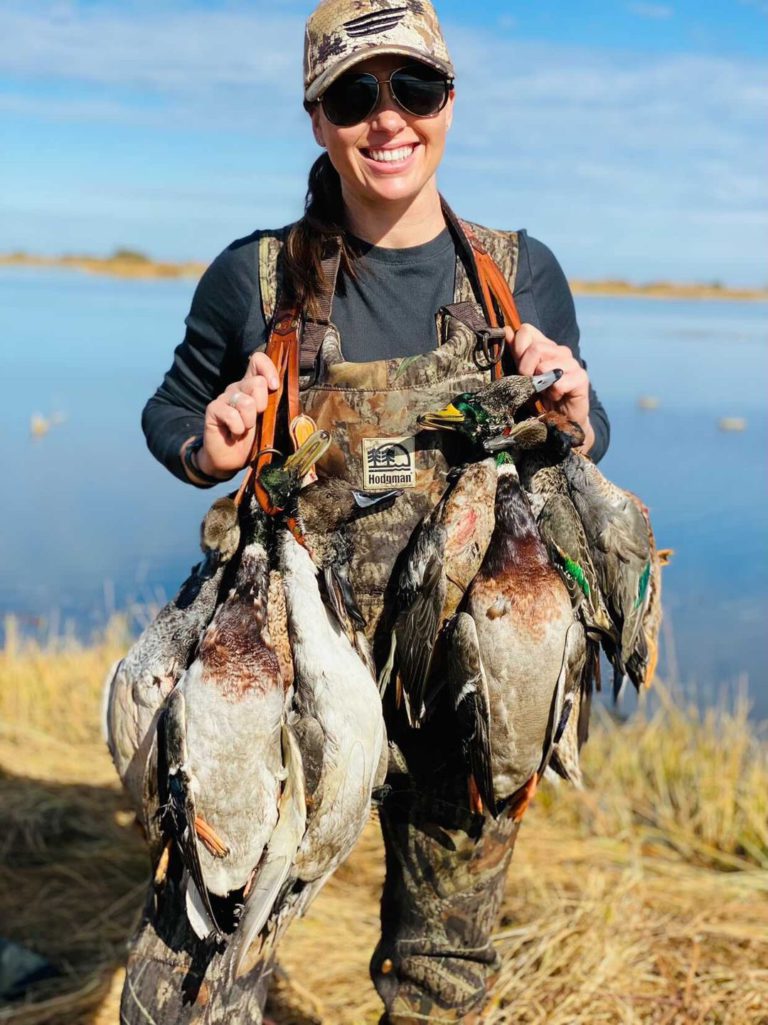 SOUTHERN WATERFOWL
Duck harvest numbers take a dip
BY JIM NEIMEIC
WISTER – As is typical after opening weekend, duck hunting took a dip this past week. Ducks moved off of refuges and duck clubs reported less birds, even on non-shoot days. Western Outdoor News made a trip along this portion of the Pacific flyway checking out estuaries and wetlands and saw very few ducks. With a lack of weather, hunters will be looking at overall lower harvest counts for at least another week. There are just a few small flocks of puddle ducks arriving to replace those that have either flew down into Mexico or have found sanctuary on non-shooting waters.
Wister Wildlife Refuge – The Wednesday shoot offered up respectable hunting for the 109 shooters in blinds who walked away with a 2.20-bird average. On Saturday this refuge hosted 142 guns who bagged a total of 274 ducks, most of which were green winged teal for under a 2.0-bird average. The Wednesday shoot did show 5 dark geese shot, but a single goose taken over the weekend. This popular refuge shoots on Wednesday, Saturday and Sunday. For more details on hunting Wister Unit call the DFW on-site office at (760) 359-0577.
Sonny Bono Salton Sea National Wildlife Refuge – The white goose season for Imperial Valley will not open until Nov. 6. Just a couple of duck hunters headed out to a blind on Sunday and limited out on teal and a pintail. For more information on hunting this national refuge, which is managed by the Wister staff, call (760) 359-0577.
Finney-Ramer Unit – No report filed. Finney-Ramer is part of the Imperial Wildlife Area,located on the south end of the Salton Sea, and is open to hunters seven days a week under a self-registration and self-reporting system. For more details on this refuge, which is also managed by the Wister Unit, call (760) 359-0577.
San Jacinto Wildlife Area – Saturday offered up pretty slow duck shooting for the 186 hunters in blinds, as they only bagged 243 ducks for a 1.31-per-gun average. Top duck shot was the shoveler with 81 bagged to go along with 66 GWT. Last Wednesday saw 169 guns harvest 372 ducks for a respectable 2.20 average. This refuge shoot days are Wednesday and Saturday and draw time is 3 a.m. For information, contact the wildlife office at (951) 928-0580.
Lake Perris – No word on when this lake will begin shooting ducks again. Still awaiting details on a "hunt plan" for the future, with the lake currently higher than last year. San Jacinto Wildlife Area manages this hunting/fishing lake.
Prado Basin Wetlands – Clubs reported slow hunting over all, with less than a 2.5-bird average. Some new ducks arrived to replace those that moved out of the basin and are still mixing with local mallards.
Lake Henshaw (My Country Club) – Waterfowl hunting will not start until December. Reservations are a must and there will be a daily drawing for blind sites. For more information call (760) 782-3501.
San Diego City Reservoirs – After a good opening day of duck hunting, it was pretty much back to just average gunning a Lake Barrett. There were 30 hunters out in shore line blinds and they killed 53 ducks, of which 31 were ruddy ducks.
Kern National Wildlife Refuge – This refuge will not open until Nov. 20 due to a lack ponds and wetlands. For additional information on hunting Kern, call (661) 725-2767 or for the hunter information hotline call (661) 725-6504, which is updated after each shoot day. A website is also available to access hunt results and other information about this popular southern San Joaquin Valley hunting refuge.
Cibola/Lower Colorado River – No report from the lower Colorado River region.
For information on booking a couple of days in a goose blind while staying in a South Ranch cabin call the Cibola Sportsman's Club at (702) 355-8784 or email them at hunt4geese@yahoo.com. Contact the Cibola National Wildlife Refuge at (928) 857-3253 for shoot days and draw information on the Farm Fields and open hunting on the Island Unit.
NORTHERN WATERFOWL
Results diminish after the stormy opener, gunning decent in the Los Banos area
BY DAN MATHISEN
SACRAMENTO – The first two weekends of the statewide California duck season were completely different as far as the conditions and success rates were concerned. We went from the grips of a bomb cyclone to mild balmy weather. The abundant rain of the last weekend did result in a number of great benefits as there was plenty of water left standing, and smaller fronts moving through did allow for some decent shooting in some areas. Let's talk about the Central Valley's largest and most popular area, the Los Banos Wildlife area. The area's close proximity to the Bay Area and the larger metropolitan areas of San Joaquin County and Stanislaus makes this a very popular destination. Los Banos is the center of a very popular trio of state wildlife areas with Grasslands to the north and to the south and Volta to the west. These areas actually shot pretty darn well with some of the largest scores in Northern California for the opener. Unlike Delevan in the north valley, Los Banos did not produce the numbers of geese. Well, let's just say the results diminished up north after the opener and the decent numbers the previous weekend, according to Cynthia Pu at the Check Station this afternoon. Pu mentioned we're going to have to have some cold weather to get really going again as most of the residential birds have been shot or moved on.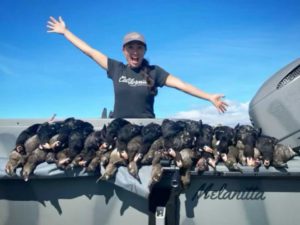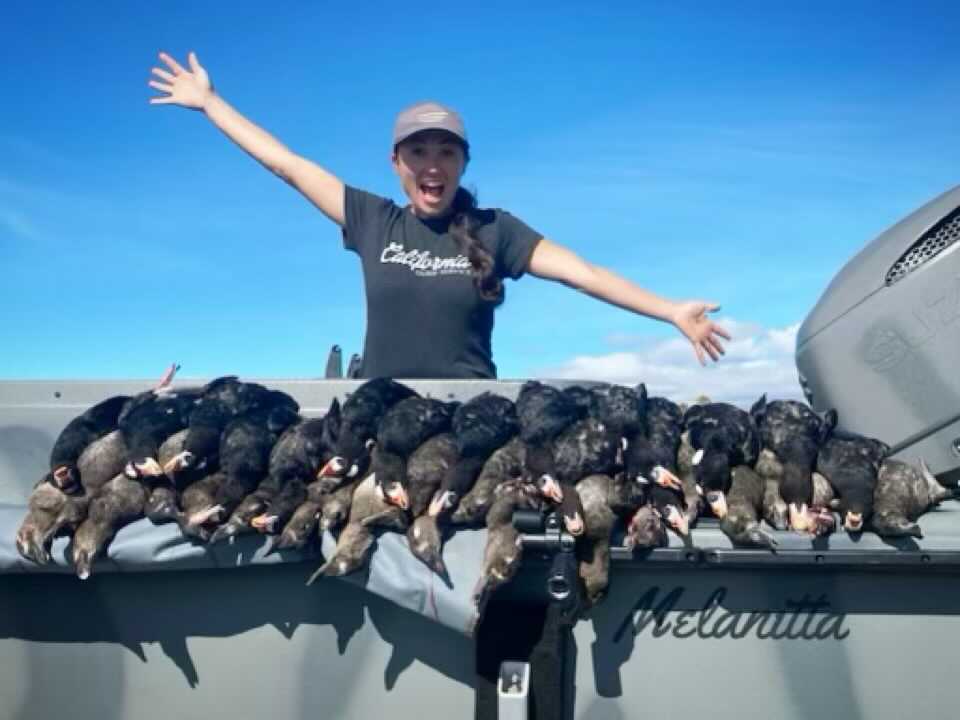 Those who may not be familiar with the Los Banos Wildlife Area, here's a little background. The area consists of 6,217 acres managed by the California Department of Fish and Wildlife. Obviously, the lack of runoff over the past couple of years has hurt the wetlands area, but the heavy rain last week did add a much-needed burst of hope. Los Banos features a variety of seasonal, semi-permanent, permanent, and riparian wetlands. This property is located in the San Joaquin Valley's legendary Grasslands, the largest freshwater marsh complex west of the Mississippi River. Los Banos's green-winged teal flights can be epic as these fast-flying migrants flock to their historical wintering grounds here late in the season. The area is a great place to hunt, and the predominant birds are green-winged teal, but you can also expect to see northern shovelers, northern pintails, American wigeon, and mallards. Much like some of the most successful areas in the Sacramento valley they reported about 4.1 bird average.
Los Banos offers a combination of reservation and walk-in hunting opportunities. If you are new to the area and you have a reservation on a particular day, I would recommend hunting one of the spaced-blind locations. These hunting areas are easy to find, and you won't have to compete with other hunters."
More experienced waterfowlers typically hunt the "free-roam" areas. The best locations for mallards and gadwalls are wetlands with thick emergent vegetation, and this can all impact the quality of the hunting.
Like most areas as the season progresses, the weather will determine where the best hunting locations are found. Generally, mallard hunting is better earlier in the season, while the green-winged teal numbers can spectacular later in the season. The variety and quality of the hunting is what makes Los Banos a great public area.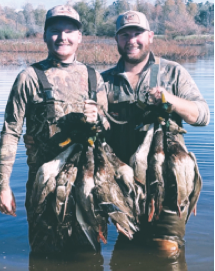 The Mendota area boasts some of the highest duck averages anywhere, and it continued to shoot decently this week at about 4.1 ducks per gun. We will write more about Mendota in the future as is a pretty good facility.
Once again, the California Delta with very few exceptions has been almost silent of gunshots and or success for many. The popular Frank's Tract State Recreation Area was silent Saturday morning and even quieter on Sunday with very few launches out of the two most popular ramps in the area. There were some reports of a little better success in the central and west Delta, but overall, the action was pretty darn slow.
Grizzly Island, by far, had the most hunters the past week and one of the best averages of 3.8 ducks per hunter. Very similar to many of the Solano County areas, like Liberty Island, many of the area's hunters are pretty close-lipped about their success. Reports from Hastings Island was plenty of gun shots coming out of Liberty Island.
As we move north into the southern Sacramento Valley, the more conducive weather conditions of rain and wind did help this week. Yolo only averaged about 3.5 ducks, but they also scored some of the best geese numbers. While much slower than the opener, it still shot as well is any area in the valley according to Pacific Flyway Supplies in Dixon. This week, Kevin Eck headed to private areas east of Marysville and only found very limited success, and then spent Sunday setting his blind and decoys further up the valley.
Ben Williams of Fishdog continued his success for his clients this week. Williams reported they are shooting speckled bellies for four guns hunting three days a week, giving his dog Rocky a workout. Williams is hunting some of the most premier stuff in the north state. His experience and knowledge is some of the best you can learn from both on the water and in the field.
Some of my favorite areas around Howard Slough have been fair this week at best. Although a few more geese were in the area, my former favorite area growing up of Gray Lodge drew just average results of about three birds per gun and a handful of geese. What used to be a little hideaway of Little Dry Creek, while small, has been still one of the best averages in the north nearing four birds per gun and quite a few species rotating in and out of the area. Many of the private areas have not been allotted water yet, and quite a few hunters spent this weekend preparing decoys and getting ready for their areas to flood. Many are just setting full bodies and socks as they wait to be able to place their floaters. Dr. James Hayes of Acampo enjoyed two great days with his sons, Christopher and Hunter, at their private club in Colusa with numbers of mallards.
I did not get many reports out of the Tule Lake Klamath areas but look forward to you hearing better reports this week as temperatures cool and rain shows up every other day. Enjoy!