BY DYLAN DEPRES
Captains Joe Morasco and David Ortiz were at the helm of an overnight WON charter on the Fin Fetish that hit the outer islands. Squid-bed island fishing is one of the staple fisheries that the Fin Fetish boys tap into year-round.
The group of five WON partners were all in to fish for white seabass, yellowtail and halibut. I fished side-by-side with Ken Leverich and Alison Ryffel of Tradewind Inflatables plus Sergey Smith and Tommy Truong of Charkbait Tackle. Our group was fishy. These industry guys and gals are part of Orange County Sportfishing's pulse: they talk fishing techniques, sell tools and equipment, boats, tech and more day in and day out to equip SoCal's anglers with the right gear. On this trip, they would get their own shot at some fish of a lifetime with trophy yellowtail to over 45 pounds.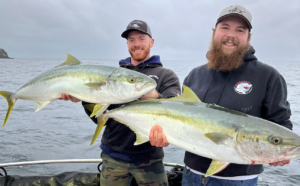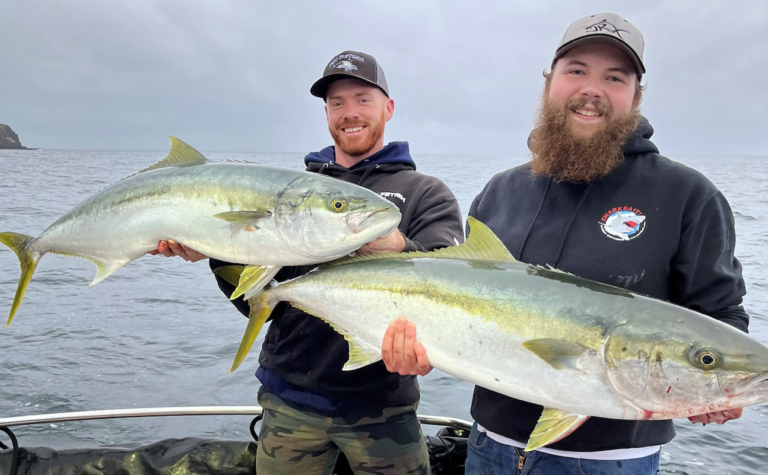 We met up with the Fin Fetish crew after work-hours on Thursday evening. Our captains were at the boat along with owner Captain Brian Norris and some deckhands. They were all hard at work loading gear, cleaning up and getting us ready.  We boarded with a baker's dozen rods and reels, some pizzas, frosty beverages and more. Captain David started us out with a safety speech and told us to reach out to our loved ones for good luck, we were headed to the outer islands.
Smooth riding at 18-plus knots brought us to the squid grounds around 11 p.m. Generator hums and squid lights were deployed, and micro-floaters quickly transitioned to full-sized squirting squid and sea lions to chase them. We were alone on the grounds and the squid would float well enough for us to fill our tank and then some. A hands-on operation, our group would help the crew use long dip-nets to scoop the circling squid. Sometimes the efforts yielded twos and threes, upwards to fifteen and twenty-counts of them. We couldn't walk on the float, but it was easy mode, enough so that we were able to catch a couple hours of sleep before lines in.
We started our fishing day on anchor with dropper-loop rigs equipped with 40- and 50-pound test and a mix of "high droppers," at 5-feet and "really high droppers," at 8-feet. Lines in and greylight approaching, we would try the squid grounds where we made bait. We all placed bets on what time we'd get our first bites- 6:00 a.m.… 6:15… 6:53. Minutes, not hours passed, and the current and wind aligned and at 6:07 a.m. Clickers screamed and we had a double going. Bruiser-grade yellows tested Sergey and I, but we came out on top boating two fish at 33 and 38 pounds. An excellent start to the day, however, conditions lessened and Capt. Joe took us in search of greener pastures.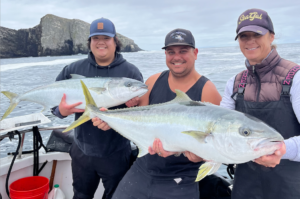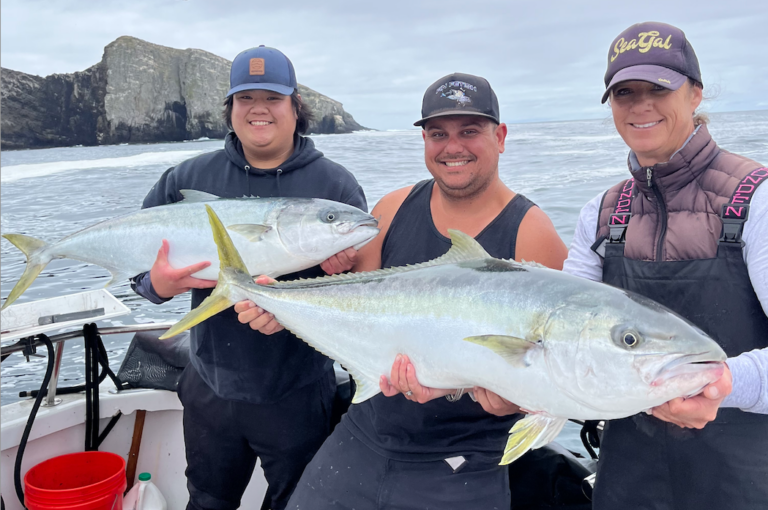 We bounced around to find even worse conditions. We'd try our shot in the shallows for white seabass, continuing with the down rods and working leadhead-squids and plastics. Promising signal of gamefish showed on the electronics as we fished in the midmorning. Some nice 2- to 4-pound. whitefish joined the party in 40 feet of water, and it was taco time. We kept a couple whitefish and kept the seabass grounds honest. We weren't ghost bit. Captains Joe and David were excited to take us to one of their next hot spots where we'd try drifting the droppers.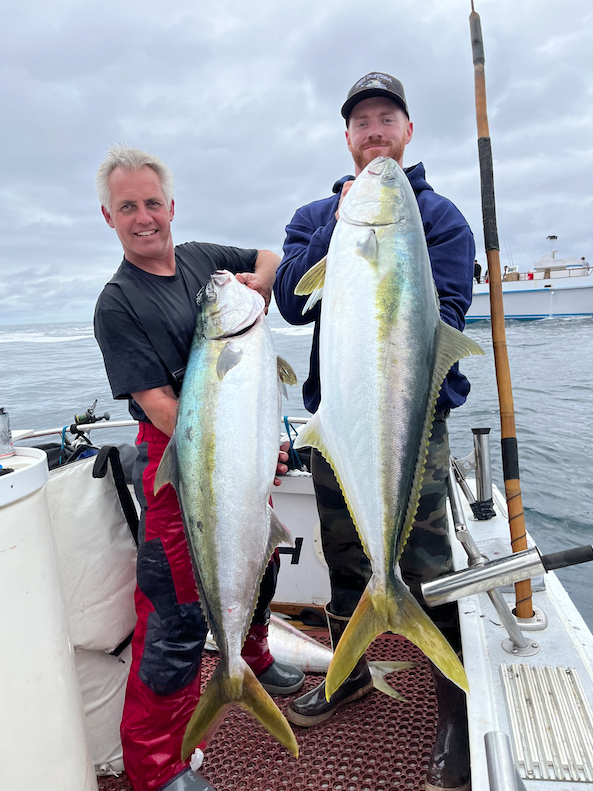 A few drifts in, the hot spots weren't paying off at first. We had beautiful calm weather but mixed current. We'd try one more time with Capt Joe skillfully bumping us along to account for the drift. Lines up was called, and as Tommy Truong wound the last rod. Biter! 20 feet off the bottom. We quickly set the other rods back down and another fresh one, two-going! It was a beautiful thing. Tommy and Alison landed both their fish, with a great 30 pound. model and a trophy 46-pound unit, both new personal bests It was 11 a.m. and we were up to four fish, and the mayhem had only just begun.
The next drift was pretty-organized chaos, as one rod got bit, then another, another, a fourth and then one more. A sum of five brute yellowtail had every angler aboard tight in battle, following their fish around and pulling hard. Captains David and Joe had four hands and five eyes each as they directed our yellowtail orchestra. Monster tail sweeps pinned us down, ripping yardage of line on pinned drags.
Ken got his in first, another true brute at 46 pounds. Sergey got his second, another one pushing 40. Alison, Tommy and I were in close-quarters with three fish at color in the stern. Order of operations kicked in and fish at gaff were gaffed. Tommy's fish was his second personal best of the day, up to 33 pounds. The last two were tangled and invariably, there are casualties with trophy fish and one of the monsters swam away, but Alison got hers. And then it was back to fishing, and we were nine for ten on the yellowtail for our day, very respectable.
Ken was bit next drift and hooked me up with a hook and hand, but during the hand-off I got bit so we swapped right back. We danced the dance and boated the 10th and 11th fish, both 35 to 38 pounds. Okay, things were pretty epic. Icing on the cake, Tommy got his third personal best of the day ending with a great 36-pound. fish. Captains David and Joe pulled a gargantuan rabbit out of a hat on the squid grounds and we ended our day going 12 for 13 on 30- to 46-pound yellowtail.
Visit FinFetish.com for more info on one of SoCal's premier six-pack operations.