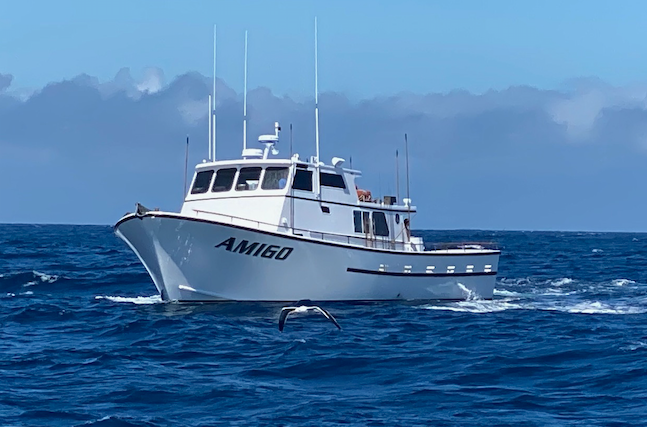 BY JEFF JESSOP
Owner of 22nd Street Landing Sportfishing, San Pedro
Most Californians are well aware of Governor Gavin Newsom's plan to ban gas lawn mowers and leaf blowers. However, most never heard of his zero-emission plan calling for regulations that will start removing commercial passenger sportfishing boats from California waters as early as next year.
The California Air Resources Board (CARB), a board appointed mostly by the Governor, has proposed draconian engine emission regulations that mandate engines and technology that are too large and too heavy for sportfishing boats, and not proven safe at sea. Rather than tabling the regulations, regulators told the Los Angeles Times, "We assume that a majority, if not all sport-fishing boats have to be replaced to comply."
CARB fails to recognize that boat owners are in the business of introducing people to all the splendors of sea, including blue skies and colorful sunsets. They are conservationists by nature and recognize the value of clean air and water. This is why they have been voluntarily repowering to cleaner engines for years, however, what CARB proposes is as extraordinary as it is economically and structurally infeasible.
New boats can cost over $5 million and few boat owners will be able to finance new boats given that their non-compliant boat will have no resale value in California. For the few that can, they would have to TRIPLE the cost of one-day fishing trips. No angler will pay over $500 to fish and no boat can maintain current passenger loads at these prices. So, if CARB approves these regulations in March, boat owners are resigned to the fact that within 3-6 years most of them will be out of business.
Passenger sportfishing boats are not lawnmowers, many are family-owned, some multi-generational. Profit margins are slim, especially during the global pandemic. However, collectively, these businesses generate billions of dollars in economic activity.  This is why the California Travel Association and nearly every Chamber of Commerce along California's coast is vehemently opposed to regulations that threaten visitor spending, the economy and local jobs.
As fishing becomes too costly, many of California's 2.6 million anglers will be denied the most affordable means of offshore fishing. Inflation and the high cost of living in California leaves little disposable income for what is certainly a luxury activity. Moreover, the regulations will disenfranchise families of color at a time when recent studies conclude that fishing participation rates are increasing among Hispanics, African Americans and women.
Ironically, CARB's move will have the unintended consequence of undermining the California Department of Fish and Wildlife's (CDFW) R3 Program that aims to increase fishing participation rates, and fish stocking and wildlife protection programs funded by fishing license sales.  All this led the California Fish and Game Commission to write CARB, "I write to convey our concerns with how the proposed regulation changes could negatively affect recreational fishing and the coastal economies that depend on it. Healthy fish and wildlife require a healthy environment, a shared goal between our organizations."
Today, over 70 state, national and local organizations representing sportfishing, recreational boating, tourism and small businesses have joined a coalition urging Governor Newsom to "Save our Boats." Fishing tackle manufacturers and outdoor retailers who depend on Californians with disposable income and a strong passion for the great outdoors have signed on as well.
If you value your access to the finest coastline in the country, sign the petition at www.savefishing.com and as CARB's public hearing nears, boat owners will call upon you for help. When they do, throw them a life-preserver by getting engaged in the political process and have your voice heard.