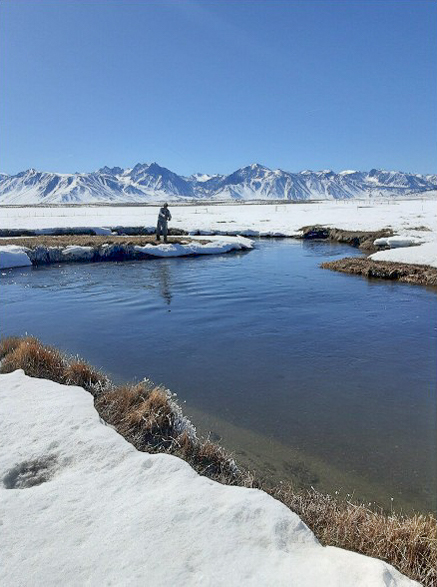 BY ERNIE COWAN
BISHOP—Storms finally brought much some snow to the Eastern Sierra, but high winds also brought a raging wildfire that closed the Lower Owens last week to all fishing activity.  It certainly was a time of contrast in the High Country.
Other than cold, winter fishing in the Eastern Sierra was mostly devoid of weather since a major storm dumped record levels of snow in December. That changed last week when a brief winter storm moved through, bringing good amounts of snow at higher elevations and a dusting along the Upper Owens.
Unfortunately, the storm also brought high winds that quickly exploded a brushfire that began near the Bishop Airport into a multi-thousand-acre monster.
If there was any good news, it was the fact the wind was from the north, so flames were pushed away from the town of Bishop. The bad news was flames were rapidly moving towards Big Pine.
Andre Nersesian, owner of Eastern Sierra Sportfishing and a Big Pine resident said the town appeared to be safe from the fast-moving fire.
"The fire is pretty much raging south by the river. It's now getting close to passing by the Big Pine area but thankfully is staying a couple miles east of town as it moves south," he said.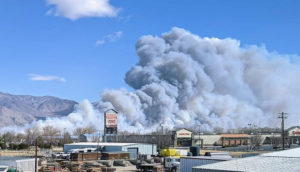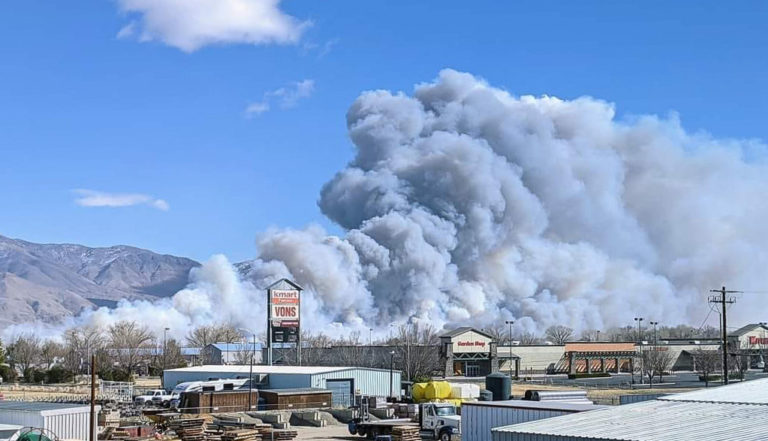 Flames, however, have impacted access to the Lower Owens.
"Right now, all access is closed off to the river from Big Pine to Bishop. Depending how close its burning to the river, or how many times it may have crossed it, water conditions could be poor for a while after this with all the debris and ash," Nersesian said.
Sections of the Lower Owens north of the fire continue to be good for trout fishing. Last week's storm did not bring snow to that area, so access and conditions are good. Fred Rowe from Sierra Bright Dot said pressure from weekend fly fishers and fly club outings has affected anglers tossing nymphs and dries on the Wild Trout Section of the Lower Owens.
"Nymphing has been the most consistent producer with Mayfly Nymphs, Midge Nymphs, and Midge Pupae. I've been using a size 16 olive Quilldigons, a size 18 bead head flashback Pheasant Tail Nymph, and size 20 Tiger Midges or Zebra Midges," Rowe said.
Not all spots on the lower Owens River are equal during the hatch, so anglers need to move around to find areas with a concentration of rising trout.
Warmer conditions also mean more active trout at Pleasant Valley Reservoir. The most productive area continues to be near the dam.
It's still biting cold in the mornings on the Upper Owens, but anglers are still getting into fish. Access remains open only to those using snowmobiles, skies, or snowshoes. Roads are not passable.
Guide Eric Hein from The Troutfitter reports that the spring spawn is starting to show up, with the spring fish generally a little smaller than the fall run and very silvery.
"Still, the same flies such as eggs, worms, and other attractor patterns are working," Hein said. It's not a bad idea to trail them with a #20-24 midge pattern or maybe Mayfly Nymphs #16-18 and to key in on the deeper water.
Access to Hot Creek is still limited to those willing to hike. It's about a mile over hard packed snow to the canyon section and the trail into the canyon can be a bit tricky.
The means fishing pressure has been low, so fish are not quite as spooky.
Nymphing under a dry fly with Midge and Mayfly nymphs is producing trout. Guide Fred Rowe suggests anglers carry Mayfly Parachutes for those days when the trout are actively feeding on hatching BWO's.
The interpretive site at Hot Creek has seen good midday action with hatching BWO's and midges. This area sees more activity, so anglers should approach softly as fish are very savvy and spooky.
Bridgeport area waters remain locked in the cold right now. The East Walker is closed to winter fishing, but local creeks, such as Robinson Creek, Green Creek, Virginia Creek, Buckeye Creek, Little Walker River are open, but have not been stocked.
The West Walker River is also open to barbless only winter fishing, but there have been no reports into the folks at Ken's Sporting Goods.
As spring temperatures begin to arrive next month, look for fishing activity and the bite to pick up here.