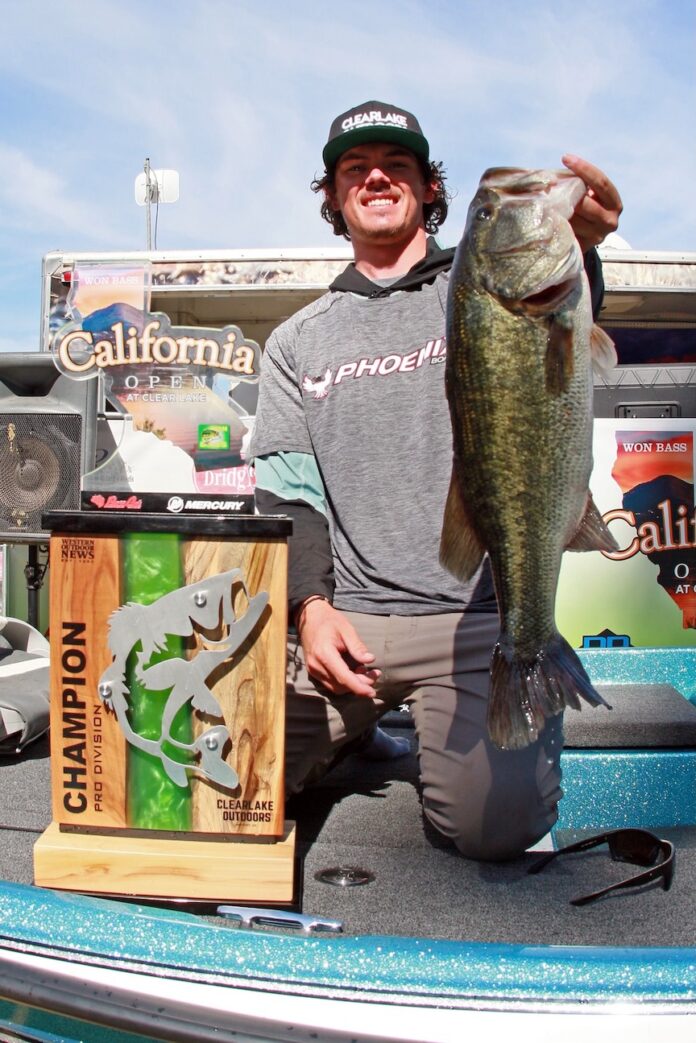 BY JODY ONLY
LAKEPORT, Calif. – A full field of 300 anglers blasted off at the 11th annual WON Bass California Open on Clear Lake this past Wednesday. As the west coast bass battle ensured, Nathan Phillips of Cobb, Calif. found himself atop the leaderboard each and every day of the event, (28.48 – Day One, 25.56-Day Two, 22.30-Day Three), landing him at 76.34 for his tournament total. For his wire-to wire win, Phillips will take home a grand prize package valued at $67,500 that includes a Bass Cat Sabre FTD fully-rigged with a Mercury 150 ProXS.
A trio of baits were responsible for Phillips' catches, and they included a plastic, a jointed glide bait and an exclusive bait from Clear Lake Outdoors.
The runner-up position went to lake local Jackson Juarez from Kelseyville. Juarez had a stellar start and finish, bookending his three days of fishing with limits of 24.69 and 26.62. Although he made a good run at it, his middle day weight of 16.87 kept him out of the win by more than eight-pounds.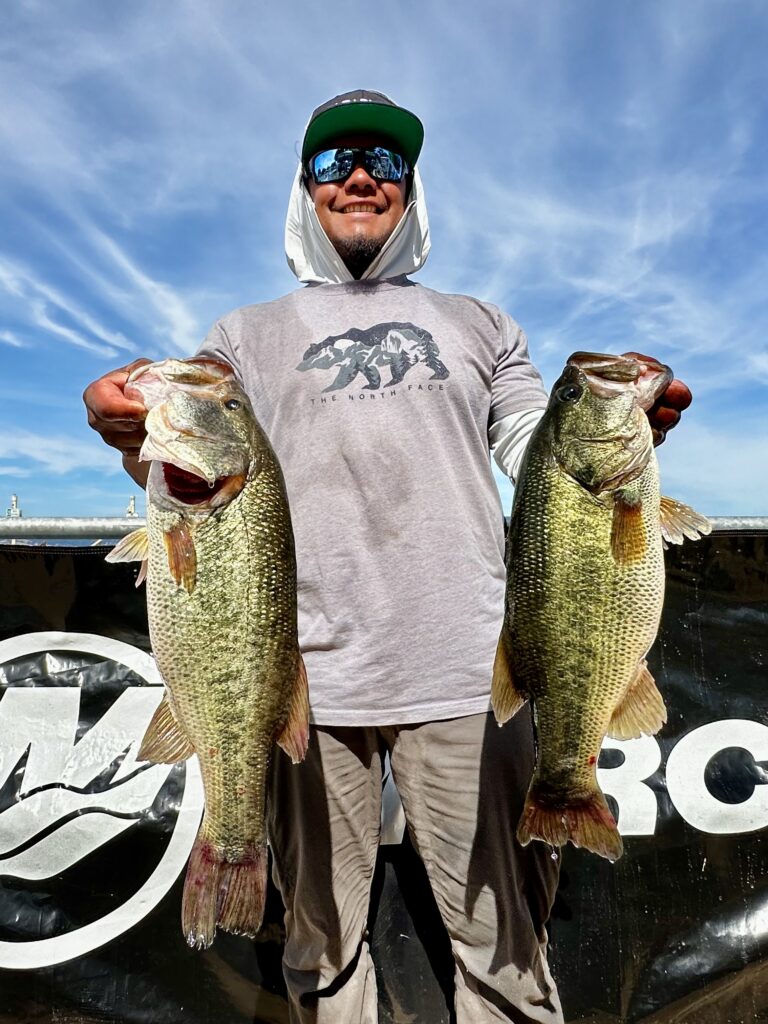 Juarez also named three baits for their prowess this week – a lipless crank, a glide bait and a ripbait. His payout was $15,000.
Fellow California pro Daylon Smith from Frazier Park rounded out the top-three with a three-day weight of 64.70. Smith showed only one bait that mattered – a seven-inch Yamamoto Senko.
The AAA crown went to Troy Mays of Ione, Calif. for sacking up 14.69, 16.41 and 26,62. The AAA win paid $6,000 for the 57.72 that won.
The only eight-pounder of the tournament was brought in by AAA Ethan Hammer of Peoria, Ariz. His 8.24 fell to a handmade, 3/8-ounce jig with a brown skirt. He will receive Big Bass money.
Full results of the event by day, including draw partners and big bass of each competition day can be found here.
For more on the Clear Lake fish-off and other WON Bass fishing events, stay tuned to Western Outdoor News.
The final event of the WON Bass season is the U.S. open at Lake Mohave October 16 – 18. Register here.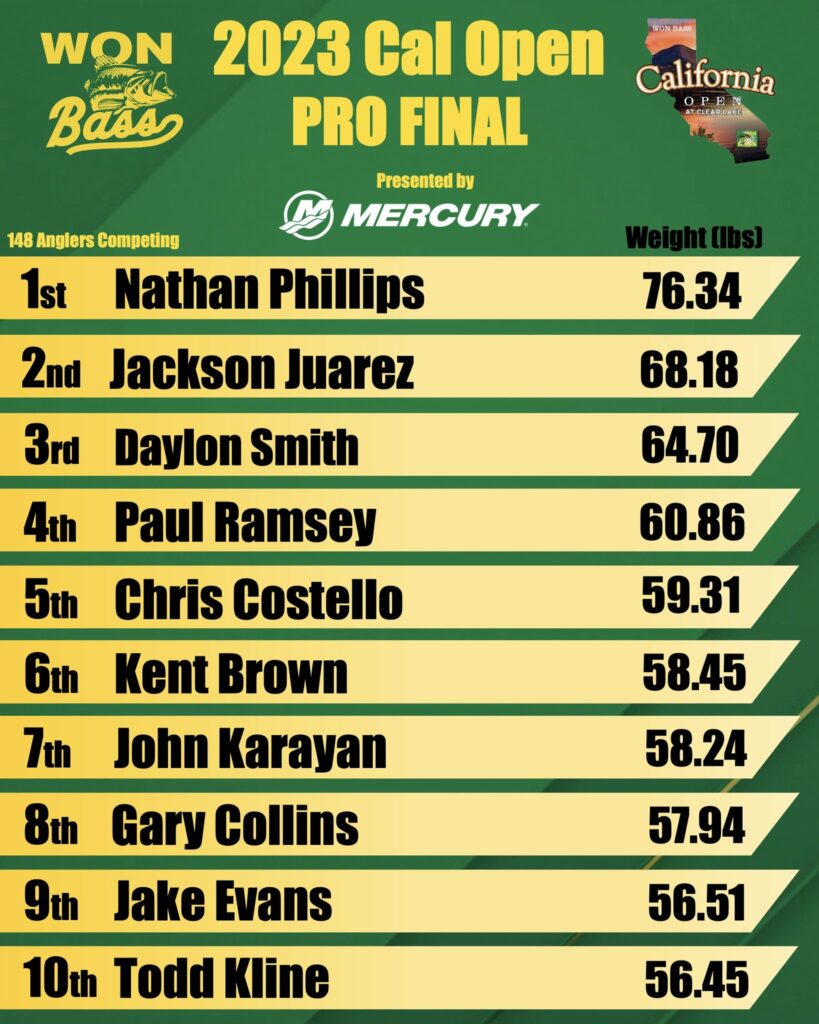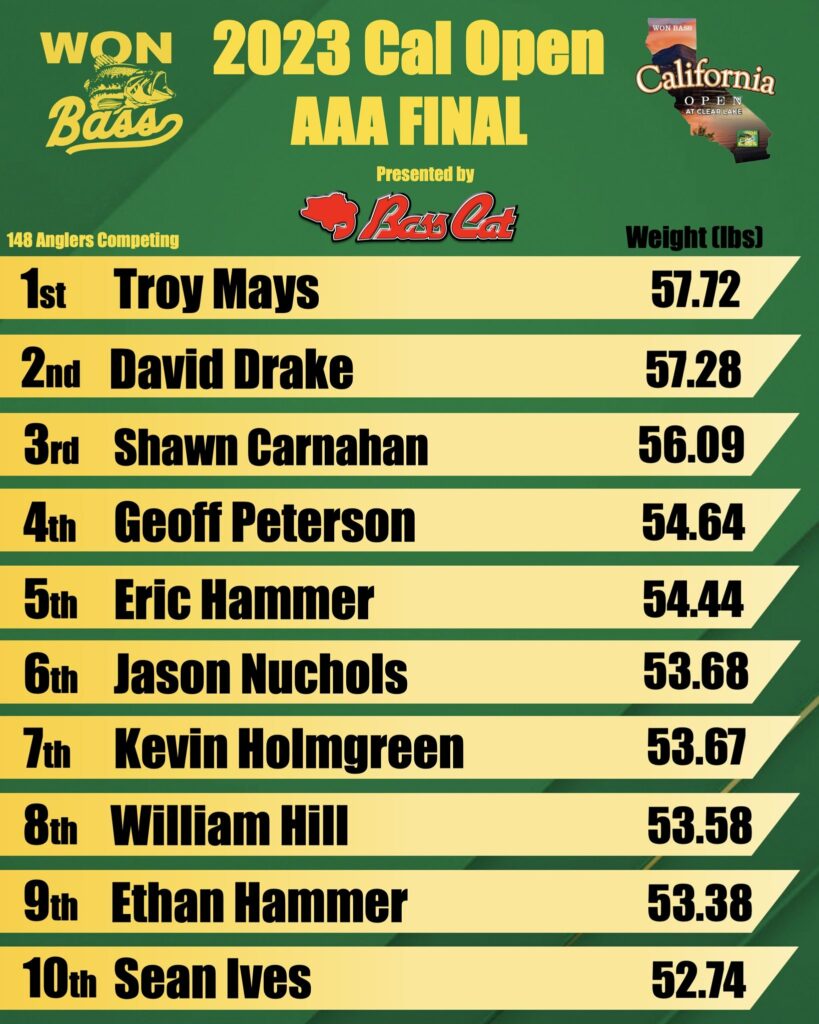 Phillips holds California Open lead and widens gap to nearly 10-pounds
BY JODY ONLY
LAKEPORT – Clear Lake giveth and Clear Lake taketh away. That's not the exact quote; however, it is the gist of what happened to many of the teams on Day Two of the 11th Annual WON Bass California Open. Whether we blame it dropping water levels, changes in air temps, cloud cover, wind direction or increasing pressure, the impact was the same, there were very few anglers that repeated or improved the success of their Day One stringers.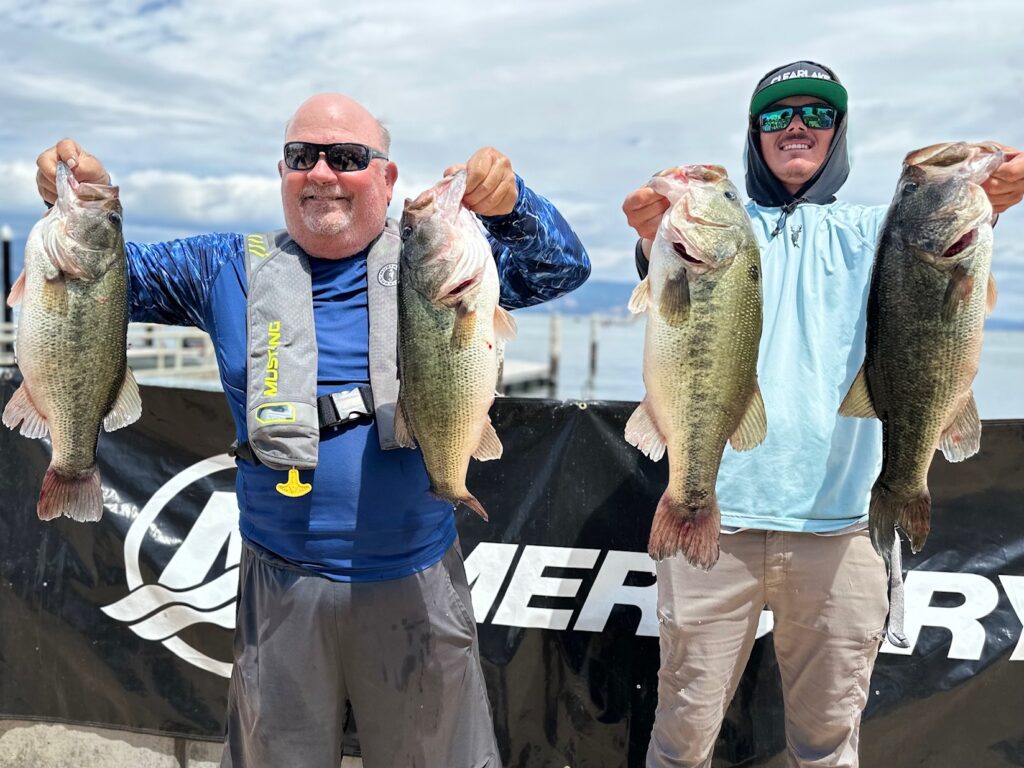 Although the Day One pro leader Nathan Phillips of Cobb, Calif maintained his top spot after adding 25.56 to his first day's limit of 28.48, he too was scratching his head after a sudden absence of his bite. "I'm not sure what happened, but it was like the fish just left sometime in the morning," he said. "They just weren't setup right; but I guess catching 25 pounds when they're not set up right is okay."
Fishing with AAA Vince DiPalma of Walnut, Calif., Phillips advanced his lead to 54.04 leaving his nearest competitor trailing by nearly 10-pounds, a deficit that will be a challenge to make up, even at a big bass fishery like Clear Lake – yes, a challenge, but not impossible.
The only pro in the top-5 that improved his weight on Day Two was Ultimate Bass Radio host Kent Brown from Roseville, Calif. Fishing with AAA Shawn Carnahan of Gilbert, Ariz., Brown put together 21.49 on top of his Day One 20.30. He rounds out the top 5 with a total of 41.79. Brown's 2nd day limit included the 2nd biggest bass of the day – a 6.45 that was edged out by .01 for the pro Big Bass honor of the day by lake local Paul Bailey's 6.46. "I got bit all day long," Brown shared. "But the big one bit mid-day."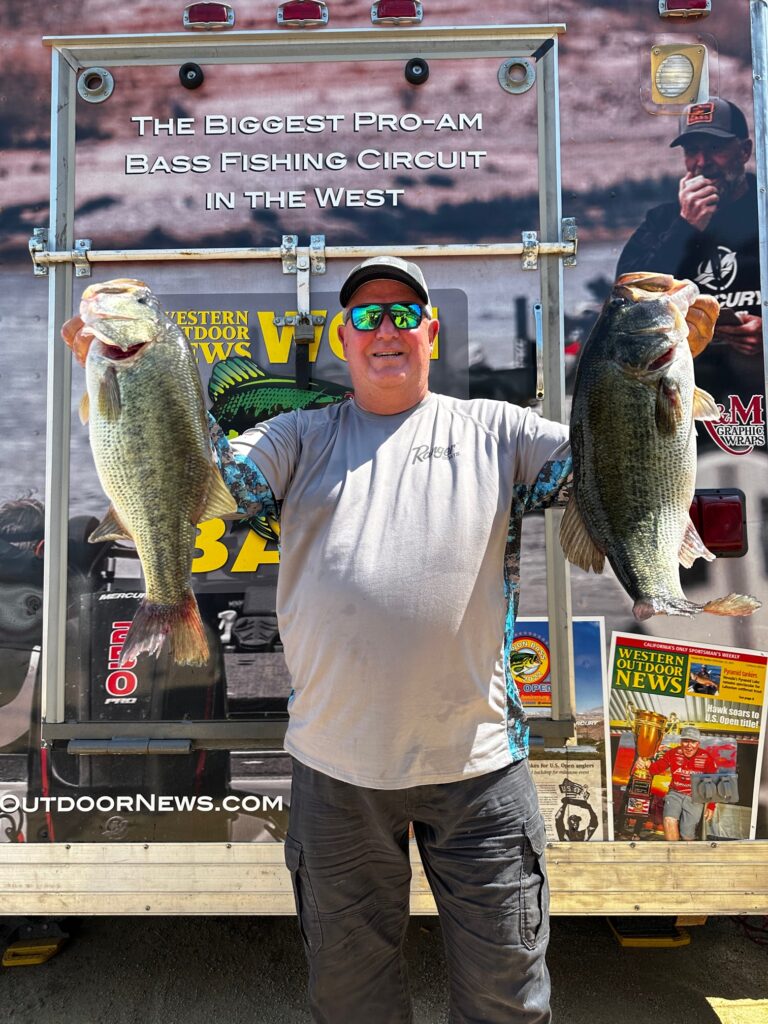 First place on the AAA side at 43.09 was claimed on Day Two by Rick Mikla of Discovery Bay, Calif. Paired with Jackson Juarez of Kelseyville on Day One started Mikla out in 5th place with 24.69. He added 18.40 with pro Justin Kerr of Lake Havasu City, Ariz. to make his move on the second day.
With similar conditions forecasted for the final day of fishing, anglers are considering their strategies and as we all know, at Clear lake any cast can end in the fish of a lifetime. Tune in tomorrow at the WON Bass FB Live Stream or join the anglers in person at Library Park in Lakeport. The scales open at 2 p.m. The newest California Open champion will be crowned.
Phillips and Drake calm fears of a fishless Clear Lake as 2023 California Open wraps Day 1
BY JODY ONLY
LAKEPORT – As the 11th Annual WON Bass California Open launched onto the waters of Clear Lake – the Big Bass Factory of the West – all eyes were glued to the scales. Anglers and fishing fans alike wondered – would the bigs show out, was the bucket list lake dead, or were the "no bite in three days" claims just fish tales and dock talk?
Nathan Phillips of Cobb, Calif. certainly didn't find the lake dead. In fact, he and his AAA David Drake of Placentia, Calif., sacked up a five-fish limit that went 28.48. With Phillips' 6.04 big bass bolstering their bag, each rocketed to the top of the leaderboard on their respective pro and AAA sides.
That wasn't the only show of strength for the famed big bass fishery. The top trio of teams all crossed the stage with better than a five-pound bass average for their limits.
Brian Coughlin of Lodi, Calif. with AAA Ethan Hammer of Peoria, Ariz. held 27.52 and California anglers, pro Daylon Smith of Frazier Park with AAA Mike Flores Jr. from San Diego closed their Day One with 27.17.
But wait – even those three teams weren't an anomaly. Not even the top-10 could be breached without breakin' 20. And, while we haven't yet seen any double-digits or eight or nine-pounders make an appearance for this year's event, it does seem that we can put the rumors to rest – at least for now – Clear Lake's not dead and with the stabilizing air temps, it may even be getting better.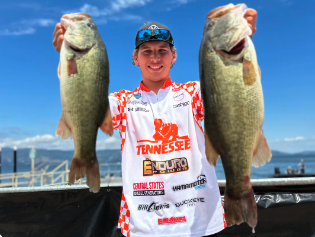 The pro Big Bass leader of Day 1 is Matthew Dettling of El Macero, Calif. with a 7.47. The only other seven brought up belonged to pro angler John Karayan of Ventura, Calif. Karayan's came in at 7.13.
Kevin Gross from Redding, Calif. led the Big Bass board for the AAAs with a 6.93 that fell to a Yamamoto Senko.
With two more days of fishing ahead, anglers were tight-lipped about the deets, sharing only a select few elements of their day. The only consistency was a variety of inconsistency with reports from some having a better morning bite, others finding success in the warmth of the afternoon, and a few mid-morning or mid-day mentions. The same held true for the baits – a mix of reaction and finesse, moving and down baits were all whispered at the scales.
More will be revealed at the Day Two weigh-in. Join WON Bass and root for your favorite angler at Library Park in Lakeport, Calif. or online with WON Bass FB Live. First flight weighs at 2 p.m.