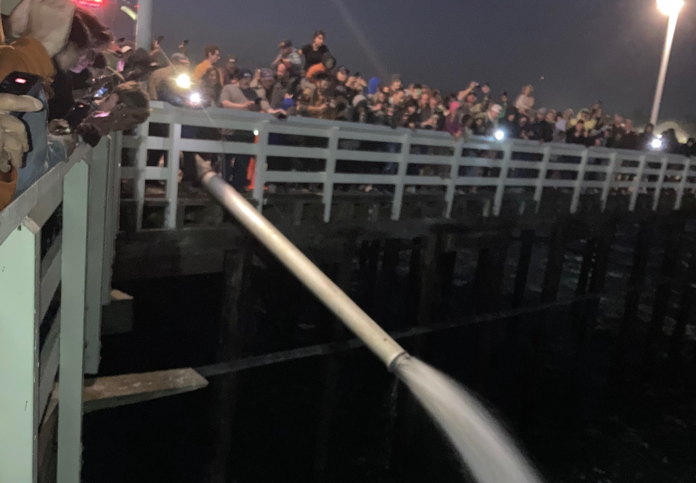 By ALLEN 'BUSHY' BUSHNELL
MONTEREY – Over 100 supporters of the Monterey Bay Salmon and Trout Project gathered at the end of Santa Cruz Wharf Wednesday night as the Project released 160,000 juvenile Chinook (King) salmon into the Pacific Ocean.
The MBSTP Executive Director Ben Harris informed us, "These fish are raised at the Department of Fish and Wildlife's Mokelumne Hatchery. We release them directly from the Wharf with the intention that they can grow to adulthood at sea and eventually be caught right here in Monterey Bay! This method helps them avoid poor habitat conditions and invasive predators in the CA Bay-Delta, helping to boost ocean salmon populations when they need it most." An additional 160,000 fish are scheduled for a Thursday evening release at the Monterey Harbor.
During the past week, ocean conditions have remained blustery, often with winds of 10 knots or more continuing overnight. This makes for choppy seas in the mornings. Despite that challenge, there are plenty of fish coming over the rails in Monterey Bay. The commercial squid boats continue to net squid as allowed near Pacific Grove. Savvy anglers are getting into the act by jigging for live squid, then using that premier bait to fish rock cod on nearby reefs, or travel up towards Sand City where quite a few limits of halibut were reported caught this week. Remember, as of June 1 the bag limit for halibut is restricted to two fish per angler per day in possession in our area.
Deepwater rockfishing is still going strong. There is so much untouched area out beyond the 300-foot line that we would expect this "quick limit" fishing to continue all season. Working those deep waters can also result in surprise catches now and then. One angler brought in a Pacific halibut this week that weighed in at Bayside Marine in Santa Cruz at nearly 40 pounds. Good news from inshore anglers is that the rockfish bite picked up dramatically this week. Big schools of blue and black rockfish are biting above the reefs from 40 to 120 feet of water. Some of the blacks are weighing in as much as five pounds each.
Despite the unseasonably cool ocean temperatures, California halibut are inexorably moving in for feeding and yearly spawning activities. According to Ed Burrell at Santa Cruz Boat Rentals on the Santa Cruz Wharf, most of the bigger halibut are still hanging out in 60-75 feet of water. "There's been some really nice catches right out by the Mile Buoy, both east and west sides, and a little outside of the buoy," Burrell reported.
While the "big mama" flatties might be out deep, there are plenty of smaller halibut carpeting the flat sandy areas all the way in to the surfline. When the swells get small and water clears, surfcasting for the flatties is a very worthwhile and thrilling exercise.
Bushnell also operates Santa Cruz Kayak Fishing and Surfcasting Guide Service. Please send your reports, pictures or questions to scruzfishing@yahoo.com