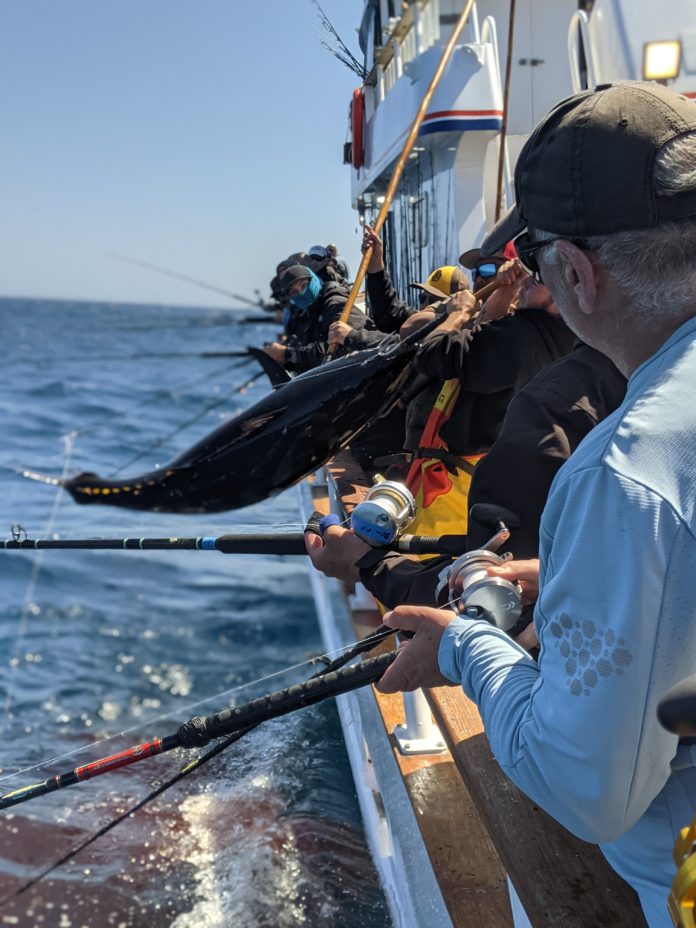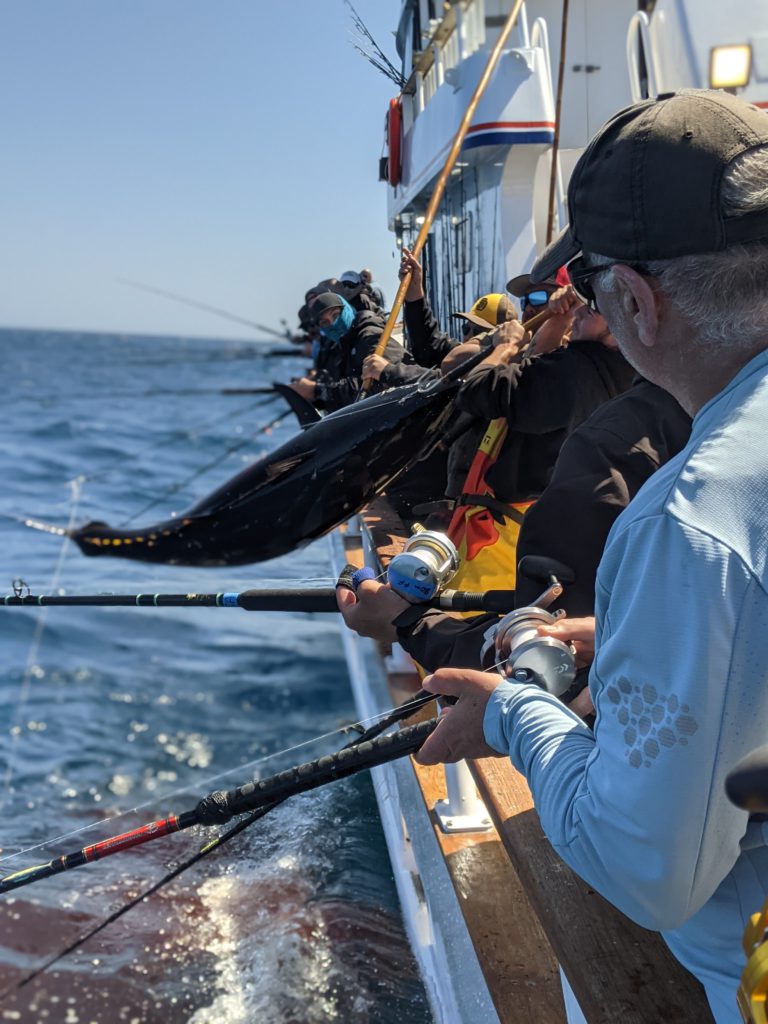 BY RACHEL VON FLECK
SAN DIEGO – In the week leading up to the 3-day WON charter on the Polaris Supreme, the storm moving in put our trip in danger of being cancelled entirely. As we watched the weather reports predicting 30-knot winds and 10 to 12 foot swells, we were pleased to find the trip was updated to a 1.5-day trip leaving the following day. Almost all the anglers on the trip eagerly agreed to the new dates, anxious to get out on the water.
On the day of the trip, we were scheduled to leave at 5:00 p.m. As many other anglers do, I planned to head down early, pick a few things up from the tackle shop at Seaforth Sportfishing and grab some food at the Royal Rooster.
Unfortunately, as soon as I hit the freeway, I was stuck in heavy traffic and instead of the usual one hour it would take to get to the landing, it took nearly four. When I arrived I found that seven other passengers had also called, informing the landing that alternate routes were also severely congested or closed, and they would be running late.
We boarded the boat on time to allow everyone to set up their gear before heading out in rough seas while we waited on the remaining passengers. Once we had everyone accounted for, we left the docks and headed south. Since hardly anyone had fished for bluefin the four days prior, Captain Aliyar had to work hard to find the fish again. During the previous week, most of the fleet had been out at San Clemente Island. With days of heavy winds and current bringing in colder water, conditions had completely changed and the fish had moved.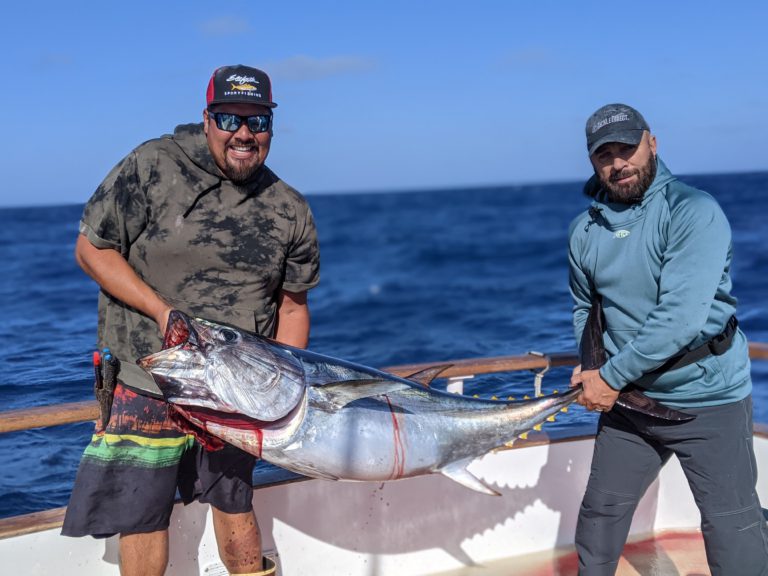 After the safety meeting, we discussed the biting conditions from earlier in the week. Our plan was to be ready to fish around 12:30 a.m. when we got into the zone; the bluefin had been biting the Flat-Falls at night, so we were going to capitalize on the early arrival. On the ride out, we were treated to a fantastic prime rib, mashed potato and green bean dinner prepared by Chef Abraham Lopez of Chula Vista.
A few hours before we reached our projected zone, Captain Aliyar found a large school of bluefin on the meter and it was a rushed frenzy of excitement to get jigs in the water. We fished a couple of spots without action until our third stop around 9:45 p.m. when Will Jin of Irvine hooked into a 40- to 50-pound bluefin on a silver-and-glow striped 250g SK Jig. As Will was winding it in, another passenger got hit on a Flat-Fall jig, but it did not stick. Within the hour, we had another bite when Mike Benedict of Encinitas presented a glow Ahi Assault Diamond Jig and put a 120-pound bluefin on deck.
With the wind and the spray, a lot of us started to feel the cold. The bite slowed, and some of us started taking naps in the galley or heading off to bed. Quite a few people stayed up and fished through the night though. David Lam of San Marcos was rewarded with the last fish of the night when he scored a 100-pound bluefin on a 250g pink holographic Tady TSP Tuna Slow Pitch Jig around 1:30 a.m.
At 5:30 a.m. we woke up to an announcement urging us to ready a 30- to 40-pound setup, a 50-pound setup and a 60- to 80-pound sinker rig as we were entering a promising zone. We exited our staterooms to the smell of fresh baked biscuits, sausage gravy and eggs being whipped up in the galley; along with the hot breakfast, a selection of fresh fruits, granola, and cereal was also provided. We enjoyed breakfast and conversation amongst ourselves until our first stop of the day around 8:00 a.m.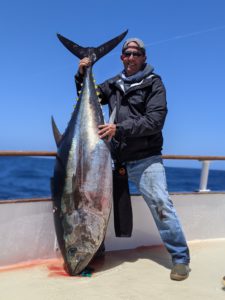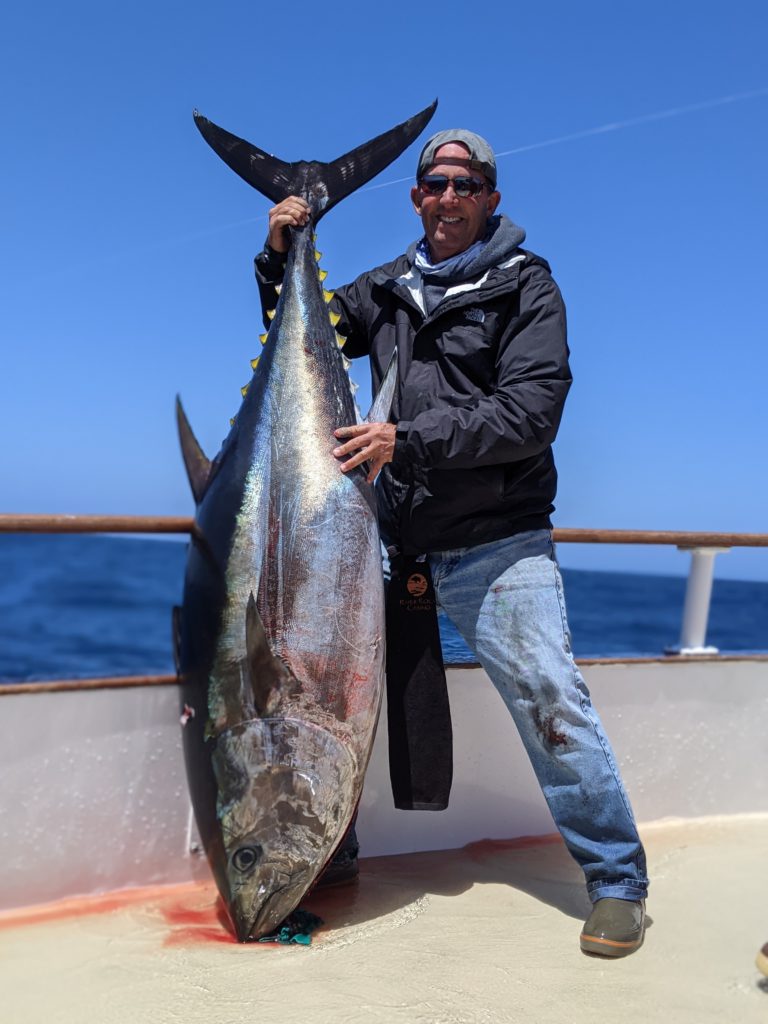 Everyone ran for their rods and dropped their jigs or sinker down as quickly as possible. The fish were deep throughout  the day, ranging anywhere from 200 to 385 feet, so 200- to 300-gram butterfly jigs and 6- to 10-ounce sinker rigs were the ticket. Our first bite of the morning was on a 6-ounce sinker rig fished by Ed Berakovich of Lake Havasu City, Ariz. Everyone was thrilled when he and Second Captain Kalani Gonzales of San Juan Capistrano boated the 115-pound tuna. We were seeing good signs of fish, the weather seemed to be looking up and we already had three bluefin (two over 100 pounds) on board.
As we pulled up to the next stop, the deckhands put out a frozen flyer on the kite setup. A few minutes later, it was bit, and they randomized numbers and picked off the roster. Unfortunately, the fish came off a few seconds into the fight. Three other anglers got bit as well on sinker rigs, but unfortunately two of them pulled the hook and the other one broke off.
We kept metering schools of larger grade fish throughout the trip, but it was tough to get them to stick with us. We had one great stop where the fish stuck around well, but bites were few and far between. Everyone kept fishing hard though, and we saw a few more fish caught over the next two hours.
Another sinker rig enticed a 112-pound bluefin landed by angler Eddie Barragan of Oxnard, followed by a trio of kite fish. A 188-pound bluefin was landed by Bill Hurguy of Ventura, a 193-pound bluefin by Hunt Conrad of Healdsburg, and then a second bluefin was caught by Barragan weighing in at 110-pounds. While Eddie was battling the last kite fish, Craig Arsell of Long Island, New York, hooked one on a 40-pound sinker rig and was in danger of being spooled. With help from deckhand Tanner Seres of Dana Point, they were able to turn the fish around and gain some line back. After a strenuous fight, the two of them successfully boated the 110-pound bluefin.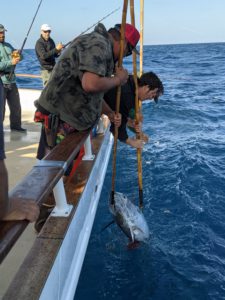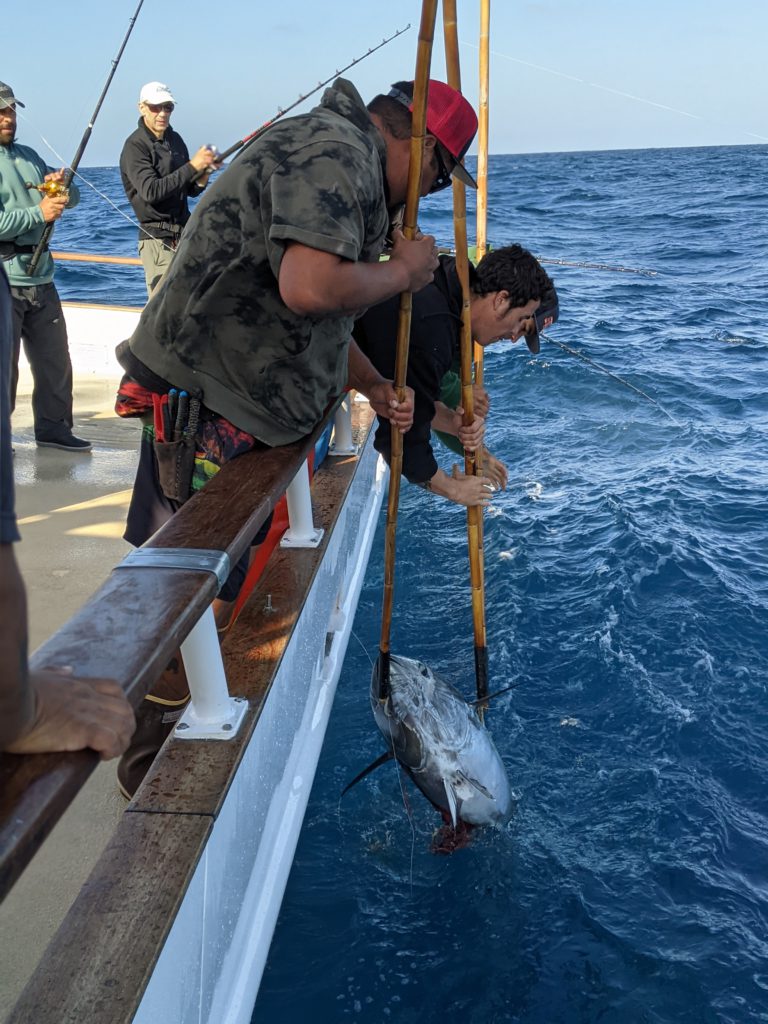 The school had left us at this point, so we went looking. Just when we thought we might see an improvement in the weather, the wind picked up again, blowing 20 knots and pushing up 6 foot swells every 5 to 6 seconds. With the rough weather, we switched up to the heavier butterfly jigs, knife jigs, and 10- to 16-ounce sinker rigs to try to reach the fish. Even with the heavier gear, the current pulled the boat so fast it was hard to get a jig or bait down without the line dragging out nearly perpendicular from the boat.
For the rest of the afternoon, most of the passengers took to the galley or outside seating in between stops to combat the rocking boat. As water sprayed over the rail and splashed through the scuppers, everyone battled to stay upright at the rail. While fishing wasn't hazardous, it definitely wasn't easy.
The crew of the Polaris Supreme was fantastic and did everything within their abilities to provide opportunities. They put in the miles looking for fish, lent heavier gear where needed, rigged up crimped leaders with heavier Flat-Falls or sinkers, and threw plenty of bait to try to keep the fish around. Even with all of the effort, the fish didn't want to play. We did not see another hook up until we stopped on a small kelp, the the 200 shortly before dinner, and Mason Karafa of Point Loma pulled out a single yellowtail.
The rough seas had items sliding all around in the kitchen, but Chef Abraham Lopez of Chula Vista and Sous Chef Glenn Tapia of San Diego were still able to create an absolute masterpiece for dinner! They served up a delicious teriyaki-seared bluefin with a pineapple salsa, seasoned rice and roasted broccolini as we left the kelp paddy. The meal received rave reviews, and we were treated to New York-style cheesecake and coffee as a finisher.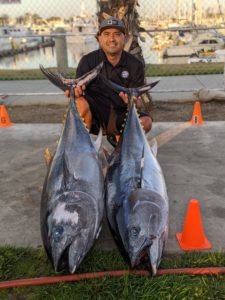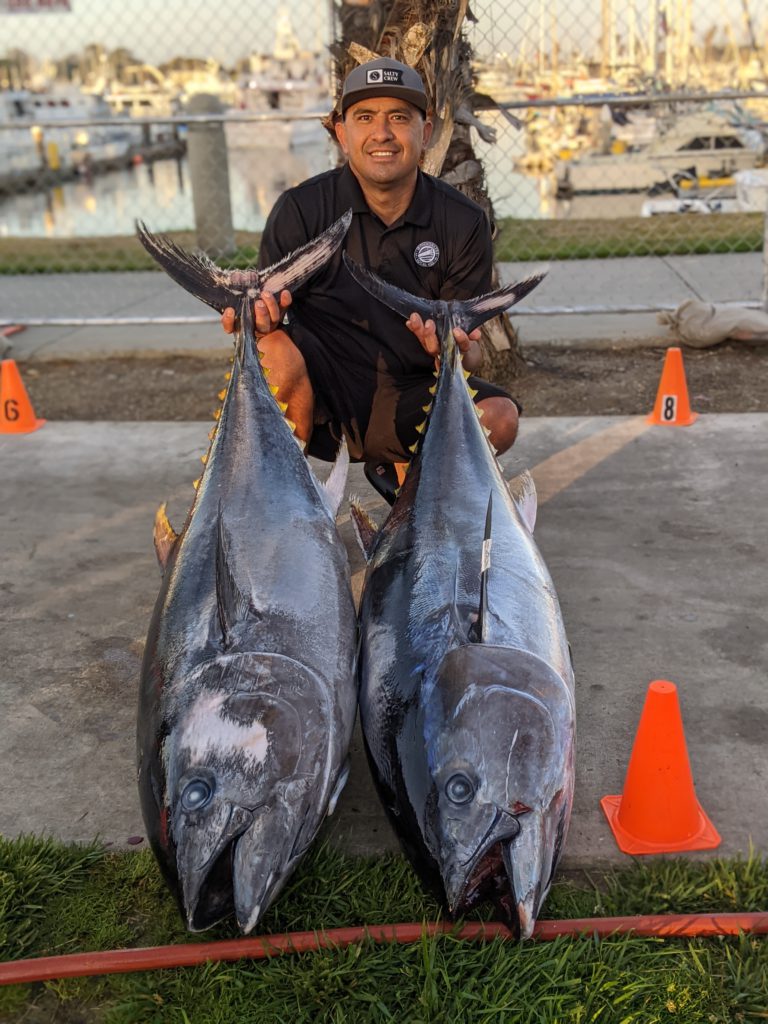 As the evening wound down, we started to break down our fly-line and sinker rig setups, leaving our Flat-Falls and heavier jigs tied on just in case we stopped on any schools on the way back up toward San Diego. We gradually rocked our way home in the swells, gathering around to recap the day before heading off to bed, thrilled that we were able to get out and enjoy some fishing despite the weather! We ended the trip with one yellowtail and nine bluefin (two around 200-pounds, 6 over 100-pounds, and one around 50-pounds) for 24 anglers. This was my first trip on the Polaris Supreme, and it was an extremely comfortable ride. There are 12 staterooms, each with two bunks, a sink and a mirror. The galley is large with plenty of seating, and coffee, snacks, and drinks (with an ice maker) were always ready! The food was fantastic, and both Abe and Glenn were very accommodating with special requests and created wonderful meals throughout the trip, including tasty grab-and-go sandwiches and coffee for the morning of our return.
Seaforth Sportfishing is the new home of the Polaris Supreme after being brought over by the new owners, Frank LoPreste and Aliyar Hajinabi. Frank said, "I am extremely impressed with Captain Aliyar, and I am very happy to have him running the boat with his professionalism, hard work, and exceptional fishing abilities."
They run an excellent operation, and I am so happy our Western Outdoor News charter made it off the docks and we got to experience the trip with them! I look forward to fishing with them again in the future, and I am sure many of the other passengers will also be returning for future charters.