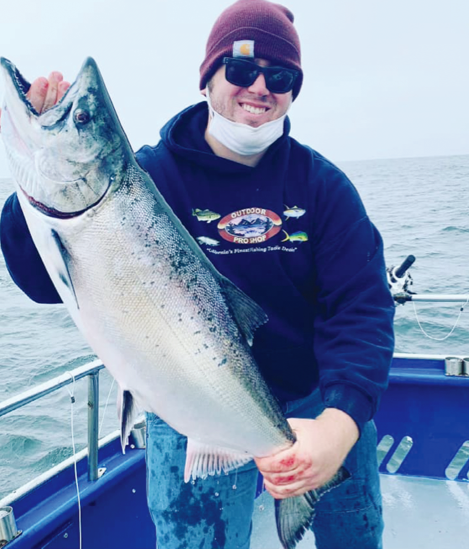 By DAVE HURLEY
PRINCETON-BY-THE-SEA – The salmon scores remained respectable when the larger boats were able to make the 18-mile trek to the open line below Pigeon Point while rockfishing on the local reefs is solid for limits along with the occasional lingcod.
There was a weather window over the weekend, and the Huli Cat was the highliner on Saturday with 9 limits of salmon to 16 pounds while the New Captain Pete came through with a fish per rod with 15 salmon for 15 anglers. The Queen of Hearts out of Half Moon Bay Sport Fishing returned with 10 salmon to 12 pounds for 14 anglers on Saturday, but they went rockfishing for 12 limits and 2 lings on Sunday.
Captain Dennis Baxter of the New Captain Pete said, "We had a decent score on Sunday with 11 salmon for 7 anglers, but it wasn't the big response that we had expected with the excellent conditions down south." First mate and son, Braden Baxter, added, "The conditions looked really good with a bunch of whales putting on shows, hundreds of feet of bait on the sonar, birds along with a few albatross, and the salmon are plugged with both krill or anchovies. We had a lot of short bites, however, and the shakers and silvers are a nuisance so a few extra weights have to be expended."
Captain Tom Mattusch of the Huli Cat confirmed the slower bite on Sunday, saying, "They bit late in the afternoon on Saturday, and although the weather conditions were similar on both days, we didn't receive the type of action we had expected. The weather was such that we could only troll in one direction on both days. Monday's weather is the best it has been in some time, but surprisingly, there wasn't much interest to make the run. We put in limits of both rockfish and crab along with 7 lingcod to 9 pounds earlier in the week with the bottom fish found in 130 feet of water off of San Gregorio."
The local salmon season begins on June 26, and the first of the net pen releases occurred this past week with another pen filled and ready to get set free.