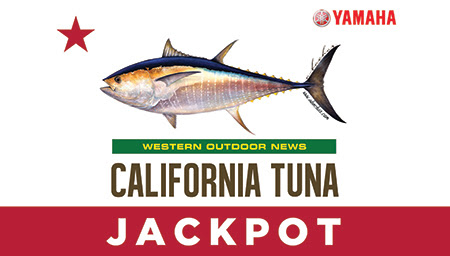 Second-running gets to run full speed in 2021

FULL RULES, INFO and SIGN UPS HERE.
BY MIKE STEVENS
POINT LOMA — The first-annual WON California Tuna Jackpot (CTJ) launched last summer in a year when running long-stranding events was challenging enough let alone coming up with new ones. It was well known among tournament organizers and participating anglers that the 2020 CTJ was going to be the "lite" version of something that is going to grow exponentially, and before the dust even settled on the inaugural running last July, it was very clear that the event has serious legs, and staffers hadn't even left the parking lot before they were brainstorming on how to upgrade the private boater tournament moving forward.
While clarity was at a premium in all aspects of 2020, the blueprint for the event and its progression was clear from the get-go: create a Southern California tuna tournament for any level of private boater to shoot it out on a level playing field for cash and prizes, use WON's strong relationships with supporting sponsors to push it to all-ahead-full, and create a fun environment for post-tourney activities back on dry land. The ultimate goal is to grow the CTJ into a fishing competition comparable to WON's hugely-successful Cabo Tuna Jackpot which stands as the richest tuna tournament in the world.
Already born out of the successful mold of the CTJ is the WON California Yellowtail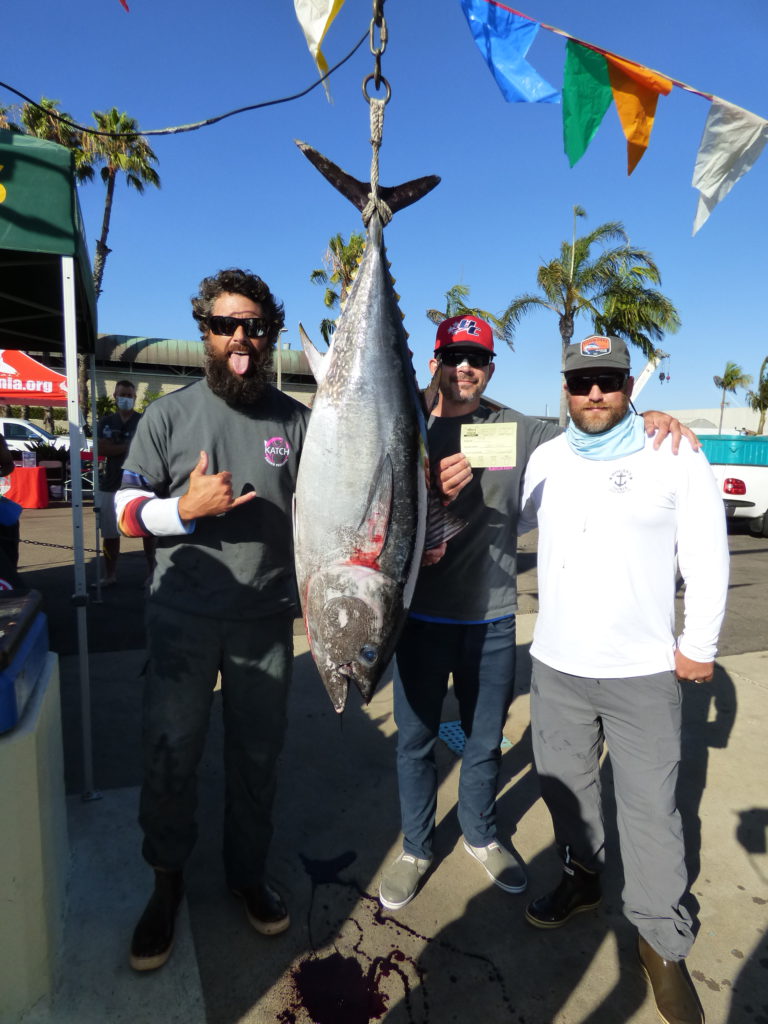 Jackpot which goes down for the first time on June 11. With a tournament recipe that dialed, it only makes sense for it to spawn similar events for private boat anglers. As most WON readers will remember, it was private-boat fishing that had the most wiggle room during a shutdown-ridden 2020, and it was those headaches that created an even more intense drive to get outside and put more of the "distance" in social distancing.
Back to the second running of the Tuna Jackpot, it will once again be headquartered at the historic San Diego Marlin Club which has proven itself as the perfect venue for a private boater event in Southern California. Accepting boats of all sizes, much of the Jackpot is geared toward smaller private boats including the ability to launch from any port. The weigh-in is in San Diego at the Marlin Club, and participating anglers who launch elsewhere can arrange for someone to drive their trailers to Shelter Island for a quicker return home by road.
The $400 entry fee covers a team of 2 to 4 anglers. So at $100 per person for a crew of four, the CTJ is very accessible. Up to two more anglers can be added at $100 each as teams can include as many as six anglers. Teams can have less than four members, but there must be a minimum of two members on each boat. No more than six people are allowed on any tournament boat during tournament hours, and all people on the boat must be on the registered team.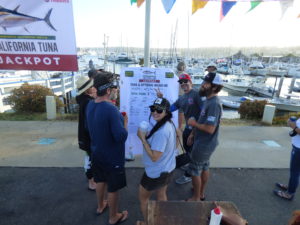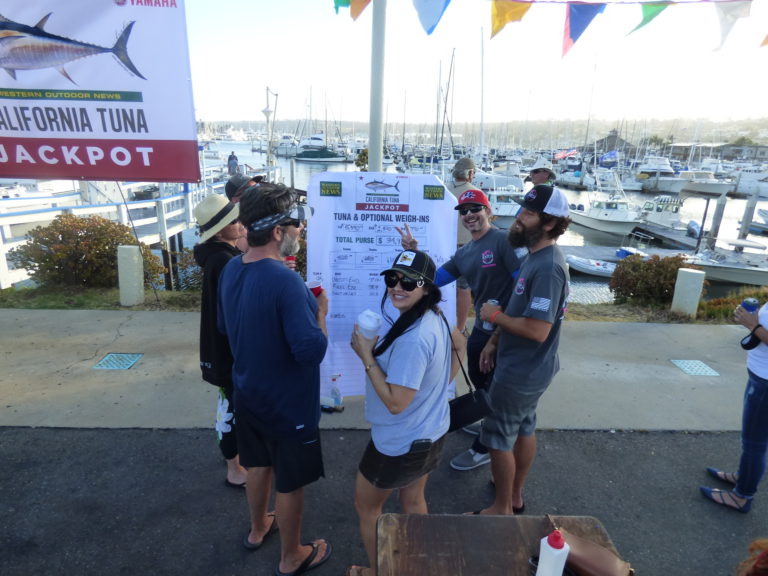 The format for the competition is as follows: top 3 largest tuna caught during the California Tuna Jackpot (lines in at 4:00 a.m., Aug. 14 – lines out at 5:00 a.m., Aug. 15, are in the money. The team that catches the biggest tuna during the event wins 70 percent of the total cash in the entry pool. The second largest tuna earns 20 percent and the third largest tuna takes home 10 percent. Based on 50 participating teams, the first place team will take home a cool $7,000, while second takes $2,000 and third place gets $1,000.
The California Tuna Jackpot also features optional tuna jackpots available for teams interested in boosting their chances at big money payouts, and there is also a yellowtail option.
Like most WON events, anglers don't have to catch a big fish (or any fish at all for that matter) to win. The CTJ is powered by its sponsors, and there are already some monsters on the list kicking in raffle prizes to go along with stuff awarded to top finishers. At this point, the prize pile includes a pair of generators from title sponsor Yamaha, Penn reels, Furuno electronics, Huk Performance Fishing apparel, braid and mono from Berkley, Seaguar fluoro, Gamakatsu hooks, Sea Falcon lures, Global Fish Mounts, Yummee Flyer, Chevron-Techron and Trade Wind Inflatables.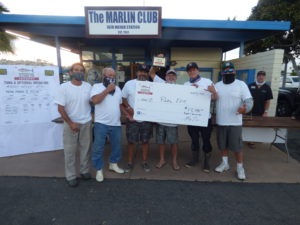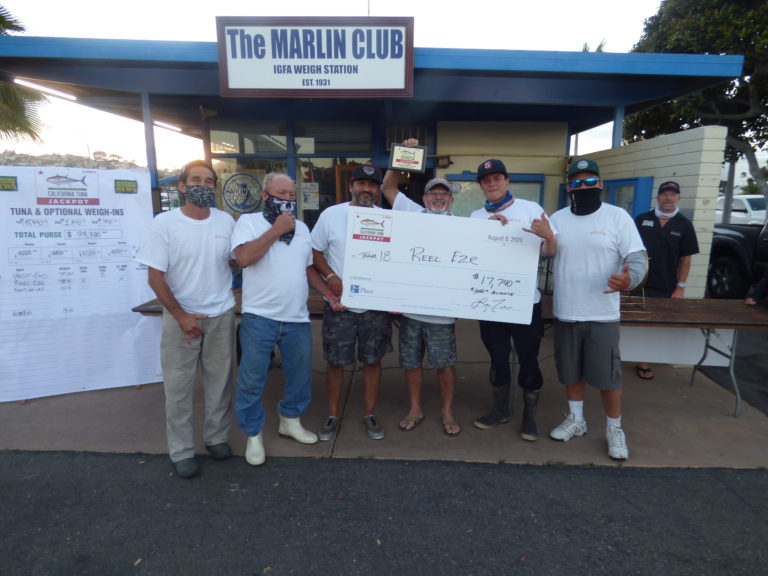 Coastal Conservation Association of California (CCA) will also have a presence at the CTJ, and a donation (5 percent of the cash from the optionals) will go to the Make-a-Wish Foundation.
All participating anglers are automatically entered in the general raffle, and teams signing up prior to the Early Bird deadline will be entered into the special Early Bird raffle where they have a shot at a Yamaha generator.
Teams are encouraged to sign up as early as possible with at least their general team entry to allow time for all team members to register and complete the necessary paperwork. Teams may enter by mail with options included. Options will not be available online and must be paid by check, wire transfer or money order in advance or at Angler's Choice in Point Loma on August 13 from 1 to 7 p.m.
Teams may launch at any Southern California launch facility and head for the fishing grounds. Tournament fishing times are August 14 from 4:00 a.m. to 5:00 a.m. on August 15. All tournament fish must be presented to the official weigh station by boat at the San Diego Marlin Club with all team members on board. The weigh-in will be held at the S.D. Marlin Club dock between 8:30 a.m. and 11:30 a.m. on August 15. All teams must be inside the Ballast Point landmark entry of the bay by 10:30 a.m. to be eligible to weigh their catch. Teams may not fish for target species until lines-in at 4:00 a.m. but may make bait prior to lines in. The California Tuna Jackpot awards show will commence at noon in the S.D. Marlin Club parking lot with the raffles and awards presentation for the top 3 teams and optional winners.
Recapping the inaugural running of the CTJ in 2020, first place went to team West End who weighed in a 77-pound bluefin tuna held the top spot until the end and took home an oversized $12,190 check. Team Reel Eze came in second overall with a 70.4-pound bluefin, and the bronze went to Knot on Call for their 30.6 pounder. Despite finishing second overall, it was Reel Eze that really cleaned up in the cash and prize department since that team was all in for all the optional payouts which resulted in that team taking home over $17,700 in cash. While bigger yellowtail were caught, they were nabbed by anglers who chose not to enter the yellowtail optional. The biggest weighed in was a 13 pounder that earned Team Albatross $4,200 in cash.
For full rules, schedules and registration, head over to WONews.com and find the California Tuna Jackpot under the EVENTS tab. For more information contact Tournament Director Billy Egan at (949) 366-0248 bille@wonews.com or check out the California Tuna Jackpot Facebook page.