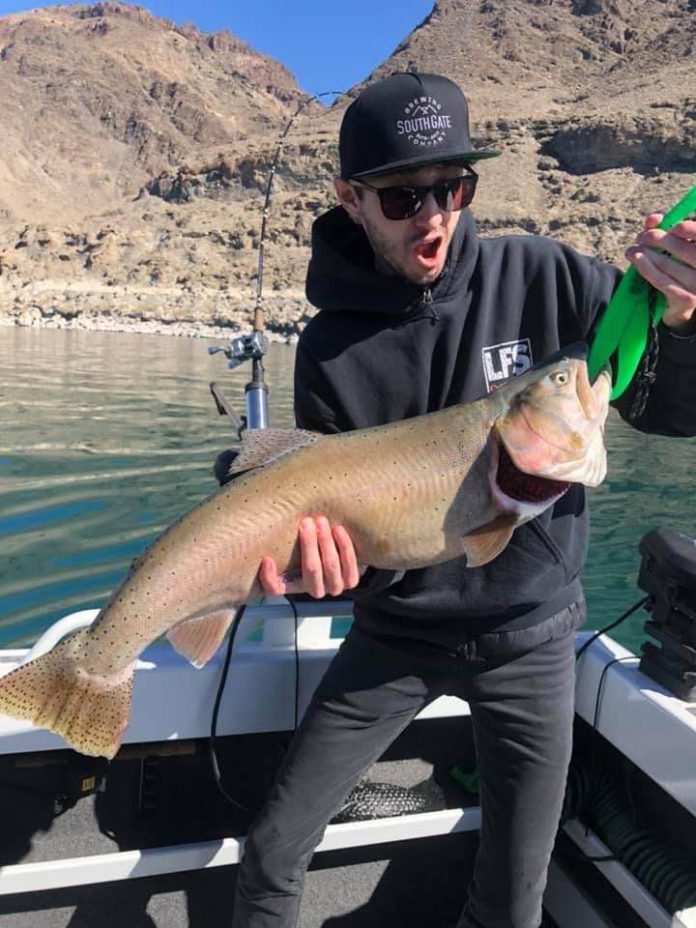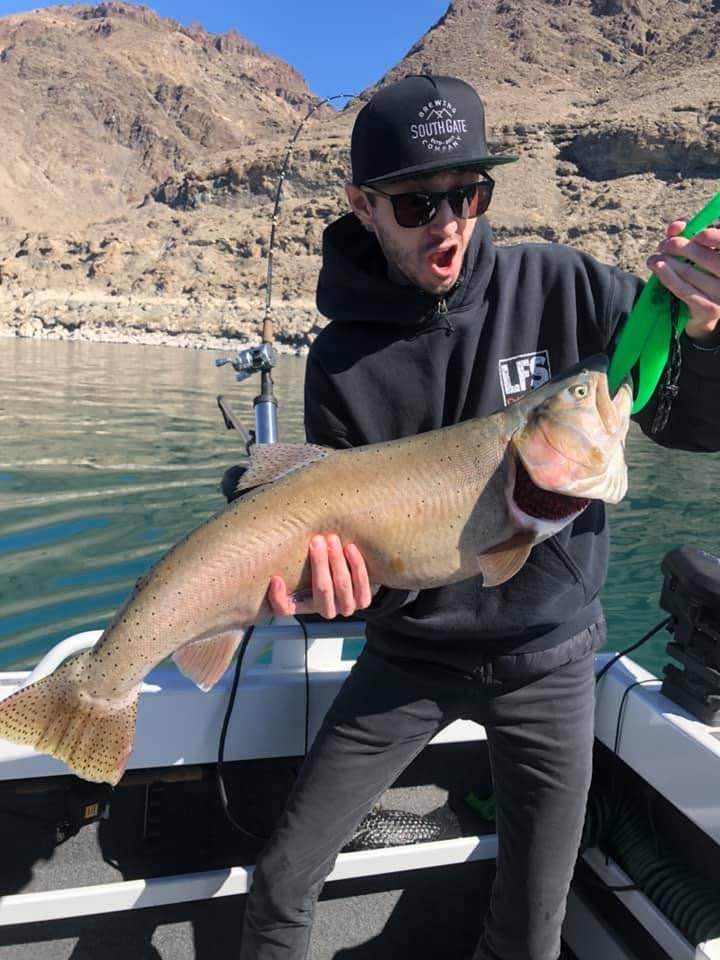 BY DAVE HURLEY
SUTCLIFFE, NV – Pyramid Lake has become a bucket list experience for West Coast fishermen over the past several years with the reintroduction of the Pilot Peak-strain leading to the potential for trophy fish over 20 pounds. Boaters have the upper hand at this time of year, but there are plenty of big fish landed from the shore or close to the shore in deep water.
J.D. Richey of Richey Sport Fishing took his first trip to Pyramid over the weekend, and he said, "Fishing is really, really good with the average size of the cutthroat trout being on the high side. We had three fish over 10 pounds this weekend topped by a 13 pounder on Saturday. The largest on Sunday was in the 9-pound range as the action was tougher with the arrival of 35 mph winds and big waves. We have been scoring either by trolling bladed spoons at depths from 40 to 70 feet or jigging with 1-ounce spoons in 20 to 50 feet of water."
Todd Wittwer of Kokanee.net Guide Service took his son, Jake, to fish with Cory Kellar, and they found solid action on the eastern side of the lake near Hell's Kitchen running K15 Kwikfish in Bleeding Frog or Mag Lips 120 at depths from 40 to 70 feet for cutthroats to 13.7 pounds. Wittwer said, "We were running Father Murphy's spoons at 30 feet for smaller fish around 6 pounds so we went deeper with bigger plugs in search of larger fish. My son, Jake, was able to land the big fish of the day, and I knew when the rod went off, it was a quality trout. I plan on coming back up a couple more times this year."
Kenji Nakagawa of Lodi took a trip to the lake over the weekend, and he said, "The fishing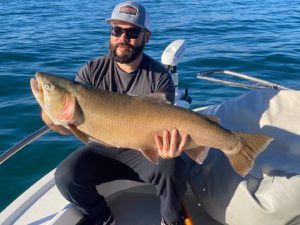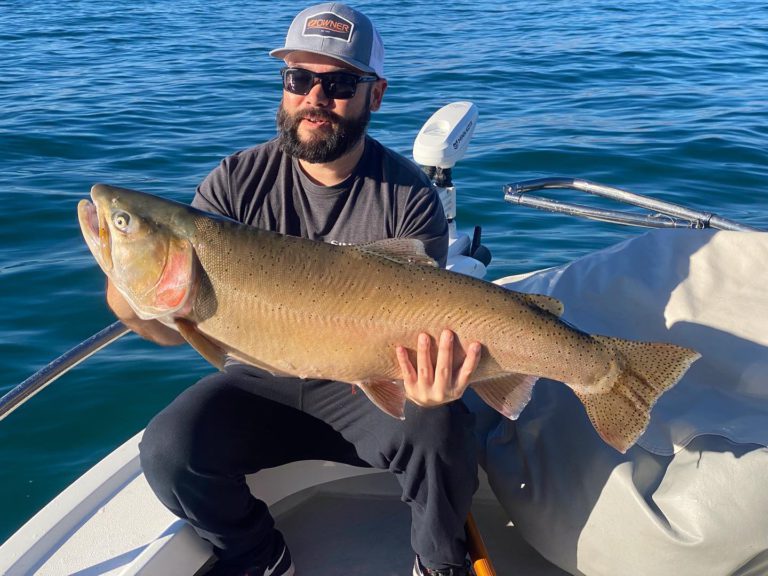 was unreal as we averaged 70 fish per day. All of my fish came on a 2-ounce P-Line Laser Minnow on 15-pound Tactical Fluorocarbon. I caught and released by personal-best at 28 pounds, and this was a fish I will never forget. If you haven't been here, you need to go."
Captain Robert Hagerty of the Pyramid Fly Company in Reno said, "As we creep into the third week of this magical fishery being open again, we start to wonder how we got so lucky having a lake like this so close to home.  Well, it's nothing short of a miracle we are able to fish for these world's largest cutthroat trout again as they escaped extinction from farming and commercial fishing years ago.  But with some amazing work by the tribe and biologists, we are seeing fish in the 20- pound plus range weekly.  The first two weeks were insane to say the least. Bellies packed full of bait fish these fish have more energy than a 6-year-old at a birthday party eating fistfuls of cake.  If you can find the baitfish, there's generally fish greedily sucking them down. As the weather has shifted and cooled, the fish have pushed in a little shallower as we have been catching fish in the watercraft from 30 to 60 feet with flies in all the natural greens, browns, gold, and black.  But don't count out white in those bright high sun days.  Not everything is tight to the bottom as we have been seeing quite a few fish suspended in the middle to upper water columns as well. As we move closer to November we will start sliding onto shore and fishing the sandy beaches and deep drop offs as the fish push into the shallow water.  November is an amazing month for fired up monster cutthroat retrieving flies as well as fishing those leeches under the bobber as the trout continue to feed on baitfish.  But never count out the midge as cutthroat are very opportunistic feeders and rarely pass up a well-presented meal.  But one must think, cheeseburger?  Or French fry?"
There are special regulations at Pyramid, and anglers need to be aware of the regulations prior to visiting. All boaters must stop and receive a Watercraft Inspection in Sutcliffe at the Watercraft Inspection and Decontamination Station. In order to prevent the spread of Aquatic Invasive Species, boats are requested to be clean, drained, and dry. Tribal permits for fishing are available at https://plpt.nagfa.net/online/.
There is no fishing off of the docks, and areas closed to fishing and boating are a 1,000-foot radius around the mouth of Marble Bay Fish Way, the Sutcliffe Fishery spawning channel, and from the shoreline of Needles from Wizard Cove to Fox Bay, the Truckee River and delta, and boats need to stay 250 from shoreline fishermen.