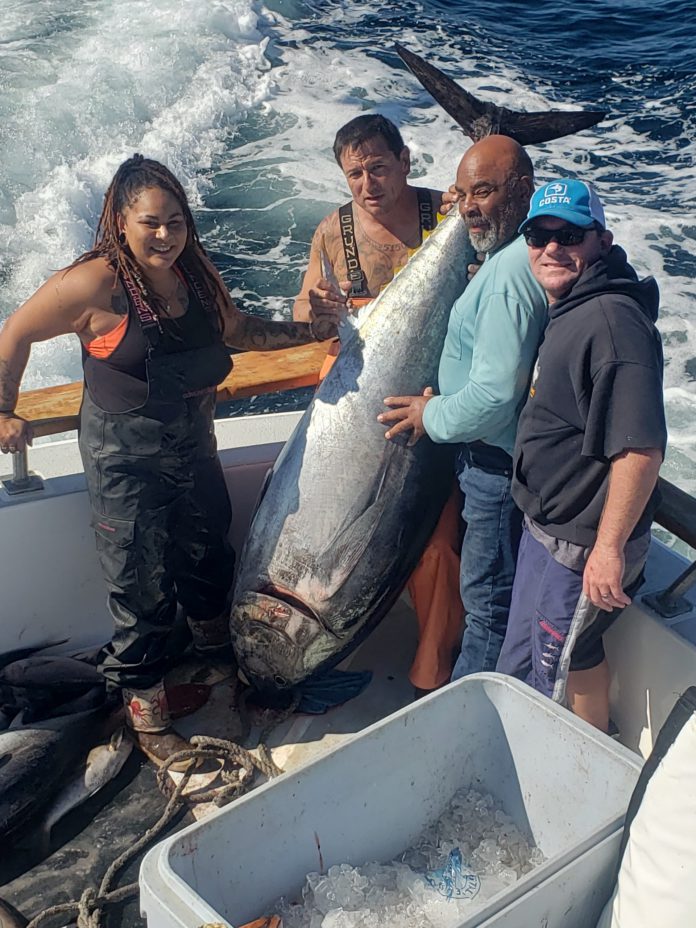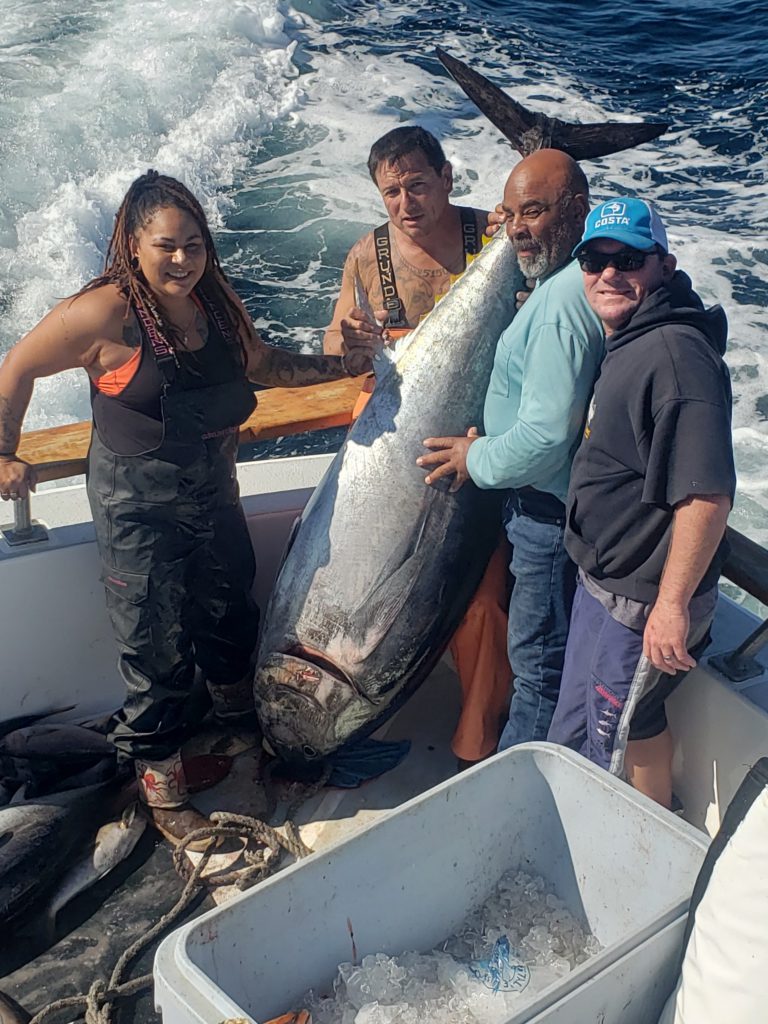 BY MERIT McCREA
 SAN PEDRO/LONG BEACH — Getting back out on the water after the big blow early last week, the Options pulled in to Pierpoint Landing Friday evening from a successful run to the outer banks. Several tuna were in the kill bags, topped by an epic 302-pound "super cow."
The big fish was credited to angler James Cooke. Boat owner Bill Waddle said he hooked it in the dark on the "modified Buffalo" with the fish at gaff at sunrise. "It was a little hairy getting it on the boat."
Local fishing for the Harbor area fleet continued to impress for the big numbers of bottom biters in catches, with mostly whitefish dominating. Half-days aboard the Monte Carlo continued to rack up over 100 whitefish per trip and added lots of rockfish, too.
But Saturday the roles were reversed and rockfish ruled with the morning run generating over 200 cods and just 16 whitefish.
Meanwhile, the Pursuit held solid on the ocean whitefish – 330 for 33 Saturday, and 190 rockfish plus 19 sheephead. Sunday's 25 anglers also limited out on OWFs with 250 of them – 232 rockfish, a halibut, 9 sculpin and 8 sheephead brought the total catch to 20-fish max-limits for all anglers.
At Catalina Island bonito were in the picture in a big way. The Enterprise had 115 of 'em on Saturday.
As Friday's light offshore conditions took over, the weather was flat and the Victory continued to produce excellent numbers of quality bottomfish from local waters, said Landing Manager Steve Phelps.
The rig continued to post big numbers of sheephead in combination with rockfish and whitefish plus a few sculpin still. Sunday they ran with 23 and put on 151 whitefish plus just shy of 10-fish limits of rockfish, 10 sculpin and 23 sheephead.
Phelps indicated the landing was offering a book-online $20 discount on weekday Victory runs. He added shrimp was the hot sheephead bait along the coast and it was anglers bringing a stash that scored the goats.
But for the big rock and whitefish, the Eldorado's overnight run to fish San Nicolas Island was the one at his landing doing it. Phelps said, "The overnight boat Eldorado has continued fishing the abundant waters off of San Nicolas Island, loading up on quality rockfish, whitefish, sheephead, lingcod and the occasional handful or two of yellowtail."
Again, things were quiet at L.A. Waterfront Sportfishing, but the Gail Force posted weekend trips with spots open. Book online.