Low water level plus tourney timing mid-spawn cycle puts lots of strategies in play at Clear Lake
BY JODY ONLY
LAKEPORT – With a mid-April blast off, the 9th annual WON BASS California Open stage is set to shatter records. The 2021 event, held at Clear Lake, has already broken its first, booking a competitive field of nearly 500 pro and AAA anglers, the largest since the event's inception.
The three-day bass battle will launch April 14-16, right into the pre-spawn/spawn time of year. Many believe that will be bring the bedding bass straight into the sight lines of the anglers, but others aren't puttin' their money on that strategy.
TO BED OR NOT TO BED
Mark Crutcher of Lakeport, Calif. owns four Major League Fishing / FLW top-5 finishes on the fishery and has been on an epic tear on his home water since January, racking up team wins with 32.86 and 24.59, a runner-up spot with 25.32, a top-10 placement with 36.57 and "merely" a check cash for 23.55.
The seven-fish limit for 36.57, anchored by a 7.02 kicker that "only" earned 7th place on the leaderboard, and the five for 23.55 that topped out at 12th place illustrates how well the big bass fishery is producing this year and how early the bigguns are starting to chew.
"Right now, we are in a full-blown pre-spawn bite," Crutcher explained. "They are chasing a lot of reaction baits. Depending on the weather, moon phase and water temp, it could turn into a pretty good spawn bite. Right now, the water temps are topping out at 56 degrees. If there is a warming trend those fish will be coming to the bank, and if we have a cold spell, it could change things a lot. We will need it to hit 62 to turn on the spawn.
"But even so, this year the biggest factor in catching those bed fish is going to be the low water level. That is where the strategy will come in. If you think you're going to go out and mark 10 or 15 big bed fish spots and go catch 'em, it will be a problem. Someone else WILL find those fish. Strategy WILL be more important than marking fish."
Two-time California Open champion (2016, 2017) Wayne Breazeale of Kelseyville, Calif. agrees that the water level will be a major factor in how the lake fishes and that it will have an influence on the bed fish. However, he added another piece of the puzzle.
"A big key to bed fishing will be the clarity, and for some reason the lake isn't that clear right now," said Breazeale. "Bed fishing can always come into play — but even if everything works out, the weather and the visibility and all that, with the low water and the number of boats, I don't think this could be won by bed fishing alone."
HOW LOW CAN IT GO?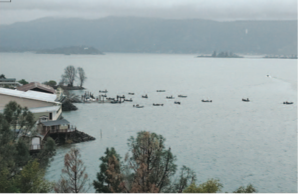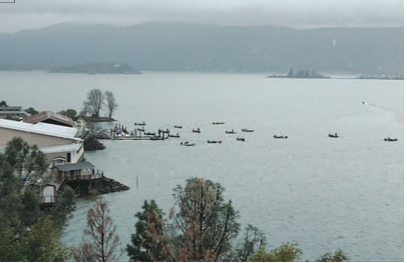 The water level was a focus for both pro competitors' predictions. How much will it really challenge anglers?
Well, Clear Lake is currently at 1.20 on the Rumsey compared to a normal year, like the 4.60 it registered last year (see graph above).
"No matter how low the water has ever been, it has never been this low, at this time of year — EVER — since I've been alive," exclaimed Breazeale.
Crutcher had little hope that the Rumsey would rise and gave his thoughts on the bass' access and movement in reference to that.
"We had a good rain in March, but it didn't really change anything," he began. "There is not very much water in the tules, and the sloughs are not full. Because of that, I just don't know that there will be the usual big migrations of fish into the sloughs. Normally this time of year, we would have hundreds of fish move into the sloughs and creeks, but I don't know if they will go over the sandbars with only one to two feet of water to get back in there. They may, or they may just stage out front. My guess is they won't move in."
Returning to the lake for the event after a decade of separation is OG Clear Lake champion and a noted pioneer of the swimbait craze, Byron Velvick.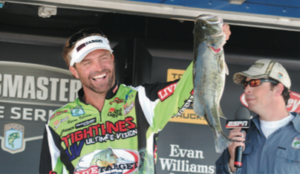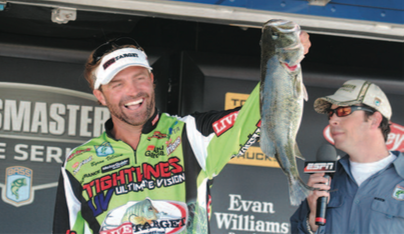 Originally from California — now a Texas transplant — Velvick historically won the 2000 California B.A.S.S. Invitational at Clear Lake with 83-pounds, 5-ounces to claim a three-day weight record in B.A.S.S. competition. He then returned in 2010 as a Bassmaster Elite Series pro on the B.A.S.S. western swing and cemented his Clear Lake legacy with a victory, earning a four- day tournament total that just missed the Century Club at 98-pounds, 6-ounces.
Velvick also doesn't recall a season so low at Clear Lake, but he wasn't sweatin' the water level at all.
"Regardless of the water level, you can always count on Clear Lake for one thing and that is every time you go, always count on it being a different lake," shared Velvick. "Every time I've fished it, it has always been different, and I am used to different. I am used to fishing changes. I haven't been to Clear Lake since 2010, but throughout my time on the lake, even in my wins, I've fished more areas than most people realize.
"They always talked about 'Byron's Corner' and they always think I pick one particular area to fish, but that's not the case. I've really spent some time on the lake and have low water areas as well as high water areas.
"I think it will be good to have change, good to fish the unexpected, good that the lake is producing great fish! The change. The unpredictability. The great fish — that is what makes it so exciting. It's such a great place to go!"
STRATS AND SLEEPERS
Overall, the three competitors had different strategies to offer.
Crutcher's recent success was attributed to a reaction bite. He is ready to continue that presentation.
"It's been working pretty good and what I like to do," he said. "I've been targeting fish that have been grouped up instead of running all over. I've chosen to do a lot of camping for my fish.
"Usually, every April there is a three- to five-day window where it gets really tough. I don't plan on it being during that time, but it depends on weather. And, even if we get the weather, with a no off-limits and multi-day pre-fish and a large boat field, those bed fish that are in that 3-, 4- or 5-pound class are going to get hit pretty hard before the tournament even begins. I don't think it will be won on bed fish, but I do believe sight fishing could play a role throughout the event. I think it will be the angler that does some sight fishing to pick up any good ones that move up, but also has a back-up pattern that does the best."
His best bait pick was a swimmer.
"There will be some good ones caught with a swimbait, no matter what — but with so many boats on the water and a lot of community holes being crowded, I think the swimbait guys are going to have to have a little something in their back pocket to fall back on, especially by the last day."
Crutcher's sleeper attack involved grass, but only for those who could find it.
"There is some offshore grass in the north end and some fish are being caught in that, but I think it will be early for that to be a huge player," he advised. "Some of the locals who know that area like the back of their hand could capitalize on those fish that are staging to go back in the sloughs, but only if they find the grass."
Velvick's plan will solidify as time nears. Both of his history-marking wins came in this same time of year — one in late March and one in mid-April, however, he doesn't believe that means the conditions will be the same.
"I will be watching the weather real close," he said. "The fish moving up and the beds will depend on the next three weekends of weather and that can always go one way or the exact other.
"The first year I won in 2000, it was a full-on bed fishing tournament. A true battle for bed fish with some swimbait fish pulled in. But back then, there wasn't really such a thing as swimbaits. There wasn't a swimbait pattern that people did. Now, that has all changed, so everything will be different. It doesn't mean I won't throw one — just the opposite. It is one bait that I will for sure have in the boat, no matter what. I will probably have 16 different versions of one — but definitely, obviously, I will have the swimbait."
Breazeale didn't have a plan on the ready, and as contrary to popular belief that he lives on the lake, he hadn't been on the water in nearly six months until very recently.
"I committed January and February to Shasta and spent the last month on the Delta," he said. "I just haven't had time to fish Clear Lake, not even through all these big weights."
With his long-time fishing knowledge of the lake, he did offer a suggestion, however.
"I think it will be won deep," he shared. "There is going to be a lot of boats and a lot of pressure. When it is tough and when it gets low, that is what I do. I fish deep."
NORTH OR SOUTH
There is a consensus that both ends will produce a winning class of weigh fish.
"I do think there could be equally productive spots on the north and the south," Crutcher confirmed. "South end, deep-water success will depend on the weather. There are a lot of fish in those community holes now. If it stays cold, it will still be a factor, but if we have water into the low 60s, I think we will see migrations of fish going into the shallows."
Breazeale also gives credit to both ends for successful catches. "Just because the water is low doesn't mean the south end will have the only good areas," he said. "The north end is going to produce, because even though the water is low, it's going to be normal springtime. So yes, the north is shallow. That doesn't mean don't fish it, it just means you've got to fish a little deeper than normal."
FOR THE AAA
Crutcher advised three spinning rods for a backseater.
"A drop-shot and a Neko-rig is what I will suggest," he shared. "If a AAA will soak their line, they will be very happy with what they catch."
Velvick is looking forward to the shared-weight format that the WON BASS Opens provide.
"I really like working with a different co-angler each day," he said. "That is what we do at the U.S. Open. I really like to help as much as I can. We are a team. I won't know what I will specifically advise my AAAs to throw, until I actually know the weather. If it's a cold front, it will be a completely different set of rods than if it's steady and warm and perfect and beautiful."
Regardless of which end of the boat it comes from, Crutcher anticipates a good showing of large kickers, including some double-digit fish.
"Even with all the big ones being caught earlier in the year and still being caught now, I do think those type of catches will stretch out through April into the event," he said. "Often, I see the biggest ones each year pull up to spawn real shallow and then as it gets into April, late-May and even June, they still tend to spawn, but it's just a little deeper.
"All the big weights this year remind me back when the Huddleston came out and we were catching 40-pound sacks. This is the first time in 8 or 10 years that I've seen this caliber of fish being caught. Those fish are going to be spawning and we will be right at the tail-end of the pre-spawn; so, I expect some really big fish to be caught — fish in that 10- to 13-pound range."
As we've seen, Crutcher has already been sackin' up those type of bags and all three pros are ready to haul up a 40-pound sack or weigh a 75-, 80- or 90- pound tournament total.
The time is right, the big-bellied bass are ready to eat, and an 8-pound average has already come to the scales this season. The 2021 California Open champion title is on the line and records are ready to be broken.
The event boasts a 110-percent payout with a brand new 2021 Bass Cat Sabre FTD powered by a Mercury 175 Pro XS, all worth a cool $42K, plus upwards of $25K in cash to the first-place pro.