Half Moon Bay harbor lights up with the opening of rockfish and salmon season
BY DAVE HURLEY
EL GRANADA – The Pillar Point Harbor north of Half Moon Bay lit up again over the week- end, as the boats were out and happening with Friday's rockfish opener, followed by the salmon opener the next day.
Out of Half Moon Bay Sport Fishing, Sherry Ingles reported their flagship, the Queen of Hearts, posted near-limits with 123 rockfish and 2 lingcod for 16 anglers on Friday's opener before following up with 15 salmon to 13 pounds for 15 passengers on Saturday, then putting in 17 salmon to 18 pounds for 14 fish- ermen on Sunday with another 21 salmon less than 24 inches re- leased. She said, "They shook some, lost some and found good action on the inside edge of the Deep Reef."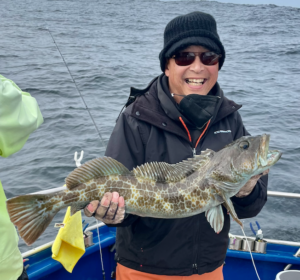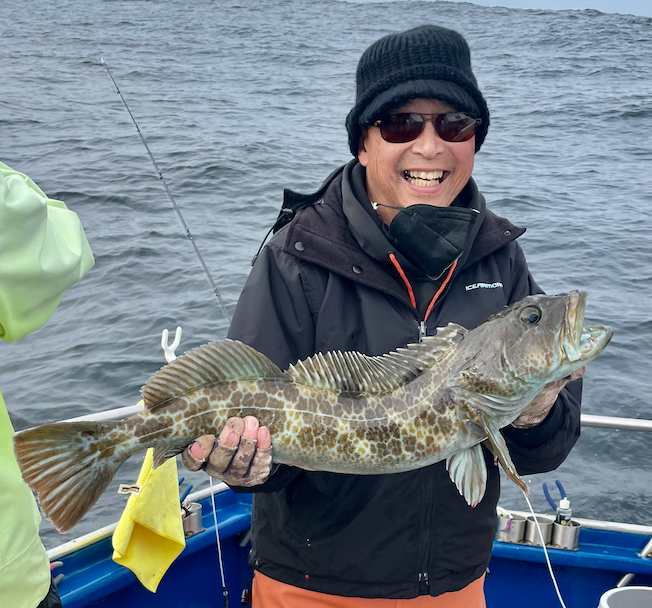 Captain Michael Cabanas of the New Captain Pete was out on a rockfish trip on the opener from Martin's Beach south through San Gregorio to Pescadero, and they put in 3/4 limits of rockfish. The wind came up by mid-morning, and the ride back to the harbor was slow. Cabanas was back out on Saturday's salmon opener for 20 salmon to 20 pounds for 11 with plenty of opportunities for two more fish for limits, also at the Deep Reef. They went rockfishing on Sunday in 90 feet of water off of Pescadero for 3/4 limits of rockfish including 5 cabezon along with 7 lingcod with Ron Jew of San Francisco landed a 7-pound ling on a swimbait.
Captain Bill Smith on the Riptide was out on Saturday's salmon opener for 12 salmon to 20 pounds while the Ankeny Street focused on rockfish for 7 limits on Friday and 85 rockfish and 2 ling cod for 11 passengers on Saturday. Captain Chris Chang said, "We cancelled on Sunday due to high winds."
The winds have been the limiting factor for private boaters as it has been pretty sporty out there, but the opening of the salmon and rockfish seasons have infused life back into the harbor.
Santa Cruz/Monterey party and private boats get on the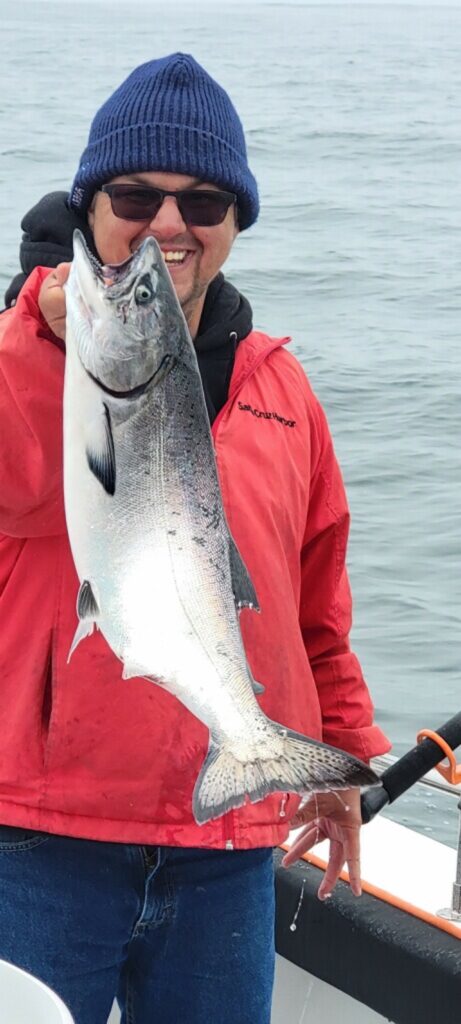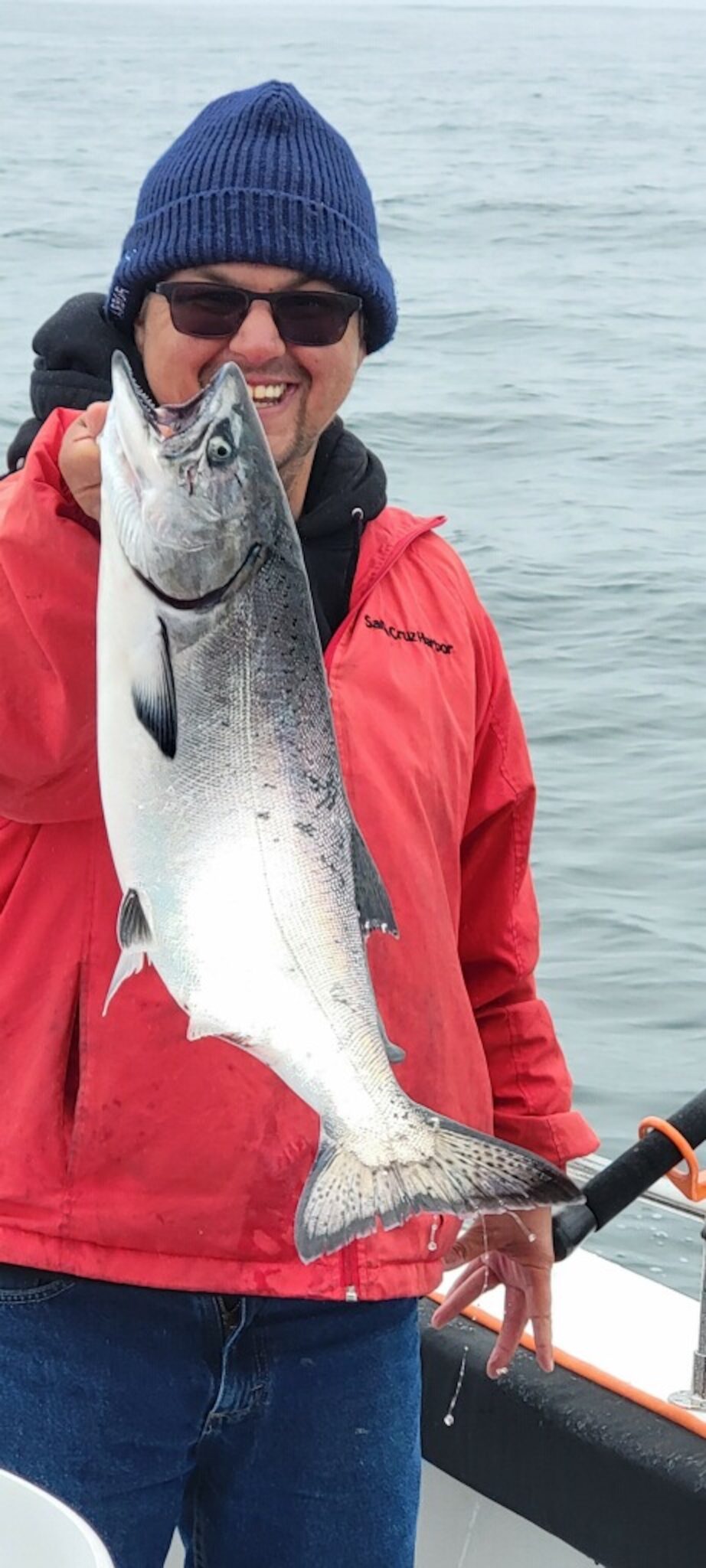 rockfish and salmon on the weekend's openers.
By ALLEN BUSHNELL
SANTA CRUZ – Woo-hoo! Anglers all around the Monterey Bay are stoked to be fishing again. Everyone enjoyed the season openers this weekend. Rockfish started Friday, and salmon season opened Saturday. Weather and ocean condition forecasts didn't look so good for the weekend, but most boats found very fishable conditions despite a persistent swell and stiff winds all week, including overnight wind. In Santa Cruz, Bayside Marine owner Todd Frasier reported on Sunday, "Salmon fishing was hit and miss today for the anglers. There were fish caught on the east edge of the Soquel Hole. There were other anglers catching some fish near the Moss Landing Canyon. The anglers did find a few fish near Mulligan Hill. The majority of the salmon are being caught 25 to 80 feet down, but there have been some caught 125 to 220 feet down. The wind was expected to be bad today but it was fine until 12:00."
JT Thomas from Go Fish Santa Cruz is certainly glad to be back on the water doing what he does best: finding fish for the clients. The beautiful Miss Beth counted limits of rockfish for Friday's trip, mostly reds from the North Coast area. On Sunday's salmon trip, JT and the crew got a slow start with no keepers until mid-morning. The bite picked up then and included a few fish in the high teens and low twenties, along with a couple smaller fish. "The salmon are really scattered," said JT. "There's no real bait balls, just a lot of bait all over the place. We finally found a couple small areas holding fish, then we worked fast." A persistent and powerful west swell and high winds including overnight winds are likely reasons the bait and fish are so scattered. "These fish are moving fast, they're up in the top water. All our fish were caught between 30 and 50 feet down. It may be the moon phase. We should see a much better bite over the next couple weeks," Thomas added.
Rodney Armstrong from Santa Cruz Coastal Fishing Charters gave his new boat Knot Alone its first salmon shakedown on Saturday. He bought the boat in Texas. Ain't no salmon there. Armstrong reported, "It went pretty good today as it was the first time the new boat has ever fished salmon. We went five for eight today. Great group of guys that know how to pull on fish." Private boat reports ranged from total skunks to full limits before 9:00 a.m. on both Saturday and Sunday. It really depended on where they were and how good the crew was. There's a fair number of shakers in the mix and some hogs as well. Numerous salmon in the 20-pound range were caught this weekend, and at least one fish was weighed in on the Bayside Marine certified scale at 31 pounds. Hopefully the salmon will stick around and provide even better fishing as ocean and weather conditions ease over the next couple weeks.
In the meantime, fishing for rockfish and lingcod is going strong. Chris' Fishing and Whale Watching Trips in Monterey reported 25 limits of rockfish on Friday's opener, along with five lings on the Check Mate. Private boaters are doing well for the cod also, with bigger fish coming more quickly from the more remote areas. Halibut are making an appearance at the 50- to 70-foot depths at the usual spots. In Monterey, Del Monte Beach and Sand City are always a good halibut bet. The flats outside of Moss Landing Harbor, especially towards the Pajaro Pipeline is a great place to hunt the for big flatties. And, in Santa Cruz, we've received reports of halibut caught this weekend from both the Capitola area as well as the Mile Buoy area just off Santa Cruz Harbor.
 Rockfish and salmon too for Central Coast anglers
BY MERIT McCREA
WON Staff Writer
MORRO BAY/AVILA — It's the third successive season where the salmon opener saw good results right on the opener, something which was a rarity as normally it wasn't until late April when the first fish showed in local waters.
Saturday saw 22 kings come back to the Port San Luis Sport Launch with 41 boats launched. At Morro Bay, by about 2 p.m. the report was 6 salmon seen by the CRFS launch ramp survey.
In Avila the word was lots of shakers released as well. Here it's the green or white hoochie that's a favorite, but the Rotary Killer rigs and tray-bait tend to be the top producer.
As for rockfish season starting the day prior, it was as good as anglers hoped, generally easy limit fishing for most. Private boaters from Avila had 3/4 limits, reported the Lintners at the boat launch.
Virg's Landing posted, "We had a blast at the season opener, how about you? All three boats brought home some lings yesterday, with a special shout out to Mike P., who opened our season with a banger of a ling off the Fiesta! All three boats are off to a rockin' start and between them, the landing had 70 reds, 10 coppers, 17 boccacio and 510 quality assorted rockfish to put on the board! Not bad for our first day back in the saddle."
Just prior to the opener, the crew at Avila Patriot Sportfishing took a crew trip and clobbered the halibut aboard the Patriot. Then on Saturday it was passenger fishing cods with 23 for limits on a half-day run. Both the Phenix and Flying Fish also got the job done – limits for all anglers.
At Morro Bay Landing, the Starfire and Endeavor limited out too. The Avenger's 12-hour trip headed north for Ragged Point, where Chin Lee put the weekend's biggest ling on deck, a 22-pound dragon.
With opening weekend in the rear-view, there were plenty of openings among the fleet this week.