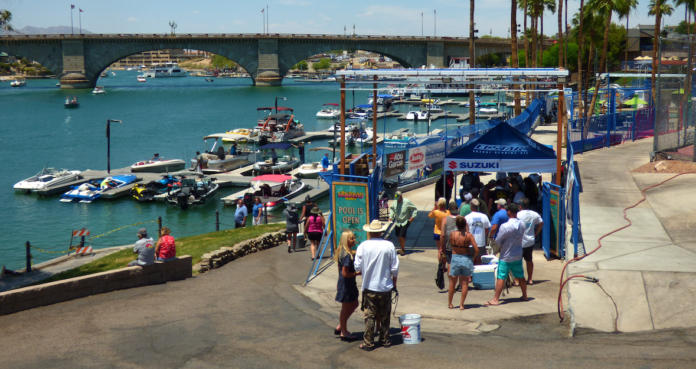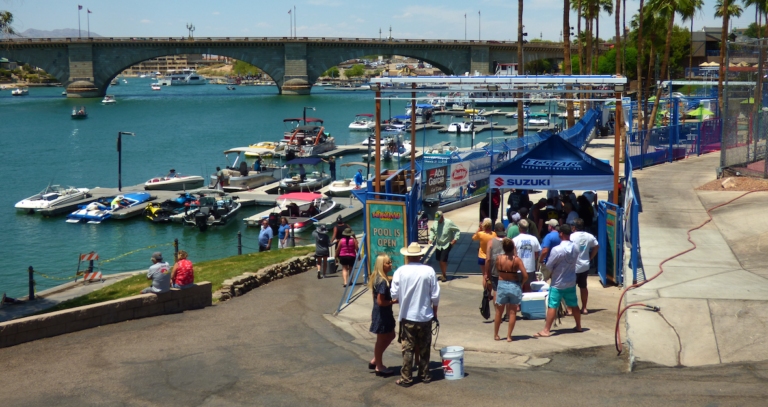 Cash-and prize-laden event caters to families and anglers of all experience levels!
SIGN UP HERE: https://wonews.com/product/won-lake-havasu-striper-derby-may-14-15-2022/
BY MIKE STEVENS
LAKE HAVASU CITY, Ariz. — Few Western Outdoor News competitive fishing events are accessible to a wider range of anglers than the WON Lake Havasu Striper Derby, and veterans of the family-friendly event will celebrate its 40th anniversary when participants hit the water in mid May. Regardless of angler skill level, everyone gets to equally enjoy the "great time" factor, and all the participants have the same odds — regardless of where they placed in the tourney — of winning the biggest raffle prizes.
The 40th-Annual WON Lake Havasu Striper Derby runs May 14-15, and it will once again set up headquarters at London Bridge Resort. That's where anglers will weigh in at the end of each day on the water as well as where the awards ceremony is held on Sunday. There are docks on-site reserved for the event as well as plenty of boat-trailer friendly parking and this location.
Striper Derby festivities kick off on Friday, May 13 at the team check-in held at Anderson Toyota (6510 Showplace Ave., Lake Havasu City), where anglers, friends and family socialize prior to two days on the water. This is where teams receive their numbered bracelets (for the raffle), goodie bags and event t-shirts. It's also where teams can adjust their entries (entering blind bogey, big-fish options, etc.) and bounce last-minute questions off Tournament Director Billy Egan during the "Captains Meeting." Late sign-ups can also be taken during this time.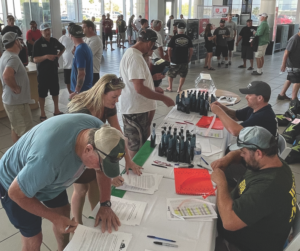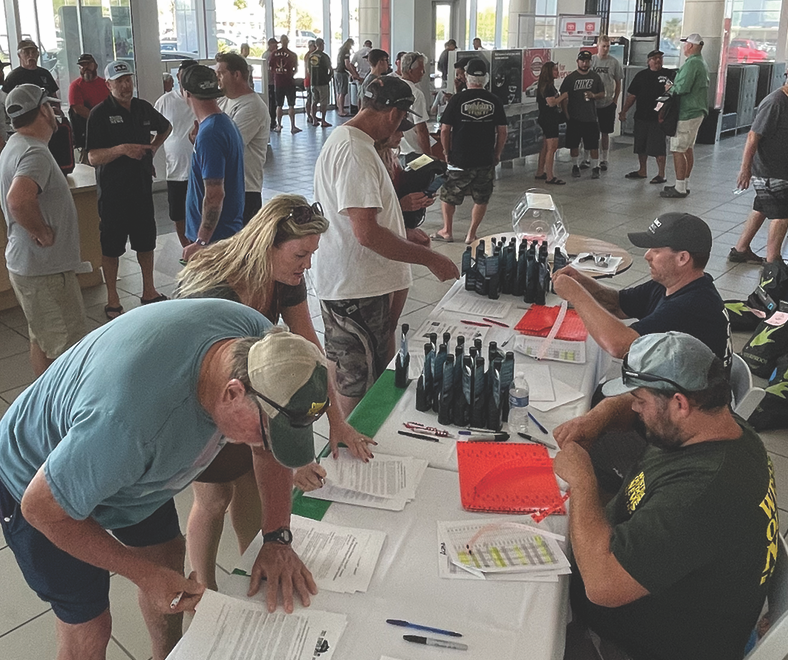 Anderson Toyota is also where teams will pick up their goodie bags which currently contain a pair each of raffle entries, t-shirts, hats, lures from Berkley and spools of 12-pound Trilene. The bags themselves are also handy dry-bags that could be immediately put to work on Lake Havasu in the days that follow.
As with all WON events, Striper Derby is powered by generous sponsors, all of which are among the top brands in sportfishing. As it stands now, the first- through third-place finishers will receive Abu Garcia Max Pro rod-and-reel combos and high-end Daiwa Tactical Backpacks. Fourth and fifth place will get the same baitcast combos from Abu Garcia and a pair of Plano Weekender soft-sided tackle bags. Sixth- through eighth-place teams will score spinning rod-and-reel combos from Daiwa along with Plano tackle bags of their own, and ninth- and tenth-place finishers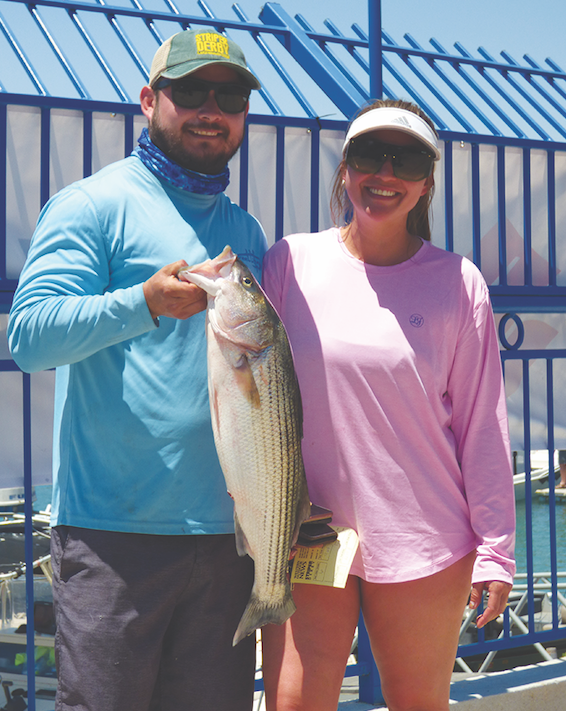 Given the fact that the overwhelming majority of Striper Derby anglers enter at the "all-in" option, it's fair to say some of those top 10 teams will also have the bigger fish in the event and will pick up cash that way and possibly even via Blind Bogey weights.
Speaking of big fish, payouts go beyond just a chunk of the money collected for those optionals. The angler who catches the overall big fish at Striper Derby will pick up a lightweight and versatile Sea Eagle 106sr inflatable Sport Runabout. Able to carry up to five adults of 1,200 pounds, the 10-foot, 6-inch boat weighs only 78 pounds and can accommodate up to a 15 hp outboard. This prize in particular happens to come with a zippy and efficient 6hp motor from Suzuki, another long-standing Striper Derby supporter.
Big Fish payouts are made to the anglers bagging the biggest five stripers of the event, but the top 3 will also score Frabill's innovative Bearclaw net to help close the deal on future big fish.

The raffle at the awards ceremony is an integral and fun element to Striper Derby year after year, and it's the reason just about everyone sticks around when the fishing is over. At press time, there's a Furuno 1871F chart plotter up for grabs along with two more of those Abu Garcia Max Pro combos and a pair of Igloo backpacks.
Even an event powering into its fourth decade can be tinkered in an effort to constantly keep things fresh. Here are some of the newer features that were added as recently as 2020:
Big Fish High Roller's optional: Throw in an additional $100 on top of your all-inclusive $275 team entry fee and be included in the new High Roller's optional for a shot at a big payday for the three heaviest striped bass in the division.
General Big Fish payouts to 5th place: In previous years, the general Big Fish payouts went to the 3 biggest overall fish at Striper Derby. Payouts will now go to the anglers catching the 5 largest fish of the event.
Multiple teams in one boat: Making it so more than one team may fish the Derby from the same boat — including but not limited to single-angler "teams," which are also now permitted was a big hit and remains part of the deal.
One-division team competition: Striper Derby will consist of a single division including every registered team, with prizes and trophies going to the top-10 finishers of the event.
All Teams Must Weigh-In By Boat: All tournament fish must be presented to the scales via boat ONLY at London Bridge Resort courtesy docks. No walk-in or drive-in fish will be accepted by tournament staff.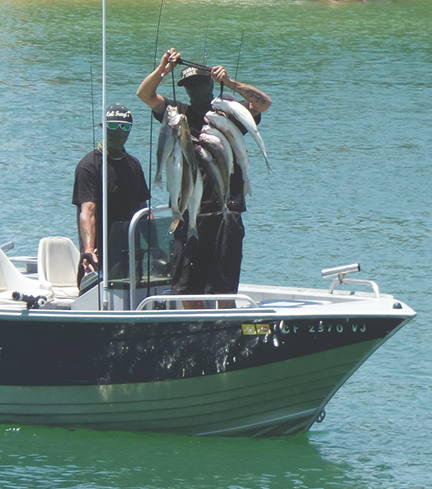 The basic $175 per team entry fee includes entry and chance to win trophies and many other tackle prizes. Historically, almost everyone enters the optionals, which are $40 each day for the blind bogeys. The General Big Fish Option is $20 per team and goes into the pool to be paid out to the five biggest stripers caught during the tournament based on 1st (35%), 2nd (20%) 3rd (20%) 4th (15%) and 5th (10%). So, for only $275, your team is "ALL IN." There is also the "HIGH ROLLER" entry, which puts those choosing to lay down another $100 into a separate TOP 3 Big Fish pool to be paid back on to the angler with the 1st (50%), 2nd (30%), and 3rd (20%) biggest fish.
The ever-popular blind bogey contest running on both Saturday and Sunday, and it is a fun way to win some random cash. The $40 entry for each day goes into the blind bogey fund and gives the team a chance at winning a share of the random blind bogey weights. So what­ever sized striper you catch, bring it in and weigh it, and you might be a cash winner.
You can check out all the rules and info as well as sign up for this event by SIGN UP HERE: https://wonews.com/product/won-lake-havasu-striper-derby-may-14-15-2022/, or call Striper Derby Director Billy Egan at (949) 366-0248.