Salmon season has yet to be determined
BY HUNT CONRAD
BODEGA BAY – With the salmon season on hold for the foreseeable future, bottom fishing is the name of the game along the Sonoma coastline out of Bodega Bay. I had the opportunity to fish on the sport fishing vessel, The Ghost with Skipper Aaron Orsini, son of legendary Bodega Bay skipper, Vince Orsini, and I can say that the apple does not fall far from the tree as Aaron really knows his stuff.
We started on Friday with the usual introductions, and a short but important safety briefing. We were all offered life jackets (optional) and then a lovely warm breakfast burrito that really hit the spot! As we made our way out of the foggy Bodega Bay jaws, a lumpy and confused sea made our ride down the coast a bit bumpy. The weather was overcast with about 10 knots of north breeze. It was doable for sure, but not greasy and The Ghost handled the conditions very comfortably.
Fishing for the most part was very consistent and steady, but by no means wide open as we worked hard for our ¾ limits of quality rockfish.  We fished from as deep as 200 feet to as tight as 35 feet, and every depth in between. Squid was the primary offering on a trap rigs, but swim baits and jigs were also popular offerings. The rockfish we caught were of an exceptional quality with many large vermilions, browns, blacks, and canaries in the 6- to 8-pound range. We caught quite a few ling cod as well, but many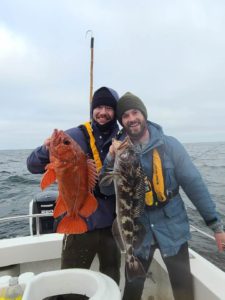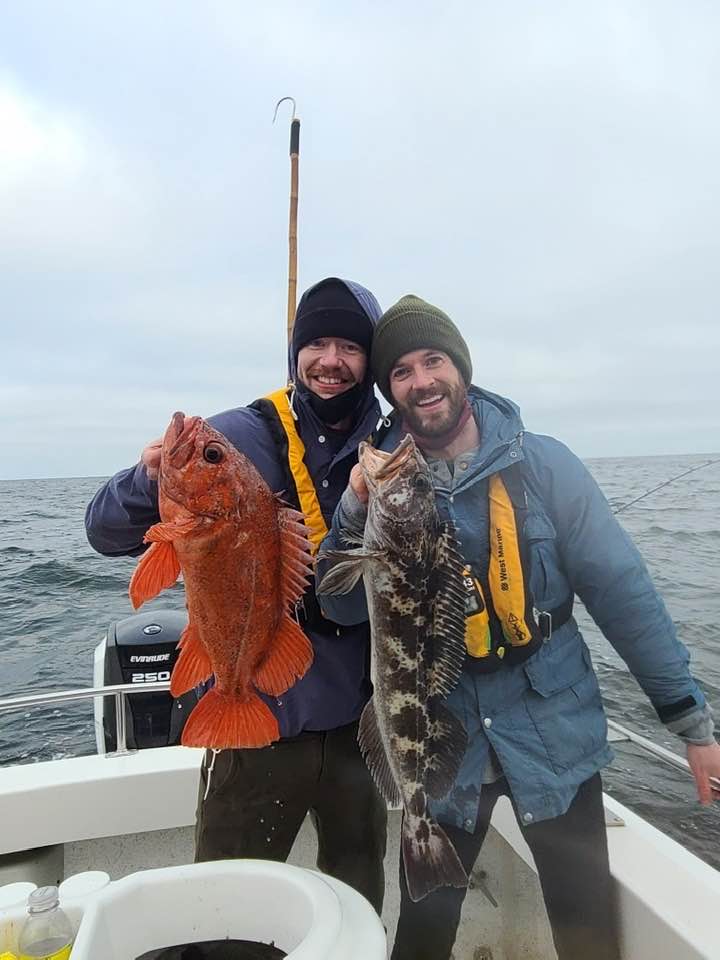 were below the legal limit of 22 inches, ending up with 4 lings to 8 pounds. Aaron believed the cause of the slow bite was the dirty brown 52-degree water along with the lack of current. It looked like great salmon water, but we are going to have to wait on that until probably July to find out if there are any salmon out there. In addition, we saw several pods of 5 to 6 California Gray whales migrating up the coast, and this is always a great thing to witness.
At about noon and our complimentary sandwich, we headed for the beach to check on the crab pots that Aaron had deployed the day before. Baited with huge rockfish carcasses and squid jars, the 10 pots we pulled yielded only 15 Dungeness but over 60 rock crabs which we culled to yield 35 very large clawed and tasty morsels.
Aaron and The Ghost worked hard for our fish and crabs that day. Both captain and boat were seaworthy and a pleasure to fish with, and I got to say that the burrito and sandwich was a really nice touch. For more information you can contact SVA Marine in Bodega Bay at 707-971-0847.