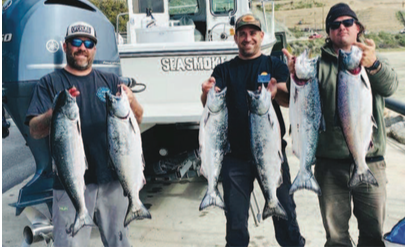 BY MERIT McCREA
MORRO BAY/AVILA — This past week the rockfish opener on April 1 got Central Coast party boats out fishing and loading up anglers with great eating bottom biters. But just a few days after came the start of the salmon season Saturday, and it was crazy. Missy Lintner at Port San Luis Boat Launch said, "Salmon were basically jumping in the boat," when asked what was working for them.
Husband Brent responded that most had fished bait, but both hoochies and spoons worked fine as well. That first day it was basically limits all around, with 98 kings reported caught by private boaters. A few fished rockfish and the average rockfish catch was about 7 or 8 fish per person.
Sunday they launched 24 boats and 74 more kings came in, along with similar rockfish results.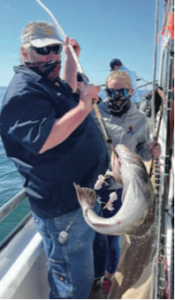 Up in Morro Bay, Harold Davis, founder of Davis Boats and principal with Friends of Rollo, said Moss Landing, Monterey and Santa Cruz all did very well and he hadn't yet heard back from friends fishing out of Morro.
Some time later the word was, yes, Morro Bay too, and friend Richard Spinola had put a limit on the deck of his Cortez 22.
Photos verified amazingly large early-season fish, including some big slugs already.
Aboard the party boats, for whatever reason it's taken a full-day or long range trip to consistently put full limits of rockfish in the bags so far. At Virg's Landing, Morro Bay, both the Rita G and Black Pearl man- aged full limits, all hands. Of course, limits of big reds were in the mix.
At Morro Bay Landing the Endeavor and Starfire also managed to get it done on a 3/4-day trip, with the Endeavor also doing it on their full-day outing Saturday.
Actually, out of Port San Luis, the Flying Fish did put together full boat limits of rockfish for half-day customers their first three runs of the season.
Tackle for rockfish was anything and everything, from double flies and a 1-pound sinker to a variety of jigs, swimbaits and other plastics.