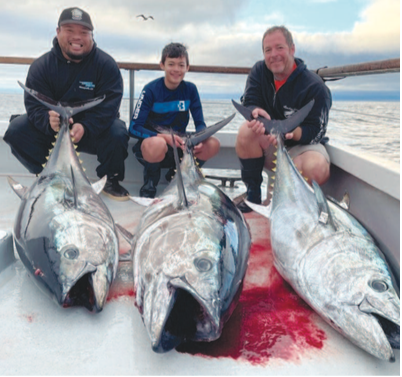 BY MERIT McCREA
OCEANSIDE/SAN DIEGO — It was all on for the San Diego County party boat fleet — from bass to bluefin and local bottom biters too. While Sunday evening saw winds ramp up on the outer banks, Saturday saw a large fleet fishing the banks' outer fringes and the bite was on. In less than ideal weather it was limit-style on the tuna with fish mostly in the 50- to 100-pound class but with substantial numbers of tuna in triple-digit class, with some past the 200-pound mark!
Capt. Markus Medak, owner of the New Lo-An, initially reported on Saturday his skipper called in 50- to 60-pound class fish in limit-style fishing. The trip previous there weren't as many landed but most were over the 100-pound mark, with 4 fish over 200.
Back at the dock Sunday morning, they had limits for the 2.5-day trip — 56 fish, most from 50 to 100 pounds but with a stand-out at 200. We asked what the bite was on and how it happened. "A few big fish on the kite. Some nighttime jig action on mixed sizes. Very good at night a couple of nights ago. Depending on the day, some fair-to-good fly-line sardine fishing including a few fish pushing 200," he replied.
If you can land a 200 fishing a fly-lined sardine, they were eating some heavy string and it must have been pretty epic to see.
Others turning in bluefin limits were the El Capitan, the Legend with 92 fish, mostly 70 to 90 pounds but with fish to 160, the Pacific Queen, back from a 3-day with 125 bluefin, 63 at 50 to 90 pounds, 4 over 100, 1 over 200 and many fish between 30 and 50; the Fortune and the Pegasus with limits of bluefin tuna for all anglers.
As for the full-day turf, lots of kelp yellowtail again on tap this past week, but over the weekend bluefin had shown up in the more local areas to the south of town again.
On Saturday, Capt. Ryan Bostian on the San Diego turned in 168 yellows and posted, "Strung a couple kelps together and had a few shots at bluefin. The bluefin we saw today were larger than what we have seen lately, fish from 40 to 150-plus. A 25- to 30- pound rod for yellowtail, 40-pound rod for yellowtail and bluefin, and a 60- to 80-pound rod for the larger bluefin would be highly recommended."
Sunday afternoon he was back on and upped the ante, saying, "Caught 63 yellowtail. Today we saw quite a bit of bluefin in the 100- to 200-pound range. Please bring a 60- to 100-pound rod if you have one."
The word for the Coronado Islands coming from none other than Capt. Louie Zimm was that he had the place to himself and it was good on the bonito for sure, and as ever, a few bass plus plenty of rockfish in surrounding deeper waters.
But the big local bass news came from the half-day boat Dolphin, with steadily improving bass catches. Sunday the score aboard the p.m. half-day was 72 keeper calico and 100 released, 4 sandies, plus a smattering of bottom biters for 30 folks.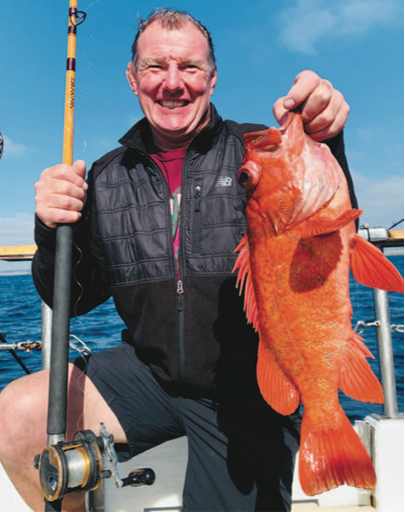 Turning to Oceanside and Capt. Shon Roberts on the Chubasco II 3/4-day boat, he said, "Twenty-fish bag limits the past two days. We found the sculpin mother load this morning."
So Saturday's scorecard with 16 lucky anglers aboard was 160 rockfish, 149 whitefish, 10 sheephead and one calico kept plus 6 more released. Then Sunday, with 15 folks, it was 150 on the cods, 75 scullies, 59 whitefish and 16 sheephead.