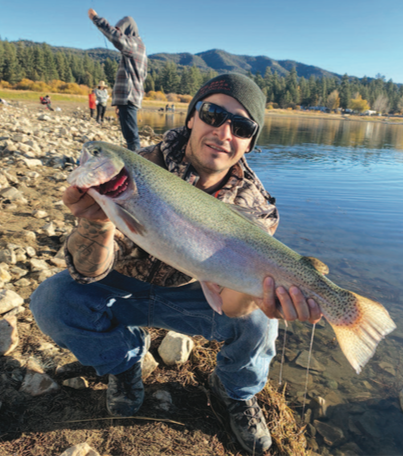 BY BLAKE WARREN AND ANDREW MACK
The calendar page has flipped to November and for many freshwater anglers, that means one thing: it's trout time in Southern California. Lake temperatures are descending down past that magical mark of 70 degrees on down into the 60s, and stocking trucks from numerous hatcheries are hitting the road en route to destinations from Santa Barbara to San Diego to deliver fresh loads of rainbows for trout openers near and far.
Some lakes have already kicked off their seasons over the last couple weeks, while others are just on the cusp of theirs in the coming days ahead. For the majority of watersheds throughout the Southland, it will be full-bore trout time by Thanksgiving or soon thereafter. Here is a basic rundown of what to expect on the SoCal trout scene heading into this weekend…
Cachuma Lake – Cachuma received its first trout stocking of the season Oct. 27, and it was a big one with 4,000 pounds from Mt. Lassen, mostly consisting of quality 2- to 3-pound rainbows. The bite has been solid and steady since that plant for both shore anglers and boaters on the troll, with a variety of the standard tactics working for bites. Cachuma is expecting a large, quality plant from Mt. Lassen once a month throughout the season until April.
Castaic Lake – Trout season got going early here with a large stocking in the last days of October and it's expected to received regular plants throughout the season. Anglers have been picking away at the stockers with a variety of offerings with fair-to-good results.
Pyramid Lake – Same situation as neighboring Castaic.
Big Bear Lake – The lake was stocked heavily in September and October with quality rainbows from Calaveras Trout Farm. That string of plants has been paying big dividends for anglers, with lots of quality fish to 8 pounds being caught over the last few weeks by both trollers and shore anglers soaking baits along the north shore. The marinas and West Launch Ramp are expected to close later this month but shore fishing is open year-round.
Mountain Lakes – They got started early here in late October and already had their third stock late last week, another 1,000-pound delivery from Jess Ranch, which has its hatchery back up and running after well over a year due to a virus outbreak.
Fisherman's Retreat – The second stock of the year went in late last week and the trout have been biting well since.
Hesperia Lake – Staffers have reported an opener date of Nov. 18, but noted that the first trout plant could be even sooner now that water temps are holding in the mid-60s.
Lake Gregory – The season is already underway here following a 1,500-pound lightning trout-heavy stock in early October and another plant late last week, both from Calaveras. They will be stocking a mix of rainbow and lightning trout every other week throughout the season. Both jig and bait anglers have been getting their limits more often than not.
Silverwood Lake – A late-October trout plant got the season going and a smaller DFW stock went in last week. Trout fishing has been fair here in the early going, but the fresh rainbows did get the striped bass cranked up.
San Bernardino County Regional Parks (Cucamonga-Guasti, Glen Helen, Yucaipa, Mohave Narrow, Prado) – At all of these Regional Parks the season is scheduled to get cracking Thanksgiving week with trout deliveries from Calaveras — they will most likely stock ahead of Turkey Day.
Lake Buena Vista – The trout season will kick off with a fishing derby which is slated for Nov. 20. The first plant will be in the days ahead of the event, but no fishing is allowed until derby day.
Lake Skinner – The first trout plant of the season here is expected Nov. 30 with another stock the following week. They are scheduled to stock every other week after that into March.
Rancho Jurupa – Same stocking schedule as Skinnner.
Lake Cahuilla – Same stocking schedule as Skinner and Rancho Jurupa.
Lake Hemet – The trout season here kicked off with a bang as Mt. Lassen dumped in 4,000 pounds of rainbows that are already paying dividends for area anglers.
Diamond Valley Lake – The first plant is slated for this week (Nov. 9) with 3,000 pounds of rainbows and an additional 500 pounds of lightning trout. There is no fishing on stock day so the official opening day for fishing is set for Wednesday, Nov. 10. Expect the usual big crowds following the initial plant, but there is plenty of shoreline access here.
Santa Ana River Lakes – The opener here is set for later this week, stocking Thursday (lake closed on stock days) and fishing starts Friday, Nov. 12. SARL will be using Mt. Lassen as its trout supplier and lake management has said they expect to have monster trout from 16 to 20-plus pounds sprinkled into its stocks.
Irvine Lake – The lake's first stock is expected in either the last couple days of November or the first couple days of December. Weekly or bi-weekly plants are expected throughout the season into March. This lake is walk-in only and is open Fridays, Saturdays and Sundays. No fishing license is required here but anglers are limited to one rod each.
Orange County Parks (Laguna Niguel, Mile Square, Yorba Linda, Tri-city, Clark, Craig and Carbon Canyon and Irvine Regional) – Stocking will begin at these lakes either the week of Nov. 29-Dec. 3 or the week thereafter, with regular plants expected into March.
Dixon Lake – The trout season will kick off with a 3,000-pound plant from Mt. Lassen Trout Farm on Nov. 16, according to the City of Escondido. The fishing has generally been good in years past after the lake's initial stock, but it is also often pressured pretty good in the days after the first plant.
Lake Wohlford – As usual, trout season will kick off a little later than most here, with a 4,000-pound plant from Mt. Lassen the second week of December with an opener date of Dec. 11, according to the City of Escondido. The lake will return to its 7-days-a-week hours with the start of trout season.
Lake Poway – As of press time there has not been an official trout opener announced yet, but the lake is expected to have Wright's Rainbows as its supplier this season.
Lake Jennings – The first trout plant of the season is scheduled for next week with an official opener date of Friday, Nov. 19. The initial stocking will be 2,000 pounds from Wright's Rainbows in Idaho and that will be followed by plants every other week throughout the season for a grand total of 20,000 pounds into April.
Santee Lakes – The trout opener was last weekend, Nov. 6-7, following a 2,500-pound plant from Jess Ranch that was split between Lakes 2, 3 and 4. As expected, the opening weekend drew large crowds and produced lots of catches on a variety of offerings. Santee is expecting to stock every other week into March, with an extra-heavy stocking scheduled ahead of the annua Trout Season Re-Opener (Jan. 15-16).
Lake Cuyamaca – This is San Diego County's lone year-round trout fishery and it was last stocked in the final days of September, but that was a massive plant of 5,000 pounds from Mt. Lassen. Those fish are still showing for area anglers but it has been mostly a pick bite in recent weeks with bait-and-wait anglers doing best. This lake is also supplemented with DFW stocks throughout the season as well as its own home-grown rainbow trout that are periodically released into the lake.
San Diego City Lakes – These lakes are periodically stocked by CDFW.