CULVER CITY – Gun safety, fire and theft prevention are the three most popular reasons shooters invest in a gun safe. But a safe designed to secure guns can protect much more, including valuables, important documents, and irreplaceable family heirlooms so long as it is fire and / or burglary rated.
To take a deeper dive into the gun safe selection process, WON reached out to General Manager Bo Peterson of the Dean Safe Company. The company has been in business for 42 years, and all they do is sell safes. As a high volume business with three retail stores spread around Southern California, Dean Safe enjoys special relationships with the top safe manufacturers, and as a result, they are fully stocked at a time their friends in the industry may have low inventory.
"We start with guns and broaden the outlook of what else to put into it," Peterson says. With gun safes, he says, "We're generally trying to promote gun safety. You're doing your part as a responsible gun owner, keeping your firearms out of the hands of burglars and more importantly, your kids. A gun safe with a burglary or fire rating gives the customer peace of mind."
Because quality gun safes are generally used to store valuables as well as firearms, most feature a split design. Half of the safe is designed for long guns, the rest for personal items. And here's the thing… The number one reason customers return is to buy a bigger safe, Peterson says. If you're in the market, buy with the thought of what you'll want to securely store in the future.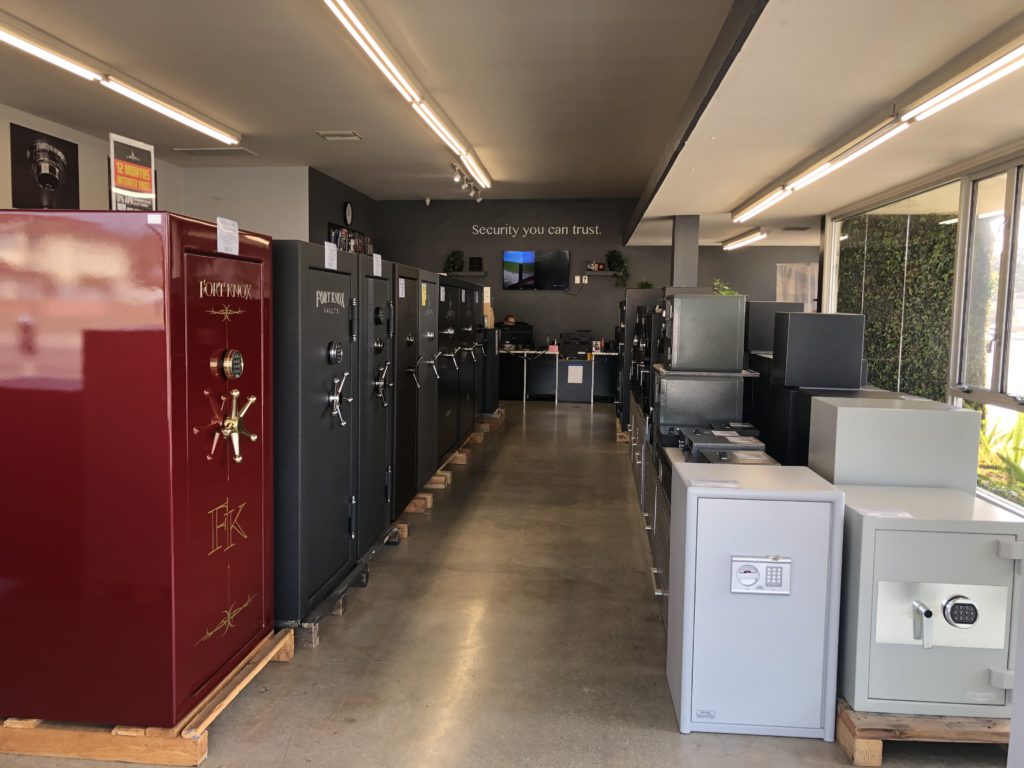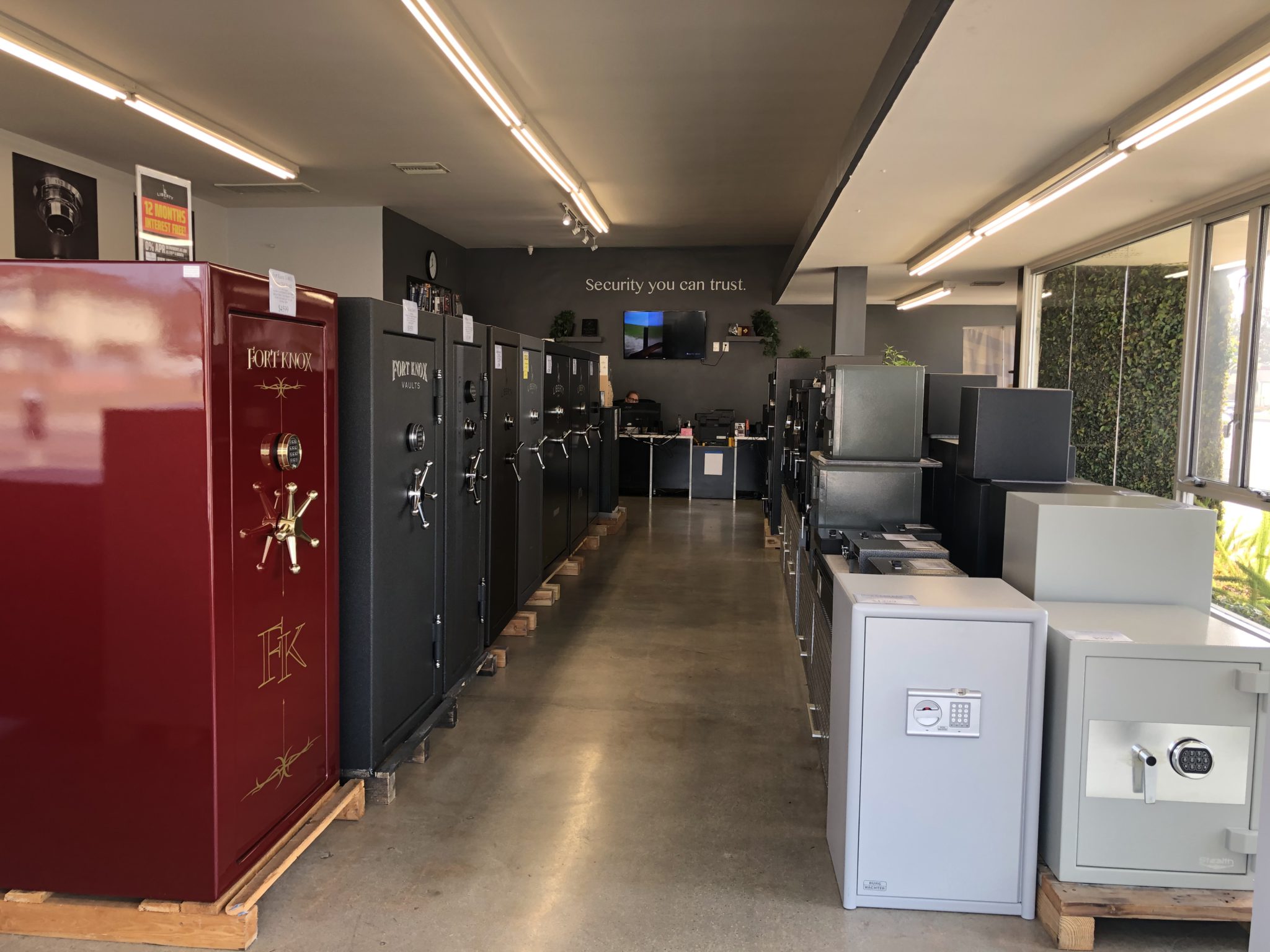 Buy big
"Sixty-five percent of our business is repeat customers," Peterson points out. "If someone comes in with 10 guns, I know they'll go to 15 guns in the next 10 years, so at least buy for that size."
Gun safes are rated by capacity, but one size doesn't fit all. Say a safe is rated for 20 guns. Peterson says that safe can likely accommodate 20 simple .410 shotguns. Now say you want to store a hunting rifle with high-end optics. That long gun will easily take up 2 or 3 gun slots. Depending on what the buyer owns, a 20-gun safe might only have room for 6 or 7 rifles.
Don't overlook accessories. Shooters who live close to the ocean or in areas with higher humidity should consider purchasing a dehumidifier. Other popular options are lighting kits, because most quality gun safes now come with power outlets.
"We also sell items to increase the security of the unit," Peterson says. "Products that will alert you via app or text if the safe door is open, if the temperature rises (a sign of fire), that sends real-time updates of what your safe is actually doing so you can make a determination to go home or call the police."
Dean Safe Company deals with the top of the safe industry, names such as Liberty, AMSEC, Rhino Metals and Bighorn Safes. "Fort Knox is the Porsche of our industry," Peterson says. "They were one of the first to produce gun safes. They specialize in customer builds. If you need a one-off, they're the ones who can do it."
Before we get into the topics of fire and burglary ratings, let's cover a specialty item, handgun safes. They are top sellers, Peterson says, designed to protect a single gun with quick access. Many buyers locate one close to their beds and easily accessible, yet they are secure and kids can't get into them. The price point ranges from as low as $99 to as high as $299, depending on features. Biometric access is a popular one. "Stealth Handgun, Liberty, Fort Knox and Gun Vault are big names," Peterson adds.
Fire and burglary ratings
Gun safes come in 3 categories: entry level, the most spartan; middle of the road, the most popular; and high end. Expect to pay between $499 and $999 for an entry level gun safe. "These go beyond a locking cabinet," Peterson says. "They are actual safes with fire ratings and security that will give you peace of mind protection." Typically, such a safe will have a 30- or 40-minute fire rating.
Middle of the road safes often come with 60-minute fire ratings. The price ranges from $1,000 to $1,799. Peterson says this middle trim level comes with nicer interiors and maybe a lighting option.
High end safes boast fire ratings from 90 minutes to 2 hours and cost between $1,899 and $4,000, but for custom options you might expect to pay as much as $5,000.
The higher quality the safe, the better it will look in your home. Middle to upper end safes come with gloss paint and nice graphics. "With the quality of safes produced, customers want them to look nice," Peterson says.
The hallmarks of a quality safe are steel thickness, the security aspect, and the fire rating. Peterson says fire ratings are a little ambiguous as there's no single industry standard. "We know what a 60-minute fire rating build looks like," he says, so Dean Safe Company can advise customers accordingly.
The choice of fire rating depends on what a customer prefers to pay and the conditions of where they live. "In Los Angeles County, the average house fire burns 21 minutes at 1,100 degrees," Peterson says. Rarely do these houses burn down. Wildfires are different. Here, houses have the potential to burn to the ground and the fires are much hotter and longer in duration. If a customer lives in a fire-prone area, Peterson says they'll suggest looking at higher fire rated safes.
Burglary ratings are easier to assess. "A burglary rating goes hand in hand with the fire rating," Peterson says. "You won't get thinner steel on a safe with a higher fire rating."
For more information on safes, visit Dean Safe Company at deansafe.com/collections/gun-storage or call (800) 827-7534.