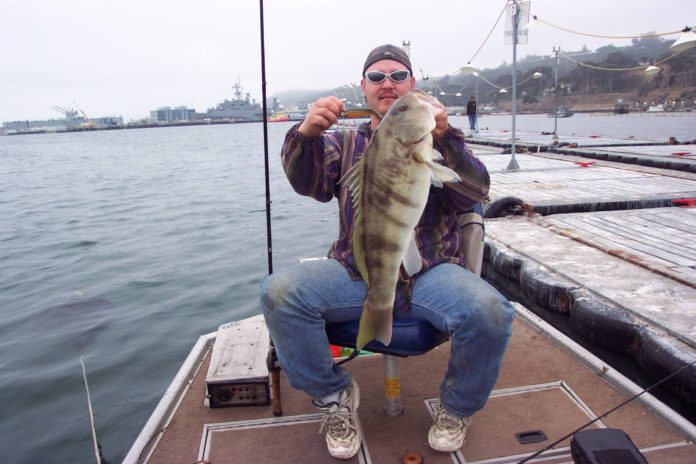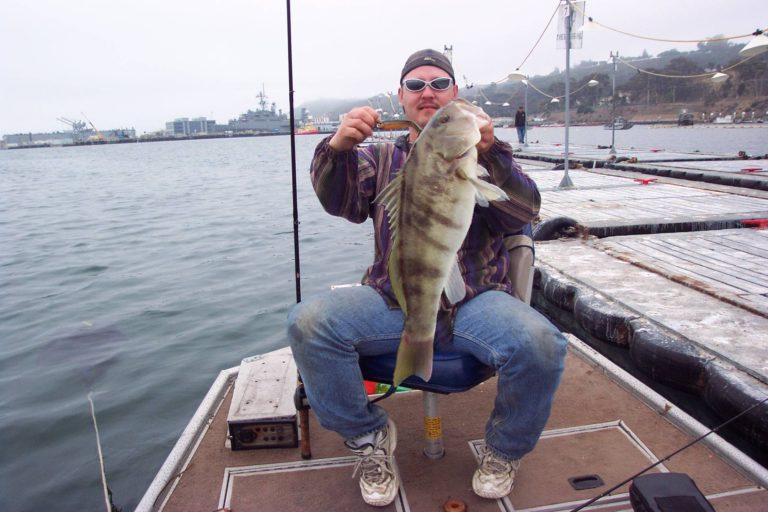 BY CAPT. BILL SCHAEFER
SAN DIEGO – Now that we have entered fall, a lot of fishing is peaking and will all but disappear as the year progresses. Fortunately, there is still a way to have fun fishing for saltwater bass in San Diego Bay. October is usually the month that waters start cooling and the sand bass move into the bays in larger numbers. If you want a relaxing day of bass fishing, then San Diego Bay's sand bass bite is for you. This is light tackle action on bass averaging 1 to 2 pounds, but there's always a chance for excitement. There's a chance of catching some really big sand bass up to 6 or 7 pounds. There's a lot less pressure on them this time of year and if you catch the first wave coming in, it can be some great fishing.
When is the best time to go? The answer is easy, any time starting in October and usually until February. That is why the San Diego Anglers hold their giant bay bass tournament at the end of January or early February. As long as there is tidal current the entire food chain all the way up to the sand bass is stirred up. Incoming or outgoing tides both work well with medium tides being the most productive in many anglers' minds; about 3 to 5 foot of movement. But, if you have the urge to go fishing any movement will produce some fish.
To target the bass, especially the sand bass, look to the natural structure such as the edges of channel drop-offs. There are also bridge pilings, sunken boats, rock piles as well as cable crossings that hold the bass. The bass hold in different areas in schools, so if you get bit, the smart thing is to drift that area again. Some anglers like to vertical jig areas with anything from swimbaits to various spoons or jigs. A fish-finder/mapping unit is also a plus for this type of fishing. It will help you find those areas the fish like to hang out in and you can mark them for future fishing. Remember to watch for bait as well as structure.
Many fishermen use the long-line method of throwing out their swimbait, letting half a spool of line out and then retrieving the bait. This keeps the bait on the bottom and in the strike zone longer. But with this style, as you retrieve your bait, you will only feel heaviness on your line when bit. You must speed up your retrieve to take the stretch out of your line and then set the hook once the heaviness reaches an almost stuck feeling. This is you making contact with the fish. Of course, braid eliminates some of this if you go in that direction.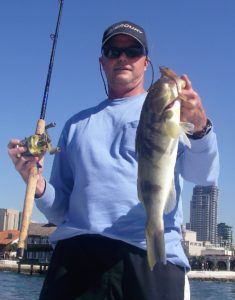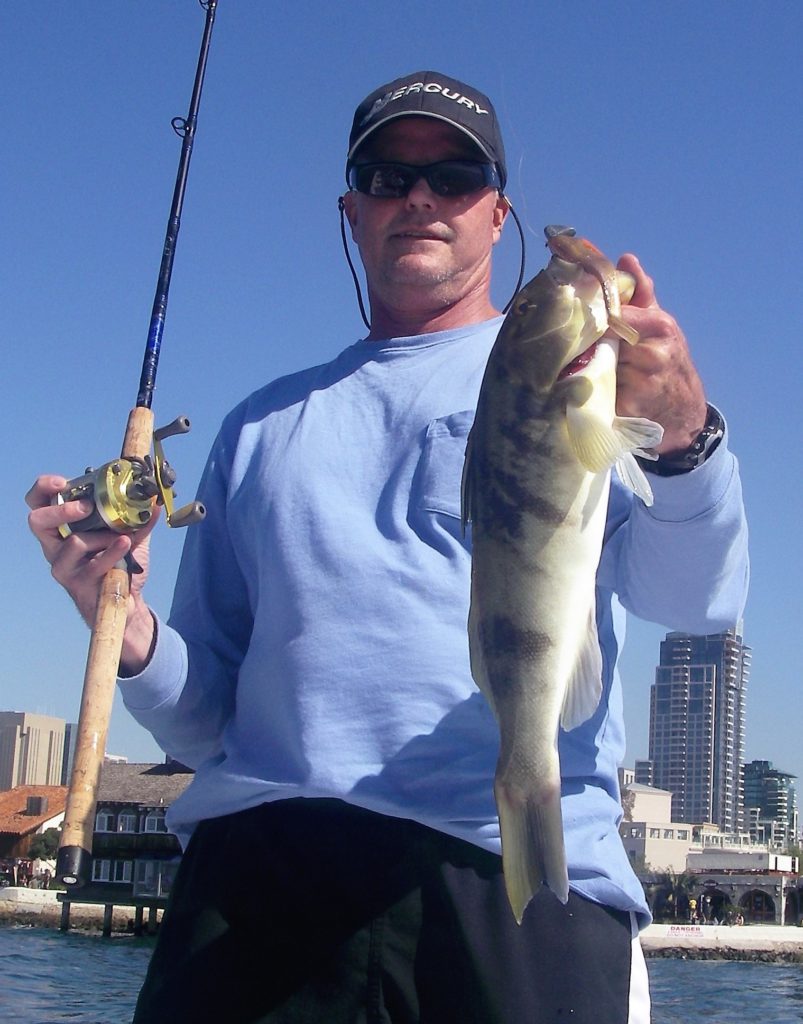 For tackle, your favorite swimbait rod or freshwater flipping stick will work. I like the Daiwa DXSB swimbait rods with a Lexa 300 reel for line capacity. You want a reel that can hold a good amount of line with this style of fishing. For the line, I use 10- to 15-pound Maxima Ultragreen line because I feel I often pull the bait out of the fish's mouth with just braid. If I do go with braid, I use a top shot of mono. Some guys like to throw the umbrella rig and a rod setup like this will do fine for this method.
Swimbaits are the leading bait for sand bass in the bay and the brownbait variations usually top the list with many anglers. There are so many great companies out there that make swimbaits and in this type of fishing the kick of the tail sends out various vibrations to the bass, so it's good to have a few styles handy as every lure is a little different. MC Swimbaits, Big Hammer, Reyes Swimbaits, Western Plastics, LK Lures and Reeb's Lures all make great baits, with unique tails and vibration, just to name a handful.
You can also fish spinning gear and I have used anything from a trout rod up to a 7-foot spinning rod with 10- to 12-pound test mono. The "Do Nothing" method as I call it is to throw out a Kalin 5-inch chartreuse grub on about a ½-ounce head and let the tide tumble the lure along the bottom with the drift of the boat. Pick it up after a bit and most of the time you have a fish. I have caught a lot of big fish this way in tournaments as well as fun fishing. Small to medium spoons will also do well on light spinning tackle, letting the tide carry them along.
Swimbaits are at the top of the list for fishing these guys, but there are so many other styles to fishing the sand bass in the bay, such as with leadcore line and trolled crankbaits, to just throwing deep diving crankbaits, to large spinnerbaits, drop-shot fishing  or ultra-light tackle, just to name a few. If it's a very productive day for you, experiment with other techniques; you may find a new one that you enjoy.