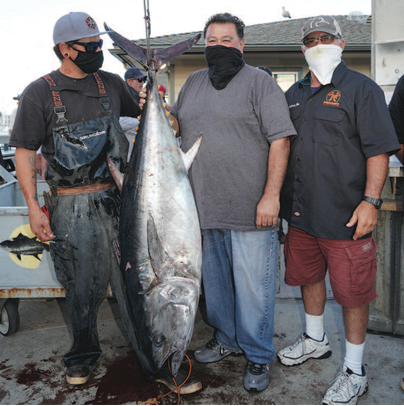 BY MIKE STEVENS
Cash and prize-laden event a competition between sportboat anglers as well as the vessels and landings
POINT LOMA – The San Diego Offshore Jackpot (SDOJ) will be unleashed on the Scott Street sportfishing landings in Point Loma on June 24-25. It marks the 7th annual running of WON's unique event that's as much of a competition between anglers as it is between the boats, crews and landings. Anglers are fishing for combined jackpot cash from six boats and huge sponsor prizes, while the landings are after the perpetual trophy (currently residing at Fisherman's Landing after the Tomahawk's victory in 2020) and waterfront bragging rights.
Participants will embark on an overnight trip on one of at least six boats out of either H&M Landing, Point Loma Sportfishing or Fisherman's Landing and gun for the largest qualifying fish and a shot at a huge "combined jackpot" with cash going to the top three finishers.
The SDOJ is rooted in WON's long-running success in its diverse charter schedule, which led to similar boat vs. boat, combined jackpot events like the Rockfish Rumble, Channel Islands Shootout and Central Coast Lingcod Championship. These are all products of WON's mission to bring the competitive, tournament atmosphere to sportboat anglers. As the saltwater sportfishing capital of the world, San Diego playing host
to such an event featuring that number of top-notch boats to go along with overwhelming sponsor support was a necessity.
A $300 ticket puts an angler on the New Lo-An, Tomahawk, Condor, T-Bird, Excalibur or Daiwa Pacific with $20 of that going toward the overall jackpot. Point Loma Sportfishing's New Lo-An as well as the Tomahawk out of Fisherman's Landing have already sold out, and vessels historically fill up quickly as the offshore fishing reports further trend in the right direction. So if you want to get on a specific boat, registering sooner than later is the way to go.
Based on six full boats, the combined-jackpot payouts for the top 3 fish would be $1,500 for first place, $950 for second and $650 for third. These are subject to change (in a good way) because there is still some time for more boats to get involved between now and June 24.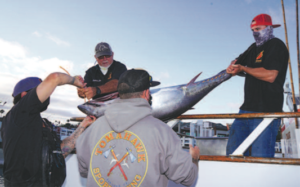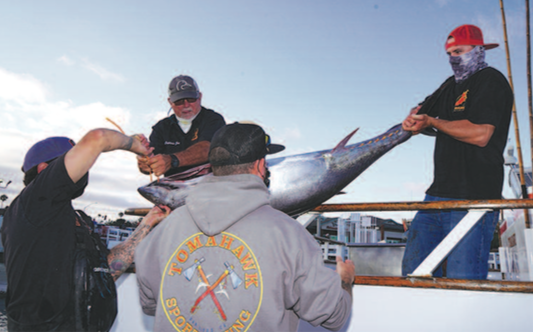 On top of securing a spot in the SDOJ if not on a specific boat, anglers registering by May 31 will be eligible for the Early Entry Raffle for one of three high-end Daiwa Saltiga 2-speed reels and Proteus rods.
At check in on June 24, participating anglers will get a wristband with a number on it for the General Raffle that goes down at H&M Landing which is also where the official weigh-in will be held. There will be a WON rep at each of the three landings making check-in easy, and they will also be distributing goodie bags to each passenger.
The prizes and how they'll be awarded can be explored in detail in the sponsor story in this special section of WON, but the basics are as follows: Daiwa is delivering an absurd level of support by putting up nine Proteus rods and nine 2-speed Saltiga lever-drag reels up for grabs.
This includes a $1,050 combo that will be awarded to the angler catching the biggest fish at each of the three landings. The rest will be individually doled out as part of both the general and Early Entry raffles.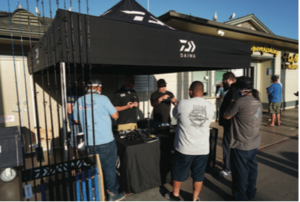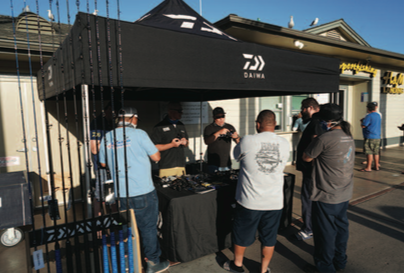 Daiwa will also bring back its popular contingency program which rewards its loyal fans for using their rods, reels, braid or fluorocarbon and finishing in the top 3 at the SDOJ. There are more details in the event-sponsor story, but basically, if you purchased a Daiwa Proteus rod, Saltiga reel, J-Braid or J-Fluoro between Jan. 1 and June 24, show your proof of purchase to the on-site Daiwa reps at check in to register for the contingency. Finish in the top 3 with a qualifying rod and reel and you pick up a $1,000 Daiwa shopping spree. Do it with Daiwa J-Braid or J-Fluoro and it's $500 in Daiwa gear.
Touching on the rest of the SDOJ sponsors and their involvement before you head on over to the sponsor story, Huk Performance Fishing Apparel will tack on a $100 gift card for the top fish on each boat, and that same angler will get Costa sunglasses of his/her choice with the jackpot fish from each boat.
By now the wheels should be turning in your head revealing the possibilities for a top finish in this thing. There's the top 3 cash payouts, and those anglers will likely also pick up the Huk and Costa per-boat jackpot scores, and if they quality for the Daiwa contingency, a shopping spree. Not to mention the likelihood some or all of these boats might mix in their own standard jackpot situation as well.
Cha-ching!
All anglers participating in the SDOJ will get a Frogg Toggs FTX Gear Waterproof Cinch Sack stuffed with a spool of HI-SEAS Bluewater Fluorocarbon and Gamakatsu's new utility G- 3200 G-box. Berkley ProSpec monofilament will also be available for last-minute fill-ups on each participating boat.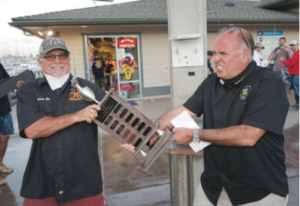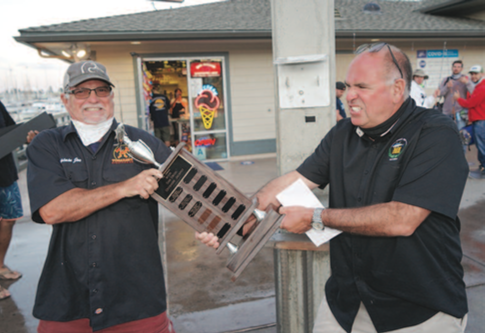 The wristband you get at check in is important. Don't take it off or lose it or you won't be in the running for raffle prizes. For the most part, participants just show up, check in and fish for eligible species including yellowfin tuna, bluefin, albacore, dorado, yellowtail, opah and wahoo.
Most of the rules are for the Captains (get back on time, only reasonable (tangles, gaff, etc.) assistance is allowed, make sure lines are out at cutoff time and so on). Basically, it's a shotgun start with all boats leaving the dock at 8 p.m. on June 24, and they can hit eligible waters in the U.S. or Mexico. The tournament officially starts at 12 a.m. on June 25, and the strict "lines up!" cutoff is 4:30 p.m. All boats must be back in their berths at the landings by 7 p.m.
This is a BIG FISH tournament in which each angler is entitled to submit ONE fish for prize money (and no troll fish). Each Captain is responsible for determining the Top 3 biggest fish from three different anglers at the end of the day. If there is any question as to who are the Top 3, the Captain can keep as many as is needed to be weighed at the dock. All other fish can be filleted on board.
All fish being weighed in must have been caught by the angler submitting it with no help beyond reasonable assistance from other anglers or crew. The eligibility of any fish should be determined by Captain, crew or WON associate on the spot. No "hand-offs" will be eligible for prizes.
The Captain is solely responsible for ensuring that all anglers do not fish past the "lines out" cutoff and that the boat is back at the dock by 7 p.m. If any boat is late for the 7 p.m. weigh in, all anglers on board will be docked 1 ounce for every 5 min- utes the boat is late — no exceptions. After 30 minutes (7:30 p.m.) that boat and all anglers will be disqualified. This is to make sure we do not keep 200 anglers waiting at the dock.
At the dock, WON will weigh the top 3 fish from each boat, and will determine the top 3 overall. Each fish will be weighed ONCE on a certified scale down to hundredths of a pound. Those top 3 anglers will win 100% of the jackpot money ($20 per angler), with 50% going to first place, 35% going to second, and 15% going to third. All three winners can be from the same boat, but no single angler can win more than one of the top 3 spots (hence one fish per angler). In the event of a 2-way tie, WON will flip a coin, with the loser being bumped down one spot in the standings.
In the event of a three- or more-way tie, WON will do a random drawing to determine first, second and third place.
The landings are handling all of the bookings online, so anglers interested in fishing in the SDOJ should visit the participating landing of their choice, find a qualifying boat doing an overnight trip on June 24-25 and show up ready to check in and fish on June 24.
Point Loma Sportfishing PointLomaSportfishing.com (619) 223-1627
H&M Landing HMLanding.com (619) 222-1144
Fisherman's Landing FishermansLanding.com (619) 221-8500