The 9th Annual San Diego Offshore Jackpot
Departing June 29th at 8pm
Returning June 30th at 6pm
Ticket Price $350 includes a $20 Jackpot to be paid to the top 3 anglers!
Point Loma Sportfishing:
Oceanside 95 (32 total Anglers)
Click here to sign up through Point Loma Sportfishing
or call (619) 223-1627
Fisherman's Landing:
Condor (37 Anglers Total) (SOLD OUT 37 Anglers)
Click here to sign up through Fisherman's Landing
or call (619) 221-8500
H&M Landing:
Horizon (SOLD OUT 30 Anglers)
Click here to sign up through H&M
or call (619) 222-1144
ANGLERS: Check in will be held at H&M Landing for all 3 boats. Bring your receipt from any Daiwa purchase to be eligible to win a Daiwa shopping spree if you win the tournament! Anglers must check in with staff prior to the trip departure to ensure your eligibility.
For additional questions regarding the event, call WON's Landon Thomas: 949-366-0726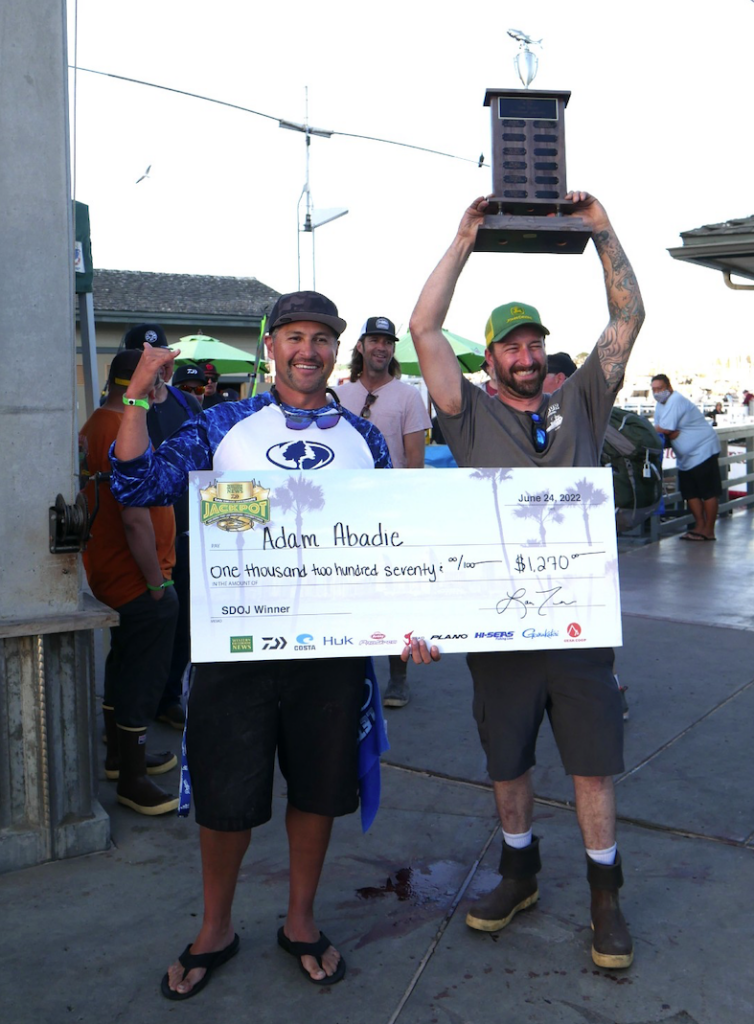 FIRST PLACE in the WON San Diego Offshore Jackpot went to Adam Abadie who caught a 93-pound bluefin aboard the Condor. Captain Trevor Fried of the Condor is also stoked to bring the event's trophy back to Fisherman's Landing.
Click here for the 2022 Results
Rules and Structure of the Event:
Anglers can check into the event and collect his or her "WON Supply Packs" in front of H&M Landing prior to boarding the respective boat.
Shotgun start at 8pm sharp on June 29, 2023. Captains may bait up beforehand if schedules permit. Capt.'s can choose to fish in any eligible waters in US or Mexico. Tournament starts at 12:00am June 30th and anglers can fish all day until the strict "lines up" cutoff at 4:30pm, however, all boats must be back in their berth at their respective landings by 7pm sharp. Any boat seen fishing past the "lines up" deadline of 4:30pm will be disqualified immediately, and all anglers on board will not get to weigh fish. Fish must be LANDED before 4:30pm, no exceptions.
This is a BIG FISH tournament, in which each angler is entitled to submit ONE fish for prize money (no troll, kite, backpack fish). Each boat Capt. is responsible for determining the TOP 3 biggest fish from 3 different anglers at the end of the day. If there is any question as to which are the top 3, the captain can keep as many as is needed to be weighed at the dock. All other fish can be filleted on board.
At the dock, WON will weigh the top 3 fish from each boat, and will determine the top 3 overall. Each fish will be weighed ONCE on a certified scale down to the hundredths of a pound. Those top 3 anglers will win 100% of the jackpot money ($20 per angler), with 50% going to first place, 35% going to second, and 15% going to third. All three winners can be from the same boat, but no single angler can win more than one of the top 3 spots (hence one fish per angler). In the event of a 2 way tie, WON will flip a coin, with the loser being bumped down one standing. In the event of a three or more way tie, WON will do a random drawing to determine 1st, 2nd, and 3rd place.
All fish being weighed in must have been caught by the angler submitting it, with no help beyond reasonable and regular assistance (gaffing, correcting line tangles etc) from other anglers or crew. The eligibility of any fish should be determined by capt., crew, or WON associate on the spot. WON reserves the right to disqualify any fish upon the recommendation of the capt., crew, or WON associate on board. No hand-offs will be eligible for prizes.
The captain is solely responsible for ensuring that all anglers do not fish past the lines out cutoff, and that the boat is back at the dock by 7pm. If any boat is late for the 7pm weigh in, all anglers on board will be docked 1 pound for every minute the boat is late- no exceptions. After 30 minutes (7:30 pm) that boat and all anglers will be disqualified. This is to make sure we do not keep 200 anglers waiting at the dock, and will be enforced if need be.