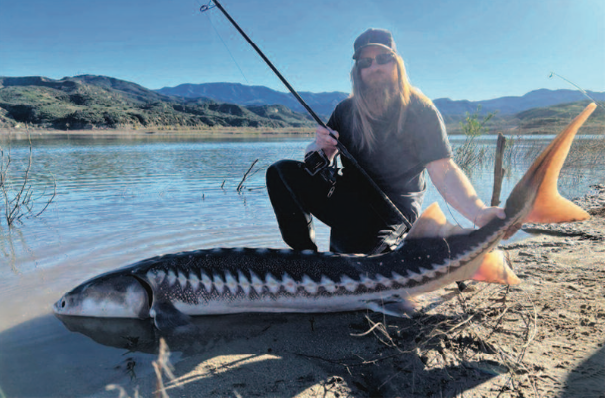 BY ANDREW MACK
SILVERADO – Since the re-opening of Irvine lake last year, it has been strictly walk-in only for shore anglers. They have stocked trout every other week for trout season, so most anglers on Irvine these days are using light line.
But there have been a few monsters that have been hooked but not landed… until last weekend. Spencer Wonder from Newport Beach was fishing on Sunday, and he brought heavier gear to try and catch whatever has been snapping the trout setups lately.
"I showed up with my 40-pound gear and fished the wind- blown side of the lake with the Euro-style 12-foot rods," said Spencer. "I casted out some frozen bait that I knew was get- ting bit for the last few weeks, and I hooked into one of these monsters but lost it when the barbless hook pulled. So I casted back out after and within five minutes I tied into a behemoth fish. Finally, after so many years, I caught a Irvine Lake stur- geon! It was a fairly quick fight of around 5 minutes. It gave a few good runs in the shallows and completely breached its body out of the water one time. Nothing like seeing an almost 7-foot freshwater fish playing tug of war on the other end of my line. Once it was landed, I quickly got the hook out, took a few photos and let it swim back to where it came from. To catch one at this point in my career is just icing on the cake. Really special animal in a sentimental location."
This sturgeon weighed an estimated 100 pounds, and a fish like this has not been caught in Irvine lake for many years. Other species have been showing up as well including the oc- casional largemouth bass. Silverio Barrera of Perris hooked into a 5-pounder along with a 2.5-pound lightning trout.