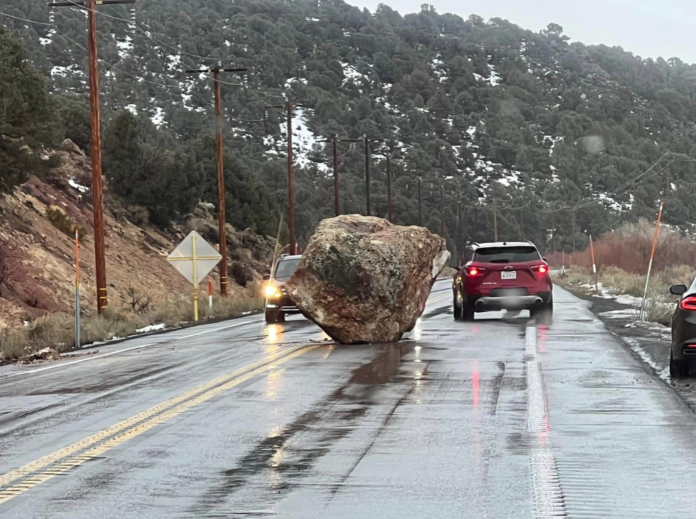 BY MIKE STEVENS
BRIDGEPORT – Anglers across the West are loving all this precipitation that ended 2022 on a high note and kicked off the New Year on a great one. Recently, a staffer at The Angler's Edge in Gardnerville, Nevada, broke down how low reservoirs and rivers are actually good for times such as this.
"Most of the waters that are for irrigation or water use are low this time of year. They typically don't hit 'full' until May or June," said the co-owner of The Angler's Edge, Liz Weirbauch. "Bridgeport Reservoir that covers the East Walker (river) holds 40,000 acre feet and is sitting at 26 percent. We don't really want them too full at this time of year!"
"California fails to build storage for overflow like the 300 percent snowpack of '17 or the 210 percent of '19, and they just let it all go to the ocean. The first snow pack physical reading was January 1, and SnoTels have been reporting 230-195 percent for the last three weeks." That was prior to 11 more days of the current "atmospheric river."
"The East Carson was seven inches below advisory flood stage Tuesday, and we are now guaranteed to have over-bank flooding this weekend," she added. "It's a good thing the reservoirs are sitting with 'the glass half full' since we're going to need the room since the rain level is so high."
In fishing news out of The Angler's Edge (TheAnglersEdge.com), Joe Chafin who ties streamers and Euro nymphs for the shop and spends time as a mentor for the store's Discovery on the Fly program, landed a tanker 21-pound cutthroat at Pyramid Lake. WON connected with Chafin just before press time.
"That cutthroat was caught on a black Woolly Bugger, said Chafin. "The fishing was slow all morning. I was fishing flies under an indicator and my bobber hadn't dropped once, so at about 11:30 a.m., I decided to pull out my strip rig and throw some streamers. Three or four casts into the stripping, I thought I snagged a rock, until the rock started swimming!"
Chafin said during the fight, he had "no leverage for a while" and the fish towed him all over the place and pulled his line over rocks.
"I was surprised to get it to the net!" he added. "The best part about the whole thing was I was fishing by myself that day, but three other guys fishing to the left and right of me came to my aid, one with a camera, one with a net and then a third guy came over with a scale! Three guys I'd never met, and they were all just as stoked as I was. That's what I love about Pyramid Lake. It brings anglers together, we meet new friends who become life long fishing buddies and cheer us along when we get the big one to the net."