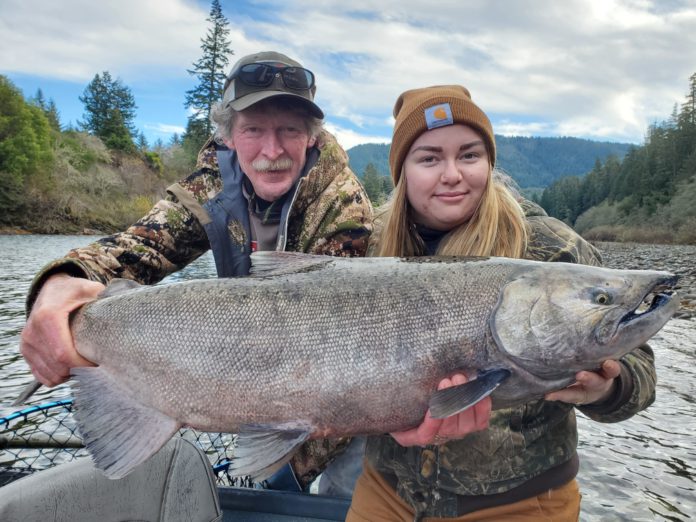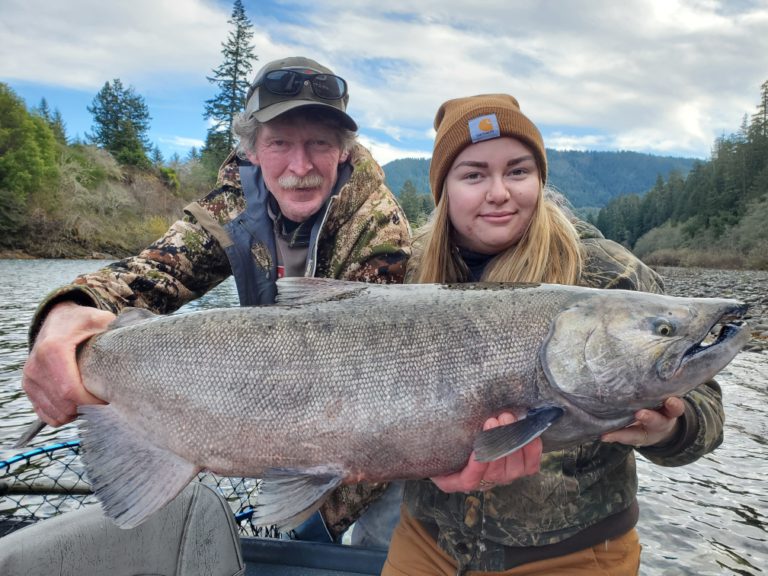 SMITH RIVER – Dropping water levels could lead to a low-flow closure on the Smith River this week, just as the first winter steelhead are starting to show up.
The Chetco River also is low and clear but will remain open even as flows approach drop below 1,000 cfs.
Salmon fishing has slowed on both rivers, but steelhead are beginning to arrive. "The Smith is full of half-pounders," said guide Mick Thomas of Lunker Fish Trips. "We have been catching a bunch of them. There are some salmon, but they are getting dark."
Flows on the Smith dipped to 883 cfs at Jed Smith on Sunday evening. The river will close above Rowdy Creek once flows drop below 600 cfs. That is expected to happen around mid-week. No major rain is in the forecast.
Thomas said he has been focusing on the stretch between the Forks and Outhouse. There are plenty of salmon in the deeper holes, but they are dark. Half-pounders are stacking up in the riffles above Jed Smith and just below the Society Hole. Winter steelhead will arrive in bigger numbers after the next big rain, Thomas said.
Shore anglers caught salmon on the lower Smith during Thanksgiving weekend, drifting beads or Corkies, or tossing Kastmasters. There was a large school of salmon holding in the riffle just below the Highway 101 bridge and at the mouth of Little Mill Creek.
Guide Andy Martin of Wild Rivers Fishing has been focusing on the Chetco River and finding a few dark salmon and half-pounder steelhead. "There were four adult steelhead caught last week on the lower Chetco," Martin said. "A 15-pounder was weighed in at the Chetco Outdoor Store. As soon as we get some rain, I would expect the river to have quite a few steelhead."
Flows on the Chetco were 969 cfs on Sunday. Although the river will continue to drop, ODFW isn't expected to close the river since most of the salmon were able to spawn.
"The Chetco still has green color, even though it is low," Martin said. "It held its color really well so far this season. It cleared quickly after the big rains and then remained green for several days."
The Elk and Sixes rivers in Southern Oregon fished well for salmon before Thanksgiving but are now low and clear and difficult to float with drift boats.