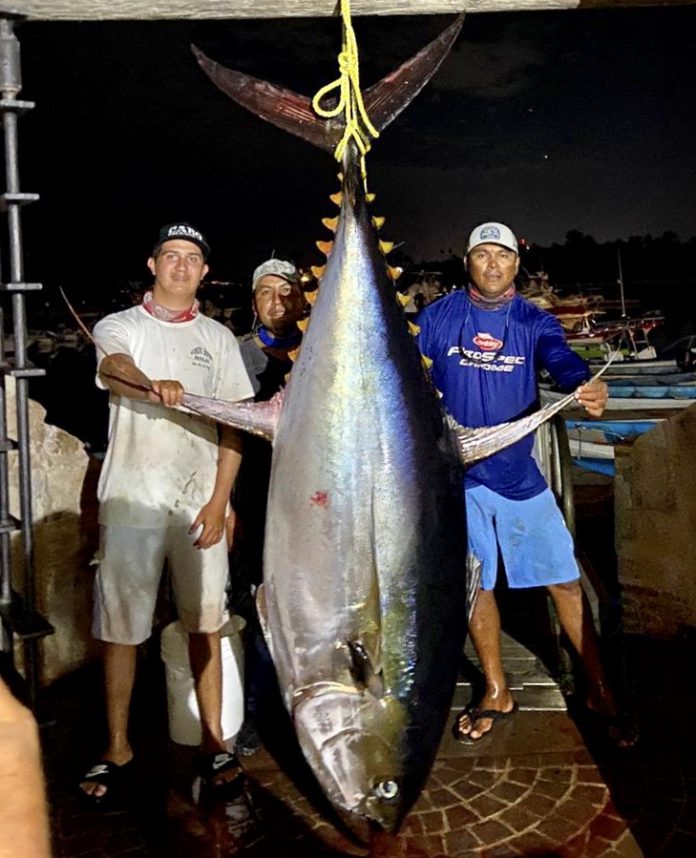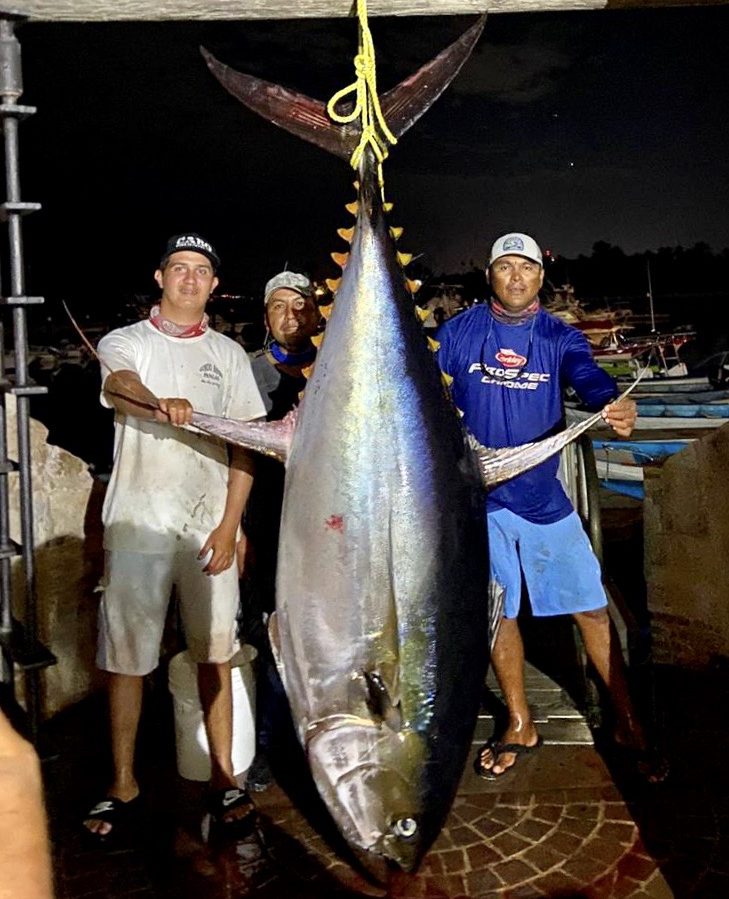 BY MEGAN McDONELL
SAN JOSE DEL CABO – Rebecca Ehrenberg of Pisces Sportfishing posted on their blog that she received a photo of a fish that looked like it was pushing 400 pounds. After a little digging, she found it was Captain Eduardo Aripez that had landed it on his 22-foot panga Nicole.
"Captain Aripez is well known in the area for raising big fish and actually landed a 168-pound yellowfin in the Los Cabos Billfish and then a 225-pound yellowfin in the Bisbee's Offshore this year aboard Estrella del Norte," she wrote. And in 2012 they won the Los Cabos Tuna Jackpot aboard this vessel with a 372-pound yellowfin, so when Aripez told Ehrenberg he set out late (at about 3 p.m.) to look for a big yellowfin and that it had hit within minutes of setting out his live skipjack, she wasn't surprised. "These guys know the Outer Gordo Banks like the back of their hand," she said.
According to Ehrenberg, Aripez was fishing with friends Franciso Beltran and Inocencio Pina, but Aripez was the one that finally got it to the boat on a Shimano Tiagra 50, with 80-pound line and 130-pound leader. The fish had died on him just about 50 meters from the boat – and he brought it up slowly, but surely. It took them a total of three and a half hours to land the fish, and they made it back to the dock by night.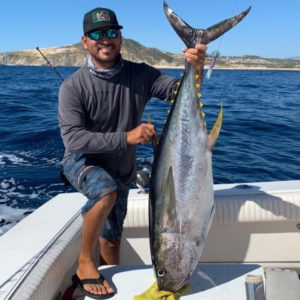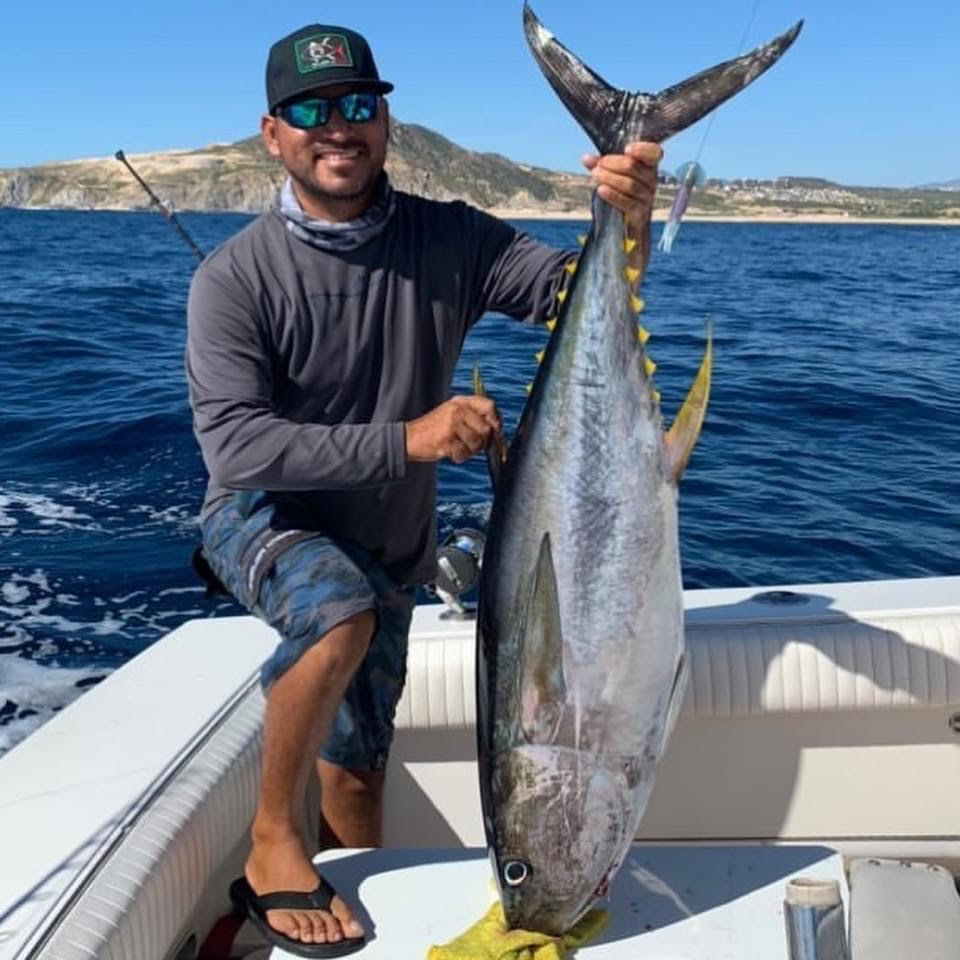 How did he manage to get that thing into the boat? "It was hard!" said Aripez! "I actually told the guys to make sure the bilge pump is on! When we started pulling it onboard, the boat almost tipped over and took on a lot of water, but we managed." The fish was so big that it was difficult to weigh on the La Playita scale, but it came out to be 365 pounds.
Eric Brictson of Gordo Banks Pangas wrote about the same tuna on his website. He also said someone caught another impressive yellowfin on the same day – about 200 pounds – outside of San Luis Bank.
As for fishing the rest of the week, he said it was tougher overall – a lot of which was due to the winds beating the northern grounds.
Bricston said there were a couple of days when fleets found some smaller-sized yellowfin associated with moving porpoise, and a handful of tuna in the 40- to 70-pound class were hooked into while soaking baits on the grounds from Iman to San Luis, but most of the entire week these areas were very choppy due to the winds.
As for dorado, Brictson reported scattered action. "Some days we saw more than others, though again most of these dorado were under ten pounds," he said. "Wahoo action was encountered on the grounds north of Punta Gorda to Vinorama, but action was spotty," and a mix of sizes were taken, from sierra-sized 4-pound fish up to trophy-sized, tournament-contending wahoo of 60 pounds.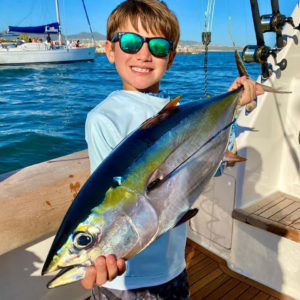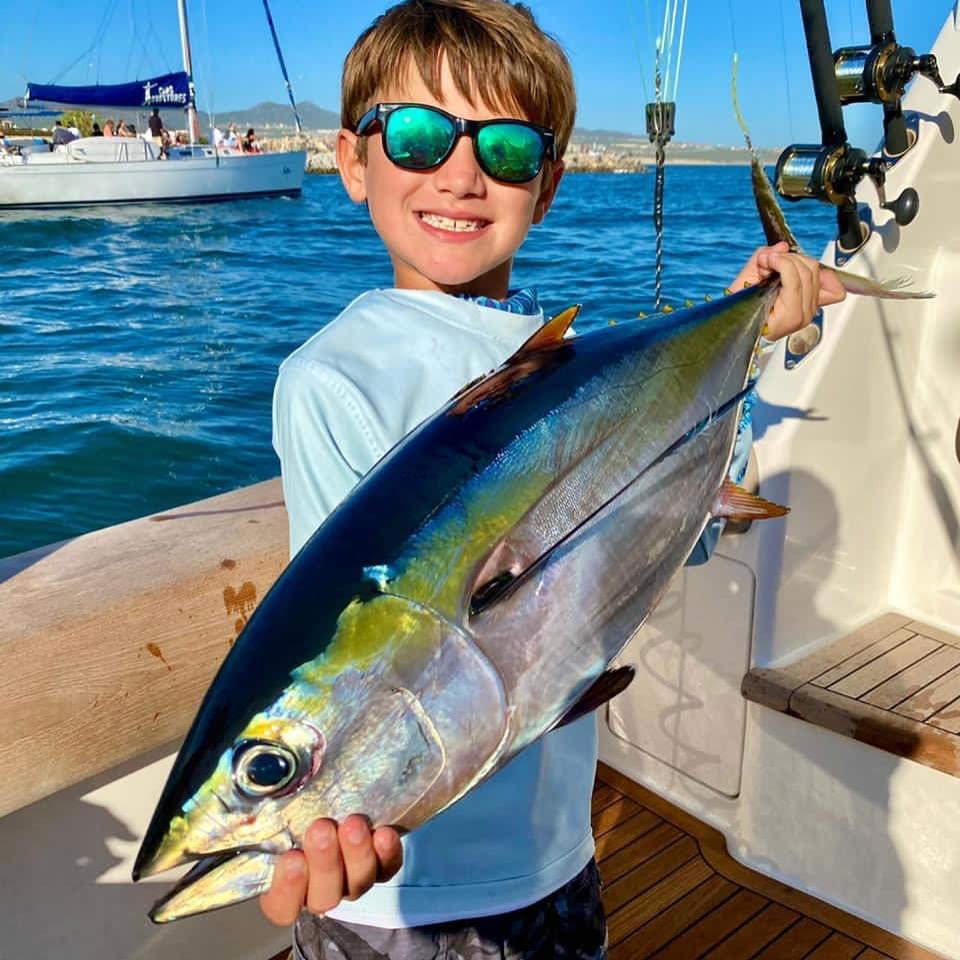 Brictson said the highlight on the bottom was a handful of amberjack and dogtooth snapper – but more triggerfish, bonito or small pargo/snapper compared to anything else. "Closer to shore and mainly towards Cabo San Lucas, we were seeing some sierra," he added.
Last but not least, Brictson said they've heard of wide-open action for striped marlin being found on the Pacific banks, though off of San Jose del Cabo they saw more sailfish, a pair of black marlin, one blue marlin and also a few striped marlin brought in from pangas – but no big numbers like on the Pacific.
CABO SAN LUCAS – Rebecca Ehrenberg of Pisces Sportfishing also reported a lot of luck with the big tuna in Cabo San Lucas. In her opinion, the cooling water temps are bringing out the better tuna on the banks.
As a result, she says that the wahoo and tuna still going strong in Cabo – and they're also seeing some nice billfish coming through.
Their 66-foot Reels N Dirt landed a bunch of wahoo, dorado and marlin; their 38-foot C Rod got 10 nice yellowfin; the 32-foot Bill Collector had 8 yellowfin and 1 sailfish released, the 35-foot Bill Collector 2 scored dorado, wahoo and tuna; and their 48-foot Listo brought in a nice yellowfin while releasing 7 striped marlin.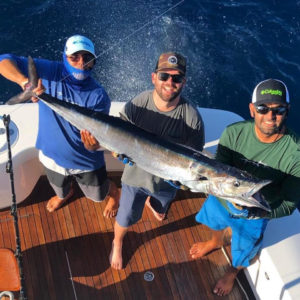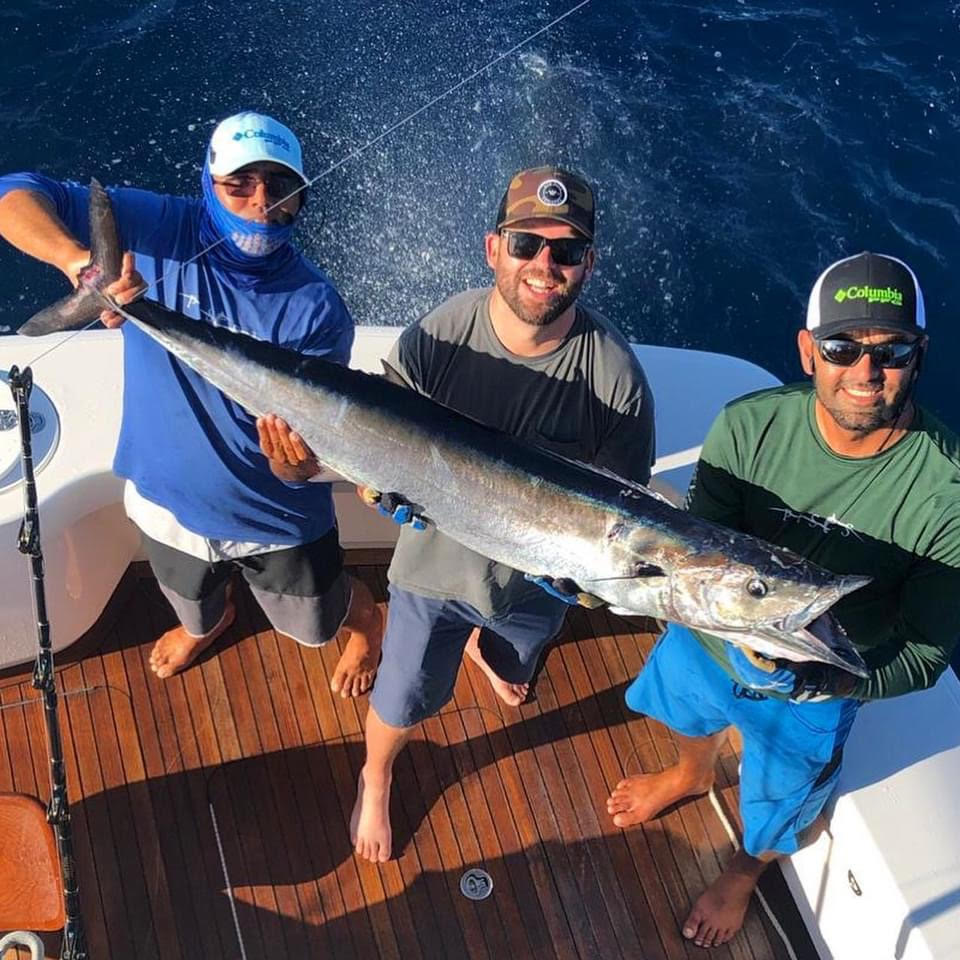 They also had a fantastic two days of fishing aboard the 45-foot Chasin Tail, which culminated with a 253-pound yellowfin! Anglers John and Kelly got the cow to the boat after an hour and a half – and mate Christian told Ehrenberg they were about to call it a day after they had been searching 30 miles out for a big fish and had only released a marlin. On the way back in, they thought to give it one last shot when they saw some porpoise about two miles out of Cabo. It only took a five-minute troll for this one to hit – and their total fish count for the trip was 3 striped marlin and 12 yellowfin!
Grace Coite at Dream Maker Sportfishing Charters and Gricelda's Smokehouse also reported on the tuna bite in Cabo. She said avid tuna anglers Linda Daniels and her husband Matt Daniels from Alexandria, Virginia were fishing straight out from the arch on the Fin-Addict with Captain Martin.
"Captain Martin saw the porpoise and started skipping bait with a kite and soon the big tuna hit. It weighed 299 but it was 300 when landed," said Grace. It was such a strong fight, she lost track of time, but she thinks it was a 30- to 40-minute battle.
LA PAZ – Jonathan Roldan of Tailhunter International reported that the week started off well in La Paz, with good water conditions and hungry dorado up to 20 pounds that were pretty easy to find and catch.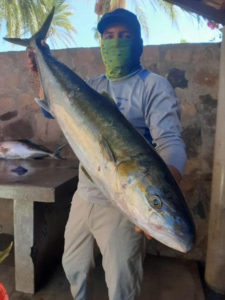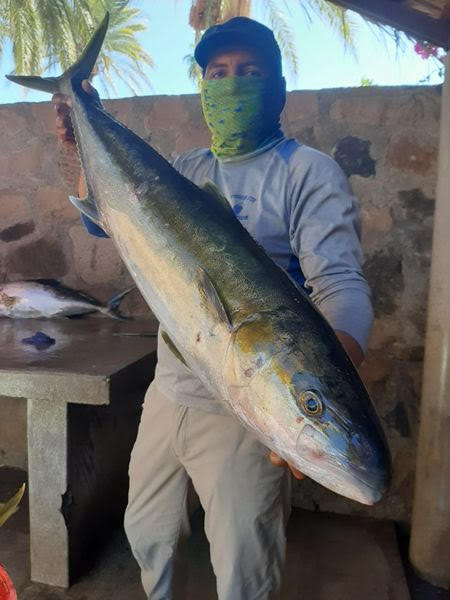 "They were spread over a number of areas," he said. "If you found the spot, you could go crazy right there and not have to look any further to catch limits. Quite a few smaller fish were released."
Roldan said he also heard commercial guys saw big tuna breaking at the north end of Cerralvo Island, but no one could get them to bite.
As the week went on, Roldan said conditions diminished. Skies got hazy and winds gradually increased. With the dorado a bit harder to find, the fishing went inshore for cabrilla, pargo, snapper, jack crevalle and sierra.
However, by the latter few days of the week, the winds were blowing so strong that the port captain shut down all water activities. "No fishing, no snorkeling, no diving," he said. "We had to cancel a number of bookings.
Roldan explained that these winds are seasonal and will continue on-and-off through the winter months.
LORETO – Rick Hill of pinchysportfishing.com wrote in on Saturday to say that, before the weekend winds hit, they were having great luck on the surface with sardinas and anything shiny.
"Schooling yellowtail in a size range making them just bigger than firecrackers were working bait schools just south of Loreto Bay," he said. Light line and sharp hooks worked for limits on many boats.
"Closer to town, it was sierra time," he added. "It was a reunion with the toothy fish we haven't seen in these numbers for years!" According to Hill, most of the fish were small but tasty, and limits on them were impossible to miss.
Nemenchas Sportfishing also had some fun with the yellowtail this week, along with cabrilla. They posted on Facebook that "if the weather is good, they are getting on the reefs to the north," and they're landing the fish on butterfly jigs and bait down deep.
PUERTO VALLARTA – Stan Gabruk of Master Baiter´s Sportfishing & Tackle wrote in his newsletter that they knew the fishing was good, "but that changed to world-class in the last week!" He said this will continue right into the Christmas and New Year's season. "There are plenty of "bucket list" fantasies all over our fishing grounds." he wrote.
According to Gabruk, the world-famous Corbetena is earning its reputation right now with yellowfin tuna from 60 to 200 pounds. He said the sailfish are also thick, and 2 in a day is normal – plus they're getting dorado in the 25- to 35-pound range, and blue marlin are still running the area between 300 pounds to trophy-sized.
Gabruk said the area between El Morro to Corbetena is also fertile fishing grounds. "Sailfish have been running this area – and if heading to Corbetena, you should be dropping baits here on the way to the rock," he advised. He said the fishing grounds off Punta Mita are rocking with sailfish, blue marlin about six miles off the point, and dorado – especially if you can find a floating debris or logs.
Finally, Gabruk said it's "just magic inside the bay." They're finding dorado all over, but most are heading to the Los Arcos area. "Frankly anywhere from Los Muertos Pier to Yelapa is wide-open fishing when it comes to dorado," he added.
Want to contribute to the Baja reports? Send them to baja@wonews.com along with any photos and captions.