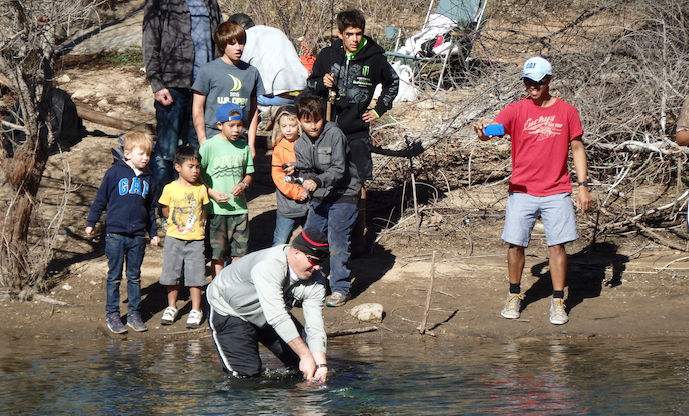 BY BLAKE WARREN AND MIKE STEVENS
SOUTHERN CALIFORNIA – It's that time of year again, as trout seasons are kicking off at lakes throughout the Southland. Many lakes have already got the party started, with others just about to get things going. Here's a basic rundown of what to expect this season at most of Southern California's popular trout lakes heading toward the Thanksgiving holiday.
Big Bear Lake – The lake was last stocked with a hefty load of Mt. Lassen rainbows prior to October's WON Troutfest. Fishing has been good overall since, particularly for boaters on the troll or drift, but boating season at Big Bear is in its final days, as most of the lake's marinas and public launch ramp will be shutting down operations for the winter in a matter of days now. That said, shoreline fishing is on tap all winter for anglers willing to brave the chilly conditions – there is already snow on the banks.
Soaking your standard PowerBait or nightcrawlers on Carolina rigs along with Power Eggs on light wire mosquito hooks with shorter leaders are good bets for putting some cold-month rainbows on the stringer. The north shore is generally the place to wet a line in the wintertime for bank anglers. With night temps now regularly dipping into the 20s, the lake icing over in spots is somewhat imminent. Contact Big Bear Sporting Goods at (909) 866-3222 for updates on the bite and conditions before heading out.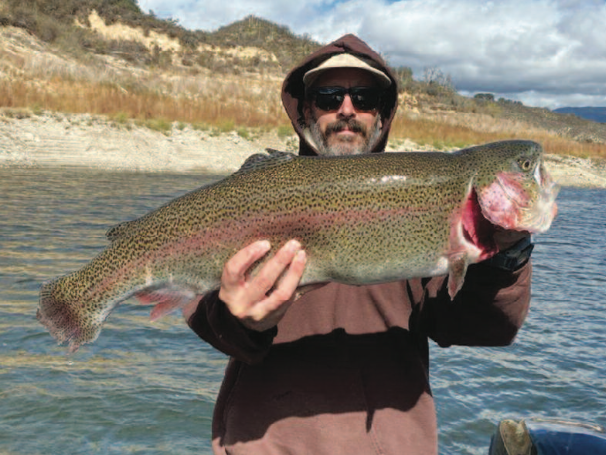 Cachuma Lake – Cachuma got an early start to its trout season with a 4,000-pound Mt. Lassen plant in the final days of October. After a few slower days as the fish acclimated, anglers have been connecting at a solid clip since the beginning of the month. Trolling Berkley Flicker Shads and various Rapalas has always been a good way to stack up a limit here, while anglers soaking PowerBait, 'crawlers and Mice Tails also generally do well heading into the holiday season.
Some very nice rainbows are already coming out of the lake, highlighted by a nearly 9-pound specimen just this past week. The lake is expected to receive three more 4,000-pound deliveries from Mt. Lassen for the season, culminating with the final stock ahead of the annual April Fish Derby. DFW plants are hit and miss, but Cachuma is likely to get a few here and there.
Castaic Lake – Just like the last couple years, Castaic has been getting a healthy helping of DFW stockings already in the early season, getting at least one plant in each of the last three weeks after a double stock to start the season in late October. These fish have been a bit more quality than the usual DFW catchables anglers are used to seeing, with some of these rainbows pushing 2 pounds. If the past couple years are any type of an indicator, these DFW plants should be a relatively regular occurrence. All the usual suspect trout tactics work well here.
NOTE: with the frequent DFW stocks, it's also prime time of year here to throw the big baits for stripers and largemouth: Lunker Punkers and Lucky Craft Sammy 128s along with 8-inch Huddlestons and other glidebaits are good options.
Cuyamaca Lake – This is one place where trout season really never either starts or stops due to its trout-friendly elevation (3,500 feet) and cooler waters year-round. The last major stocking (5,500 pounds in late September) continues to produce an occasional trophy rainbow in the 4- to 8-pound range here and there, and occasional DFW plants throughout the season are likely along with a lake-purchased plant here or there.
The best stretch of trout water here during the colder months is usually from the Lone Pine area to the dike near Chambers Park, where most of your standard trout offerings all work well. There will assuredly be another monster trout plant ahead of the 3rd annual April WON Troutcast at the lake (visit WONews.com and click on the 'Tournaments' tab for more information).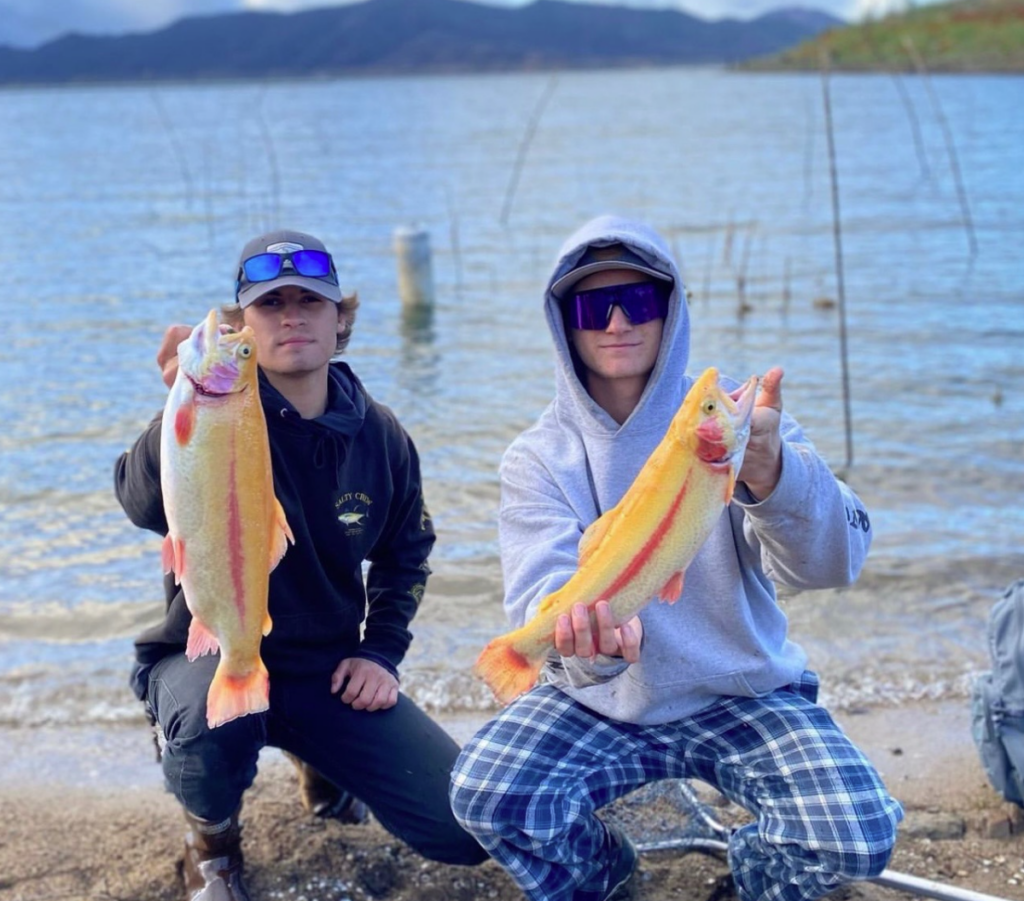 Diamond Valley Lake – Trout season got underway following a delivery of 3,000 pounds of rainbow trout and 500 of lightning trout on Nov. 8, and anglers got their first shot at them the next day. Generally speaking, DVL gets a comparable delivery in the first week of every month over the course of the season. Shore fishing is allowed from the shoreline connecting the first three coves to the right of the Marina, and between the Marina and the East Dam. Trout anglers here are well known for lining up in their vehicles outside of the gate starting as early as the night before the first fishing day following a stock.
They all line those shorelines, but the right of the marina is usually more crowded than the other direction. The good news is, the shoreline is wide open with plenty of room, but it can get shoulder-to-shoulder in some areas. Throwing minijigs works well when anglers can spot fish, and bait dunking also produces. The crowd thins way out in the weeks after the plant, and there are usually still opportunities to chip away at a limit, but floating baits take over as the top option at that point. Almost all the trout caught at DVL are quality Mount Lassen fish.
Dixon Lake – Trout season is slated to get underway following 3,000 pounds of stocking on Nov. 15. This is one of the most heavily stocked trout lakes in San Diego County, and it always features quality fish along with numbers. Unfortunately, management continues to publish the stock days rather than just the week the lake gets a plant which results in truck chasers pounding freshly-stocked fish into oblivion in shoulder-to-shoulder fashion.
Trout anglers looking to avoid that should target trout that survive that gauntlet near the Buoy Line at spots like Boat Dock Cove, Trout Cove, Jack Creek Cove and for boat renters (because there is no short access), Catfish Cove. Slow trolling small Rapalas in open water can also pick up suspending trout in Dixon's ultra-clear water. The Kiwanis Derby is slated for Dec. 3-4. The lake opens at 6 a.m. No fishing license is required, but anglers need to buy a fishing permit at the concession.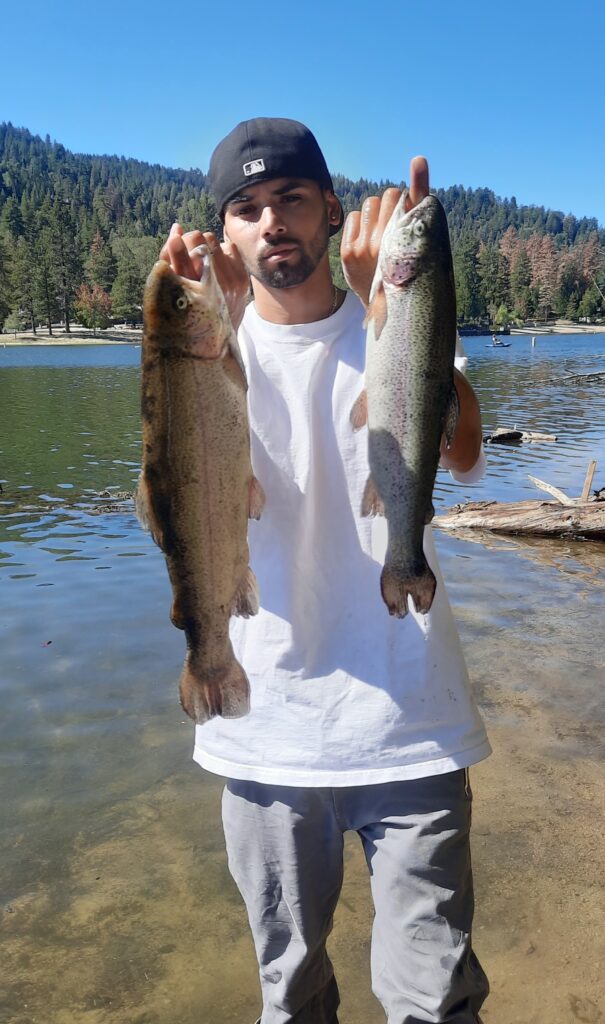 Gregory Lake – Trout season at this alpine fishery has been going on for about a month now, and the lake has already received a couple big plants. The fishing got off to a slow start, meaning a lot of those fish have held over and they're starting to activate as the weather and water continues to cool.
Casting jigs for schooling fish is effective here, and bait fishing with PowerBait, Mice Tails and Berkley Trout Worms is consistent when fish are around. Gregory sources its own premium fish from Mount Lassen, and the DFW will also sneak in there and make deliveries of their own which is a nice bonus.
Hemet Lake – A 4,000-pound plant of Mount Lassen rainbows was supposed to get the party started in the first week of November, but that was delayed due to temporary water quality (algae) issues. Trout season is now expected to launch in December, and anglers usually can expect to see lightning trout mixed in at times over the course of the season.
Top trout fishing areas include the general area of the Marina, the Peninsula and pretty much all of the campgrounds with fishable shorelines. Registration is now open for the Lake Hemet Big Trout Campout .April 29-30. It sells out, which is why you can sign up this early. The first 200 registrants will receive a swag bag. NOTE: Registration into the event does not include camping, so please make your camping reservation now at golakehemet.com For derby rules, a full list of tournament prizes and sponsorship information, visit golakehemet.com/special-events.
Hesperia Lake – "Hespo" is a local gem that – in terms of stocking consistency and fish quality – ranks with the top SoCal trout lakes that get a lot more headlines and chatter. The season just started last week with a 1,000-pound plant, and it's already kicked out an 8.9-pound rainbow and plenty over 5 pounds. Bait dunking standards all fill stringers here, and due to the nature of the stocking, trout can be caught all over the lake after a few loads have arrived.
But, there are local go-to's that can pile up quick limits and bigger fish. One of those is small plastic minnows in black or white on a drop-shot rig. Minijigs and spoons do plenty of damage here, too, and nightcrawlers not only work for the lake's trout, but they can also result in a mixed-bag of trout, catfish and tilapia. Fishing hours are 6 to 6 and is open every day but Christmas.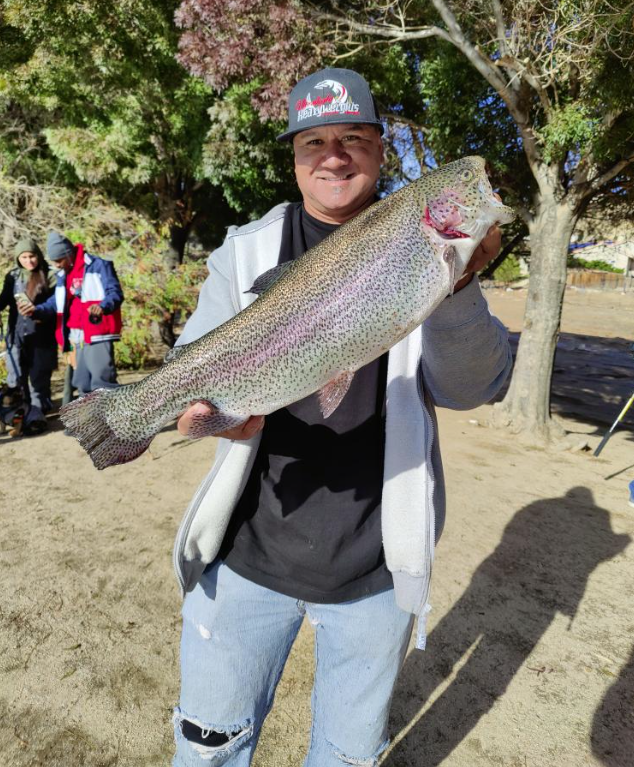 Irvine Lake – Irvine is slated to start receiving trout plants shortly after Thanksgiving weekend and every week or every other week after that. No fishing license is required here and the lake is open Friday-Sunday through the season. It is $5 per car for entry.
Jennings Lake – Trout season here gets cracking this Friday, Nov. 18 with 2,500 pounds going in midweek to set the stage for the opener. Once again, the lake's trout supplier will be Wright's Rainbows from Thatcher, Idaho and plants are scheduled for approximately every other week throughout the season moving forward.
Most of the season's stockings will be of the 1,500-pound variety.  Siesta, Hermit and Eagle Coves are all traditionally good spots to wet a line in the days following a stocking. Lake hours for the season are 6 a.m. to 5 p.m. Friday-Sunday and the Chambers Park shoreline is available to fish seven days a week from 8 p.m. to 5 p.m.
Palmdale Fin and Feather Club – This lake will once again be loaded with rainbows this season as approximately 20,000 pounds are slated to be stocked. Trout plants are expected to begin in mid- to late-December with a January opener.
Poway Lake – The official date for the trout season has not been confirmed (but it could become available this week), but what is confirmed is that Poway Lake will again be stocking Wright's Rainbows for the 2022-23 trout season. Last year, there were some large trout caught early, but for the most part anglers were fishing for pan-sized rainbows at Lake Poway.
The water is very clear, and trout tend to hang around the docks for a while (no fishing in that area) after being stocked before migrating to coves and off shorelines all over the lake. It's often a matter of moving from cove to cove to find schooled-up trout at Poway. Bait fishing works best, bit jigs will pile them up quick if you get on the right school.
Boat rentals are back after repairs were made to wind damage on the dock last season. Locals are known to catch trout well into June (stocking shuts down in May, latest) by drifting the middle of the lake with nightcrawlers or Berkley Trout worms with a split shot. No fishing license is required (just a lake fishing permit which is $7 at the concession) and fishing is available Wednesday – Sunday from 6 a.m. to sunset.
Pyramid Lake – Just like its sister lake Castaic, Pyramid has been getting regular weekly DFW plants since late October, which have included some quality fish to 2 pounds. Anglers have been putting fish on the stringer in all your usual ways: trolling spoons and plugs, tossing minijigs, or soaking PowerBait, nightcrawlers and Mice Tails.
NOTE: with the frequent DFW stocks, it's also prime time of year here to throw the big baits for stripers and largemouth.
Santa Ana River Lakes – Two quality plants of rainbows from Mt. Lassen Trout Farms will be awaiting anglers for the Nov. 18 opener. These fish ought to be eager to bite with SARL having been closed since Nov. 10 – the date of the first Lassen stocking – in preparation for the season.
The game plan from the opener moving forward will be weekly plants every Thursday (SARL is closed on stock days) and owner/operator Craig Elliott relayed that some legit jumbo trout will be planted prior to Thanksgiving and that he plans on putting some lightning trout in at times throughout the season as well. This Orange County impoundment is well known for producing monster stocker rainbows, with very good numbers of double-digit fish caught here each and every year along with occasional giants in the 15- to 20-plus-pound class.
SARL offers 24-hour camping/fishing sessions Fridays and Saturdays from 5 p.m. to 4 p.m. the following day. Rental boats are available here and float tubes are permitted. Visit fishinglakes.com for more info.
Santee Lakes – Trout season got going here Nov. 4 with a 3,500-pound Jess Ranch stock split between Lakes 2, 3, 4, 6 and 7. Another plant is expected prior to this coming weekend and Santee is tentatively scheduled to have a trout delivery every other week into March, with another extra-large plant slated for January ahead of the annual Trout Season Re-Opener to kick off the second half of the season.
Anglers have been impressed thus far with the early-season quality of trout, as a number of beefier 3- to 8-pound fish have been making appearances since the opener. Minijigs, Kastmasters and Rooster Tails have all been working well in the early going along with pink/white Mice Tails and salmon peach, green garlic, rainbow and chartreuse PowerBait. Park hours here are 7 a.m. to 5 p.m. Monday-Thursday and 6 a.m. to 5 p.m. Friday-Sunday.
Silverwood Lake – Trout season at at Silverwood is an absolute wild card, in a good way. Stocked by the Department of Fish and Wildlife, trout plants just arrive when they arrive and other than clues on the online DFW stocking schedule (that only give the week of the plants), there's no telling when trout are going to show up.
That being said, there's rarely an unreasonably-long wait between deliveries, and in the past, trout trucks have pulled in within 24 hours of each other. It's rare for a trophy trout to show up at "The 'wood," but anglers can really stack up numbers there as catch-and-release fishing is allowed. WON sources in the area have put up triple-digit numbers across a few anglers when throwing jigs on trout schooled up close to shore. Cleghorn Canyon and the Marina area tend to be the most consistent zones at Silverwood.
Skinner Lake – Stocked intermittently over the course of the trout season, this is a lake on which anglers will want to be, at least during the week of a plant. Shore anglers actually get the best of it here when it comes to trout with the best fishing being the fishable shorelines around Ramp 2 as well as those between Ramp 2 and the Marina.
There isn't a ton of stocking here when compared to many other SoCal lakes, but the fishing is generally good when they do arrive, and there aren't a ton of trout anglers here to compete with. Officials at Lake Skinner have yet to announce when the first trout plant of the 2022-23 season will be, but the original plan was for it to get going this month.
Wohlford Lake – Trout season will begin with a 4,000-pound stocking on Dec. 10 at which point fishing will re-open to seven days per week. (The lake is currently only open on weekends). Within a couple days of a trout plant, Boat Dock Cove is always a very consistent area for boaters, shore pounders and anglers fishing from the floating pier.