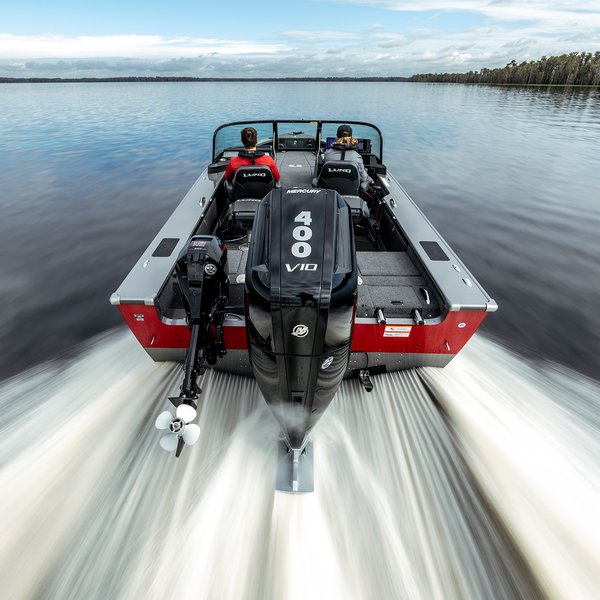 Success breeds success. That old adage is certainly true with the Mercury Marine Verado family of outboards, which have taken the boating world by storm since their original launch back in 2018. Now, Mercury has raised the bar yet again with last week's unveiling of the world's first V10 outboards engines: the 5.7L V10 350hp and 400hp Verados.
With the recent success and acclaim of the V6 and V8 Verado outboards released in '18, the demand from boaters was there for similar technologies in the 350hp and 400hp class of outboards. The new V10 Verados meet that boater demand head-on and then some, delivering premium marine performance and efficiency with extraordinary power. Boasting an all-new gearcase and Revolution X prop along with a class-leading 150-amp alternator and precision engine tuning, the V10 Verados deliver the goods and with the ideal blend of powerful performance and durability along with the quiet and smooth nature the popular outboard family has been well known for since their inception.
The shift to high-displacement, naturally aspirated powerheads in the high-horsepower Verado lineup with the 5.7L V10s sets a new benchmark for outboards in its class, checking all the boxes and leaving no stone unturned. They are the quietest high-horsepower outboards in their class — 45% quieter than their competitors at cruising speed — while still providing faster acceleration than leading competitors' 350hp and 425hp engines and also maintaining their reputation as the lightest outboards in their class as well, checking in at just under 700 pounds and minimizing weight on the transom.
The new V10's 5.7 liters of displacement and quad-cam design make for a breeze of getting on plane in an instant and propelling heavier loads or weathering tough conditions offshore. Their top-end speed is unrivaled, ensuring a faster, smoother run to the fishing grounds. The outboards also incorporate all the latest Mercury SmartCraft technologies, including Digital Throttle and Shift (DTS) controls that delivers smooth and quiet shifting with an instant throttle response.
With Western Outdoor News staff already highly impressed with our Verado experiences out on the water these last few years, our first taste of the new 5.7L V10s is certain to raise the bar even higher.
V10 Verado outboards set the benchmark for premium performance in their class:
Quiet – The quietest high-horsepower outboards in their class – 45% quieter than a leading competitor at cruising speed
Lightweight – The lightest outboards in their class
Quick – Faster acceleration than leading competitors' 350 and 425hp outboards
Click HERE to learn more about Mercury 5.7L V10 350 and 400hp Verado outboards.