DANA POINT/NEWPORT — As coastal waters warmed back to bass bite levels and those fish returned to thrashing and splashing in coastal kelp beds, just offshore bluefin schools gathered in bands.
The closest of these was just past the drop-off, not 2 miles from the Dana breakwater entrance. Big fish came up foaming on coastal anchovy schools but were hard to draw a strike from.
These inshore fish included some in the 60- to 80-pound class, resulting in long battles on too light of tackle and heartbreaks as bass gear buckled.
Over the weekend, the offshore fleet from San Pedro to San Diego focused in on a band of activity about 12 miles off the coast. There the bite was plunker-style, said Capt. Brian Woolley of Dana Wharf Sportfishing.
Almost the entire fleet sat floating, throwing bait and picking a steady procession of fly-lined sardine biters. There were a few yellowfin tuna mixed in as well, plus colorful dorado too.
As for the bass fishing on the beach, Woolley said, "Water temps still not at the 70-degree mark, however, we're seeing the bass back up cashing chum along the kelp and biting a lot better. Sinker rigs are kicking out some nice sand bass off the bottom and shrimp and clam baits have been producing some great sheephead for the guys coming with that bait."
Fishing over at San Clemente Island mostly, Dana Wharf Sport- fishing's overnight offering aboard the Fury found the yellowtail bite kicking into high gear over at San Clemente Island.
"Surface iron fish, live bait fish – this stuff has been 15- to 25- pound, classic SCI grade of fish. This yellowtail are being caught on standard spots and some sonar school fish too. Great bass and bonito barracuda in the Fury's count as well," said Woolley.
They'd put their 23 anglers on Friday's run onto 57 yellowtail, 54 calico kept, 18 barracuda, a seabass, 14 big bonito and some bottom stuff too.
Monday's coastal 3/4-day run aboard the Dana Pride resulted in 24 bluefin and a pair of yellowfin tuna on deck.
For the Newport Bay fleet, with limit-style sculpin fishing on tap and blufin tuna in half-day range, scores were not the usual mix. Friday the morning half-day run aboard the Western Pride put 46 anglers on boat limits of sculpin, 230, then out to chase tuna, landing a pair, plus a sand bass made for some strange half-day bag fellows. Meanwhile, the 3/4-day Freelance actually skipped the opportunity for local scullies, opting to make a full run in the other direction for the better bluefin bunches, resulting in 19 tuna on deck that day – 15 bluefin, 4 yellowfin.
With the yellowtail bite going ballistic at San Clemente Island and bluefin battles returning under a fish per rent-rod on average, the crew of the Thunderbird opted for island fishing and 29 anglers whacked 85 yellowtail, 22 bonito and 12 calico Sunday.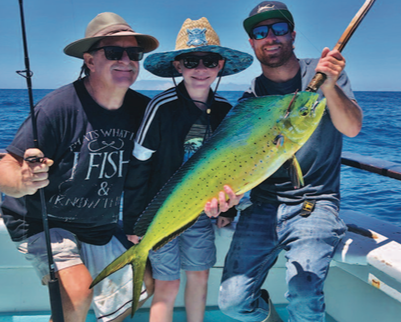 A 2-day with the Dan Wharf Rod and Reel Club resulted in the 22 members aboard boating 154 yellowtail, 41 calico, 5 barracuda, a pair of bluefin tuna and a yellowfin, too.