BY DYLAN DEPRES
Mother Nature called for mild weather over the weekend with sunshine and light winds. This enticed our group of overnight anglers to book a late season rockfish trip to San Nicolas Island aboard the Eldorado out of Berth 55 Landing, Long Beach Sportfishing. The trip was sponsored by Mag-12 Swimbaits, so as the trip began many friends and acquaintances greeted each other to share the rail once again.
Capt. Jeff Villapando gave us a recap of the prior fishing day, and how we'd begin our day. They had been successful starting out fishing the shallower water before transitioning out deeper and that's what we'd do. In the shallows, anglers could expect whitefish and sheephead and the recommended rig was a double dropper rig with two size 2 hooks and a 6-ounce weight. Jeff said we could also have fun with the whitefish on the lighter tackle using a heavier sliding sinker above a single hook and strip of squid to fish them like saltwater bass. In the deeper water we'd take our shot at quality rockfish, fishing larger hooks and 12 to 16-ounce weights (or jigs, as many anglers aboard would do!)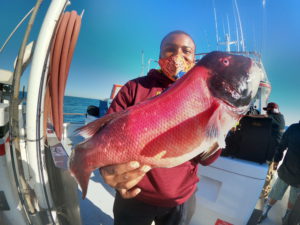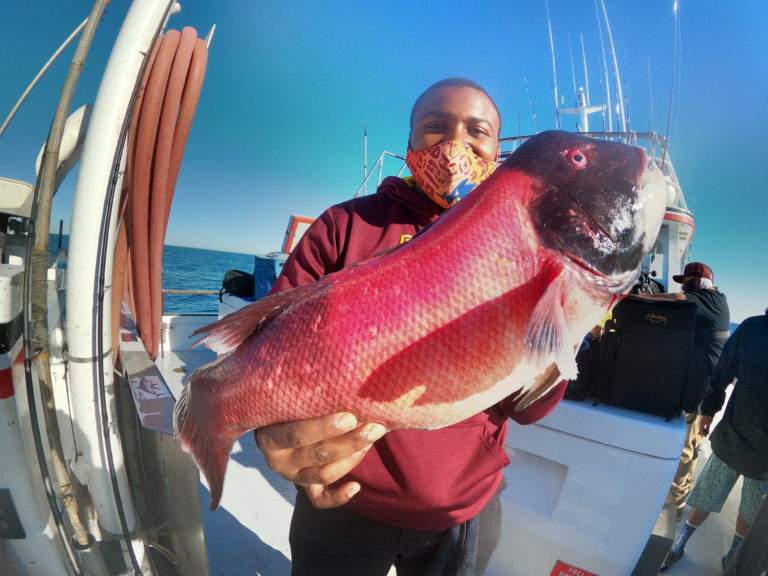 We slid pretty tight into San Nic around 6 a.m. and began fishing on the anchor in 80 feet of water. Momentum slowly grew as it started in a slow pick. One whitefish. One treefish. Bigger whitefish. Chucklehead! Then shortly enough, a solid pick at outer island grade whitefish began on the anchor and gunnysacks gained weight. There were keeper grade (2-3 pounders) and then there were poor man's yellowtail grade (4-7 pounders) and we landed all in between. Anglers who fished the smaller hooks as suggested did well.
Once the hard bottom we anchored over dried up, we searched for more productive zones in the same region. It took a few tries, but we located some spots that had half the boat bent at once. In the process, Shane McCann landed our first quality sheephead of the day on a pretied P-Line Rockcod rig. More mondo whitefish were flipped over the rail. As we bounced through these shallower spots, more sheephead were caught including several double digit class fish.
Around the late morning, some quality rockfish began to chew in the shallows. Real quality. These were being caught primarily with the jigs on the bow as the bait offerings were in full demand by the whitefish. Keverette Johnson landed our first ling of the day, and Broc Petrey landed what would be our largest red of the day at over 8 pounds. They were both using medium sized Mag12 swimbaits of 8 ounces, bouncing them off the bottom. More coppers, treefish, and olive rockfish joined the party.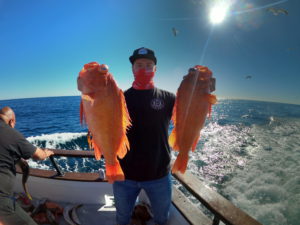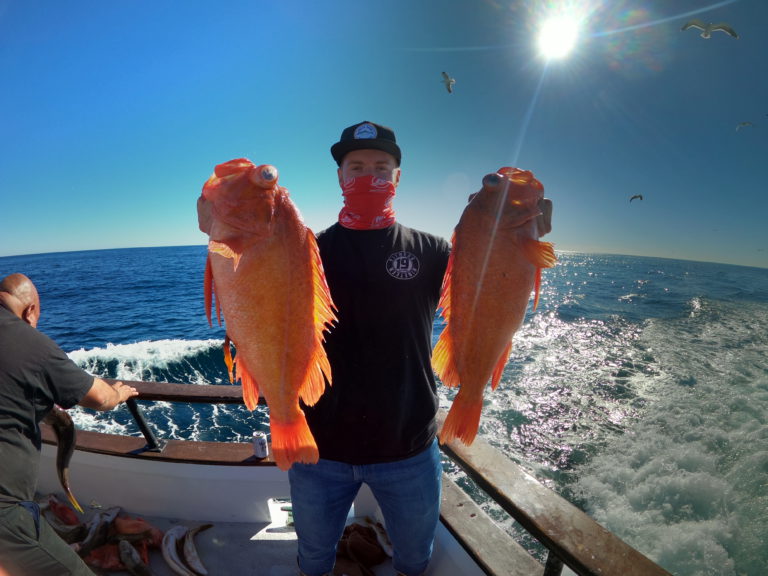 After the whitefish deed was done, Capt. Jeff announced a 30-minute move to the deeper zone. He said we'd be putting away the squid strips and fishing live sardines, which made some anglers groan. They'd be proven wrong! In around 220 feet of water, our first drift was super successful. We landed a bunch of quality reds and added our jackpot 20-pound lingcod to the count. A few more lingcod and other high-demand rockfish like the reds and coppers were caught. Bait fishermen and jig fishermen were getting 'em good but the live sardines did damage.
It didn't take long before we were nearing limits of rockfish, so our time was counting down. Anglers desperately took their last shot at bagging a ling, which most ultimately would not do on this trip. Save the lings, the quality was excellent, and the average bag of fish had to have been 50 pounds. Experienced fishermen did good work on the jigs, competing well with the bait-soakers and even outperforming at some parts of the day. The final fish count: 28 anglers, 276 rockfish, 269 whitefish, 4 lingcod and 11 sheephead for full 20-fish limits for all.
Before this trip, I visited my friends at Sav On Tackle and their manager Anthony Cannuli helped me construct a game plan. Fish the bait hard to fill the bag with quality before switching to a diamond jig, targeting a ling. He'd fished the Eldorado before at Nic, and accurately predicted their game plan.
He recommended me to use these neat rockfish hooks, large 8/0 to 12/0 hooks with a long shank and twist on them. They would hook rockfish behind the bony parts of the mouth and pin them, as opposed to smaller 1/0 – 3/0 hooks which would be more likely to skin hook fish and spin them off. New to me, and big hooks, but I'd give them a shot.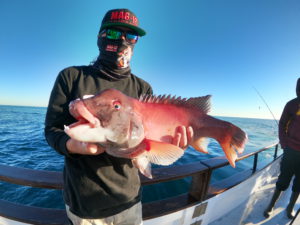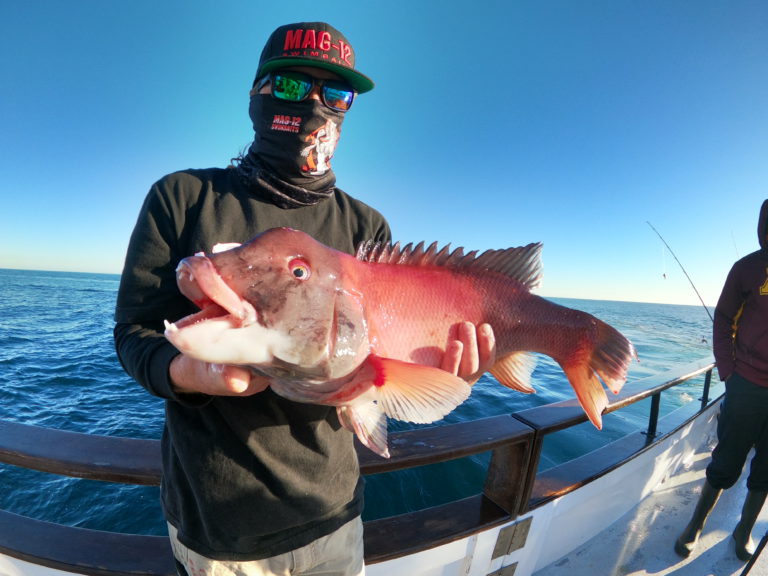 The plan came to fruition as in the shallow water, I quickly banged out a limit of nice whitefish between the first anchor job and the start of our drifts. After limiting, I rigged a 100-gram Daiwa Zakana jig on my slow pitch rod and managed a nice selection of rockfish from under 120 feet deep. They included 3 or 4 steamer-to-large coppers, and a jumbo olive rockfish. I got jealous as lings began to hit the deck from my fellow jig anglers at the bow. I did not pull a single red on the metal jigs.
We went to the deeper water, and I aligned myself closer to my initial game plan. I switched back to bait, with the larger trick hooks and live sardines. On my first drop, I hooked a big fish. Real big. As I neared color, I heard hooting and hollering of our 20-pound jackpot ling being gaffed. As my fish entered color, I saw my double hook-up of an awesome 15-pound lingcod and medium bocaccio. To my serious dismay, the lingcod shook the hook about 20 feet under the boat, almost within gaffing distance. Dang! So much for the big hooks going under the bone! In reality, stuff happens and it wasn't the first or last nice fish I've lost. It wasn't meant to be. I sure complained about it for the rest of the trip though!
In the deeper water, I rounded out my rockfish limit with several large reds to over 5 pounds, a couple larger coppers, and standout miscellaneous stuff like bank perch. I would flip-flop from bait back to slow pitch jigging, now fishing a 300-gram SK jig in the 220 foot depth. A little heavy, but the fish were aggressively biting, and I wanted to get to the zone and stay there. I managed a handful of fish on it.
My bag would have had more quality fish if I had fished the sardines more out deeper, rather than switching to the jig. I probably could have heeded the advice to fish a less-erratic (diamond) jig for the lingcod too. Lessons learned, good and bad. I'll use those new hooks again. I'll probably make the same jigging mistakes on the next trip too as after all I am a fisherman.