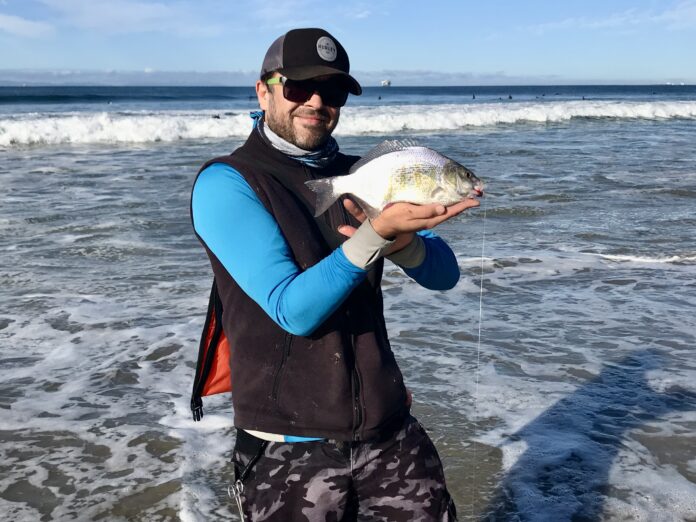 The fall months are a great time to go surf fishing with quieter beaches and lots of fish still around. And a few tactical adjustments will keep the fish coming – here's what you need to know.

BY BEN HERVEY-MURRAY
WON Staff Writer
Wear the right gear
Obviously the cooler months aren't going to involve standing knee-deep in the shore break in board shorts and t-shirt for hours, so upgrading what you wear when you hit the beach is also a consideration and a good place to start. A cold angler has less energy and, at this time of year, that will cost you fish.
Let's start with feet. I can handle water temps down to the low-60s in barefoot or watershoes, but much below that and I'm reaching for the neoprene booties and leggings. Get a decent snug fitting pair of both in the 1-2mm thickness range that won't allow the water to wash sand up the leg holes or into the booties.
A tip for these: find your local surf brand's factory outlet store or wait for a big sale and you'll get a quality big-name brand for a bargain price. Winter is normally when they offload old stock, so keep an eye out. Cheap Amazon specials rarely last long, in my experience.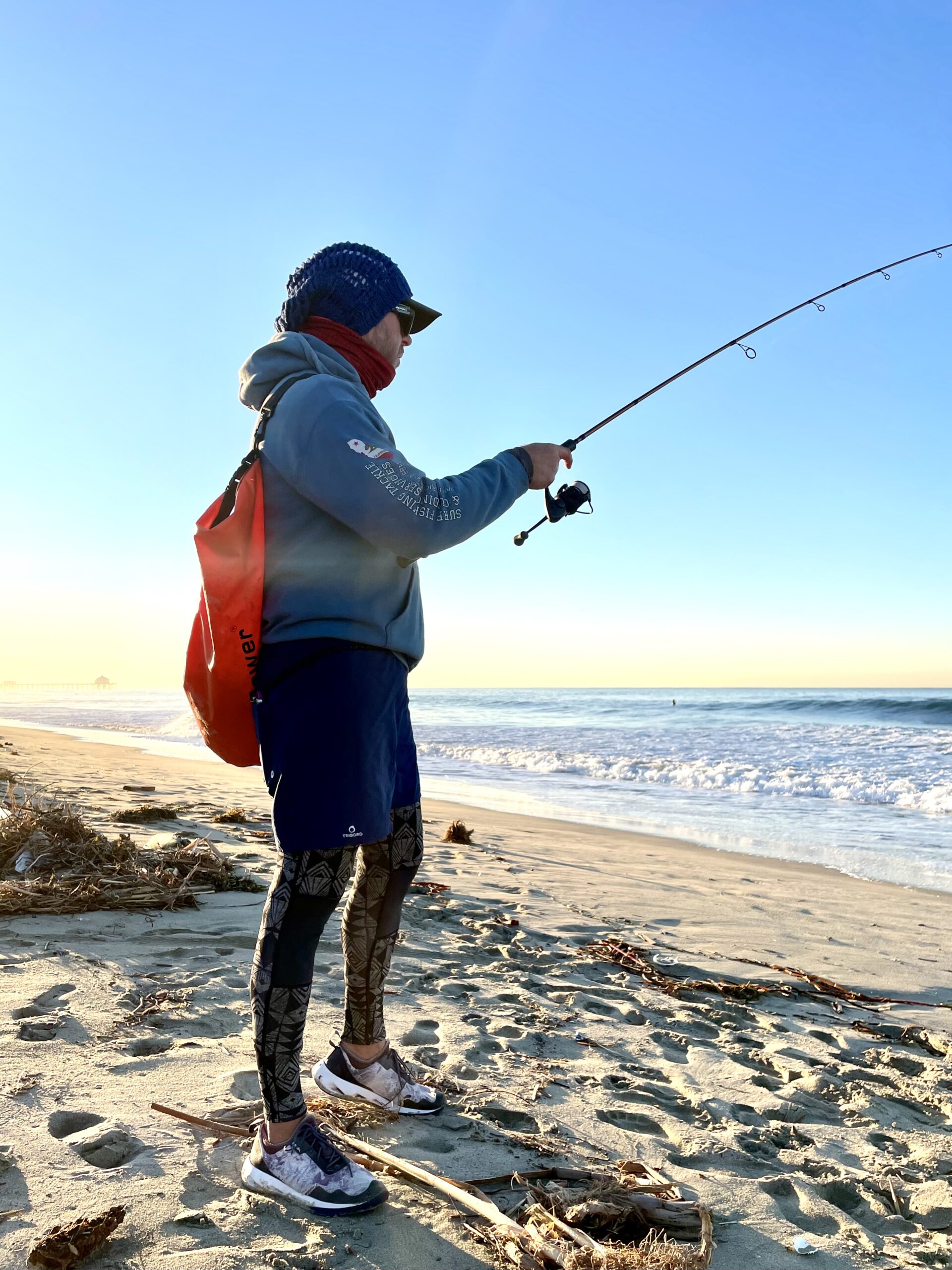 Shorts-wise, my HUK pair with built-in liner and pliers pocket has been a go-to this season and will fit right over the neoprene leggings with the pockets carrying a glove for handling spikey critters and a small bunch of pliers, scissors and forceps for unhooking fish.
Tucked into this will be a t-shirt and then a rash guard-style undergarment with a thick hoodie on top and buff neck protector to keep the warmth in. You'll be thankful for the layers on those colder mornings. Standing in the cooler water will burn calories fast and helping your body to maintain energy levels will help keep your fishing level up to the max, rather the fade out as you lose energy and enthusiasm.
Add a peaked hat to keep the morning sun off your eyes and I often appreciate a loose, slouchy woolly hat worn right over the top of the cap to keep ears and neck warm, too. Polarized glasses are an essential no matter the time of year.
Grubs up
With the water temperatures wandering into the low 60s in the coming weeks, sand crabs will become less common and the fish will start to focus on other food sources. These usually take the form of two items; sand worms and clams.
Perch, in particular, will actively feed on the small clam species found in the surf, and the presence of these in large numbers – they're often mistaken for small sand crabs as the live ones move up and down in the sand in a similar fashion – is a great clue for where to fish on a beach. Find the food source, find the fish.
However, whilst it's entirely possible to use clam meat bait-and-wait style on a simple dropper loop, I've found a much more effective way of targeting fall fish is with a simple sandworm grub bait like a Berkley Gulp! Sandworm. One of the many small curly tail grub baits on the market will also work great in similar shades and patterns.
Fished on a light Carolina rig (usually a 1/2 – to ¾-ounce sinker and 25 to 35 inches of 6-pound fluorocarbon), a 1- to 1.5-inch section of a grub in the famous camo color is readily accepted by surf perch, croaker and anything else that cares to swim in the surf.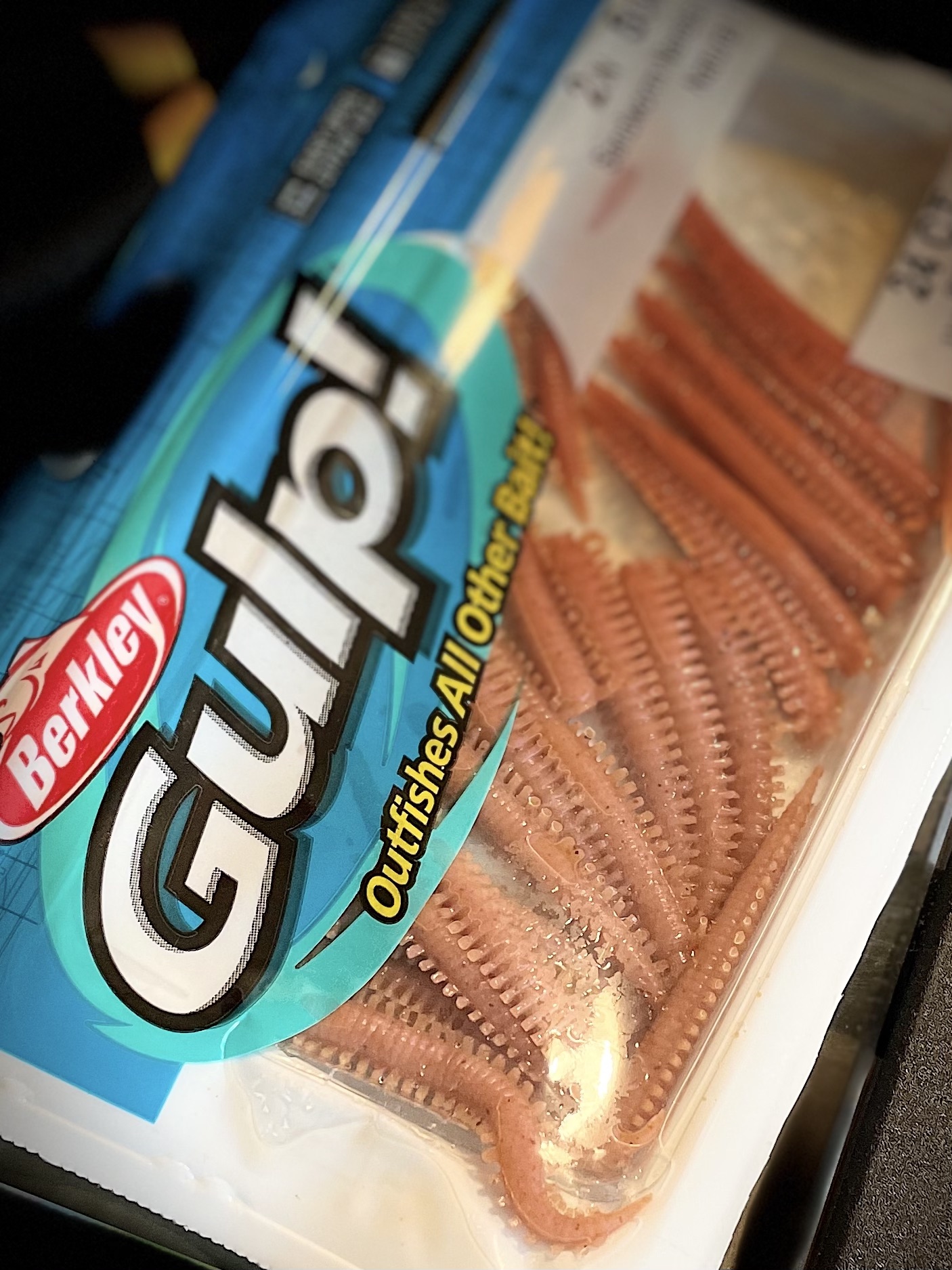 Sand worms are the creators of those little bubbling holes you often see on the surf line on the wet sand, and whilst these are often too small and fragile to use as bait, the imitation version allows multiple casts with the same bait, and they'll eat it just the same. Again, find the concentrated beds of these little bubbling holes and you're in business. But use the artificial grub.
No need for finesse
With the corbina less active in the surf in cooler months, there's no need to fish delicate fluorocarbon leaders and tiny sinkers in the surf. I switch from 4 up to 6-pound fluoro in cooler months and will have no problem in switching to 8-pound if fishing with younger or less experienced clients who will benefit from a less tangle-prone leader. The surf perch and croaker – my primary targets at this time of year – don't care.
In fall, I'll also switch up hook sizes to size 1 or 2 up from a size 6. This is to accommodate the larger grub baits. The only time I'll switch it back is if I get the sense that there's a lot of dinky surf perch around (they're the ones who give the familiar tap-tap bites in the shorebreak) and my clients would benefit from catching a few to kick-start the day and get them familiar with what a bite feels like, how to set the hook and how to deal with a perch. Try a tiny section of fake sand worm on a size 6 or 8 hook for a fun dink-focused session.
Sinker-wise, the fall and winter in California is often associated with some lumpy swells and these will usually dictate my sinker choice. Armed with a 9'6" light surf spinning rod loaded with 10-pound braid, a ¾-ouncer sinker is a good starting point but this must be heavy enough for the angler to stay in contact with it at all times as it bounces around with the current or swell.
If the sinker and rig is getting washed downstream or in to the shorebreak without the angler being able to maintain direct contact with the sinker, then it's not heavy enough. Switch it up to 1-ounce or 1.5-ounce. Too heavy and it'll sit there with no movement, so you may as well fish bait-and-wait style.
Either way, a static bait in moving water isn't a great natural presentation for those fall and winter species, who expect to see a bait being washed around by the surf. I occasionally switch to a ½-ounce sinker, but it's something I only do when it's flat calm, or fishing in a harbor or protected piece of beach. It's generally not a useful size for winter or fall fishing in any sort of swell or current. Start with a ¾-ounce sinker and work it out from there.
Effort = reward
With fewer fish to find, the hunting aspect of a surf session becomes really important and my guided surf sessions at this time of year tend to focus on roving tactics, covering as much water as possible to maximize our chances of finding groups of fish.
In my experience, surf perch and croaker can be highly concentrated in one area of beach, usually correlated with some structure (a hole or trough usually) and a bed of either sand crabs, if it's still early enough in fall, or sand clam beds if the crabs aren't present. Target areas that combine these features and you'll likely be on fish.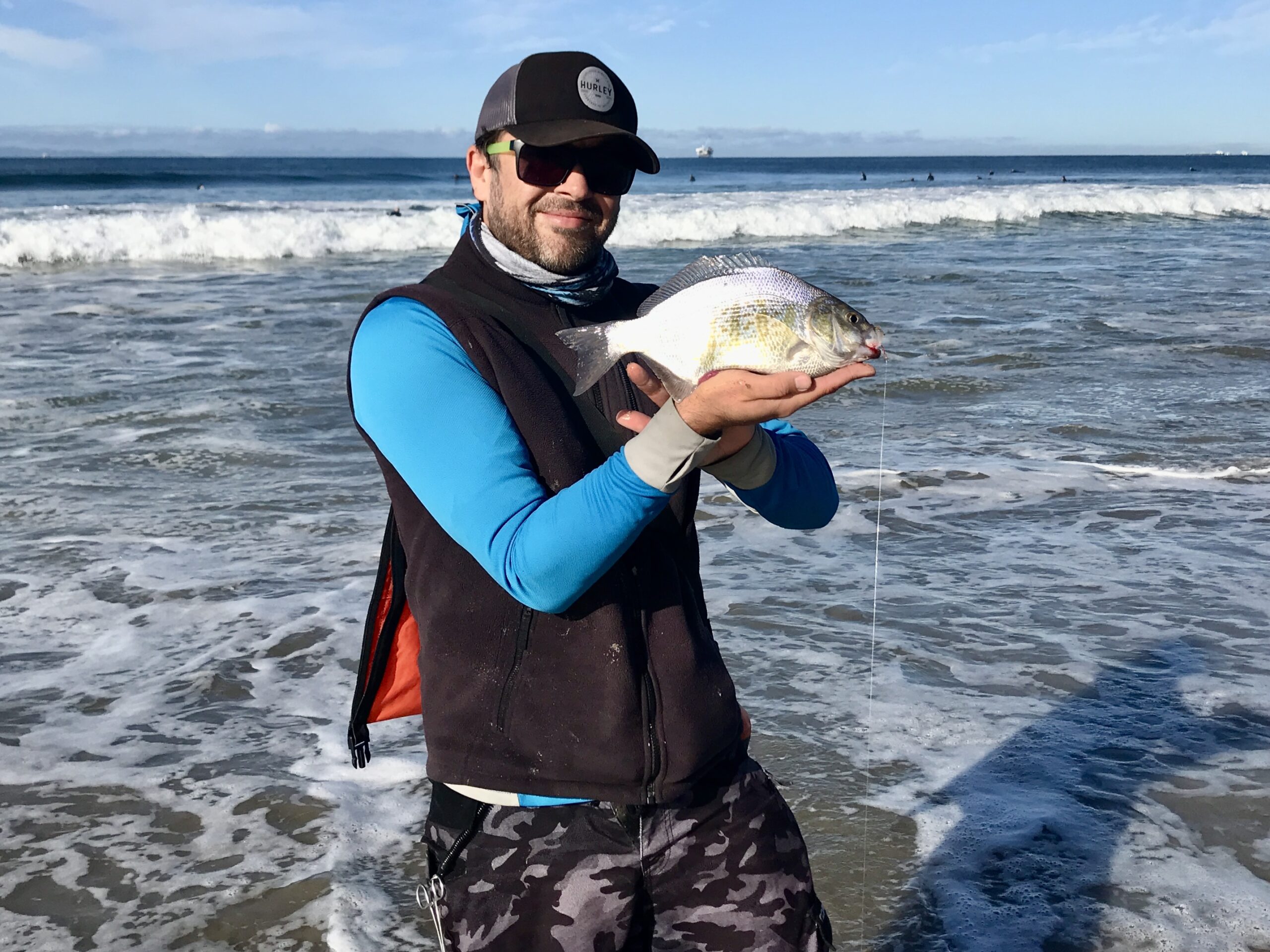 However, be strict with yourself when it comes to how long you give a particular spot. I find that five or six casts over ten minutes will normally cover the area sufficiently to know if you're on fish or not. If I get a hit or catch, we're staying put for a while, but if we get zero signs of life, we're moving down the beach to the next likely-looking area. No place for lazy fishing or just thrashing the same spot for hours in fall or winter.
I usually work on the basis that one in every three likely areas will have enough fish to keep a couple of clients interested. And if each spot produces on average a fish each, I would aim to work well over a dozen spots in a session over a few hours on a morning or late afternoon for a decent fish count at the end.
A word about session planning, too. Whilst you'll catch perch and croaker in pretty shallow water, this is normally associated with hunting sand crabs in the churn in warmer months. From November until May, I'm pretty careful to plan a session around a decent high tide, preferably just after or before so we can fish during the periods when the water is moving the most as it fills in or empties out. Low tide and times of little tidal movement aren't ideal at this time of year.
Use visual attractors
I find perch and croaker respond to visual attractors well in cooler months, probably because food is a little more scarce and they have to take their calories when the opportunity arises, rather than waiting for a gourmet soft shell sand crab to wash by.
So a little visual clue to grab their attention in the sandy maelstrom is a great idea and I favor small 4mm faceted beads in red or orange shades threaded onto the leader above the hook when fishing with grubs.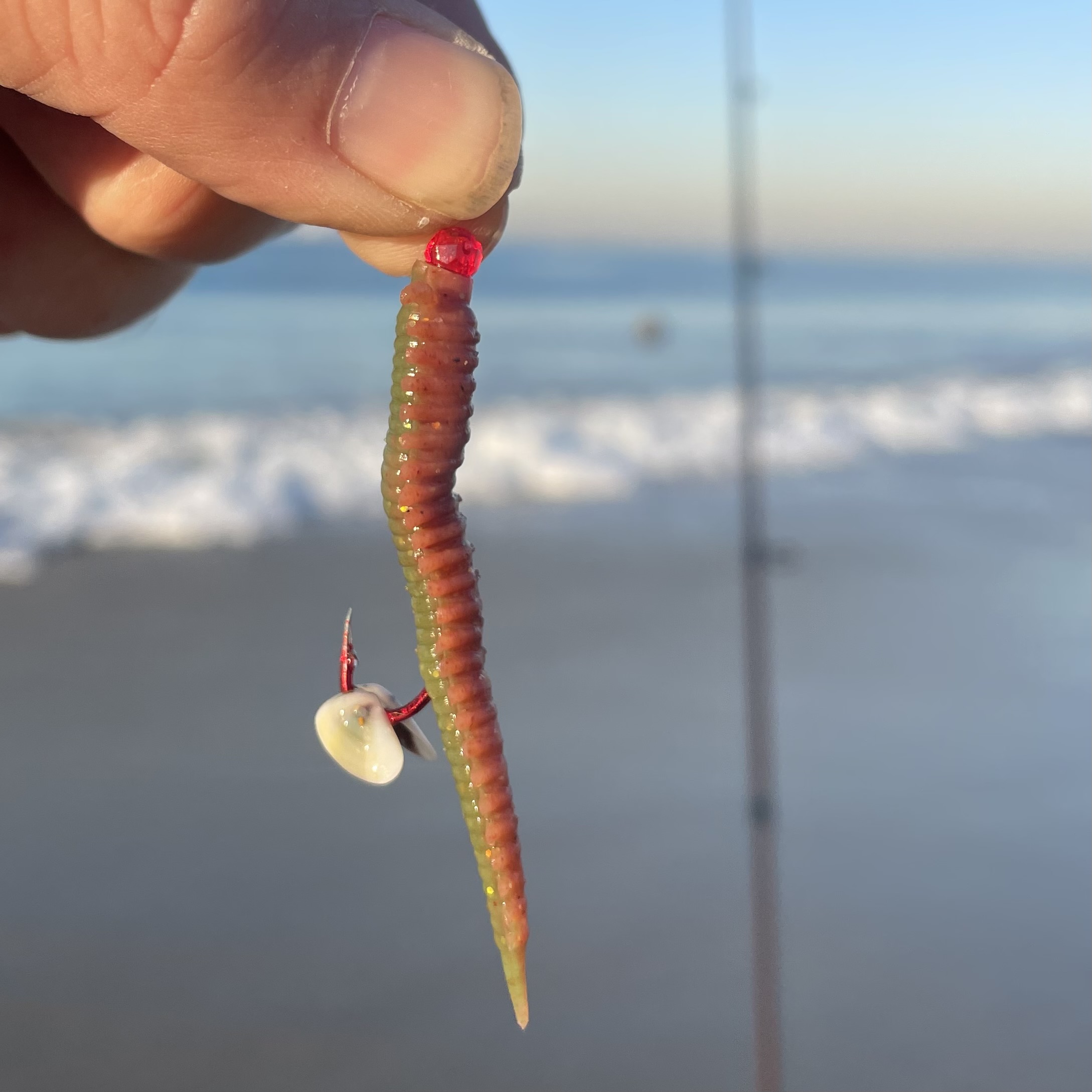 The orange bead replicates a tiny sand crab or fish egg, and the red is just a color that every fish will find attractive. When I've had the chance to fish a non-bead rig and beaded rig back-to-back, the one with the bead always seems to get more interest in fall and winter, particularly from the surf perch. Just thread on one, or one of each color, onto the leader above the hook so it sits on the nose of the grub.
Ben is a columnist and editor at Western Outdoor News, and a professional surf fishing guide based in Orange County, Southern California for www.americanseafishing.com