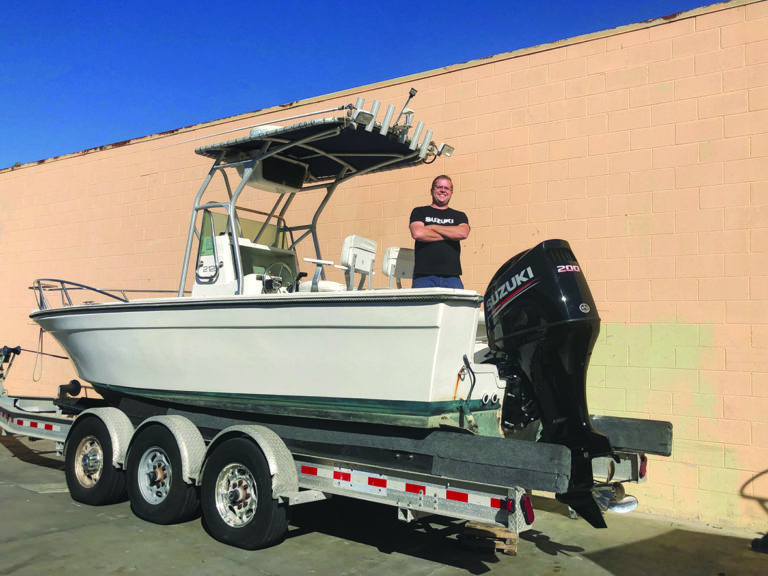 This is WON's Repower Report, brought to you by Suzuki Marine. This feature showcases one of many repower projects performed by Suzuki's professional dealers and mechanics in Southern California. Each new report will feature product specifications on different Suzuki engines for all types of boats, as well as the story behind the project about the anglers and their boats.
In this edition we talk to Mike Starkweather.
What's the make and model of your boat and how long have you owned it?
It's a 1995 Robalo 2120. It's a great 21.2-foot center console fishing boat. I've owned this boat for about 18 years now.
How do you use the boat – Fishing, diving, etc..?
We use the boat for cruising mostly. We enjoy cruising the harbors, socializing and having a good time. Every year, we participate in the Newport Bay 4th of July boat parade. We try to get to Catalina as much as possible so it's nice to have strong motor power to get out of the harbors.
What was your most memorable trip on the boat?
We have so many great memories on the boat that it is difficult to pick just one. Collectively, our trips to Catalina are the best. It's our favorite place to go. We usually will spend a night or two in Avalon, then cruise over to the Isthmus on the north end of the island where it comes together. You can park your boat and easily walk to the other side. Then we will head back to Avalon and we have a blast every time.
How did you decide to repower with a new Suzuki?
I have known Craig Maurer for a long time and I trust him. He recommended the Suzuki so it was an easy decision. My old engine was a 225 Mercury 2-Stroke. With how dated those are now, I definitely needed the upgrade. Craig said the Suzuki was lighter weight, making it easier on the hull. I went with the 200 because it's more fuel efficient and has the same power as my old 225.
Any other major projects or upgrades on the horizon for your baby?
Hopefully not! (joking) We have some cosmetic touch-ups before putting it back in the water. We are also still in the process of putting new wiring in. Reliability is the most important thing to me and after repowering with a new Suzuki, I can rest easy.