Good all-around mixed bag fishing
BY GUNDY GUNDERSON
SAN DIEGO — The 8- and 10- day long range trips continue to produce excellent catches on the Ridge. The catch is mixed with wahoo, slug yellowtail and school yellowfin tuna bending rods and filling holds. Grouper, marlin, pargo and dorado fill out the catch. A rare November 5-day found terrific fishing for coastal yellowtail and offshore yellowfin tuna. Despite the late time of year there is a big pool of warmer water off the northern Baja coast.
Big X 10-day
The big sportfisher Excel was on a 10-day with Capt. Justin Fleck on the bridge. The boat was working the ridge in search of wahoo, yellowtail and tuna. The skipper sent this report, "Team Hoo is having a great start to their trip. They had phenomenal fishing on yellowtail last night with 'as much as you wanted to catch' action on 30- to 50-pound bruisers. We're back onto the wahoo today with a good showing of 22 boated so far and still on the hunt."
The following day, the boat sent this message: "Good fishing today on the ridge for school-sized tuna and another 20 wahoo, so far. We also had dorado and some grouper splashed in the mix to make a fun day down here."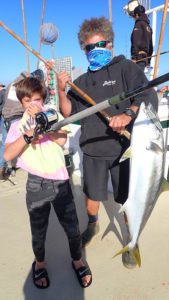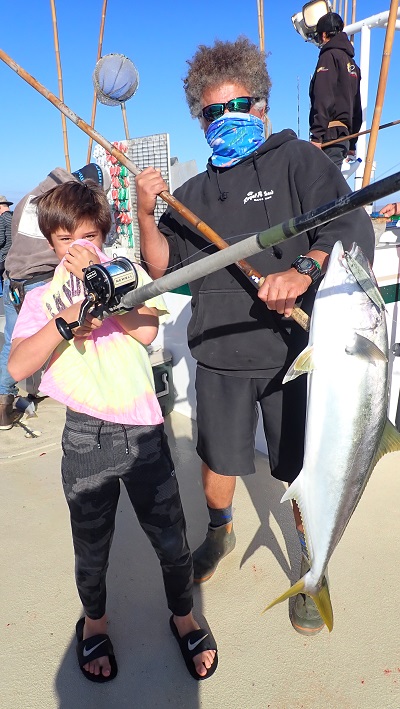 Indy on wahoo
The Independence, finishing up on the Ridge, was having a good wahoo trip making catches on a number of high spots. Capt. Brian Pifer was at the helm and sent this report, "Good wahoo and tuna fishing yesterday to finish our trip. Had lots of opportunities on wahoo but they were hard to keep on the lines. Steady action all day. We are traveling up the line to be home in time. Beautiful weather. See you at the dock."
RP 5-Day
The Royal Polaris was on a rare November 5-day and the boat with Capt. Roy Rose at the wheel choose to fish the Baja coast. The baot found excellent yellowtail action with a few white seabass mixed in. Crewman Dharyl Shelbourne posted this message: "Yesterday we departed on a 5-day with a great load of bait and headed south, Today was a travel day for us but we did have a few short stops on several kelps for small yellowtail and a few small tuna which were let go to fight another day. We should be getting to our next fishing spot in the early morning.
Once on the grounds, the boat got busy. "Our day started off at the crack of dawn chasing bird schools. After about an hour of that we settled down on the anchor and had a steady bite on yellowtail with some sheephead and calico bass mixed in. The yellowtail were 18 to 25 pounds. We will leave this area tonight to put us in position for a try at some white seabass."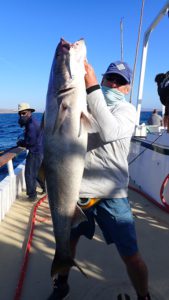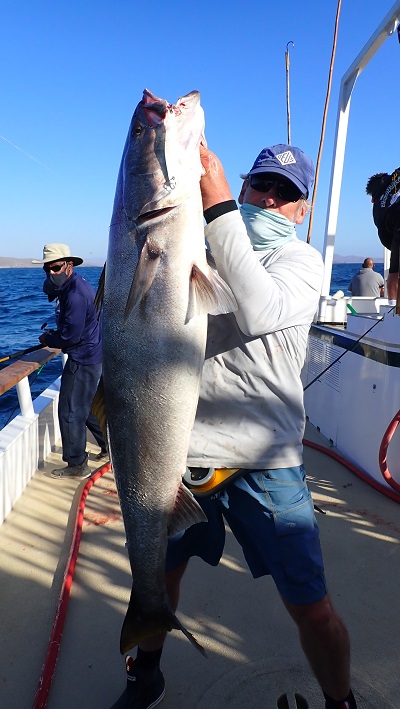 The next day, another good mixed bag catch, "Well, our day started off looking for white sea bass, which we did fine one and it was a good one, around 50- pounds. After that, the yellowtail, calico bass, barracuda and sand bass took over, We spent our day having a fun filled day fishing and catching. The yellowtail were 15-to 18-pounds. with a few bigger ones and the calico bass were very nice ones at 3-to 6- pounds. Tomorrow we will spend our last day fishing offshore looking for tuna."
The next day, the plan came together, "We spent our last day of fishing looking for tuna and we found some. We found our first kelp just before lunch, and by the time Roy called it a trip we had plenty of tuna onboard. The tuna were 8 to 15 pounds. Now we are on our way home."
Angler finishes season
The American Angler finished up the 2020 schedule with an excellent 8-day trip that saw nice mixed-bag fishing. The boat sent this wrap after returning to Point Loma, "Capt. Ray (Lopez), crew and passengers brought home this last trip of 2020 in style with outstanding quality yellowtail fishing, wahoo and school-sized yellowfin.  Thank you Kevin for bringing your friends to check out the American Angler and to all who came on this fall 8-day trip.  We are shutting things down 'til our Jan. 4 Accurate 14-Day and giving the crew a little time at home to recharge.  Congrats to jackpot winners: 1st place, Lansing Lee with a 56.5-pound wahoo, 2nd place, Richard Harris with a 46-pound wahoo and 3rd place, Charlie Ha with a 45-pound wahoo. We will see you in January."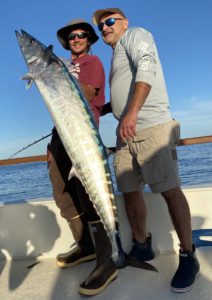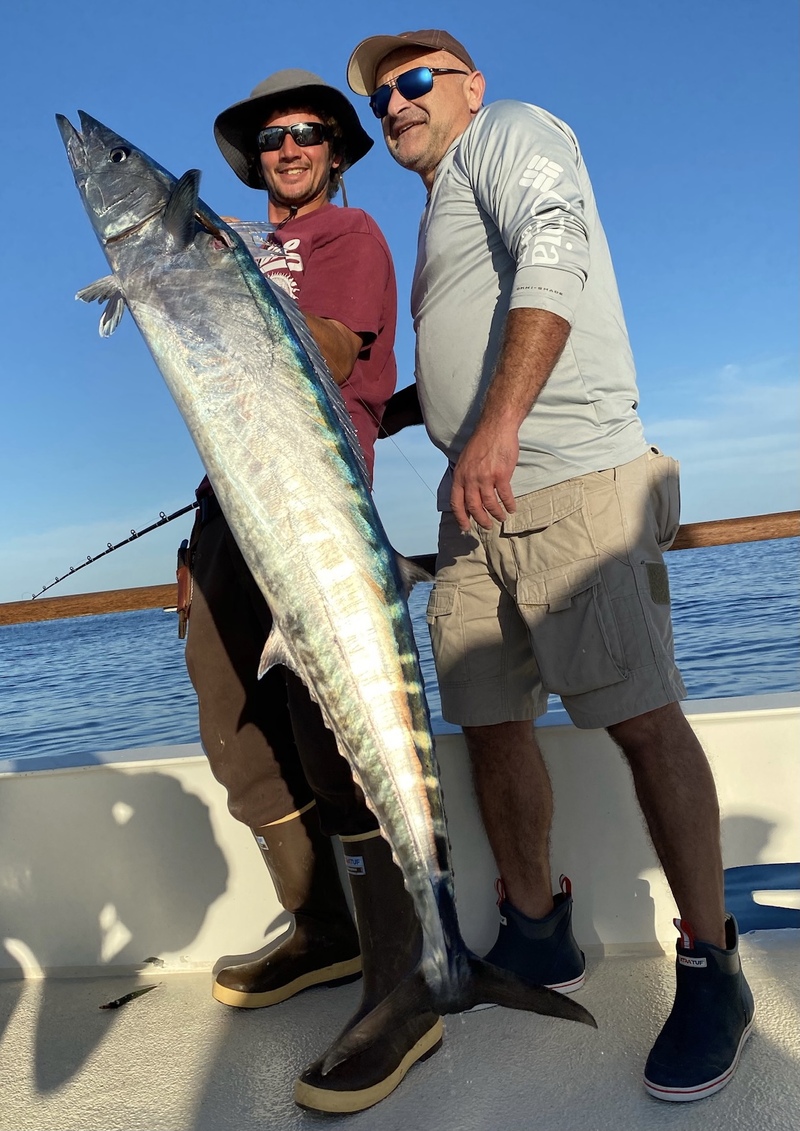 Star and Cacti
The Royal Star was finishing up an 8-day trip with a day on the coast looking to fill the freezer. The boat found fast action and Capt. Tim Ekstrom described it this way, "A final morning 'picking cactus' provided welcome rail time in stunningly gorgeous conditions. Aside from a gentle, rolling swell, flat-calm, glassy seas and a sun lit, hazy atmosphere thick with briny aromas were the perfect send off as this voyage concluded."
The report continued, "Happy anglers filled the rail, ever so pleased to make a few drops in quest of the beloved freezer fillers. Vermillion, chuckleheads, starries, poinsettas, barber poles, lingcod, goats — the list goes on; all of these and more added up to a lively morning in perfect proportion. Already hosting a fantastic catch of fall classics in the hatch we didn't overdo it honoring limits foremost but ethics more importantly."