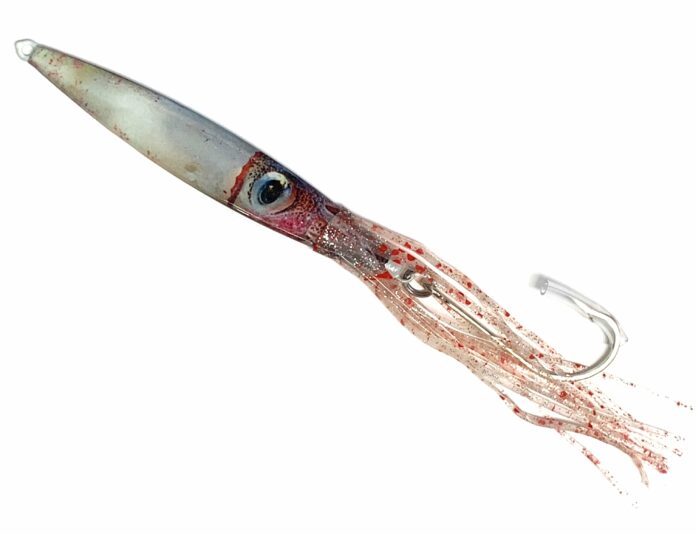 The rockfish season starts soon for many on the West Coast – here are the essential items of tackle we'll be taking offshore to score some chunky bottom dwellers this year. By the way, if you're looking to get on a rockfish charter this year, we have lots of options on the WON Charter schedule.
ROD
Penn Carnage III Inshore Casting Rod
MODEL NUMBER: CARINIII2040C80
LENGTH (ft): 8'
LINE RATING (lb): 20-40
LURE / SINKER RATING (oz): 2–8
PRICE (MSRP): $239.95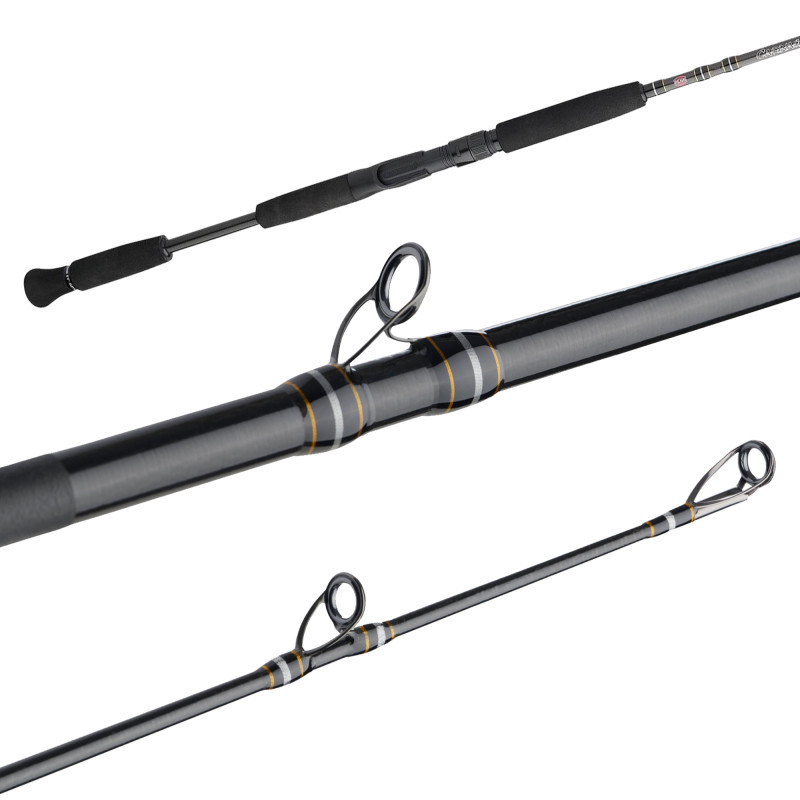 Decked out with high-end components like Fuji K-Guides, Sea-Guide and Fuji reel seats, and Hypalon/Rubber Shrink tube handles, this particular Carnage III model is perfect for medium-depth rockfish action plus it feels and looks great.
It'll handle sinkers to 8 ounces and the eight foot length is a good format for general groundfish targets. A sweet all-rounder for SoCal rockfish fans who might fish a little shallower than Central and North coast anglers, or one for the younger or beginner sportboat angler.
Calstar West Coast Series Deck Hand
MODEL NUMBER: WCDH-100J-C
LENGTH (ft): 10'
LINE RATING (lb): 20 – 50
LURE / SINKER RATING (oz): Not listed
PRICE (MSRP): $344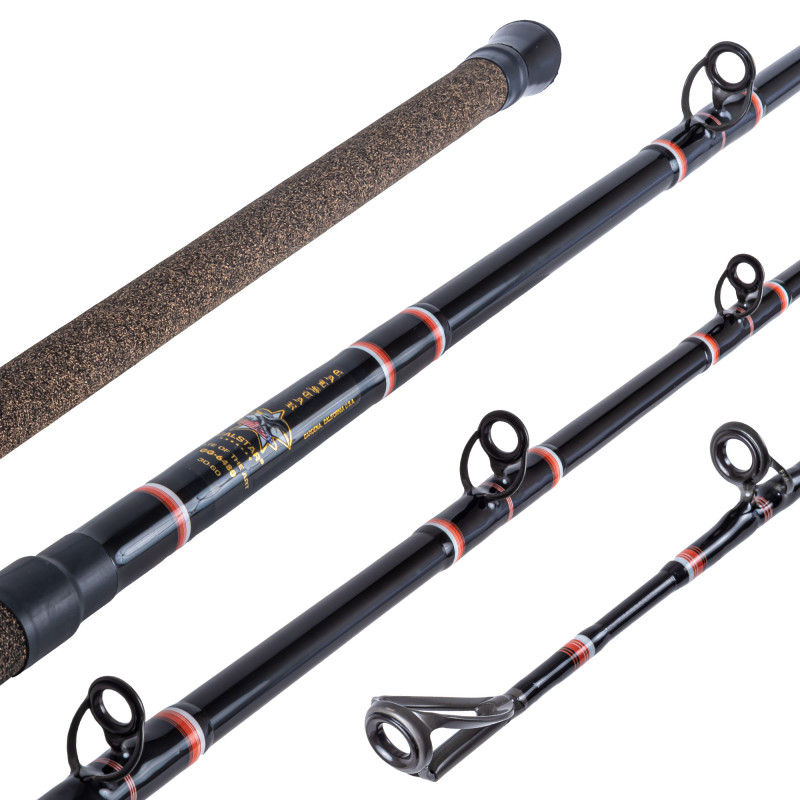 Calstar have been making their legendary series of West Coast and Deck Hand rods for a while, and they have an outstanding reputation for rockfish-style fishing anywhere in California.
The 10-foot model gives you the extra length sometimes needed to cast a jig or lure away from the boat – something rockfish anglers in the know have been doing more of recently in a bid to score a trophy fish ­– plus you know the A-grade build quality and components will survive whatever a sportboat can throw at it. A popular and outstanding rod for someone looking to kit themselves out with an all-round rockfish rod that could also double as a summer small game species stick, too.
Phenix Black Diamond Hybrid DeckHand
MODEL NUMBER: PHD869XH
LENGTH (ft): 8' 6"
LINE RATING (lb): 25 – 60
LURE / SINKER RATING (oz): Not listed
PRICE (MSRP): $469
Looking for a high-ticket rockfish and sport fishing rod that'll do it all? The Black Diamond Hybrid blank is a unique blend of high strength woven carbon fiber and kevlar, offering a little more of a fast action compared to 'glass-based blanks. This is the Rolls-Royce of rockfish rods.
The wide line rating means it'll cover a wide range of rockfish tactics, from shallow water to deep drops with heavy bait or lure, and it'll handle bigger game species too. A classy rod from a reliably great SoCal-based company – what's not to like?
REELS
Okuma Cortez Star Drag Reel
MODEL NUMBER: CZ-10CSA
GEAR RATIO: 6.2:1
BRAID LINE CAPACITY (Yards / lb): 485/50, 325/65
PRICE: $166.49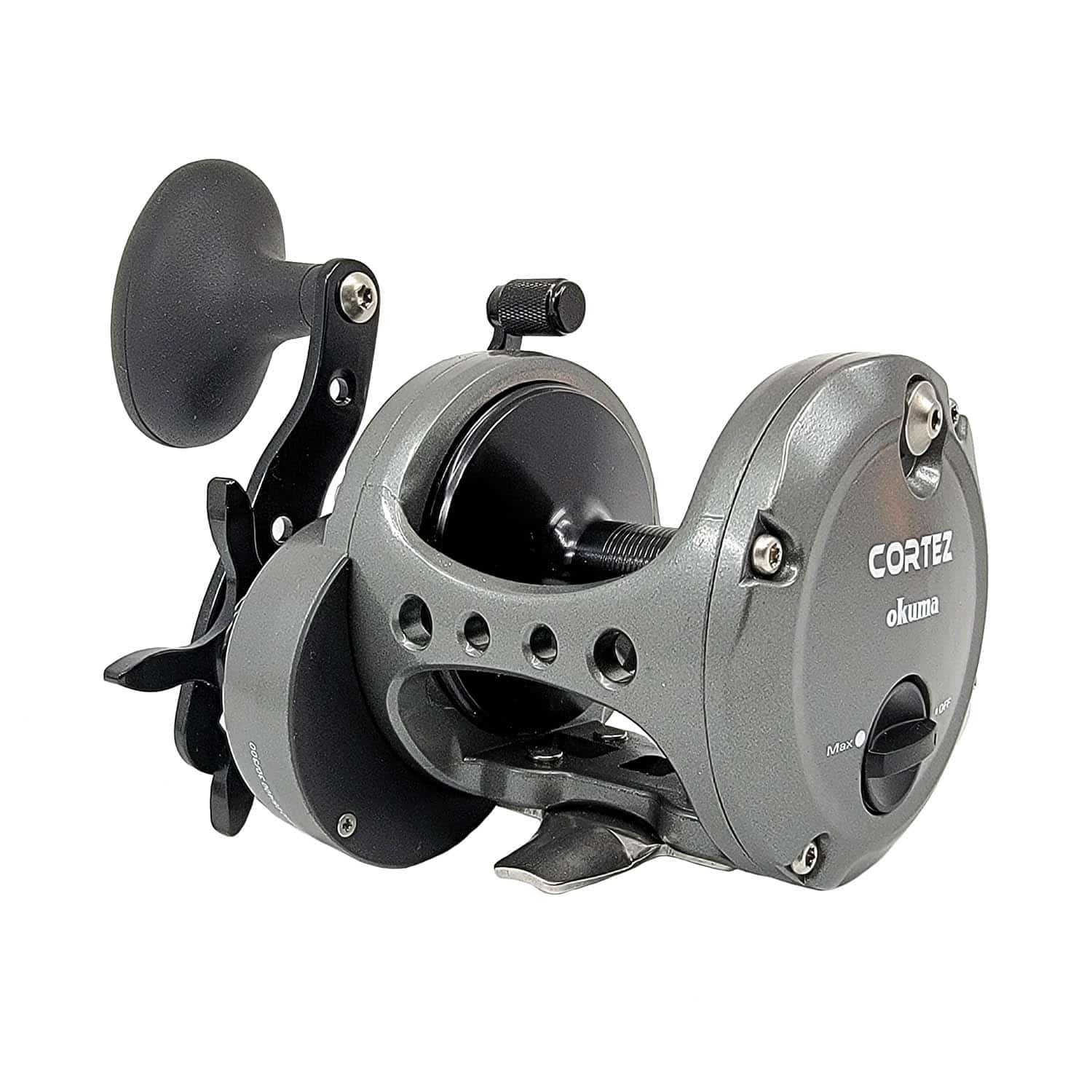 Nimble, agile and a ton of fun to fish, the feature-packed Okuma Cortez is a great entry-level rockfish and small game species reel that'll match well with any of the conventional rods listed on this spread, we especially like the 10 CSA model and that sweet 6.2:1 gear ratio for cranking up chunky rockfish from the depths.
Drop down gearbox, swept in handle and Ergo Grip handle knob accentuate balance and delivery of power from the XL gearing, machined aluminum spool and multi-disc Carbonite drag system complete the specs of a really nice reel for less than $200.
Penn Fathom II Lever Drag 2 Speed
MODEL NUMBER: FTHII15XNLD2
GEAR RATIO: 6.2:1 / 2.8:1
BRAID LINE CAPACITY (Yards / lb): 550/20 410/30 335/40
PRICE: $279.95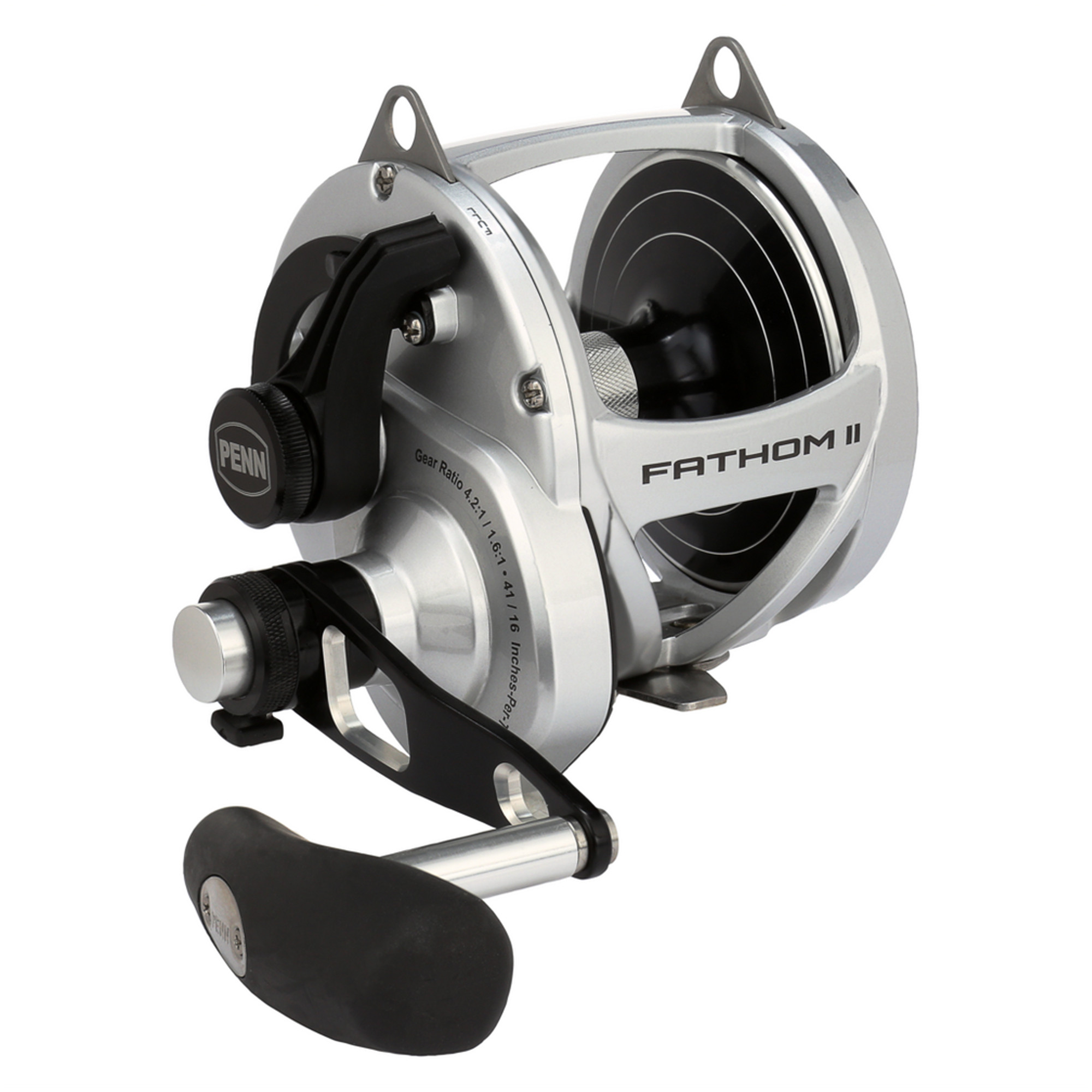 The first generation of Fathom reels have been a fixture on West Coast rockfish combos for years, and the second version will surely follow that trend with all-round improvements including a stainless steel main and pinion gear and a forged and machined aluminum spool for maximum durability.
The 15-size two-speed model has a speedy 6.2:1 retrieve rate and tons of line capacity to handle everything but the biggest fish and deepest water. A great all-round choice for general sportfishing and rockfish action, too.
Accurate Tern 2
MODEL NUMBER: TXD-500NX
GEAR RATIO: 6:1
BRAID LINE CAPACITY (Yards / lb): 475/50
PRICE: $429.99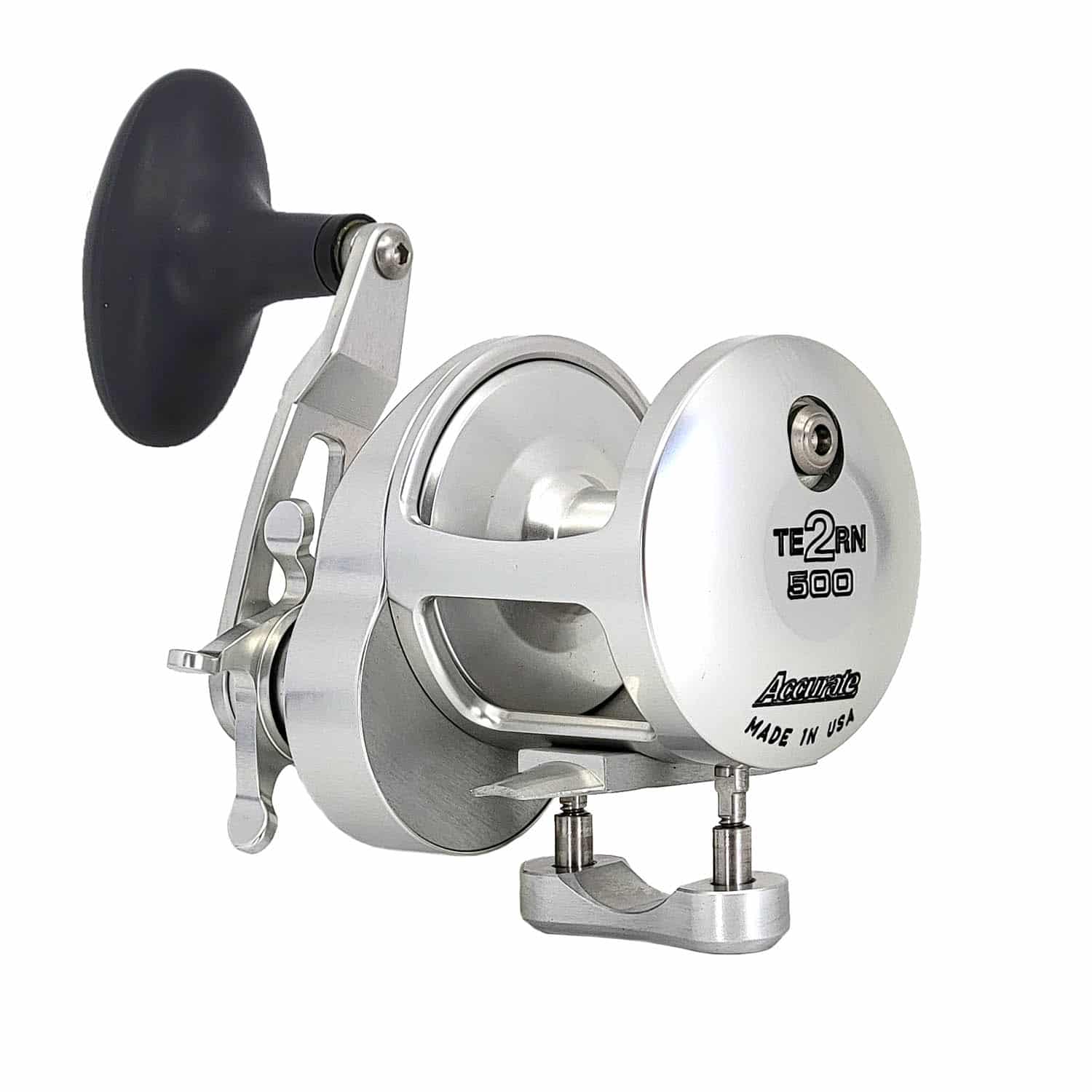 Narrow-bodied conventional reels are increasingly popular for sportfishing because they allow the angler to crank up big sinkers or fish with less effort than a wide-bodied equivalent. The reduced twisting motion caused by the reel handle being more in line with the rod creates less unwanted torque under pressure, making for an easier life for the angler.
The Tern 2 500NX (N = narrow) model is highly regarded for these characteristics and is a perfect choice for any discerning rockfish or sportboat angler looking for a superbly-engineered reel that'll likely last a lifetime. Feels great in the hand when in use and looks awesome, too, with aircraft-grade materials and manufacturing
LINE & LEADER
Izorline Brutally Strong Spectra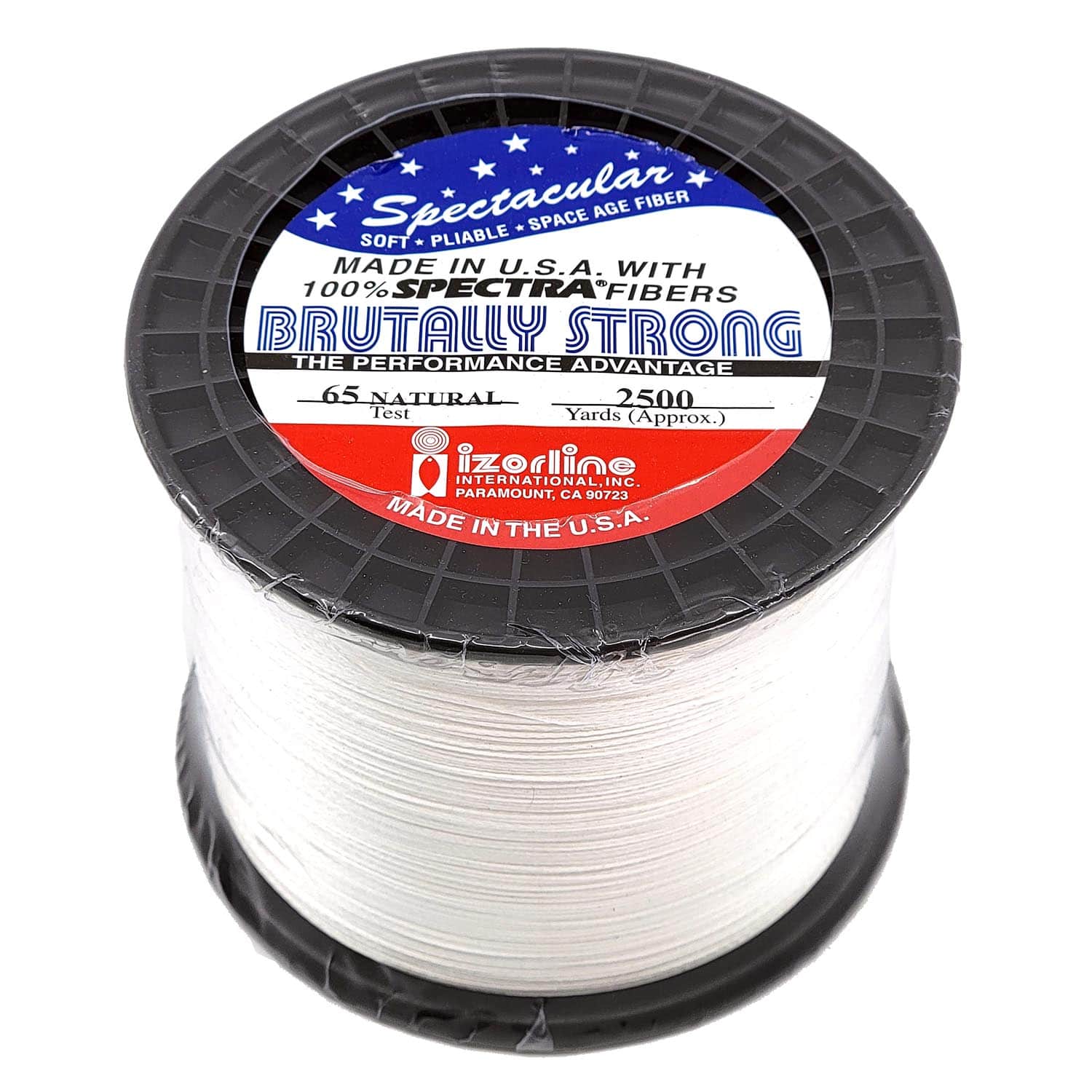 Braided main line is the first choice for spooling rockfish reels; you can feel every bite and knock with braid's zero stretch, it's thinner than mono so you can use a smaller sinker and you can fit more line on your reel compared to mono. For a lot of West Coast anglers, Izorline's highly-regarded Brutally Strong Spectra braid is the kiddy for tackling rockfish, with breaking strains in the 30, 40, 50 and 65-pound range most useful.
Try 30 and 40 for shallower water and smaller rockfish species, or 50 and 65 for tackling gnarlier, deeper waters where big lingcod prowl and big sinkers or lures come into play. Top-draw quality main line braid that'll last for many seasons make this a worthy investment.
PRICE: 500 yards of 50-pound in white – $70.10 (MSRP) See www.izorline.com for details.
Berkley Pro Spec Chrome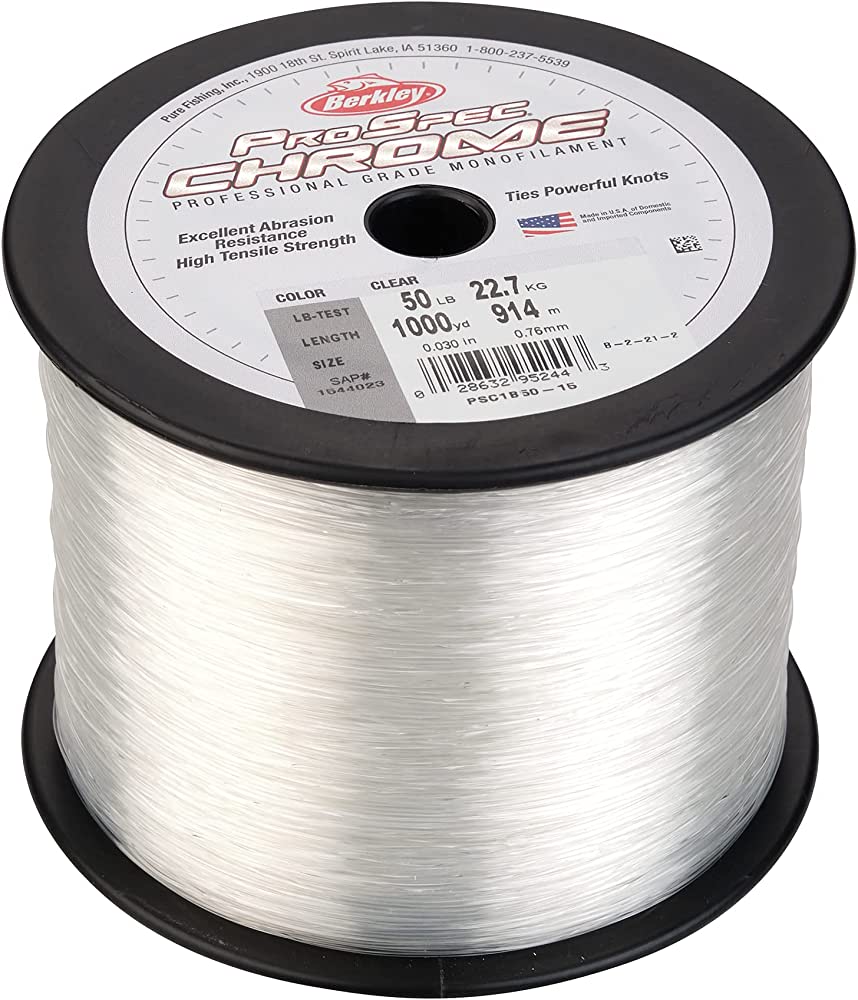 Whilst braid main line is awesome at being super-thin and direct for rockfish tactics, it doesn't fare so well against hard structure like rocks and reef. But this issue is fixed by the use of a mono top shot or rubbing leader – in this case, a 10 to 30-foot section of Berkley Pro Spec Chrome mono tied between the end of the main line and rig or lure.
The stretch inherent in monofilament also aids in playing larger fish like lingcod or a rogue yellowtail and, once you have that braid-to-mono knot on the reel, you can be pretty confident in horsing that big red or salmon grouper over the rail without worrying about the braid giving out. Try 20-feet of 30 or 40-pound breaking strain Pro Spec Chrome in clear for shallow water and small rockfish, or a similar length of 60 or 80-pound for deeper spots and larger species. Go longer and heavier for more extreme spots, or big lures and trophy lingcod.
PRICE: 1,000 yards of 40-pound in Clear – $55.99 (MSRP) See www.berkley-fishing.com for details.
LURES & BAITS
Shimano Current Sniper
COLORS: Chartreuse silver, Brown Aji, Blue / pink, Blue sardine, Green mackerel, Black purple, Candy Iwashi, Real Iwashi.
SIZES: 21 to 120 grams / 0.74 to 4.2 ounces
PRICE: $7.99 – 9.99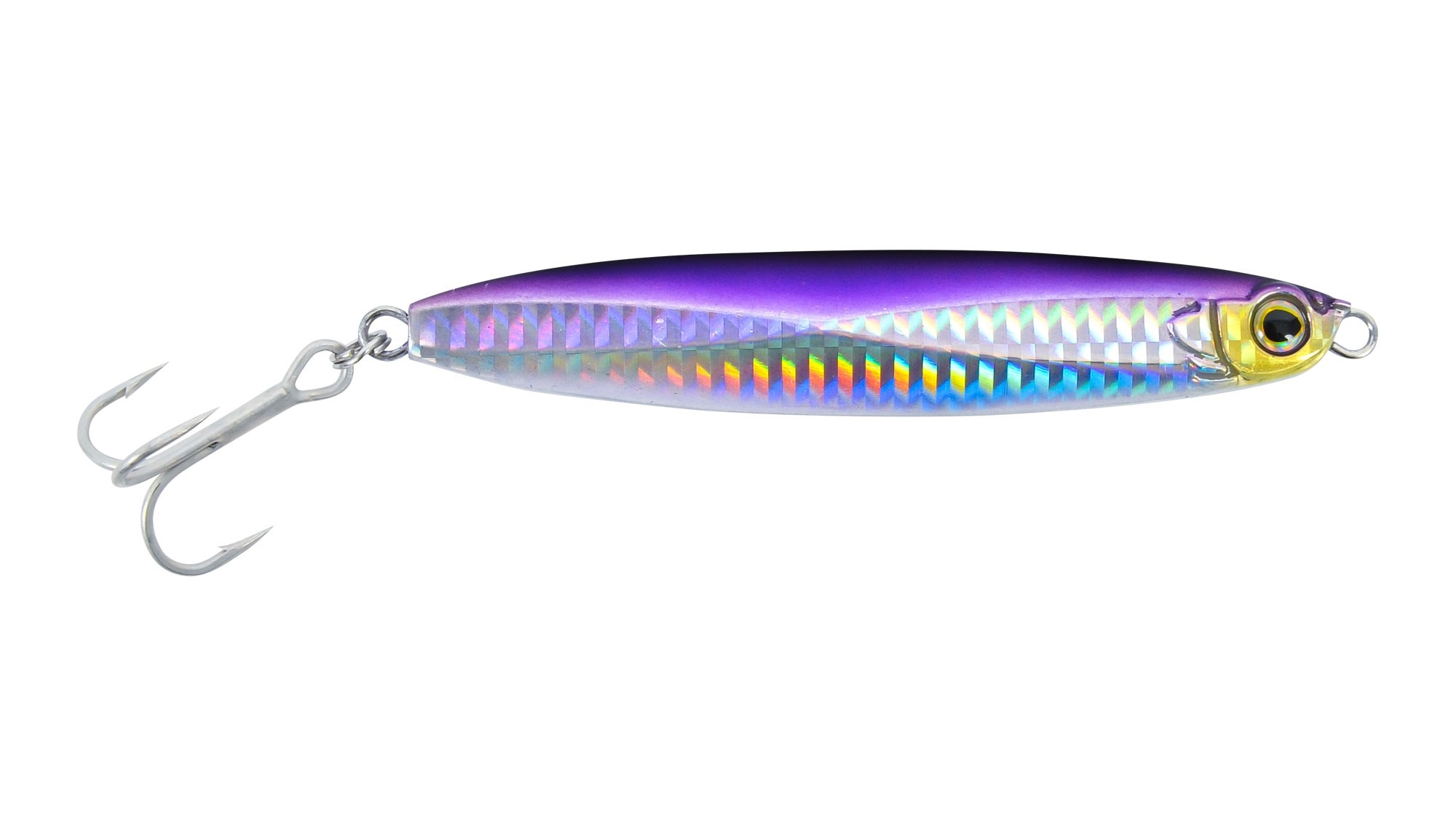 The Current Sniper (also sometimes known as a Colt Sniper) is one of the most versatile hard baits on the market and in its larger sizes, it's a great option for shallow water rockfish and lighter combos. It'll cast a mile or drop to the bottom in no time, with a nice action and range of colors that imitate a dying sardine or mackerel – pure candy for any rockfish!
Daiwa Rock Rover Jig
COLORS: Glow, Sardine, Red, Gold
SIZES: 3.5" & 2.8oz, up to 4.4" & 7oz
PRICE: $13.99

It might look a tad unconventional, but the Rock Rover Jig series is a real weapon for scoring trophy rockfish and lingcod, plus it can be rigged several different ways to vary presentation and technique.
The sleek bullet design gets the jig down quickly to the strike zone and the lifelike octopus skirt gives a natural appearance to help trigger the strike. A slower presentation works best with this style of jig, which is also hugely popular in Japan for their Pacific rockfish species.
Lingcod Jigs LivingSquid
COLORS: Red spawn glow, Pale glow, CA gold glow, Monterey Bay purple glow
SIZES: 2 to 16 ounces
PRICE: $10.95 – 21.95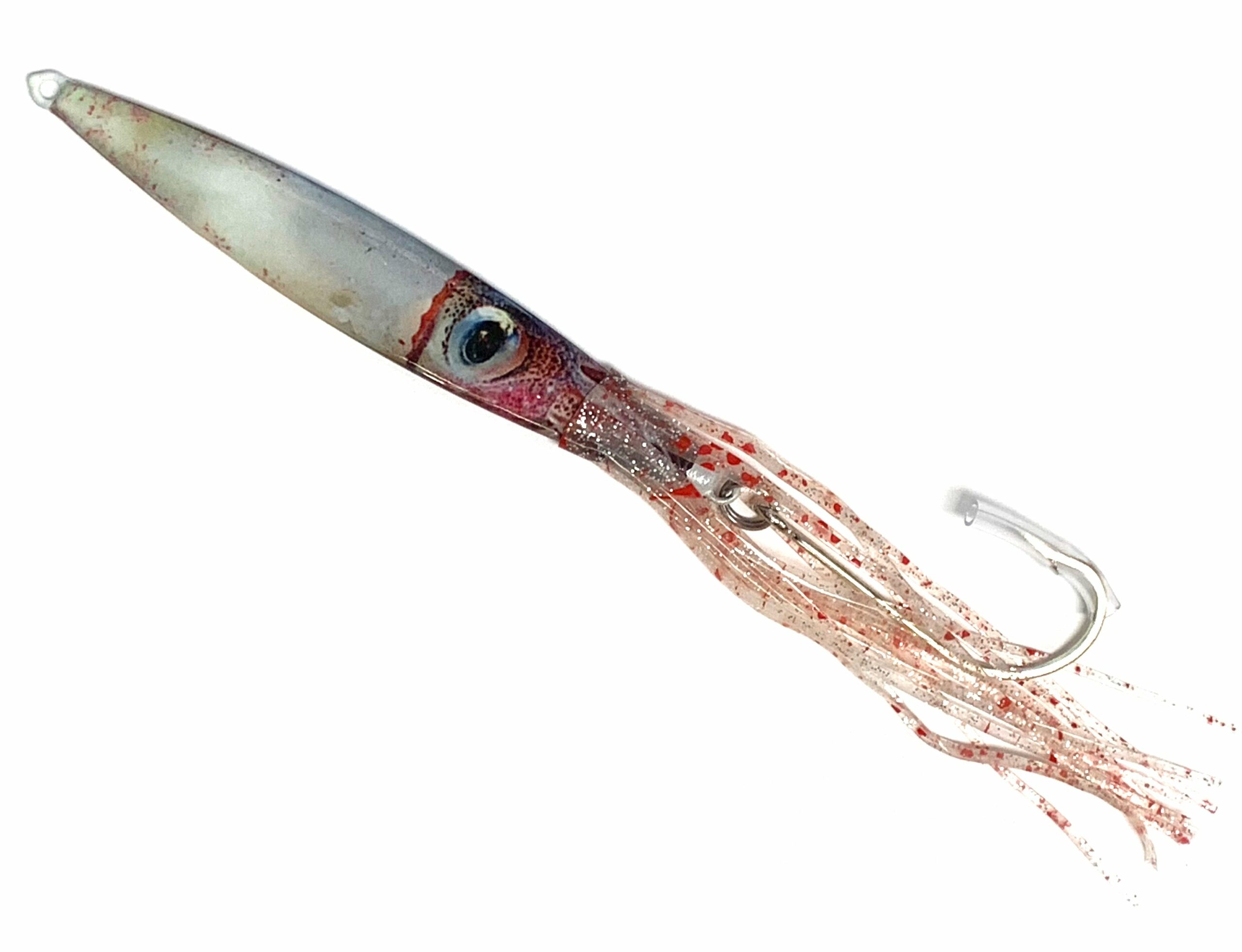 The LivingSquid jigs come in some amazingly realistic glow–in–the dark colorways and are great for a variety of rockfish species. These work well when worked with a slower lift and fall to give the squid a natural pulsing look, plus they come in some large sizes for deep water and heavy currents. A proven bait for anywhere on the West Coast when squid is the forage of choice for rockfish and lingcod.
Sea Falcon Drain Inchiku
COLORS: Glow pink, Glow blue pink, Lighting glow pink, Lightning glow red, Lightning glow red gold, Lightning glow silver, Sardine glow, Squid
SIZES: 120 to 500 grams
PRICE: $31.99 – 62.99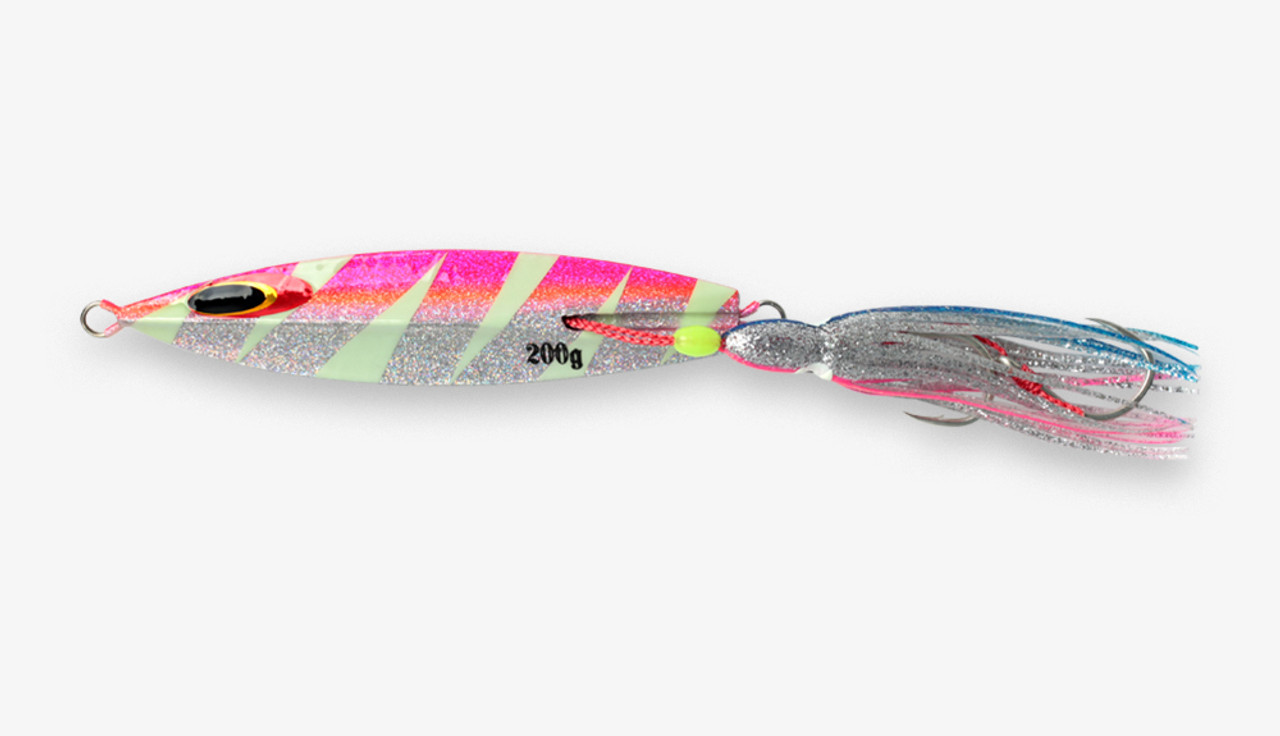 The Ferrari of rockfish jigs, the Sea Falcon Drain Inchiku is designed to fish on or near the bottom with a slow jerking action imitating a wounded fish or squid. These are some of the most precisely engineered and designed jigs on the planet and have become a favorite amongst rockfish anglers in the know.
Beautifully made and a proven rockfish and lingcod catcher. Try one on slow pitch-specific tackle, too, but they'll work great on any general rockfish combo.
This report appears in the March 17, 2023 print edition of Western Outdoor News. To get early access to every info and feature-packed issue of the West Coast's biggest outdoor sporting newspaper, click here.