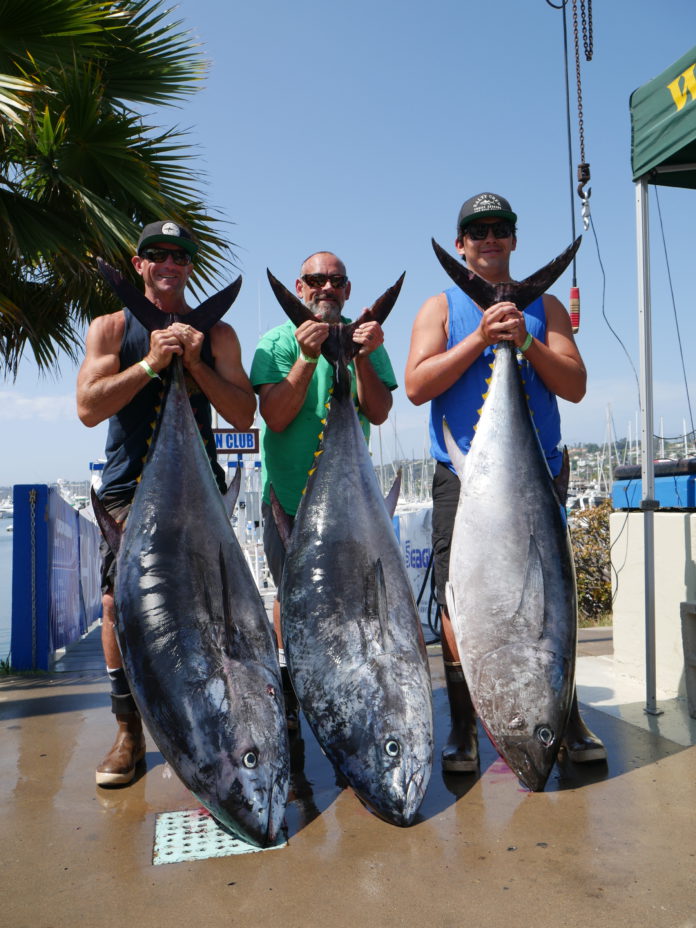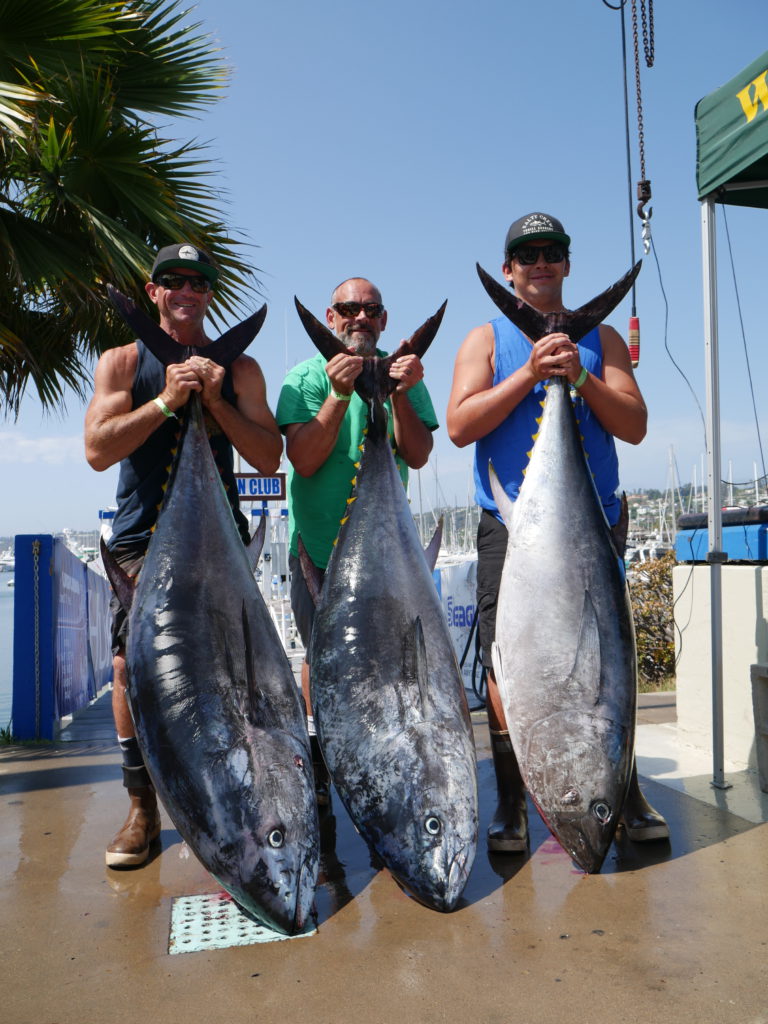 BY MIKE STEVENS
[buzzsprout episode='9052055′ player='true']
POINT LOMA – The second-annual California Tuna Jackpot wrapped up Sunday afternoon, and while less-than-ideal conditions and tough fishing didn't exactly cause a traffic jam at the weigh-in scale at The Marlin Club of San Diego, there were some monster tuna brought in by one team in particular.
The winners of what's now a 2-day tournament was Team Bendalotzee who crushed the field with a 218.3-pound bluefin that beat the second place fish by a touch over 150 pounds. That fish was caught by Greg Trompas who close the deal on that cow tuna on a dead flying fish under a kite between Catalina and San Clemente Island after 7 p.m. on Saturday night.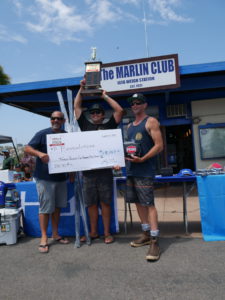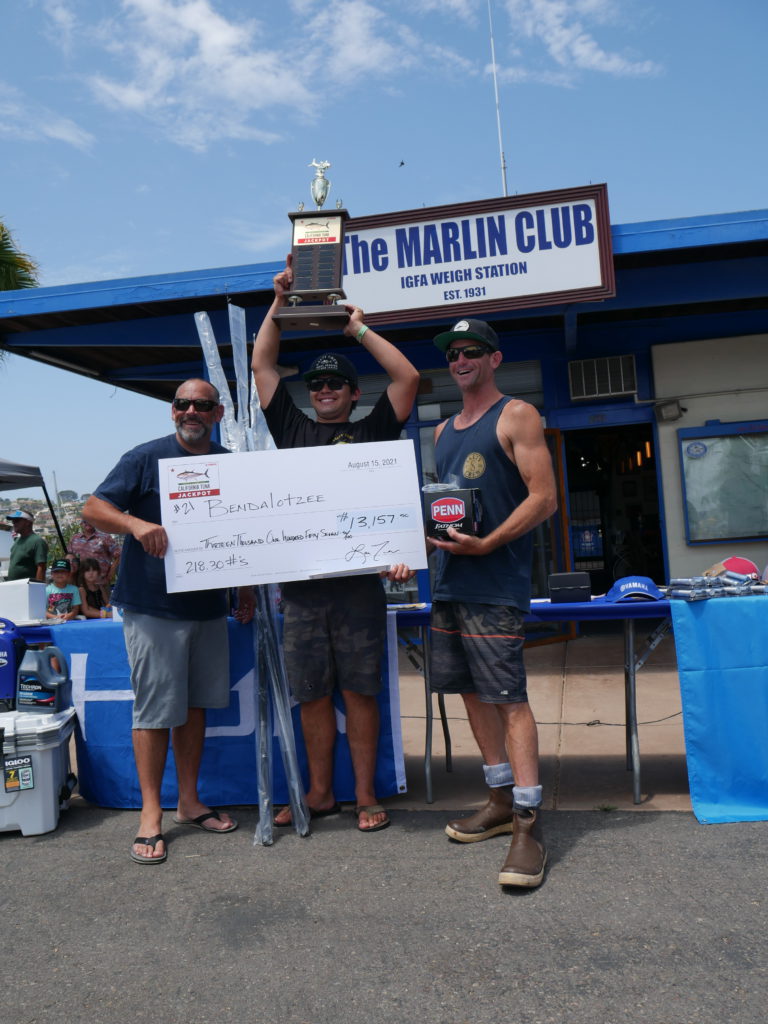 The small-boat specialist and his teammates were working out of a 25-footer, and they were all-in across the board on all the tuna optionals ($250, $500, $1,000 and $2,000) which really piled the cash on to Team Bendalotzee's spoils. When they were crowned the winners by Western Outdoor News Tournament Director Billy Egan, they were also handed a check for $13,157.
Along with the five-figure payday, Team Bendalotzee also picked up the following prizes for their efforts: a 70-quart Igloo IMX cooler, three Penn Fathom reels and Phenix rods, three $250 gift cards for Huk Performance Fishing apparel, a Yamaha generator, three pairs of Costa sunglasses and Gamakatsu gift packs, a gallon of Chevron Techron fuel treatment, bulk spool of Berkley ProSpec mono and subscriptions to WON.
It's also worth noting that the winning team also caught tuna of 208.9 and 125.85 pounds for good measure, but in these tournaments, only one big fish per team can be submitted for the competition.
Second place went to WON saltwater tourney regulars, Team Reel Eze who are making it a habit to finish in the top 3 and pick up great cash-and-prize hauls. Their top tuna was a 68 pounder Oceanside angler Angel Palacios who caught his bluefin on a Yummee Flyer under a kite on the Farnsworth side of Catalina. According to his teammates, Palacios was the "reserve crewman/last guy added to the roster." Team Reel Eze also caught tuna of 67.15 and 60.7 pounds, and in explaining to WON how tough the fishing was, they said they had six over 100 on their previous outing. They scored a check for $920, a pair of $250 Huk gift cards, three Gamakatsu prize packs, an Igloo cooler, a Penn Fathom and Phenix rod.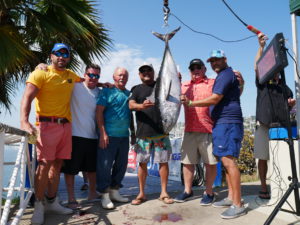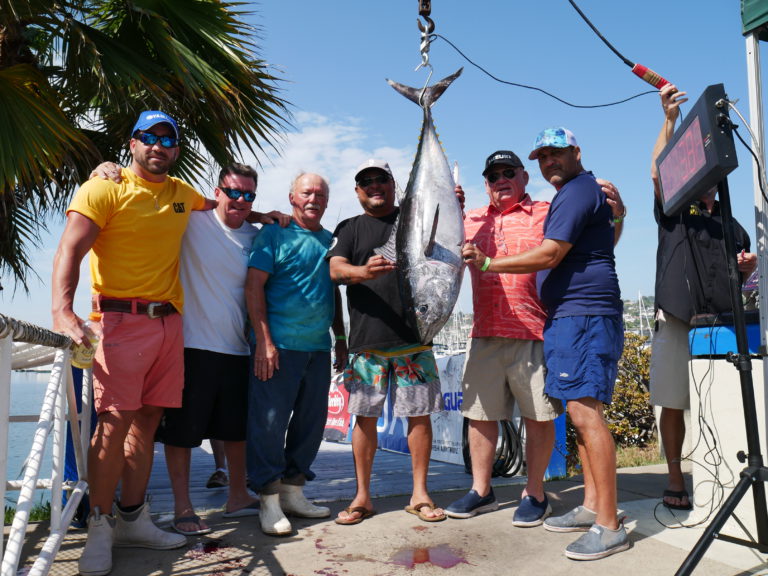 Another returning team took third place, and that was Team Papa's Day Off led by Captain Kody Kessell. They were the first team to weigh in and were feeling pretty good about their chances with a 66.3-pound bluefin after hearing (and experiencing) about how much of a grind the fishing was. That fish was boated by Kiyoshi Tan who was using a sardine after Kessell found a spot in the general area of Catalina that was free of other boats. Kessell told WON they "worked hard to catch two tuna", and a third was lost on the troll. Their other fish went 44.8 pounds and was closest to the Blind Bogey weight (34.4 po8nds) randomly chosen by Egan before the weigh ins. That earned Papa's Day Off one of the big Igloo coolers, a Yamaha generator, Costa lens cleaning kits and bottles of Chevron Techron fuel treatment.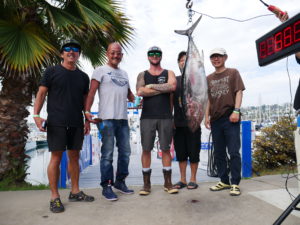 Raffles are a popular element in all WON tournaments, and this one found new homes for more Penn Fathom reels and Phenix rods, a half-dozen hook/tackle box/bag packages from Gamakatsu, six tackle boxes with additional items stashed in them that were donated by Angler's Choice Tackle in Point Loma for the, and countless face masks, hats and cleaning kits from Costa along with a few more pairs of their high-end polarized sunglasses.
There was also an Early Bird Raffle among the teams that signed up before the Early Bird deadline, and that was won by Team Here Fishy Fishy Fishy who won a Furuno 1871 unit illustrating why it pays to register early.
For these tournaments, WON makes a donation to the Make-a-Wish Foundation based on the total purse, and that amounted to a check for $3,025. However, there was also a yellowtail optional in the California Tuna Jackpot, but no one weighed in a yellow. Egan gave the crowd the option to let that cash roll toward next year's event, or donate it to Make a Wish, and it was a unanimous decision to donate that money, and the Make a Wish Foundation actually ended up with over $5,000.
Fishing was tough, there was a small-craft warning for the Catalina area Saturday afternoon and the fish winch on the docks at The Marlin Club in San Diego were taken out of action by a 350-plus pound swordfish that broke it Saturday night, but none of it affected the enthusiasm of the participating anglers or tournament organizers who will immediately start making plans for next year's California Tuna Jackpot.