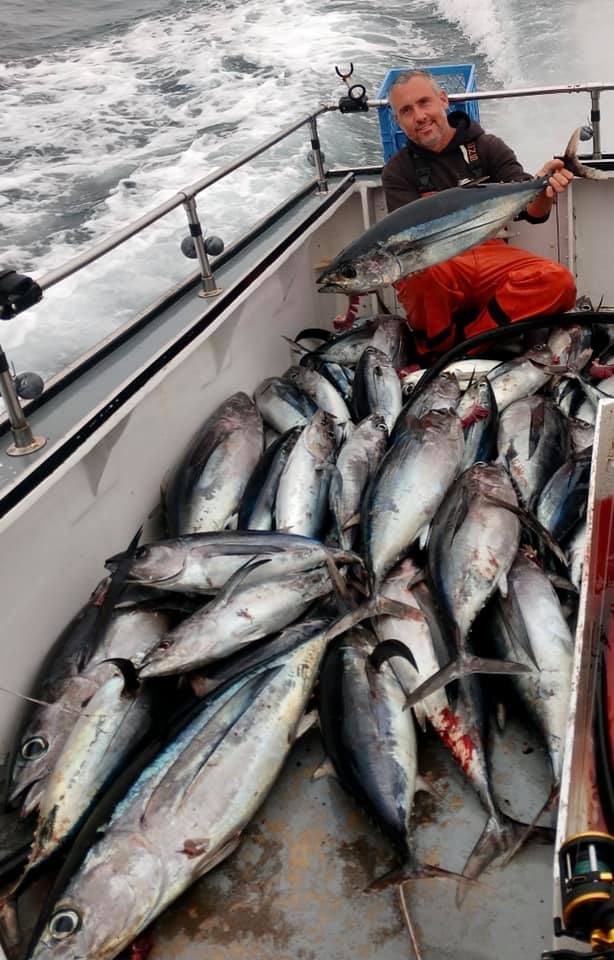 BY KENNY PRIEST
EUREKA — Flat-calm seas and warm water are what Humboldt County offshore anglers dream about. And that dream became reality this week. From Shelter Cove up to Crescent City, all the ports provided opportunities at some big albacore. Crescent City was by far the most productive as the water was within 20 to 25 miles and loaded with fish. Quite a few boats made the run Thursday. Once the Eureka fleet heard the epic reports, Hwy. 101 heading north was full of boats. Scores ranged from 30 to 50 per boat, but most quit when they had enough and left the fish biting. Ocean conditions for the weekend look promising before the wind picks back up on Monday.
Out of Eureka, a lone boat ran 60 miles northwest and completely plugged the boat with tuna. That was the only report. Tony Sepulveda of Green Water Adventures made the run on Saturday, and they quit with 76 longfins in the boat, finding a troll bite first before the albacore came up and "started chewing the paint off of the boat." He said, "We quit at 12:30 when we everyone had sore arms and tired backs." The window will close with the arrival of wind
have done a number on it. "The latest Terrafin shots didn't look all that great," said Klassen. It doesn't look like Eureka will get in on this round, as it looks much better up off Crescent City now." Ocean conditions look great through the weekend. This will be a good opportunity to head south to Cape Mendocino for rockfish and lingcod.
Up north in Trinidad, a few boats made the run 45 miles northwest in search of tuna. And they scored big time with an excellent grade of fish with very few peanuts. One of the
boats put in 51 longfins and left the fish biting. The rockfish bite out of remains excellent according to Curt Wilson of Wind Rose Charters. He said, "The lingcod bite has really picked up. They've definitely moved in closer to shore. The fishing is good from right out front all the way to Patrick's Point, it hasn't really slowed down. When the weather allows, fishing at Reading Rock is wide-open. The lingcod have really been on the bite and limits are coming easy with fish to 25 pounds and plenty in the high teens."
Down south to the southern Humboldt County port of Shelter Cove, tuna was all the rage the last few days. According to Jake Mitchell of Sea Hawk Sport Fishing, the warm water is about 50 miles straight out. "A few boats made the run Thursday, and the fishing was excellent, said Mitchell. "We ended up 57 miles from port, but it was well worth the trip as we put 55 albies on board. The rock fishing has been great, but the lingcod remains at about a fish per rod on average. There was a decent salmon bite over the weekend down by the Hat but the weather made it difficult for the sport fleet to spend much time down there."