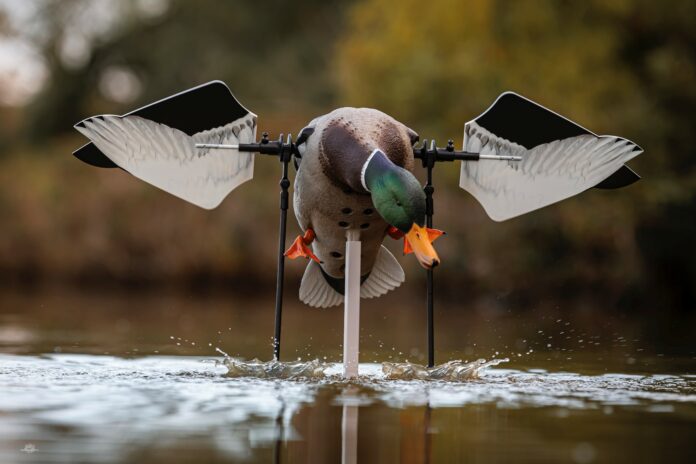 BY MIKE STEVENS
SANTA ROSA – Spinning-wing decoys have been around for over two decades. When they arrived, they generated a huge buzz throughout the waterfowl hunting community, and they immediately established themselves in the field as the real deal.
However, over the years they've become less effective as birds have grown more educated. That's especially the case in the southern portion of the flyways (call it, the southern half of the United States and into Mexico) where the birds that make it that far have seen just about everything on the way down.
A new product called the Animator from Blue Bird Waterfowl is not only bringing new visuals to the decoy world, but it's also delivering untapped angles of attraction. The best parts are, the Animator is already proven in the field, and it most likely works with "dekes" you already own.
"We've created a product you can attach to your spinning-wing decoy that goes between the body of the decoy and the wing," said George Parker of Blue Bird Waterfowl. "Essentially it's a patented camshaft device with a carbon-fiber rod that floats, a polypropylene splash plate that floats and a DuPont nylon injected camshaft that's ultra-hard and it sinks like a rock, so you want to make sure it's attached to the rod and the plate before you walk out over the water, but this thing drops own and you can just put your bird in the mud, clip it into the wing slot, set the plate height to the water level and you instantly add water motion, and more importantly, we've created a way to attract waterfowl with water sound."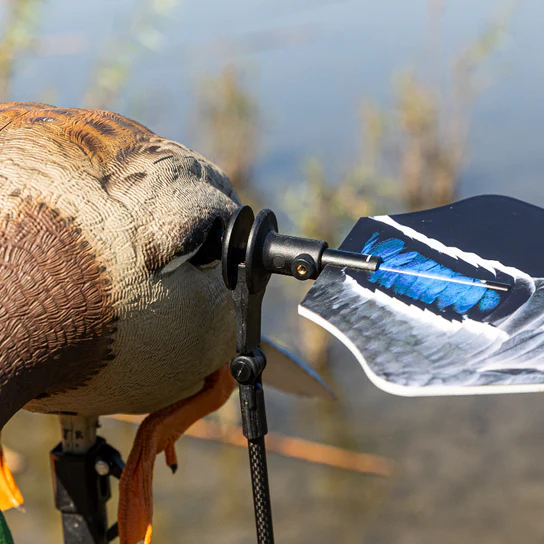 Parker admits he just had one goal in mind when his team "stumbled upon" other aspects of the Animator that are now legitimately disrupting the duck-hunting game according to hunters using the 2,500-plus units already putting in work.
"We were just trying to make a ripple, but what we found was when we add this camshaft to the spinning-wing decoy, you get the flash that brings birds from 500 yards down – and who knows how far that flash will go on a bright day? – and I argue that when these birds get close, they start to look for more detail," said Parker. "Our product breaks that surface tension. As the wings spin, it splashes own and hits the water, and that brings the birds even closer. It's something brand new that I argue has been missing forever: Water sound. This product cavitates the water and makes it sound like feathers in the water."
So, a hunter is now working with "flash" of a spinning-wing decoy with the added visual of broken surface tension and also a natural "water sound" that really ads another dimension to the package. Parker used rattling antlers while big game hunting as an example.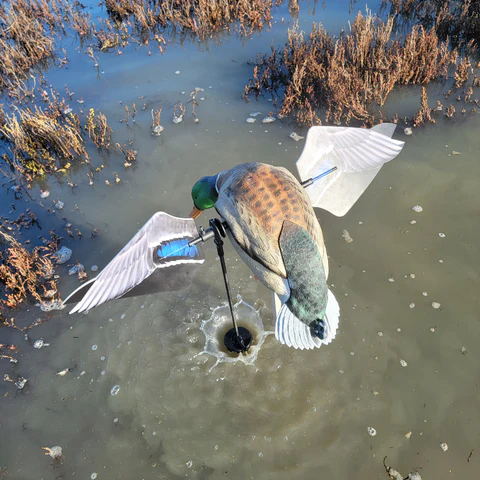 "We do natural sounds in all other forms of hunting," he said. "Hunters are saying this wings-on-the-water sound is helping finish birds all over the country without even finish calling."
Blue Bird Waterfowl even has a "Kill more birds guarantee" that states if the hunter is not satisfied (even after using it for a whole season) it cane be returned for a full refund. There is also a limited lifetime warranty.
"That's how confident I am that we stumbled upon what I argue is the next big thing in waterfowl hunting," said Parker. "We haven't lost a penny on that guarantee, and we cannot wait to share this with more of the waterfowl hunters."
Learn more at BluebirdWaterfowl.com.