BY MIKE STEVENS
SAN CLEMENTE – The Western Outdoor News charter schedule is constantly evolving, and it already features plenty of locked-in trips. A ton of consideration goes in to when these trips land on the calendar to maximize the opportunity for great fishing, and prizes and giveaways are always part of the deal. Trip sponsors sweeten the deal with giveaways and bonus prizes for jackpot winners. So far, 2022 WON charter supporters include Gamakatsu, Berkley and HI-SEAS.
Here are the confirmed WON charters for 2022 at this point in the season. This list will likely grow as we push closer to peak season, and the best way to keep tabs on updates is visiting WONews.com and finding "Charters" under the "Events" tab on top of the home page. You can also sign up online under that tab, and for trips more than a couple months away, adjust the date range accordingly to sort the list.
You can also sign up directly from the online charter list, and for any questions or to sign up over the phone, call Dylan of WON at (949) 366-0726 unless noted otherwise below.
April 1: 1.5-day on the Daiwa Pacific out of H&M Landing: (SOLD OUT) Limited to 18 anglers, this one is a bargain at $350 which includes meals. Filling sacks with rockfish is a no brainer, but given the timing of this one spring yellowtail including possible yo-yo fish are very much in the realm of possibility. This trip leaves at 7 p.m. on April 1 returning around 5 a.m. on Sunday, April 3.
April 6: Annual full day "Rockfish Rumble" out of Ventura Harbor Sportfishing: A favorite among WON charter participants, hop on the Californian (the Pacific Eagle and Island Spirit are sold out) or for a limited-load, combined-jackpot bottom-biter battle. The trips depart Wednesday at 5 a.m. April 7 and return at 4 p.m. $135 ticket includes $10 for jackpot. These are 5 a.m. to 5 p.m. trips on Wednesday, April 6.
April 30: Full-day salmon trip with Central Coast Fishing Charters: This unique and all-new WON charter is limited to 3 passengers and a WON rep aboard a 220 Admiral operating out of Morro Bay. The outing is Saturday, April 30 from 6 a.m. to 2 p.m., and each $400 ticket includes rods, reels tackle, bait and fish filleting (bring your own food and drinks).
May 5-6: "Overnight long range" aboard the Black Pearl out of Virg's Landing: Owner operator Lisa Tardif set up this amazing trip that will travel up the Big Sur coast in search of monster rockfish and lingcod. Please note the special requests for the trip: The boarding time is 8:00 p.m., however the Virg's Landing Tackle Shop closes at 5:00 p.m. so passengers MUST have their fishing license ready before departure. Anglers are also asked to bring a Sabiki rig for making live bait that morning. Limited to 22 anglers, this trip runs $225 per person.This trip boards on Thursday, May 5 at 8 p.m. and returns Friday, May 6 at 6 p.m. At press time there was only one spot left, but if there's more in your party it's always worth it to call because folks do back out last minute.
May 14: 4-day Alaskan fishing adventure with Kingfisher Charters: (SOLD OUT) Kick off the Sitka fishing season by chasing trophy king salmon, halibut, sablefish and lingcod. The cost is $2,895 per person (plus $200 tax) which includes $100 of in-store credit. Seth Bone's lodge operation is turnkey with the best guides, and it's booked nearly solid for the season, so this is one of the only opportunities to fish Sitka with the premier operation. For more information, contact Brad Wilson at WON.  Bookings may be completed online, or by contacting Brad at (949) 366-0898.
May 25: 2-days on the Pride out of 22nd Street Landing: Limited load 2-day island freelance charter targeting white seabass and yellowtail before loading up with quality rockfish and whitefish. The Pride is now owned and operated by well-reputed captain Shon Roberts, and he's excited to join the WON family of charter partners. Ticket price is $750 which includes all meals. This trip departs at 9 p.m. on Wednesday. May 25 returning Friday May 27 at 7 p.m.
June 6: 3.5-day on the Apollo out of Seaforth Sportfishing: (SOLD OUT) Well-timed for a best-bite or offshore slugfest with yellowtail and bluefin tuna with the potential for sack-filling rockfish stops to fill the gaps. Limited to 18 anglers, and the $975 ticket price includes meals. Departs at 10 p.m. on Monday, June 6 and returns 6 a.m. on Friday, June 10.
June 15-16: Overnight on the Fury out of Dana Wharf Sportfishing: This trip made its debut last summer and laid the wood to San Clemente Island yellowtail, bonito, calico bass, barracuda and rockfish. It also resulted in the addition of more Dana Wharf WON charters for 2022. Limited to 24 anglers at $200 per person, this one leaves Wednesday at 9 p.m. on June 15 and returns Thursday at 7 p.m. on June 16.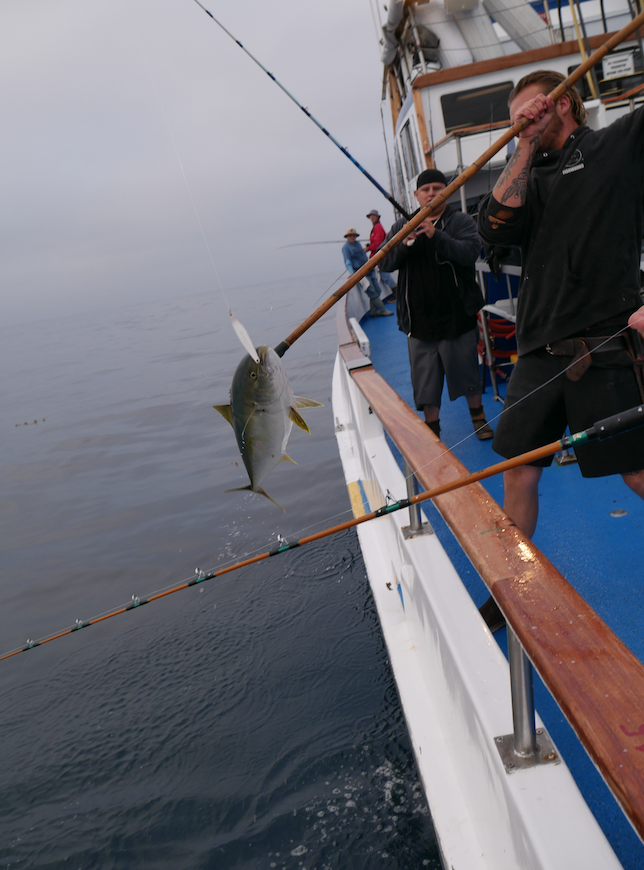 June 23-24: San Diego Offshore Jackpot overnight sportboat event: Compete with anglers on several sportboats out of the big three landings in Point Loma for cash and prizes. The landings are handling all of the bookings online, so anglers looking to fish in the SDOJ should visit the participating landing of their choice, book a qualifying boat doing an overnight trip. Entry is $330 per angler (with $30 of ticket price going to combined jackpot). These trips depart at 8 p.m. on Thursday, June 23 returning Friday, June 24 at 7 p.m. To claim a spot, contact: Point Loma Sportfishing, PointLomaSportfishing.com (619) 223-1627, H&M Landing, HMLanding.com (619) 222-1144 Fisherman's Landing, FishermansLanding.com (619) 221-8500
June 24: 1.5-day 5-pack aboard Fin Fetish out of Marina Del Rey: Late June is all about variety when it comes to target species, and this trip is typically an island freelance trip targeting yellowtail, boogie-board-sized halibut, tanker white seabass and any pelagics lurking offshore. Rods, reels, tackle, live bait and fish cleaning is included with the $630 ticket. Food, drinks, gratuity and fishing licenses are not included. Departure is 10 a.m. on Friday, June 24 returning Saturday, June 25 at 6 p.m.
June 26: 2 days fishing aboard the Eldorado out of Long Beach: San Clemente, San Nicolas and Santa Barbara islands all options as well as heading offshore for pelagics. Limited to 29 anglers and a bargain at $475 which includes meals. Leaves Sunday, June 27 at 8:30 p.m. and returns Tuesday, June 29 at 6 p.m.
July 6: Channel Islands Shootout out of Ventura Harbor Sportfishing: Three-boat, combined jackpot charter event aboard the Pacific Eagle, Island Spirit and Californian (limited to 19, 35 and 40 anglers, respectively). Ticket runs $135 (incudes $10 toward the jackpot) for full-day (5 a.m. to 4 p.m) fishing on Wednesday, July 6. Cash prizes for the three heaviest fish, and sponsor giveaways for all participants.
July 20: Triton vs. Gail Force full-day charter event: Anglers aboard the Triton and Gail Force out of LA Waterfront Sportfishing (San Pedro) go head-to-head at Catalina (usually) with jackpot payouts going to the three largest fish caught between the two vessels. Limited load fishing at the peak of the summer season for $145 which includes $20 toward the 100-percent payout jackpot. Departs at 5 a.m. Wednesday, July 20 and returns at 5 p.m. that evening.
July 31: 1.5-day aboard the Toronado out of Pierpoint Landing: Mid-summer freelance fishing out of Long Beach likely targeting island yellowtail, bonito and calico bass. Ticket price ($390) includes all meals. Departs at 8 p.m. Sunday, July 31 and returns Tuesday, August 2.
 August 19: Full-day aboard the Sum Fun out of Dana Wharf Sportfishing: Catalina will be the likely destination, but last year the fishing just "off the beach" was so hot it became a local full-day trip minus that time burned crossing the channel. Yellowtail and other island species are program on paper, but we all know what could also be lurking within day range of Dana Point at that time of year. This trip runs $110 for a maximum of 30 anglers and departs Friday, August 19 at 5 a.m. returning at 5 p.m.
August 27: Full-day "Jurassic Park" trip with Central Coast Fishing Charters: Shoot out of Morro Bay and up the Big Sur coastline in search of monster lings and rockfish. This trip is timed around the new moon, and in fact, tuna were within range of this outing last year. Three anglers and a WON rep will be on this one, and the $400 ticket includes rods, reels, tackle, bait and fish filleting. Bring your own food and drinks for this trip that departs Saturday, August 27 at 4 a.m. and returns at 4 p.m.
September 9: 4-days panga fishing with Cedros Outdoor Adventures: This trip is bucket-list worthy for any serious yellowtail and calico bass angler. Fly from CBX down to Cedros Island where 11 anglers will fish with local guides for three full days. This adventure costs $2,300 per person.
September 12: 2- day aboard the Toronado out of Pierpoint Landing: One of the most popular annual charters on the WON schedule, it's hard not to stack this one full of tuna and yellowtail. Limited to 28 anglers, $530 gets you aboard this outer banks freelance trip in the best time of year to head offshore. This trip leaves Monday, Sept 12 at 8 p.m. and returns Wednesday Sept. 14 at 7 p.m.
 September 18: 3.5-day road trip fishing adventure with Baja Fishing Convoys: 12 anglers get round-trip van transportation, four nights lodging in Bay of L.A. and 3 days of fishing with top captains. Also included with the $1,395 ticket is breakfast at the hotel, dinners and panga lunches. Big yellowtail, seabass, grouper, cabrilla, rockcod, lings, bonito, dorado and roosterfish are all on the radar. For more information, contact Brad Wilson at WON.  Bookings may be completed online or by contacting Brad at (949) 366-0898.
October 19: 2.5-day on the Pacific Islander: Join WON and Capt. Rick Russell for a limited load 2.5-day trip that will feature freelance offshore fishing, and mid-October typically offers great opportunity for offshore species like tuna, yellowtail and more. $100 meal plan plus MX permits (if needed) are included within ticket price. This one leaves the dock at 6 p.m. on Thursday, Oct 19 and returns Friday, October 21 at 7 a.m.
December 1: Lobster/Rockfish combo trip on Triton and Gail Force out of L.A. Harbor Sportfishing: Limited to 10 anglers per boat and a WON rep, fish for rockfish or even on the surface during the day before transitioning to lobster fishing in the evening. All lobster gear is included with the $180 ticket, but anglers need a California Lobster Report Card which is available for purchase at the landing. This trip leaves at 12 p.m. on Thursday, Dec. 1 and returns at midnight the next day.