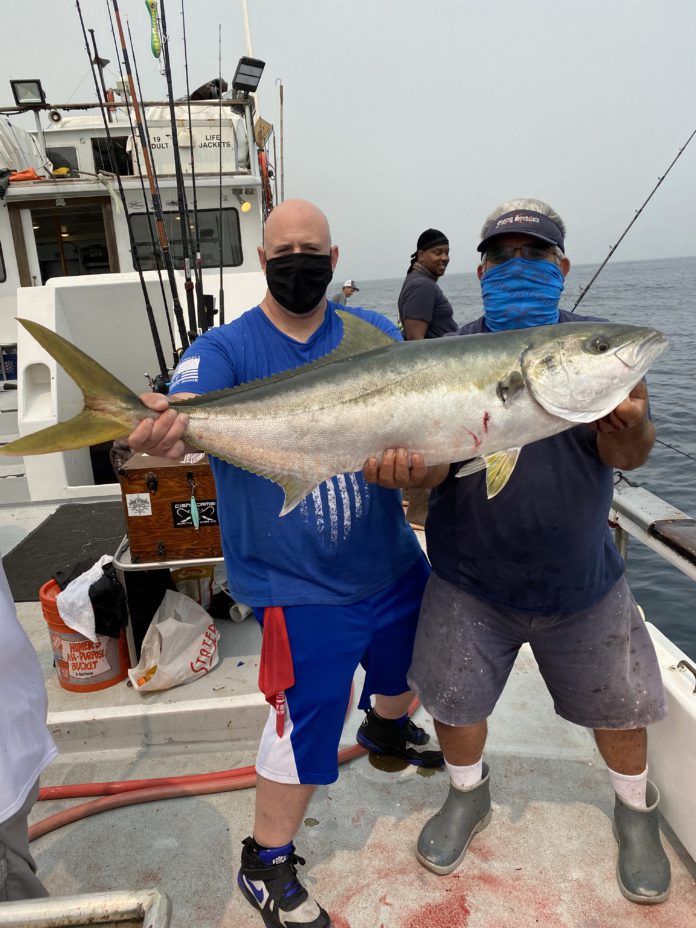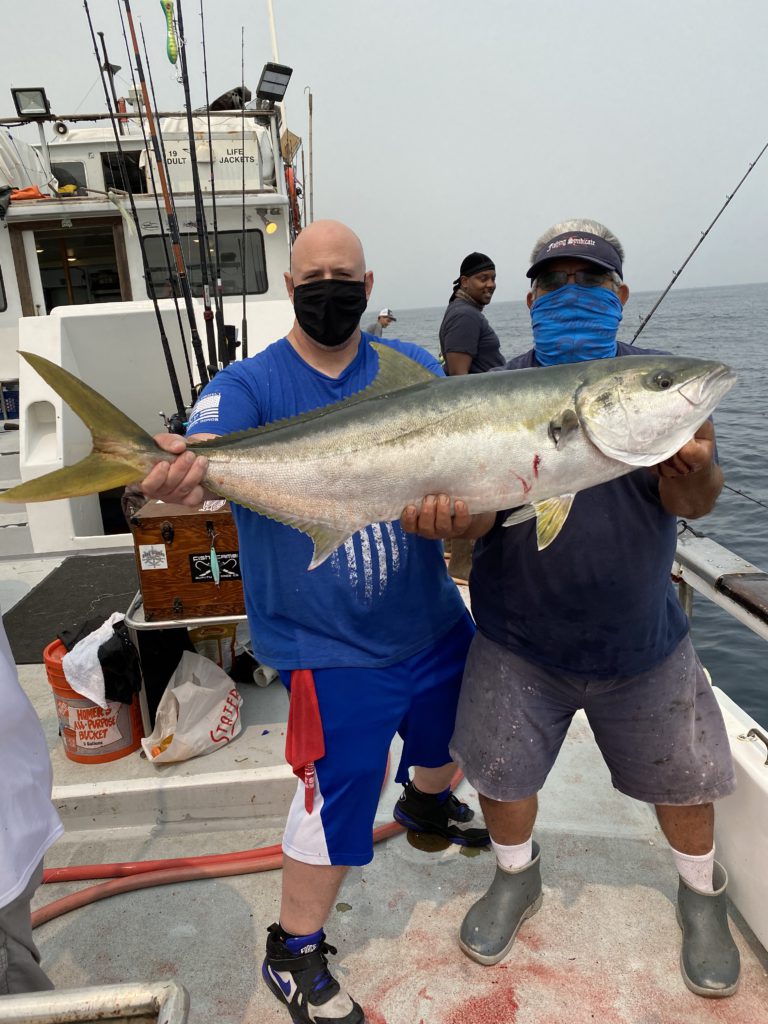 Captain Ray Lagmay and crew attack the tackle busting yellowtail of the Cortes Bank!
BY DENNIS YAMAMOTO
COVID-19 has changed lives across this nation for the past six months and has driven this author to the brink of insanity. Thank God for this Western Outdoor News charter aboard the Toronado docked at Pierpoint Landing in Long Beach! The landing checked each passenger's temperature and had them sign COVID-19 release forms indicating that they had not been sick recently. I was not the only one chomping at the bit as old friends greeted me dockside. Indeed, we had an eclectic group of annual fishing friends aboard the Toronado.
New Toronado owner Joe Phillips greeted the WON charter passengers as they boarded while allowing only a few at a time into the bunk room and galley for registration. Upon signing in with new deck boss Shawn Terrell and joining the jackpot, I passed out the WON Frogg Toggs swag bag which contained a filler spool of HI-SEAS fluorocarbon line and a P-Line Laser Minnow lure. Bulk spools of Daiwa's J-Braid line were available to any angler who needed to replenish their reels. I noted that the Toro utilized disposable pillowcases as well as freshly cleaned blankets and bed pads.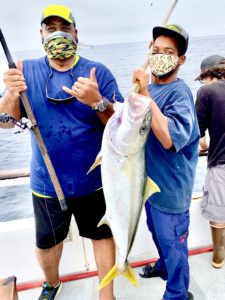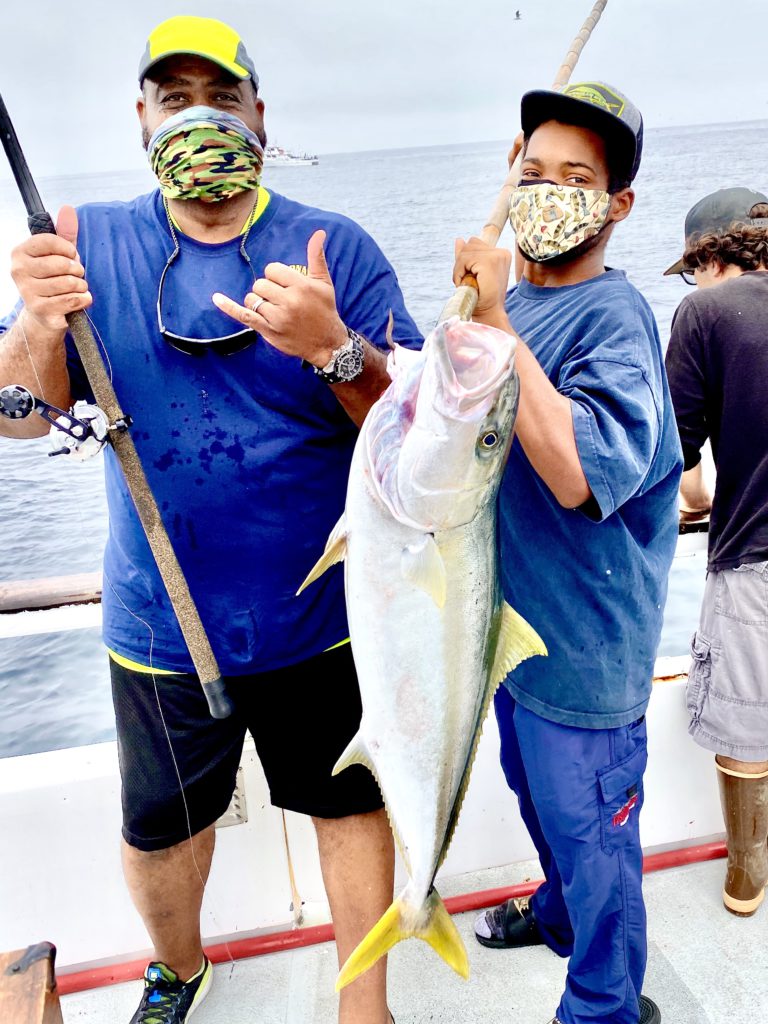 Departing the dock a little early and stopping at the Long Beach bait receiver, Second Captain Johnny "Nonsense" gave a comedic but accurate performance regarding fishing techniques and the ever varying skill level of fishermen. Captain Ray Lagmay had relayed the information that while the tuna were still in the vicinity of San Clemente Island, the bite had shut down so we would be going to the Cortes Bank where a good grade of yellowtail were biting well. We carefully loaded an excellent grade of sardine which made the 97 mile trip relatively unscathed.
After a fairly smooth ride, new galley girl Maryanne Sagnella cooked a fabulous breakfast burrito which included bacon, sausage, egg, potato, and cheese. I'd say that overall, her cooking was some of the best I've had on a fishing vessel. Hatch chili bacon cheeseburgers, potato salad, chips, tri tip with baked potato, veggies, salad, cinnamon French toast, sausages, cheese omelets, meat ball sandwiches, macaroni salad, chips, BBQ pork with scalloped potato, veggies, bread, salad, and fresh baked brownies a la mode all made it to the galley tables. Whew! I think I gained about 5 pounds! As we passed a boat at the Tanner Bank, I asked Captain Ray if the tuna and 'tail bite there had shut down from 2 weeks prior, and he remarked that it had indeed shut down and that boat only had 1 yellow on board.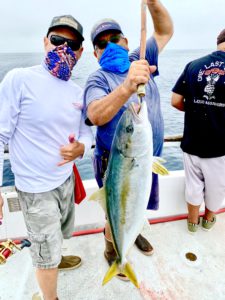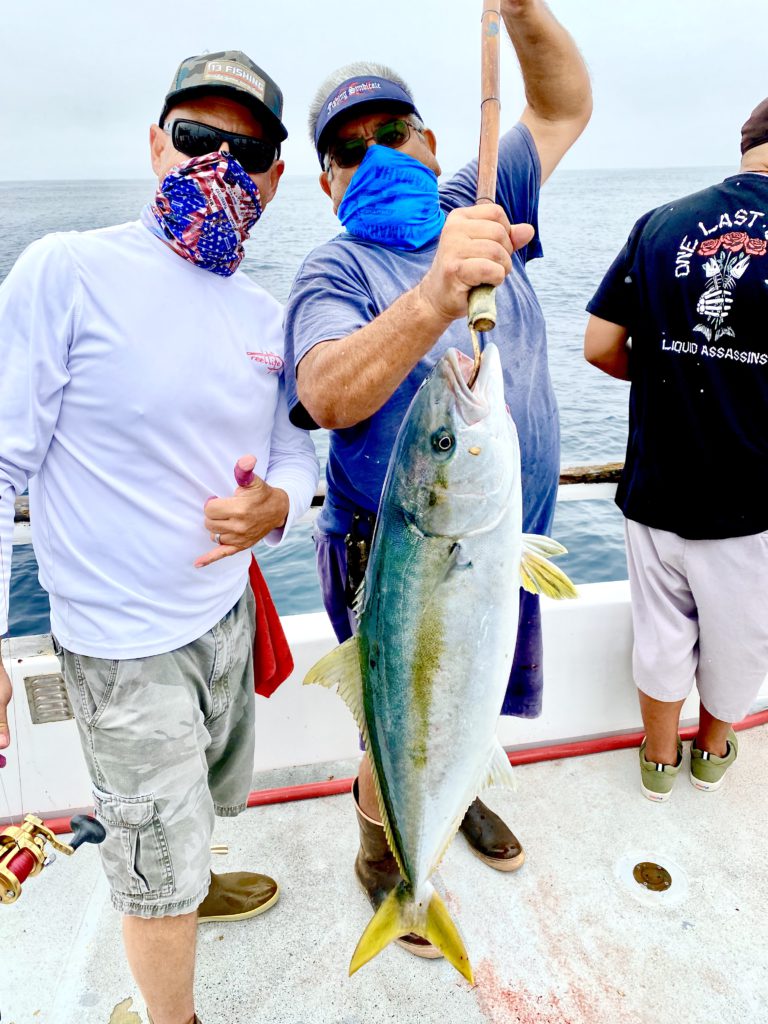 Upon arriving at the Cortes about 7:30, jumbo bonito started hitting the deck with regularity both on the iron and on the lively sardines. These were tuna sized bones that sizzled line off the reels like butter! Soon, the husky yellows started boiling and crushing sardines while ripping drags and shredding line on the jagged ridges of the Cortes. Zero for 1, 0 for 2, 0 for 3, 0 for 4, 0 for 5. Finally, Stevenson Ranch's Jack Sepulveda decked a gnarly yellow on the yoyo iron with heavy line. This author even got sawed off with my favorite yoyo jig with 40 pound test and a locked down drag!
I watched helplessly as the casualty rate soared while the beefy yellows were laughing all the way to the reef. Bill Hergenroeder from Las Vegas finally landed the second jack. My Temptation singing friend Tony Anthony then landed another. Another regular, Rick Claassen landed the next. Then Fishing Syndicate's Diana Cortez decked another with her pink handled Syndicate rod.  Suddenly, I remembered what guru, Taka Tanaka of the Mustang and Taka's Tackle in Anaheim once told me about badass mossback jacks. The harder you pull, the harder they pull. No matter how heavy a line you use and how tight a drag you set, they will break your drag free to reach their place of comfort…the protection of the rocks.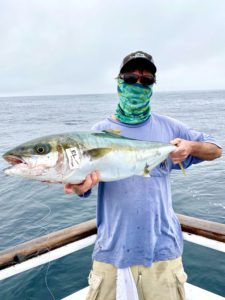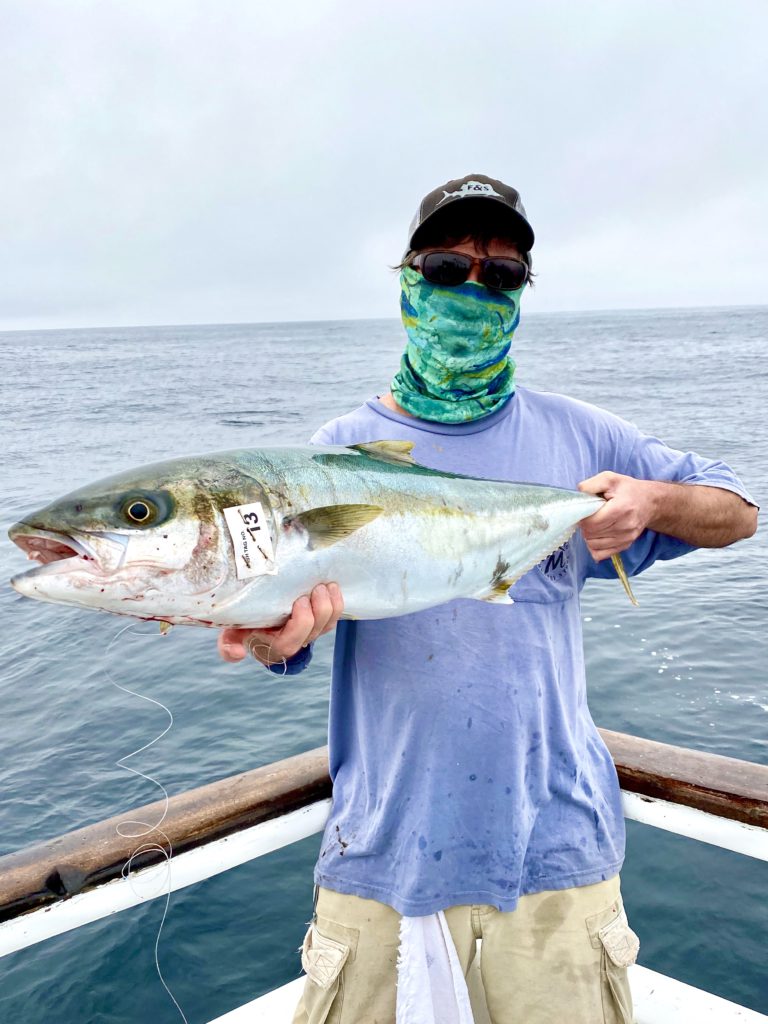 He advised me to use the lighter line and not pull as hard to trick them into thinking that they were free. So I tried it with 20 pound test and when I set the hook and the yellow took off, I backed off the drag completely and lightly thumbed the spool. The fish stopped running, I tightened the drag, and wound line in very slowly until it was closer to the surface. I then fully tightened the drag and pulled it in for a while until it peeled drag again. Once again I backed off the drag and used my thumb. It took a while playing cat and mouse, but I eventually landed the fish with about 10 feet of badly frayed line. If I had pulled harder, the line would have certainly parted! Lesson learned sensei (teacher), thank you!
Slowly but surely the yellow count rose as they were hitting heavier line and jigs of all sorts were being utilized to land the beasts. I believe I landed the only surface iron jack on a Lexa 400 loaded with 50 pound Daiwa J-Braid, 40 pound gray Izorline, and a Tady 45 surface iron in a mint and white color. When the dust settled by midafternoon, most had decked at least one of the 28 beefy forktails, about a dozen big bones, and a couple of log barracuda. We had however, dumped about 75 wily mossbacks. Trolling and cruising around the bank and searching for signs of tuna provided little action as a few bonito and a single yellow ate the lures being dragged behind the Toro.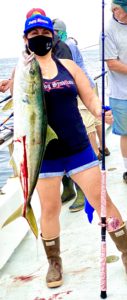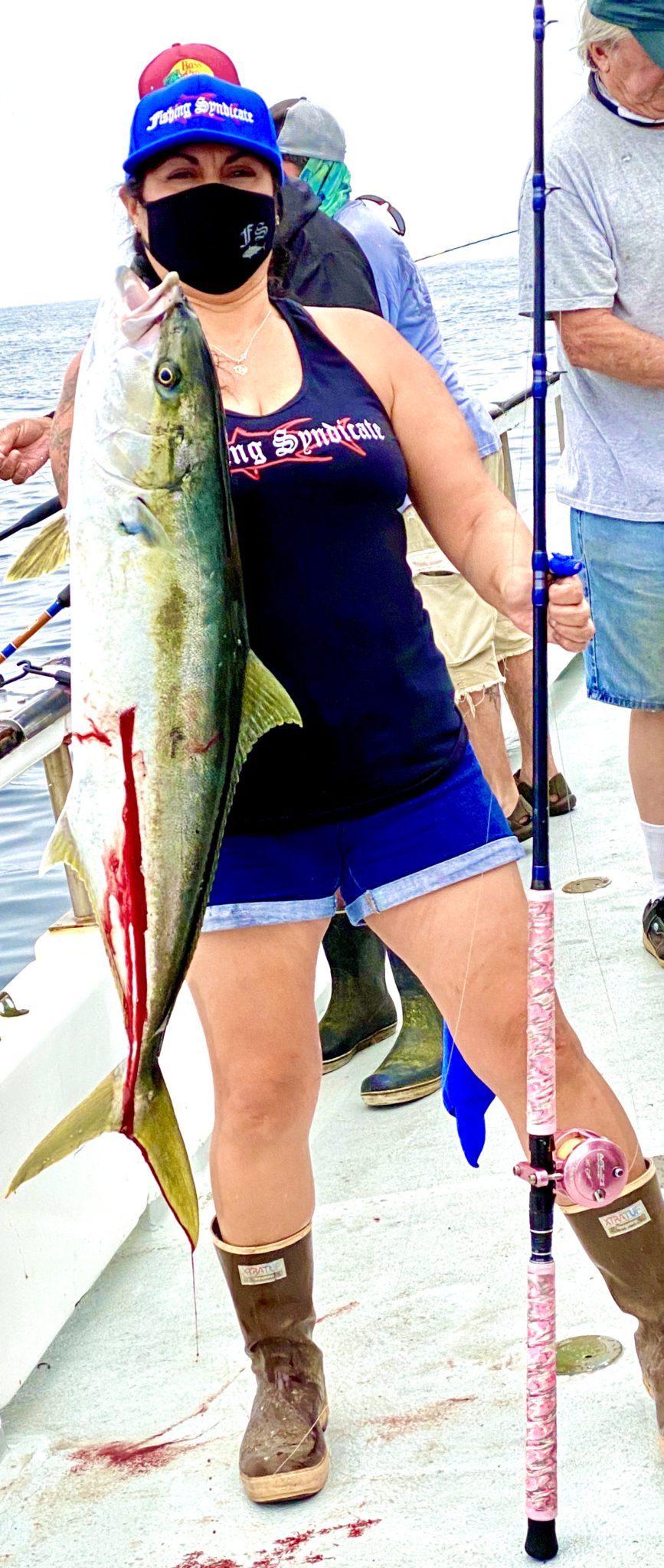 After a brief break for a repair, and a sanddab fiesta frenzy, late afternoon saw Captain Ray start drifting for bottom fish. Strips of squid proved to be extremely helpful in the double dropper loop rigs which were immediately gobbled up by overly large ocean whitefish, fat vermillion rockfish, starry rockfish, johnny bass, ling cod, and sheephead.  Wow, I was amazed at the consistency and size of those bottom grabbers as there were hardly any throw backs in the mixture of quality table fare. Everyone ended up with full sacks of whatever they chose to keep for their freezer filler. Day one jackpot was a tie between WON friend Ted Reed and Chango Gonzalez of Rancho Palos Verdes. Dinner, showers and a great night's sleep ensued with visions of lost fish dancing in our heads!
Day two dawned early and bright to an eerie sight of a glowing rising sun shrouded with the smoke of the California wildfires. Slowly, smaller grade bonito and yellows started showing after daybreak and again, a steady pick of yellows started hitting the gaff. But, once again, the reef and pinnacles were the big winners as countless fish made it to their safe space. Ted Reed came up with a flylined sardine sheephead. I caught a flylined whitefish. Repeater Saverio Simone decked one on a metal spoon and a spinning outfit. The ever excitable Ruben "Chango" Gonzalez also decked one on a lure plus another he handed off to his compadre Henock Bekele. Another repeat customer, Shawn Cooper was the "hot stick" of the day landing 5 yellows on his light spinning outfit out of 9 hook-ups.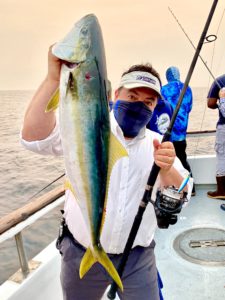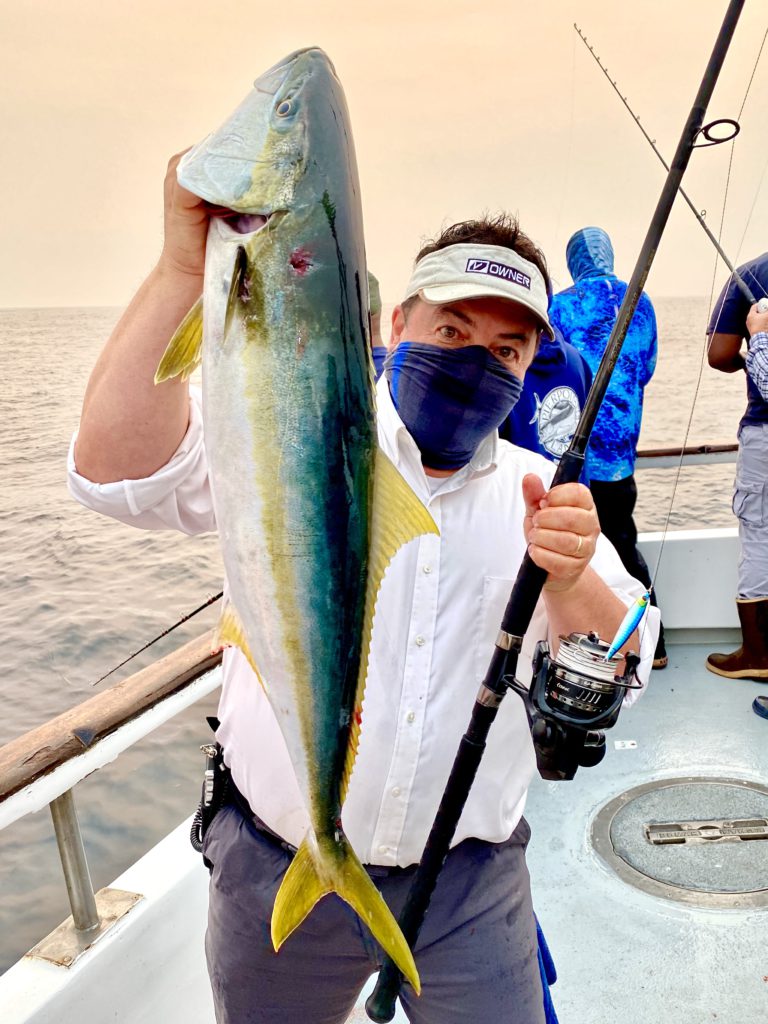 Spinning outfits were the order of the day as Jason Claassen of Bakersfield landed what turned out to be the largest 30-pound class mossback of the trip and day 2 jackpot winner. Jason coaxed the beast on a Shimano jig and a Daiwa spinning rod. He received a bonus WON gift pack from Maui Jim which included sunglasses of his choice, keepers, cleaner, cleaning cloths, hat, coozie, and screwdriver, a value over $300. After a straw poll was taken, the majority of the passengers wanted to try for the elusive San Clemente Island tuna, so we left the bank about 1:00 after landing 30 yellows, 20 bonito and a variety of tasty bottom dwelling critters. For the duration of the trip, over 200 yellowtail were hooked aboard the Toronado. Alas, such is fishing and not catching!
Captain Ray searched extremely hard and found meter marks, puddlers, and full foamers, but it was all for naught, as the finicky tuna refused to accept any of our many offerings. All in all, it was a fantastic trip with action happening most of the time on the bank, just as Captain Ray said it would be! He also received a pair of Maui Jim sunglasses of his choice, and he worked his butt off to produce for this annual WON group. Special shout out to Captains Ray and Johnny, Shawn, Jojo Saldana, Thomas Brady, Joe Phillips, and especially Maryanne! Again, God willing, 75% of the anglers said they would be back with this fun group next year. So until next year, tight lines, tight drags, and full sacks!