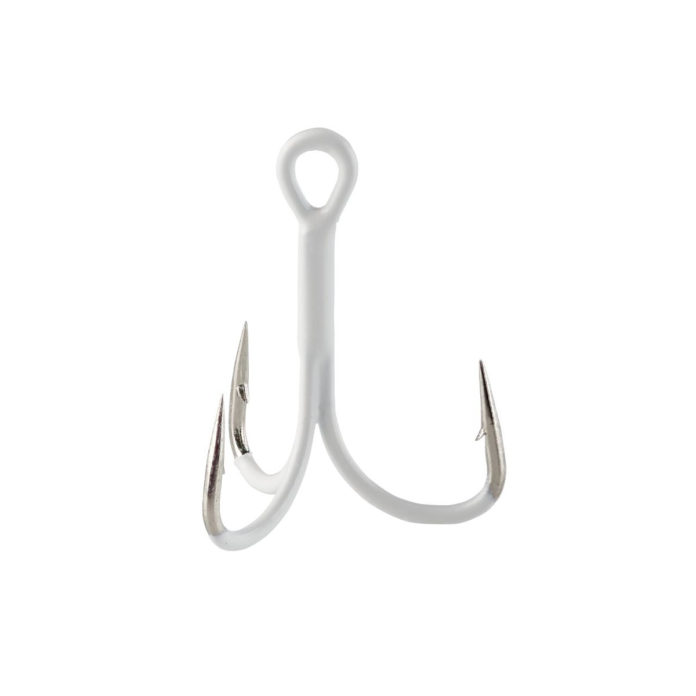 COLUMBIA, S.C. — Innovator in science and technology, Berkley® introduces its latest additions to the Fusion19™ line of ultra-sharp hooks with the launch of three new painted EWG Treble Hook colors, Frog Hooks and Weighted Frog Hooks. Fusion19 hooks are designed for use across all types of fishing with needle points that create easier penetration and increase hook-up ratios.
Ideal for use with soft body frogs like the Berkley PowerBait® Buzz'n Speed Toad and Beat'n Paddle Frog, both the Berkley Fusion19 Frog Hook and Weighted Frog Hook feature needle points designed for easier penetration on top water hits in heavy cover.  The round bend and double hooks, forged for increased lateral strength, keep fish hooked up all the way back to the boat. The Weighted Frog Hook features an 1/8-ounce molded weight to stabilize the keel of the bait and increase casting distance. Both varieties of Berkley Frog Hooks are available in 4/0 and 5/0 hook sizes and come in an innovative, resealable clam package for tackle management.
In addition to frog hooks, the Fusion19 EWG Treble hooks feature a strong, lightwire design for improved hook-ups. The lightwire shank on these hooks makes them ideal for pairing with high action and small profile baits. In addition to its current lineup the new colors of Fusion19 EWG Treble Hooks include white, chartreuse and orange and will be available nationwide beginning September 2020.
Fusion19™: Specifications
Berkley® Fusion19 Frog Hook
4/0 Frog Hook
Hooks per pack: 2
MSRP: $5.99
5/0 Frog Hook
Hooks per pack: 2
MSRP: $5.99
Key Features:
• Needle Point for easier penetration
• Forged hook for increased lateral strength
• The round bend, double hook keeps fish on all the way to the boat
• Package features innovative resealable clam for tackle management
Berkley Fusion19 Weighted Frog Hook
4/0 Weighted Frog Hook
Hooks per pack: 2
MSRP: $5.99
5/0 Weighted Frog Hook
Hooks per pack: 2
MSRP: $5.99
Key Features:
• Needle point for easier penetration
• Forged hook for increased lateral strength
• The round bend, double hook keeps fish on all the way to the boat
• 1/8-ounce molded weight stabilizes the keel of the bait and adds casting distance
• Package features innovative resealable clam for tackle management
Berkley Fusion19 EWG Treble
Size 8 EWG Treble
Hooks per pack: 6
MSRP: $5.99
Size 6 EWG Treble
Hooks per pack: 6
MSRP: $5.99
Size 4 EWG Treble
Hooks per pack: 6
MSRP: $5.99
Key Features:
• Needle point for easier penetration
• EWG bend for increased hook ups and keeping fish on
• Strong lightwire design for improved penetration
• Lightwire shank ideal for high action and small profile baits
• Forged hook for increased lateral strength
• Package features innovative resealable clam for tackle management