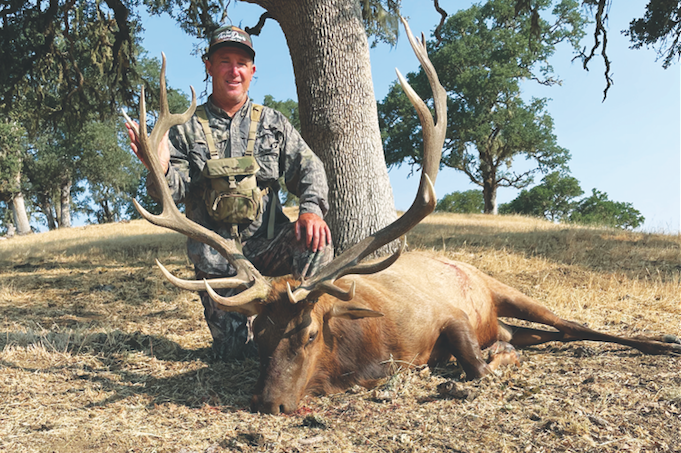 Listen to John tell the story of this incredible hunt on episode 33 of the WON Podcast directly below:
[buzzsprout episode='9125362′ player='true']
MENDOCINO COUNTY — In this rare and particular hunting tale, the old saying, "Good things come to those who wait" would be an understatement. Southern California sportsman John Karayan could vouch for that when he opened his email in early August and learned he had been drawn for a California bull elk tag through the Department of Fish and Wildlife's Share Hunt Program, after applying for 30 years in a row for naught. This is an incredible special hunt offered on private land via an agreement with the DFW. Immediately, he started making some phone calls.
This hunt would be offered on one of the few ranches in California that participate in the program and special plans would have to be made. After obtaining the property owner's contact info, John reached out
to him and was cordially greeted and told that there are some great bulls on the property. The excitement ran thick as john immediately put together a team of well rounded, experienced hunters for this rare opportunity. John first called his cousin Bill Bianchi, who lives in the area and dropped the news to him first. Bill was just as excited to hear the news as John was to relay it, and he made plans to assist with the hunt. Another call was made to a longtime friend and hunting partner, Matt Albertson. Matt is a very well respected hunter throughout California and once he was informed of the hunt John had in the cards, Matt cleared his schedule to join the elk hunt fray.
With the opening day of the hunt August 11, time was of the essence. Maps of the area, contacts, camping and provisions, etc. were all made and planned in perfect order to achieve the goal of making a once-in-a-lifetime hunt a successful one.
The property owner's son-in-law made sure to provide a fantastic lay of the land and provide the necessary intel once the team arrived a few days before the hunt. Beautiful rolling, yellow hills and oak trees throughout the property with some deep
draws made for the perfect habitat for many species of California game, including Tule elk. Rumors of a huge bull not seen with such size in many years being spotted roaming the valley by ranchers in the surrounding area only fueled more planning, anticipation and excitement for the team.
After limited night's sleep, the time had finally come. After a quick cup of coffee and a fairly easy one- to two-mile hike in the early morning darkness, the group put themselves in a zone where they had previously seen some elk. Sticking with the game plan, the group split up into two-man teams over a couple draws to help glass as the sun rose.
The darkness greeted them with the constant sound of bugling elk. At first light, elk were seen funneling into the draws toward the men as they glassed looking for the right one. Plenty of cows and a total of 9 decent bulls, not to mention other spike bulls, were seen in the first hour of light. A large 6-by-6 bull appeared and was hesitantly passed. Matt suggested to John that they wait a little longer — turned out to be good advice. A loud, growling-like bugle was heard before a very large, dominant bull appeared from the bottom of the draw. He was undoubtedly the apex bull they had been looking for. Minutes seemed like hours as the team determined if he was a shooter. Matt fixed the spotting scope on him and stopped counting points at number 9 before saying, "Take this one John, he's the one!"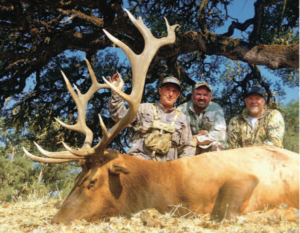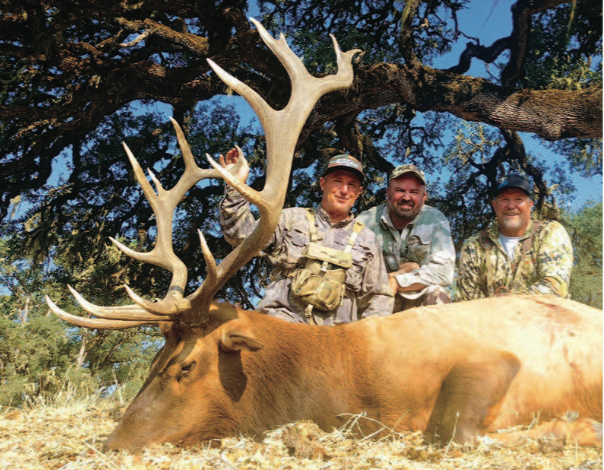 The group carefully moved in closer to a nearby rocky outcropping to ensure a solid rest to shoot from. During this time, the bull was displaying very aggressive behavior toward the previously-seen 6-by-6 bull by growling loudly and using his horns to shove dirt at him. Raw nature at its finest. John was ready and waited for his shot. The large bull took a moment from his display of dominance just as John put a well-placed, ethical shot in the vitals from 200 yards with a 7mm Mag, followed up by an immediate second shot placed within inches of the first. The bull fell in his tracks and the men celebrated with loud cheers that could possibly be heard throughout the valley. A legitimate trophy California Tule elk was taken by John amongst his family and longtime friends.
While the massive bull was so big to at first glance make many hunters believe it was a Roosevelt elk, Albertson — a professional hunter and trapper with USDA who has been on hunts for the #1, #2 and #10 Tule elk in the world — said, "It's 100% a Tule elk," with little hesitation. WON Guns and Hunting Editor Steve Comus also believed the animal to be a Tule elk after seeing the photos. WON's Tim Hovey said, "The intermediate elk area in Mendocino County holds both Tule and Roosevelt elk and the two subspecies of elk may mix or co-occur in this section of the state. Occasionally it can be tough to tell them apart unless genetics are done."
"This was undoubtedly the hunt of a lifetime," Karayan told WON. "This Tule elk hunt has literally been a dream of mine for the last 25-plus years since I drew a desert big horn sheep tag in 1995 when I was 25 years old. I've been hunting since I was a kid being surrounded by my dad and his friends teaching me the love for the sport."
Congratulations to John Karayan for a bull elk of a lifetime, along with a solid assist from Matt Albertson, Bill Bianchi and the property owner's son in law, Kyle, who also assisted in this great hunt. This was one of the largest bulls taken in this valley in recent history with a 9- by-7 main frame, 10-by-8 with the double points and a gross score of 302 2/8 inches. Aside from the harvest, the sense of camaraderie, friendship and family of this group made it from top to bottom what it's all about — a hunt of a lifetime to be sure.