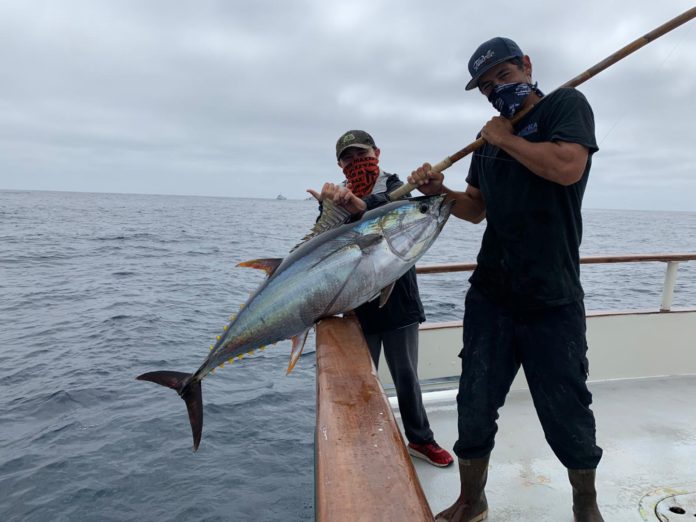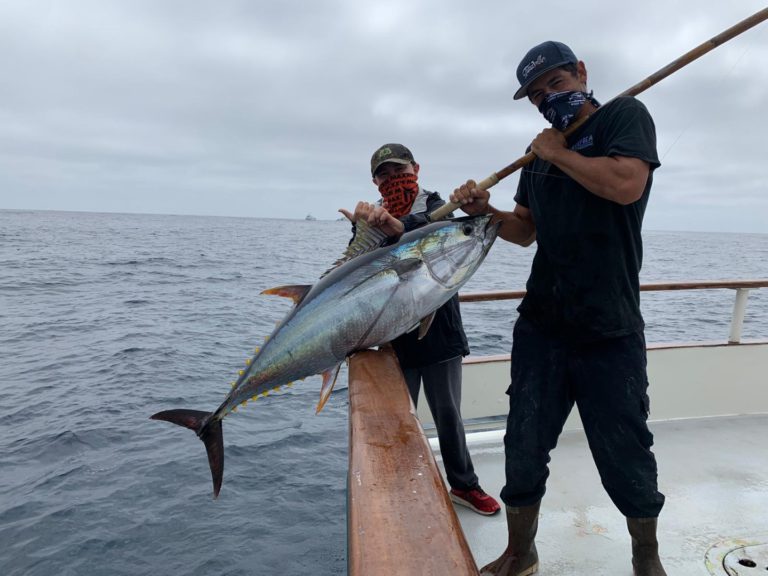 BY MERIT McCREA
SAN DIEGO — It's winding up to be another season of epic fall fishing offshore. To the south, it's easy landing grade of beautiful dorado, feisty yellowfin tuna and now a surge of skipjack filling in full limits between dorado and tuna.
This bite presents and excellent opportunity to introduce a friend to open water fishing. There are lots of chances for all anglers of all skill levels.
The fish are good sized but not tackle busters down there. But to the west are plenty of tackle busting brutes to tackle. With it comes the onus to make every bite count as it could be the fish of a lifetime. Western waters featured bluefin from teens to over 300 pounds again.
With them new this past week were larger yellowfin from 40 to 90 pounds. At this writing the western flank of the San Diego fleet was headed past San Clemente Island, some splitting to the back side and the rest making the run up the front.
They were making their way toward the wide open space between the four southernmost islands. As ever, over the past recent seasons, the rule on tackle was bring it all, from 25- to 100-pound.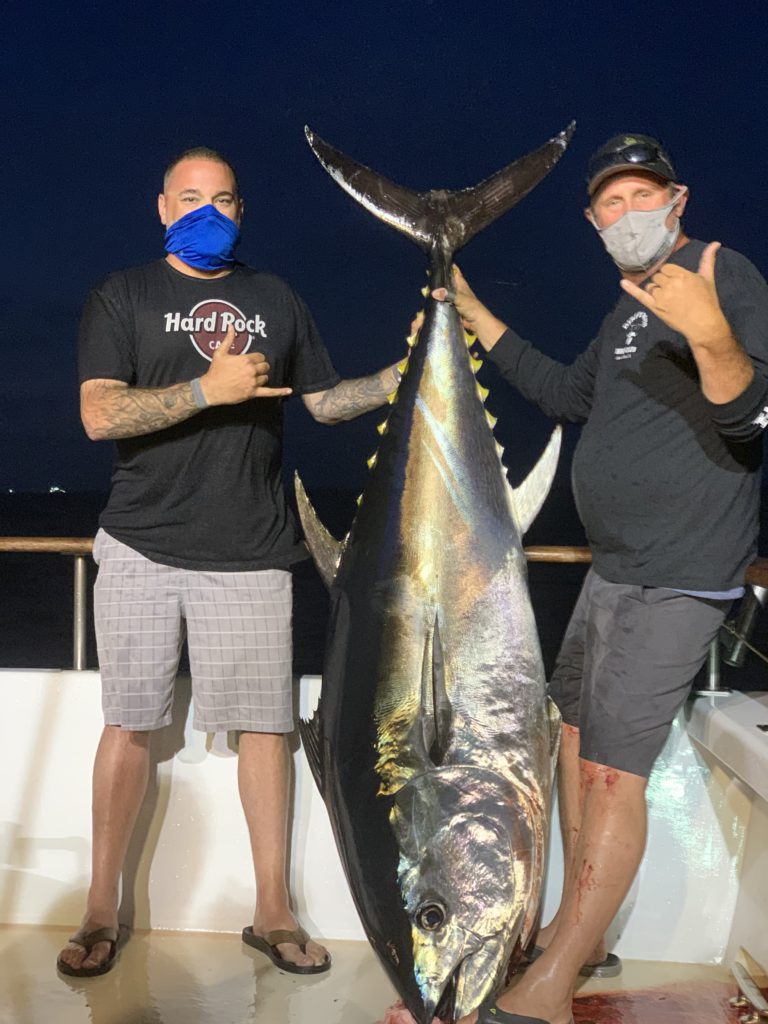 Terminal tackle should include sinkers to floats, rubber bands, hook sizes from no. 4 to 5/0, a full variety of fluorocarbon leader material.
Small heavy chrome like the Coltsniper and heavy Flat-Fall irons to 350 grams were part of the order. Even at that, the heaviest tackle being used was likely to be supplied by the boat as part of their kite and balloon gear for fishing rigged flying fish right on the surface.
Aboard the Pacific Dawn the past week saw their biggest ever fish landed, taping in at over 300 pounds, officially at 313.
If you ended up fishing the southern sector, both the Coltsniper and similar small heavy chrome, and surface baits like poppers drew strikes.
In addition, the line size the fish would go for varied from stop to stop, sometimes even the 60, others, nothing much more than 25-pound.
Fishing to the west in U.S. waters the fish were good sized to monster sized. There were a few good hits in the dark on the Flat-Fall, daytime bites on fly-lined sardines and sinker rigs.
Those after the really big bluefin chased them with the kite and balloon and rigged flying fish. There were stories of being bit on the lighter tackle by the big boys and having to leave those schools to crews ready to take them on with that gear.
Aboard the American Angler Capt. Brian Kiyohara reported biting yellowfin, "A barn burner on quality yellowfin and stellar weather…" Their largest was nearly 90 pounds and they had 17 bluefin from 100 to 170 pounds. Their largest bluefin were a 201.5 and a 234.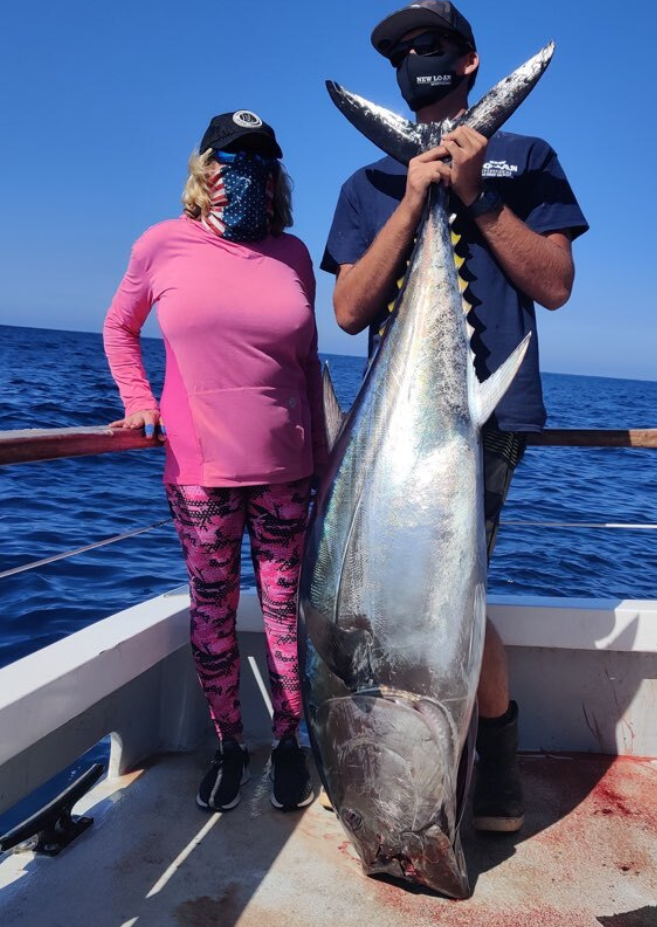 The Pacific Dawn pulled bluefin limits for 17 anglers for both days of a 2-day trip. Most were 35 to 45 pounders but they did manage to land 3 between 150 and 170 pounds. With those bluefin they also landed 4 yellowfin from 50 to 70 pounds.
But bluefin being bluefin, there were those who took the chance on them on a less than a 2-day and ended up with slim results. The tendency was for those shorter trips to opt for the more reliable success, running south. There was no shortage of dorado limits plus tuna limits catch reports.
The Endeavor did it for both days of a 2-day, the Pride on sequential 1.5 dayers.
The Pegasus also got it done for both days of a 2-day, the Condor at least twice last week. The Fortune pulled it off, so did the Legend when this writer was aboard.
There were a few big number bluefin catches too, mostly tied to finding biting smaller grade bluefin from teens to 45 pounds.
A 2-day with 11 anglers aboard the Pegasus landed 44 bluefin tuna. The Pacific Queen was on the board with a 2 dayer, 24 anglers and limits of bluefin plus 54 dorado, 8 yellowfin and 36 yellowtail.
The El Capitan had a 2.5-day fill out both dorado and tuna limits for all anglers.
The Poseidon, Constitution and Daiwa Pacific all posted boat limits of both catches at least once. So did the Sea Adventure 80.
Many more got limits of dorado plus some tuna and a few got tuna limits but didn't find a kelp holding dorado.
There was that occasional trip where a boat on a shorter run would go the full day without finding a single ripper and end up with just a few fish to show for their efforts.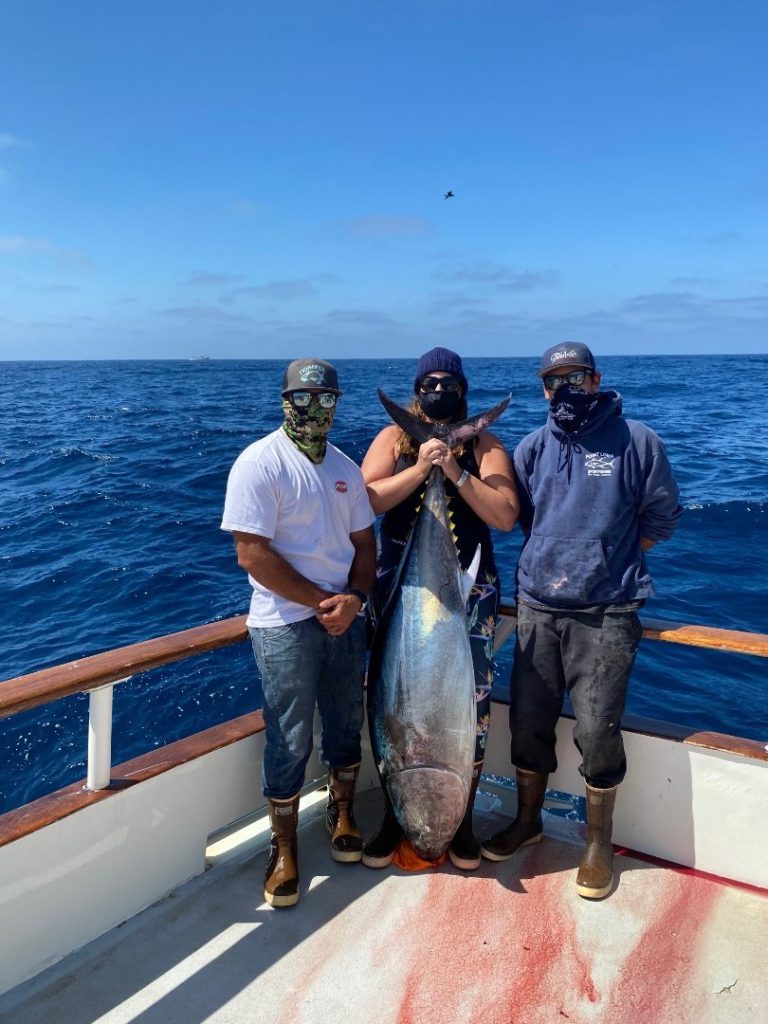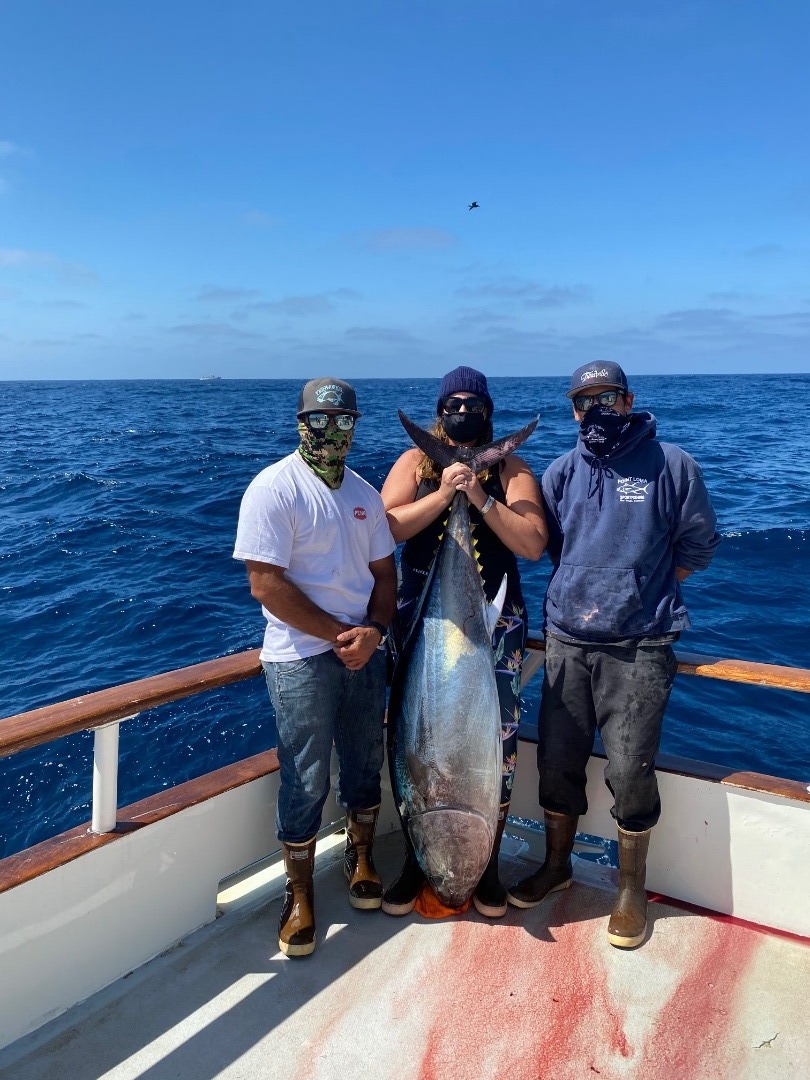 For local anglers, except for those fishing from Mission Bay, fishing remained mostly in rockfish mode, augmented in the past couple of days by bonito. The Fisherman III posted almost 100 on a 3/4-day run. The Premier had 55 and 67 bones on successive 1/2-day runs.
Stationed farther up coast the New Seaforth managed to put more than 200 over the rail, keeping 75 legals on Sunday afternoon's run.
This weekend the lobster opener commences, kicking off 6 a.m. Saturday morning. That evening promises lots of buoys and bugs.