BY MERIT McCREA
SAN DIEGO — What started the week as sightings and a bite out near the 60-mile bank quickly morphed into limit-style action on bluefin tuna from 30 to 180 pounds with a good fraction over the 80-pound mark, coming during the night bites.
The full-day fleet quickly swung into action and the tackle tip was a bait rod with 25- or 30-pound and a 40- or 50-pound jig stick. Shimano Flatfalls, Coltsnipers, Daiwa SK jigs, Salas 6Xjrs or Tady 9s were the recommended jigstick terminal tackle.
It was the runs that offered a chance to tackle these fish in the dark that turned up the triple-digit models.
Dr. Robert Tressler was aboard the Legend with Capt. Steve Taft on a 2.5 dayer and penned, "We dropped into a sold group of 120- to 180-pound fish and everything was bit. It was the most wide-open bite on big fish at night I'd ever seen. Many losses and many new personal bests were happening. Total mayhem occurred with 7 to 10 anglers hooked up for a couple of hours until we limited out the boat with a fantastic grade of 100-plus-pound fish."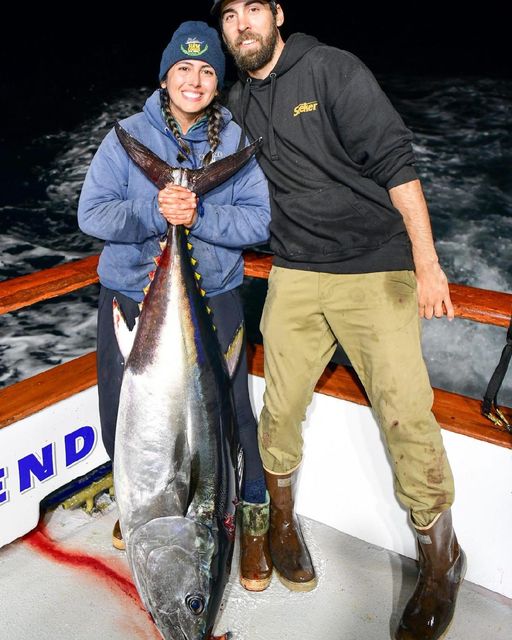 Tressler added, "Nothing less than 100-pound class setups worked as lighter gear was getting broke or sawed off in the tangles. It was epic."
So there you have it!
In the dark the heavy schools showed from 200, down past 400 feet. Count watchers will note there were many returning trips with boat limits on the bluefin.
Note that the San Diego landings are adding new trips as boats fill, and you'll find a spot even last minute no matter what it appears in their on-line schedules.
This is the chance to get out on an open-party trip before the heavy charter season has all the boats filled.
As quickly as these fish moved in, and looking at the remote sensing data we could be seeing bluefin deep into U.S. waters between San Clemente Island and the coast in days.