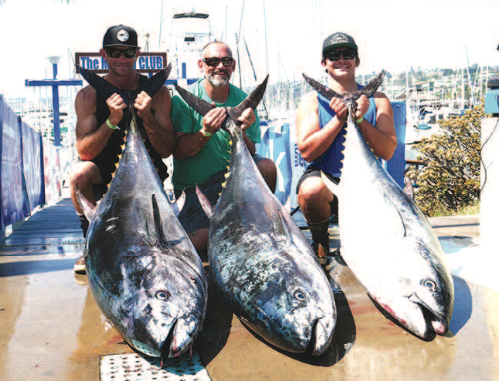 Third-annual private boater event now features a shotgun start
BY MIKE STEVENS
POINT LOMA — The WON/Yamaha California Tuna Jackpot (CTJ) will blast off out of San Diego for the third time on Aug. 6-7, 2022, and this installment of the annual small-boat, tuna and yellowtail tournament will kick off with an all-new shotgun start sponsored by Lake Elsinore based California Skier (CaliforniaSkier.com).
It will also feature two weigh-in periods – Saturday night and Sunday morning – offering flexibility that will allow competing anglers to call it a day and get some sleep before the awards portion of the event on Sunday, or to fish through the night and take advantage of that bite.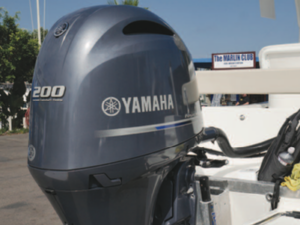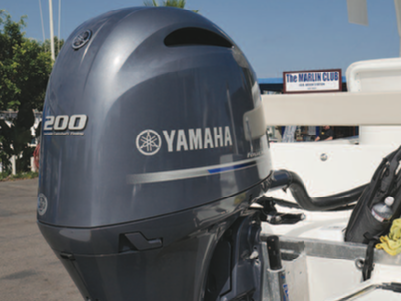 CTJ anglers will be fishing for the single largest tuna and $10,000 payback, courtesy of title-sponsor Yamaha, to the top three teams (based on a 50-team field) which works out to $7,000 for first place, $2,000 for second and $1,000 for the third-place finisher. There will also be opportunities for more cash in the form of optional jackpots including a $250, $500, $1,000 and $2,000 tuna optional as well as $250, $500 and $1,000 yellowtail optionals. Teams in these optionals can and have ended up with a higher payout than the tourney's overall winner, and 5 percent of all optional jackpot entries collected will be donated to Make-A-Wish San Diego. And that's just the cash. There are also plenty of high-end sponsor prizes going to the top finishing teams, and for raffles and giveaways for that matter.
The California Tuna Jackpot will once again be headquartered at the historic Marlin Club in San Diego, which has proven itself as the perfect venue for a private boater event in Southern California. That's where weigh-ins and the awards luncheon is held on Sunday.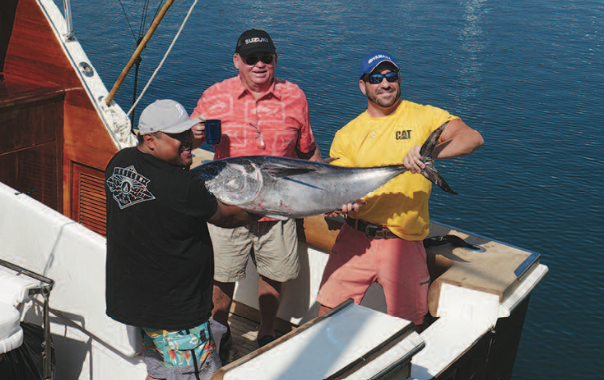 Check-in and registration will be Friday (Aug. 5) at Angler's Choice (1910 Rosecrans St.) in Point Loma from 2 to 7 p.m. The $400 entry fee covers a team of 2 to 4 anglers. So at $100 per per- son for a crew of four, the CTJ is very accessible. Up to two more anglers can be added at $100 each as teams can include as many as six anglers. Teams can have less than four members, but there must be a minimum of two members on each boat. No more than six people are al- lowed on any tournament boat during tournament hours, and all people on the boat must be on the registered team.
Teams registering by July 22 will be entered in the Early- Bird raffle for a Furuno 1871F GPS/Chartplotter/Fishfinder.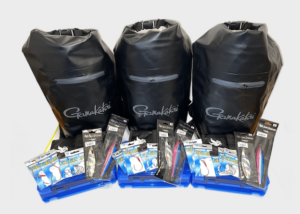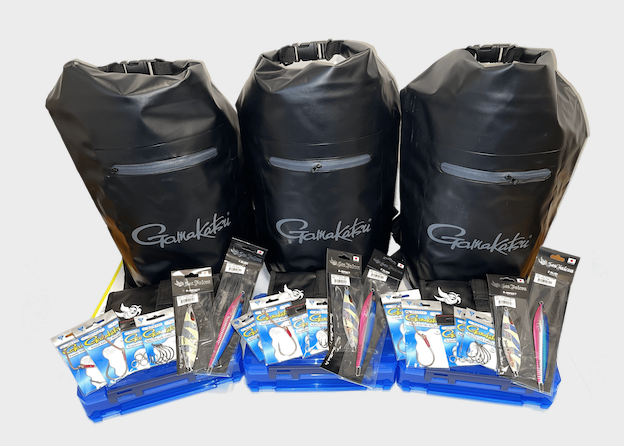 The format for the competition is as follows: top 3 largest tuna caught during the California Tuna Jackpot (lines in at 6:00 a.m., Aug. 6 – lines out at 6:00 a.m., Aug. 7, are in the money. The team that catches the biggest tuna during the event wins 70 percent of the total cash in the entry pool. The second largest tuna earns 20 percent and the third largest tuna takes home 10 percent.
Like most WON events, anglers don't have to catch a big fish (or any fish at all for that matter) to win. The CTJ is powered by its sponsors, and some of the top brands in the industry are kicking in raffle prizes to go along with stuff awarded to top finishers. The following title-sponsor Yamaha into the prize cache is Penn, Costa, Berkley, Gamakatsu, Huk, Plano, Seaguar, Furuno, Odyssea Tackle Company, Sea Falcon, Techron Marine, CCA- California, Make-A-Wish San Diego and, of course, The Marlin Club.
Participating angler scores start with giveaways including Gamakatsu Nautilus circle hooks, Berkley ProSpec monofilament and Techron fuel additive. The first-place team will pick up (along with the cash payout) Costa sunglasses for the team captain, a $500 Huk gift card, a Penn rod and reel, a spreader bar from Odyssea Tackle Company, a Seaguar prize pack and a prize pack from Gamakatsu/Sea Falcon containing a Gamakatsu G-Box and hook assortment and Z-Slide and Z-Impact jigs from Sea Falcon, all stuffed into a Gamakatsu 20L Dry Bag Backpack.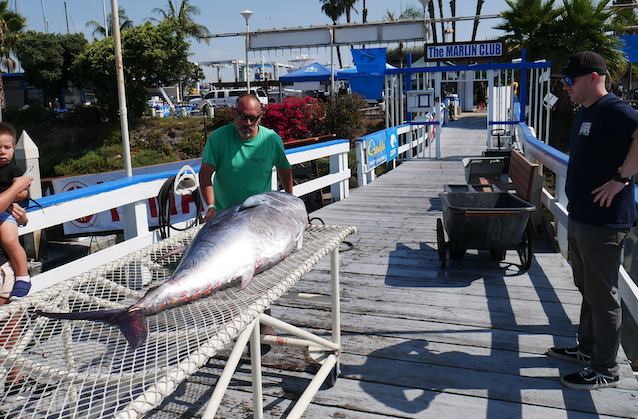 Second place will also get that Gamakatsu/Sea Falcon prize pack, a Seaguar prize pack, a Penn rod and reel combo and Costas for the captain along with the cash payout, and third will also get Costa shades for the team Captain, the Penn outfit and the prize packs as well as their share of the top-3 cash.
All California Tuna Jackpot entrants are entered into the raffle, and there will be a wide range of prizes including but not limited to products from Costa, Penn, Plano (Z-Series Lure Wraps and backpacks), Odyssea Tackle Company and Igloo.
For full rules and registration, visit WONews.com and find the TOURNAMENTS tab. For more info, contact WON Tournament Director Billy Egan at (949) 366- 0248 bille@wonews.com or check out the California Tuna Jackpot Facebook page.