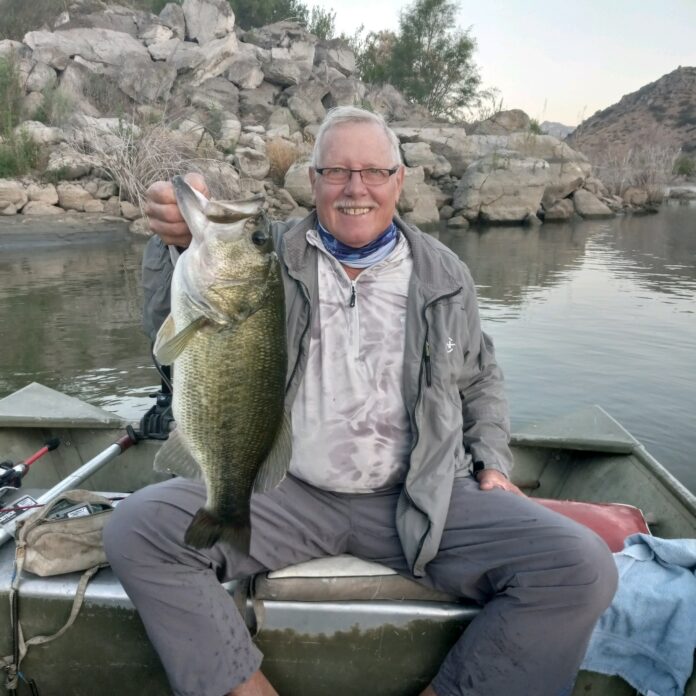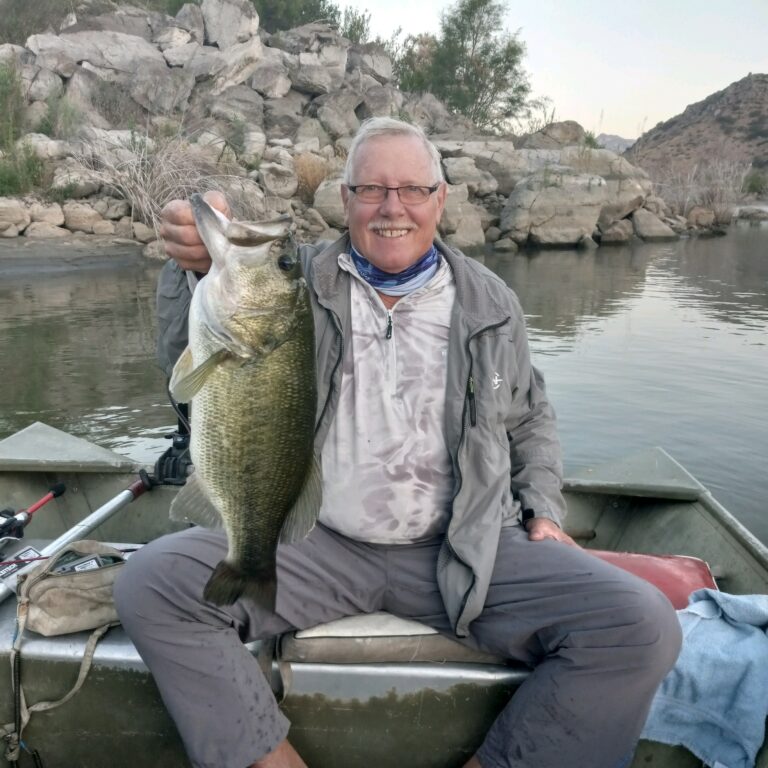 BY MIKE STEVENS
JAMUL – Given the video-game-status fishing that goes on at Barrett Lake in San Diego's East County, it's difficult to decide when to earmark space in the paper for coverage of a fishery known for putting up triple-digit numbers. That being said, when a double-digit fish is bagged at Barrett, it's an easy call, especially at that particular reservoir.
Long-time Western Outdoor News subscriber Bill Pittsford reached out to WON after his buddy, Jim Marso, accomplished a rare feat at the pay-to-play lake known more for giving up absurd numbers of bass than trophy fish. Pittsford said Marso was working a 4-inch Keitech swimbait in bluegill flash early in the morning when he hooked up to a fish that made several drag-peeling runs that were very uncharacteristic for the typical Northern-strain largemouth that live in Barrett. After the bass was in the net, it spit the hook and tipped the digital scale at 10.93 pounds.
"We started fishing swimbaits, and my buddy got two quickly," Marso said in a post on SDFish.com. "As I was retrieving my swimbait, it moved in a different direction and soon it was headed out into deep water, so I set the hook. The fish peeled off line 4 or 5 times, and my buddy was getting excited because it had to be a big fish. I finally got the fish where we could see it, and it took another run. I got the fish up again, and my buddy netted it and handed me the net. It was my first double-digit bass from Barrett."
This all went down in the Hauser Arm in a spot those guys like to target flooded bushes in spring, but that stuff was all high and dry due to lower water levels. When they got there, no one else was around so they worked the zone anyway which was clearly the right call.
"We continued to fish the area, and it produced af ew more bass," added Marso. "We decided to try different areas and it was slow with a few fish. Then we worked our way back out of Hauser and went into Pine back in the sitcks for more slow fishing with a few fish here and there. We were off the lake at 2 p.m. and I caught 30 fish and by buddy got 10. No other big fish, but overall a great day."
From Barrett's spring opener through now, numbers have been down, but that's a pretty relative statement. Basically, triple-digit days are nowhere near as common at this pint as they were last season, but the quality definitely seems better which makes up for it. Still, catching a 5- to 7-pound bass is something to write home about, but a double-digit largemouth is a fish-of-a-lifetime at Barrett.
This year, it sounds like a lot of Barrett bassers are even choosing to fish the fun reaction stuff including topwater rather than going basic with worms and stickbaits just to put a huge number on the scoreboard. Even with that approach, anglers are still sticking 50 at times and routinely having 15- to 30-fish days.
On top, Berkley Choppos and frogs are getting a lot of Barrett love, and action below the surface is coming on a wide variety of options including but not limited to chatterbaits, blades, underspins, reapers and crankbaits along with worms and Senkos.
Anglers fishing Barrett from now through the end of the season should plan for very hot weather and hit the lake with plenty of water and appropriate clothing. Wind has been a factor on some days, but the heat is the major environmental factor out there.